Young Frankenstein, Bark & Wine, Art, Rodeos and So Much More!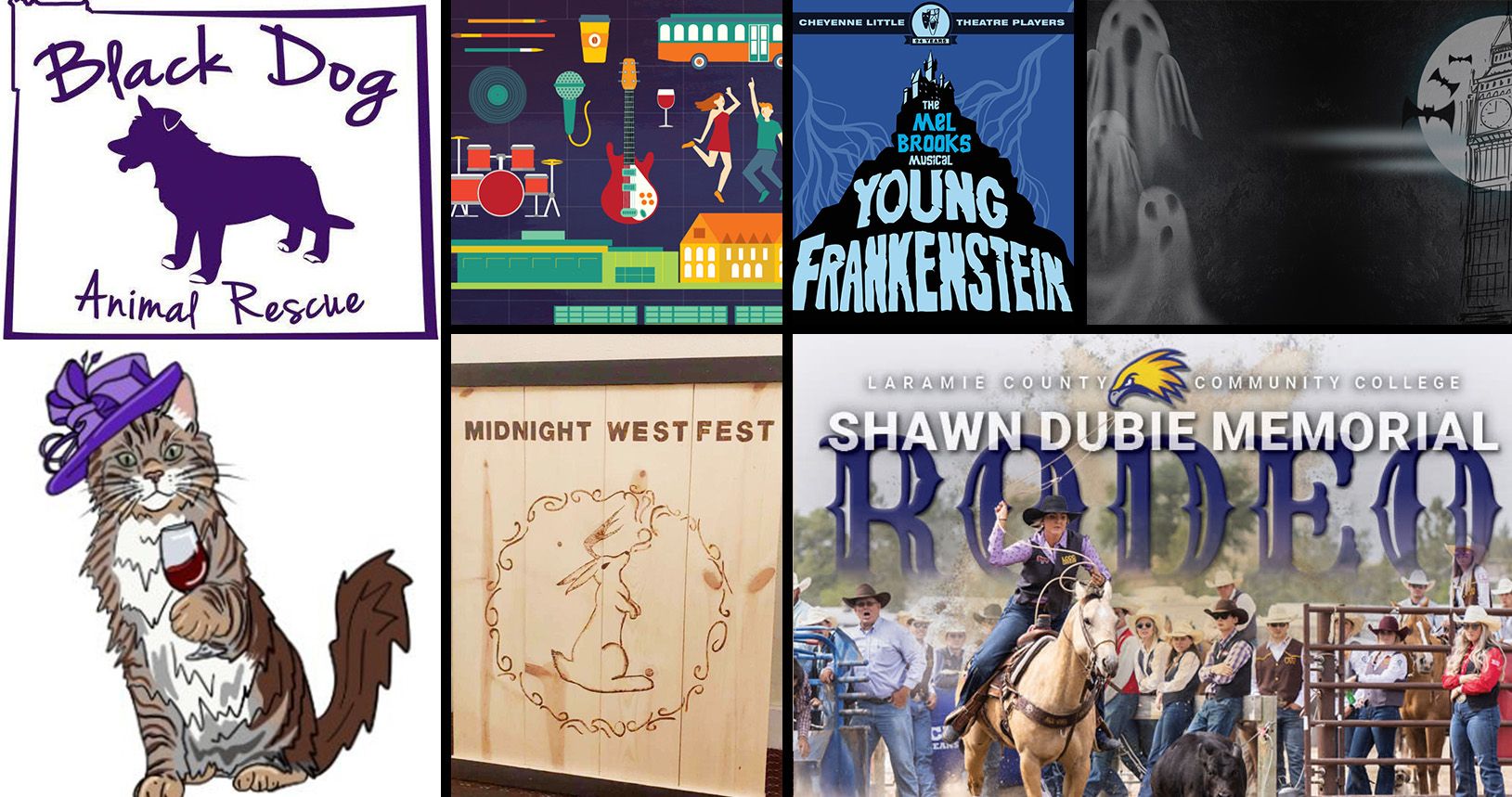 Young Frankenstein - Mary Godfrey Playhouse
Oct 6 - Oct 8, Oct 13 - Oct 15 / $21-$31
The comedy genius, Mel Brooks, adapts his legendarily funny film into a brilliant stage creation – Young Frankenstein! Grandson of the infamous Victor Frankenstein, Frederick Frankenstein, inherits his family's estate in Transylvania. With the help of a hunchbacked sidekick, Igor (pronounced "Eye-gore"), and a leggy lab assistant, Inga (pronounced normally), Frederick finds himself in the mad scientist shoes of his ancestors. "It's alive!" he exclaims as he brings to life a creature to rival his grandfather's. Eventually, of course, the monster escapes and hilarity continuously abounds. Every bit as relevant to audience members who will remember the original as it will be to newcomers, Young Frankenstein has all the panache of the screen sensation with a little extra theatrical flair added. It will surely be the perfect opportunity for a production company to showcase an array of talents. With such memorable tunes as "The Transylvania Mania," "He Vas My Boyfriend" and "Puttin' on the Ritz," Young Frankenstein is scientifically proven, monstrously good entertainment.
Arboretum Fall Foliage Tour - High Plains Arboretum
October 6, 2023 / 1:00pm to 2:30pm / $10
Take in the beauty of fall foliage at one of the best local sites for leaf peeping-the High Plains Arboretum!
Dirty Side Down - The Outlaw Saloon
October 6, 2023 / 8:30pm to 11:00pm / $10
Dirty Side Down is bringing their 80's Hard Rock show to the legendary Outlaw Saloon.
LCCC Manufacturing Day Block Party
October 6, 2023 / 11:00am to 2:00pm
Join us for facility tours, equipment demos, hands-on activities, cornhole, giveaways, and food trucks!
Midnight West Fest -  Historic Atlas Theatre
Oct 6 - Oct 8, 2023 / 7:00pm to 9:30pm / $5-$75
Friday night will kick off with live music, followed by an evening of comedy submissions. Saturday starts with High-Noon for our drama and action submissions, rounding out with another live performance. From 6 that night until 3 in the morning runs After Dark, set aside for our horror and grindhouse fans. Sunday will be family day, featuring our G and PG equivalent submissions as well as interactive filmmaking workshops for ages 6-14.
Rittz - The Lincoln Cheyenne
October 6, 2023 / 7:00pm to 11:00pm / $25.00 per Ticket
Rittz is living proof that Southern hip-hop is alive and well in the heart of Atlanta, the perfect blend of finesse and fire, his albums have become Strange Music fan favorites.
Shawn Dubie Memorial Rodeo - LCCC
October 6 -8, 2023 / 7:00pm / $10 Dollars Each Perfomance: $20 for a three day pass
The annual Shawn Dubie Memorial Rodeo held at the Laramie County Community College Arena! See the best of college rodeo in the Rockies perform.
Whitt's End Fall Festival - 1249 Happy Jack Road
September 29, 2023 - October 29, 2023 - Recurring weekly on Sunday, Friday, Saturday/ 2:00pm to 7:00pm  / $10/person $40/family
Over 80,000 pounds of pumpkins, a petting zoo, hay maze, tractor hay wagon rides, face painting, games and much more!
Cheyenne Art Walk
October 6, 2023 / 5:00pm to 8:00pm  
Showcase Venue, the Cheyenne Creativity Center
Halloween-themed art and artists
music and a food truck
information about all the First Friday Artwalk venues
Frightseeing Ghost Tours - Cheyenne Street Railway Trolley
October 6 -8, 13-15, 20-22, 27-31, 2023 / 6:00pm / $18 adults, $12 and under
Join The Cheyenne Street Railway Trolley for the annual Frightseeing Tours - a brush with the underworld right here in Cheyenne. From gruesome murders to unexplainable phenomena, this approximately 90-minute tour will leave you wondering what is imagined - and what is truly real.
Recommended for ages 10+ | Trigger Warning: Violence, murder, and suicide
Nightmare 17th Street Haunted House in Cheyenne
October 6- 31, 2023 - Recurring weekly on Friday & Saturday/ 7:00pm to 11:00pm / $15/person. $10 Sep 30th and Oct 1st if you come in costume  
The Knights of Pythias annual "Nightmare on 17th Street" Haunted House is back for another year of scares! Back by popular demand, Halloween night will be Blackout Night.
Wood & Silver Exhibit Reception - Blue Door Arts @ the Hynds
October 6-31, 2023 / 5:00pm to 8:00pm / Free
Jeff Tish and Sandy Bordson present Wood & Silver exhibit October 6th through the 31st
Bark and Wine for Black Dog Animal Rescue - Red Lion Hotel and Conference
October 7, 2023 / 5:30pm to 10:00pm / $90+
Bark and Wine is Black Dog Animal Rescue's largest annual fundraiser! Celebrate your love for shelter pets with us!
Family Day - Creepy Crawly Critters - Wyoming State Museum
October 7, 2023 / 10:00am to 2:00pm / Free
At Creepy Crawly Critters, you'll learn all about the weird and creepy animals that live among us. We will have something for everyone in the family, from crafts and games, to educational talks from museum staff! Plus you'll meet experts from the Biodiversity Institute and the Cheyenne Animal Shelter!
Great Cheyenne Bed Race - Blue Raven Brewery
October 7, 2023 / 1:00pm to 9:00pm
The Great Cheyenne Bed Race raises money for a local Wyoming charity through sponsors, raffle prizes, and race entry fees. Teams of five racers build a bed on wheels and drag race to win! Email or message us to register a team, or request a sponsor packet. Race and build rules do apply!
Homeowner Tree Care Workshop - LCCC
October 7, 2023 / 8:00am to 12:00pm / $15
Local forestry professionals will discuss topic to include underappreciated trees for Cheyenne, trees suitable for Cheyenne, successful tree care, pruning, and proper tree planting.
Jen & Friends Mini Art Exhibit - Railspur
October 7, 2023 / 1:00pm to 6:00pm / Free
Shop or watch art happen before your eyes with a drink in hand and live music!
Laramie County Walk to End Alzheimer's - Holliday Park
October 7, 2023 / 8:30am to 11:30pm
We hope that you will join us for the Walk to End Alzheimer's in Cheyenne!!!
Storytime at Wyoming State Museum's Family Day
October 7, 2023 / 10:00am to 1:00pm / Free
We're taking storytime to the museum! Head over to the Wyoming State Museum for their Family Day to participate in one of our early literacy storytimes and other fun activities. Visit the Wyoming State Museum's website at https://wyomuseum.wyo.gov/ to register for the event. This month's Family Day theme is Creepy Crawly Critters.
The Cheyenne Farmer's Market - Frontier Park
October 7, 2023 / 7:00am to 1:00pm / Free
Come support a local nonprofit while shopping for fresh fruits, vegetables, cheeses, pasta sauces, baked goods, honey, kimchi, fermented foods, microgreens, coffee and more!
Tween/Teen Mini-figure Painting - Laramie County Library
October 7, 2023 / 2:00pm to 3:30pm / Free
Award-winning minis painter Kyle McCormick from Olympus Games & Comics is dropping by to teach the ins and outs of mini-figure painting. We will provide a kit with figure, paint, and brush.
Wyoming Cowboys vs 24 Fresno State
October 7, 2023 / 6:00pm
Poetry Open Mic - Hathorne Tree
October 8, 2023 / 1:00pm to 3:00pm / Free
Join us for a poetry open mic. Each poet gets 5 minutes to read, but occasionally go two rounds, so bring extra poems. Arrive 5 minutes early to sign-up.
Denver Broncos vs Jets
October 7, 2023 / 2:25pm