Wow! So Many Exciting Events Happening This Weekend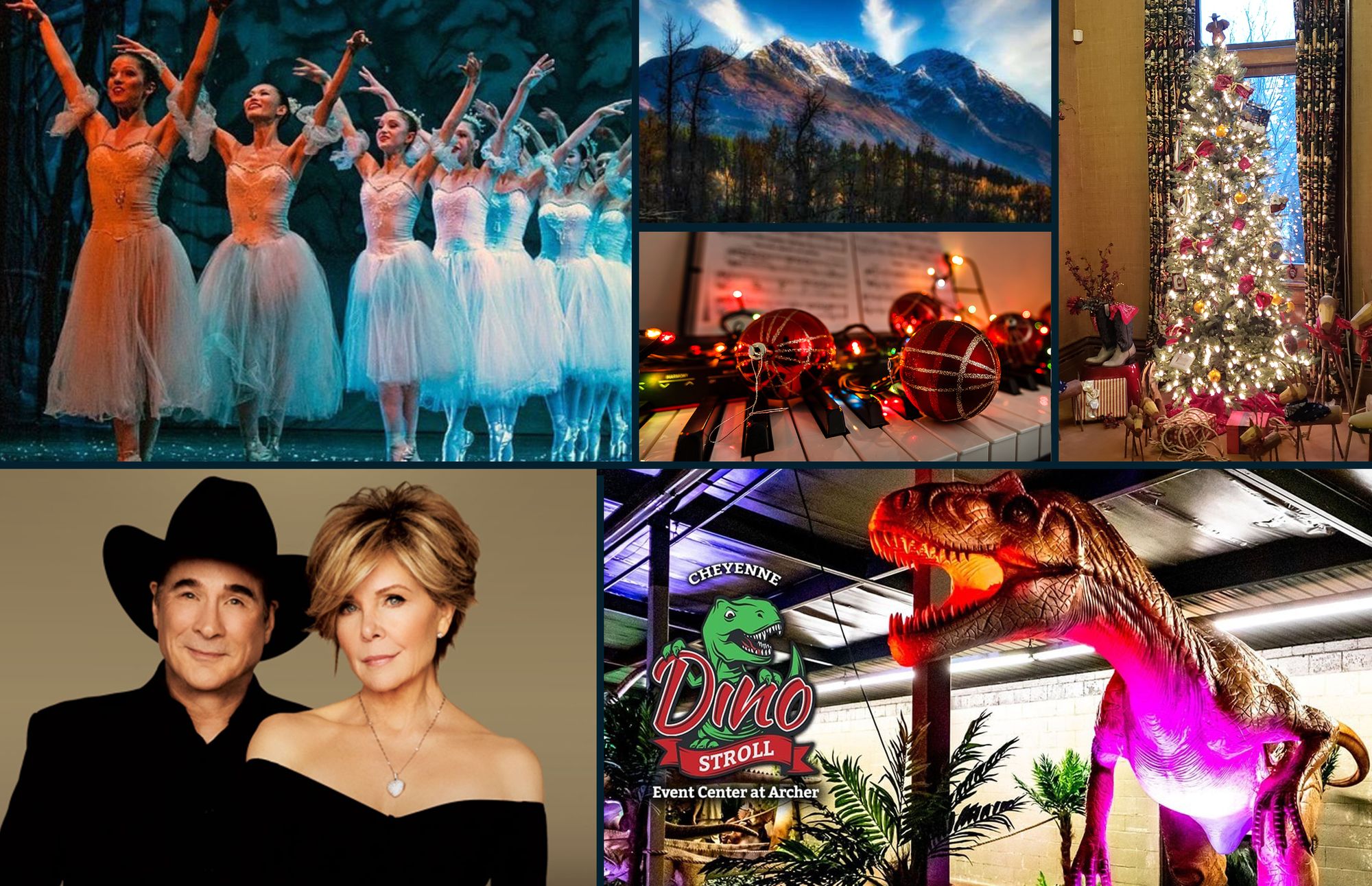 1) MAGIC CITY'S ANNUAL FESTIVAL OF TREES (VIRTUAL)
November 26, 2021 - December 5, 2021 Recurring daily
The Festival of Trees is a fundraiser for Magic City Enterprises and their mission of supporting individuals with disabilities to live successfully. Dinner, live auction of custom decorated Christmas trees, silent auction, raffles and games. This event is virtual, follow link to register. https://mcewyo.org
2) TINSEL THROUGH TIME - Historic Governors' Mansion
November 20, 2021 - December 24, 2021 Recurring weekly on Wednesday, Thursday, Friday, Saturday / 4:00pm to 8:00pm / Free
Holiday decor and joy! Each room decorated to represent a different decade.
3) YOU BETTER WATCH OUT - A CHRISTMAS COMEDY - Atlas Theatre
December 3rd-5th, 9th-12th & 17th-19th (Dinner theatre :December 4th, 10th, 11th, 17th, 18th) / Regular seating $12-$22, Dinner Theater nights $24-$46
It's Christmas Eve at the Willow Inn, and a group of travelers is stuck due to a snowstorm raging outside. Only one recognizes that a guest is the Spirit of Christmas, and he must help a grieving man see the joy of Christmas. For dinner theater nights dinner is at 6 PM.
4) CHEYENNE ARTIST GUILD HOLIDAY FAIR - Holiday Park
December 1-23, 2021 / Every Tue thru Fri 12pm‑5pm, Sat 10am‑2pm, Sun & Mon closed
The Holiday Fair showcases the many and diverse talents of the local artists in and around Cheyenne, Wyoming. It's a great place to find unique handmade items for anyone on your Holiday shopping list!
5) AMERICAN PLAINS ARTISTS ANNUAL JURIED EXHIBIT - Cheyenne Frontier Days Old West Museum
November 5, 2021 - December 5, 2021 Recurring daily / 9:00am to 5:00pm / $25
The American Plains Artists (APA) 36th Annual Juried Exhibit & Sale will be hosted through December 5th.
6) VICTORIAN CHRISTMAS TEA - RX Tea Time
November 27, 2021 - January 2, 2022 Recurring daily / 11:00am to 4:00pm/ $25 per person
Victorian Christmas Tea at Rx Tea Time November 26- January 2. Call for Reservations.
7) Family Day: Pajama Party! - Wyoming State Museum
December 4, 2021/ 10:00am-2:00pm / Register for FREE with this form: https://bit.ly/3qA16qa.
From bare trees to hibernating bears, the signs of winter are all around us! This month's Family Day is dedicated to the amazing changes nature goes through as the weather gets colder, and there's no better way to celebrate winter than with a cozy Pajama Party. Put on your PJ's and join us at the museum for crafts, games, and up close looks at some winter-themed collections.
8) Holiday Craft Fair! - Beacon Hill Church
December 4, 2021 / 9:00am - 2:00pm
Holiday Craft Fair in Cheyenne, Wyoming!! Come see SewFunkey and many other handmade goodies just in time for Christmas!
9) CHEYENNE GARDEN GOSSIP BOOK SIGNING AND TALK - Cheyenne Botanic Gardens
December 4, 2021 / 1:00pm to 3:00pm / Free
Join us for a book talk and signing from local author Barb Gorges. You can get your copy of her latest book "Cheyenne Garden Gossip" at the Tilted Tulip gift shop in the Cheyenne Botanic Gardens, or you can bring your own. Barb will be at the Gardens until 3 PM signing books, answering questions, and chatting about all things gardening.
10) CHRISTMAS MUSIC - PIANO & HARP - The Hawthorne Tree
December 4, 2021 / 11:00am to 4:00pm / Free
Join us for a day of Christmas music and good cheer as pianist, Jason Crossman, and harpist, Kaira Tunnicliff, perform. Many thanks to Nieman and Son's Music who will be lending us a piano for the day! FREE to the public!
11) CLINT BLACK FEAT. LISA HARTMAN BLACK - Cheyenne Civic Center
December 4, 2021 / 8:00pm / $48.50+
Grammy-winning Country superstar Clint Black is hitting the road with the Mrs. Lisa Hartman Black and are making a stop at the Cheyenne Civic Center on December 4, 2021. Tickets start at $48.50 plus applicable fees and go on-sale Friday, June 11th at 10:00 AM and available at the Civic Center box office and cheyennepresents.org
12) CRAIG CAMPBELL ACOUSTIC SHOW - Outlaw Saloon
December 4, 2021 / 6:00pm to 10:00pm / $15
Craig Campbell brings his acoustic set to Cheyenne
13) DINO STROLL - Archer Event Center
December 4 -5, 2021 /$20
Dino Stroll is the only tour that lets you walk-thru an get up close to life-like and life-size dinosaurs, some standing over 25 feet tall and spanning over 60 feet long! During Dino Stroll, experience a transformation into the Mesozoic Era with prehistoric dinosaurs from the Triassic, Jurassic, and Cretaceous periods, throughout!
Dino Stroll is an interactive event allowing guests to walk thru this memorable indoor experience. While guests stroll, they can get up close to 75 dinosaurs within exhibits throughout, ranging from babies to some life-like and life-size dinosaurs, and even encounter a T-Rex, Velociraptors and Stegosaurus, just to name a few.
14) Santa Photos & Visits - Frontier Mall
December 2nd - 24th, 2021 /  11:00am to 7:00pm
Visit Santa for a special holiday memory, Dec. 2 through Christmas Eve! Santa's Workshop is located in Center Court. Visits are always free, and photo packages & frames are available for purchase.
15) Tree of Remembrance Lighting Ceremony - Davis Hospice Center
December 4, 2021 / 1:30pm -2:00pm
Cheyenne Regional Medical Center Hospice and the CRMC Foundation are hosting the 26th annual Tree of Remembrance lighting ceremony on December 4 starting at 1:30 p.m. in the Davis Hospice Center.
16) HISTORY LOVER'S GUIDE TO CHEYENNE BOOK SIGNING - Cheyenne Depot Museum and Gift Shop
December 4, 2021 / 10:00am to 2:00pm
Join Starley Talbott and Michael E. Kassel, authors of A History Lover's Guide to Cheyenne, at the Depot Museum for a book signing. Books are available for purchase in the Museum Gift Shop.
17) WOOD PAINTING - Flydragon Design Art Studio
December 4, 2021 / 6:00pm to 8:00pm / $45
Join us for our wood painting class this month! We are painting "Christmas Joy". The finished product will be a 12x16" handmade wooden sign. All supplies are included!
18) Buzz Brothers at Terry Bison Ranch! - Terry Bison Ranch
December 4, 2021 / 6:00pm - 9:00pm
The Buzz Brothers Band will be bringing their sweaty brand of blues 'n' boogie to Cheyenne's Terry Bison Ranch the evening of Saturday, December 4th! Come on up and have a good time with good.
19) Two Guys at The Legion: A Cheap Christmas Gift! - American Legion Post 6
December 4, 2021 / 7:00pm - 10:00pm
Come join us as we ring in the holiday season with great Christmas and winter songs peppered with plenty of American Standards! Give your friends the gift of music and join us at The Legion on December 4th from. 7 to 10 pm!
20) DETOX RETOX: NAMASLEIGH - Freedom's Edge Brewing Company
December 5, 2021 / 9:00am to 1:00pm
The run is just the start of our holiday fun. Stick around post run for a CRC family Christmas photo around the Christmas tree, holiday treats, then enjoy some Little Lotus Yoga "Namasleigh" and a frosted pint of Freedom's Edge brew! Run starts at 9, yoga at 11, beer at noon!
21) 4th Annual Holiday Collage Concert - Laramie County Community College
December 5, 2021 / 2:00pm - 4:30pm / Free
Join us for the 4th Annual Holiday Collage Concert featuring the LCCC Music Ensembles at 2 p.m. on Sunday, Dec. 5, at LCCC's Surbrugg/Prentice Auditorium in the Fine Arts Building.
22) POETRY READING & BOOK SIGNING - JOHN ROEDEL - The Hawthorne Tree
December 5, 2021 / 1:00pm to 2:30pm / Free
John put this collection together as his own personal lyrical prescriptions of hope that his heart had written for him during his deepest moments of suffering. Each poem is a little amber vial that John hopes will help at least one other person in this raging world.
This event is FREE to the public. The reading will last for an hour followed by a half hour book signing.
23) SAN DIEGO BALLET NUTCRACKER - Cheyenne Civic Center
December 6, 2021 / 6:00pm / $20-65
San Diego Ballet brings America's favorite holiday event to dazzling life at the Cheyenne Civic Center. Our annual production of The Nutcracker features Tchaikovsky's timeless score and an international cast of more than 100 beautifully costumed dancers. Sugarplum fairies, leaping cossacks and flurries of snowflakes swirl across the stage, in this magical journey through a young girl's imagination.
24) DENVER BRONCOS play Kansas City Chiefs on Sunday, 5th at 6:20pm