Veterans Day, Fahrenheit 451, Holiday Wine Fest, Dirty Dancing And So Much More Happening This Weekend!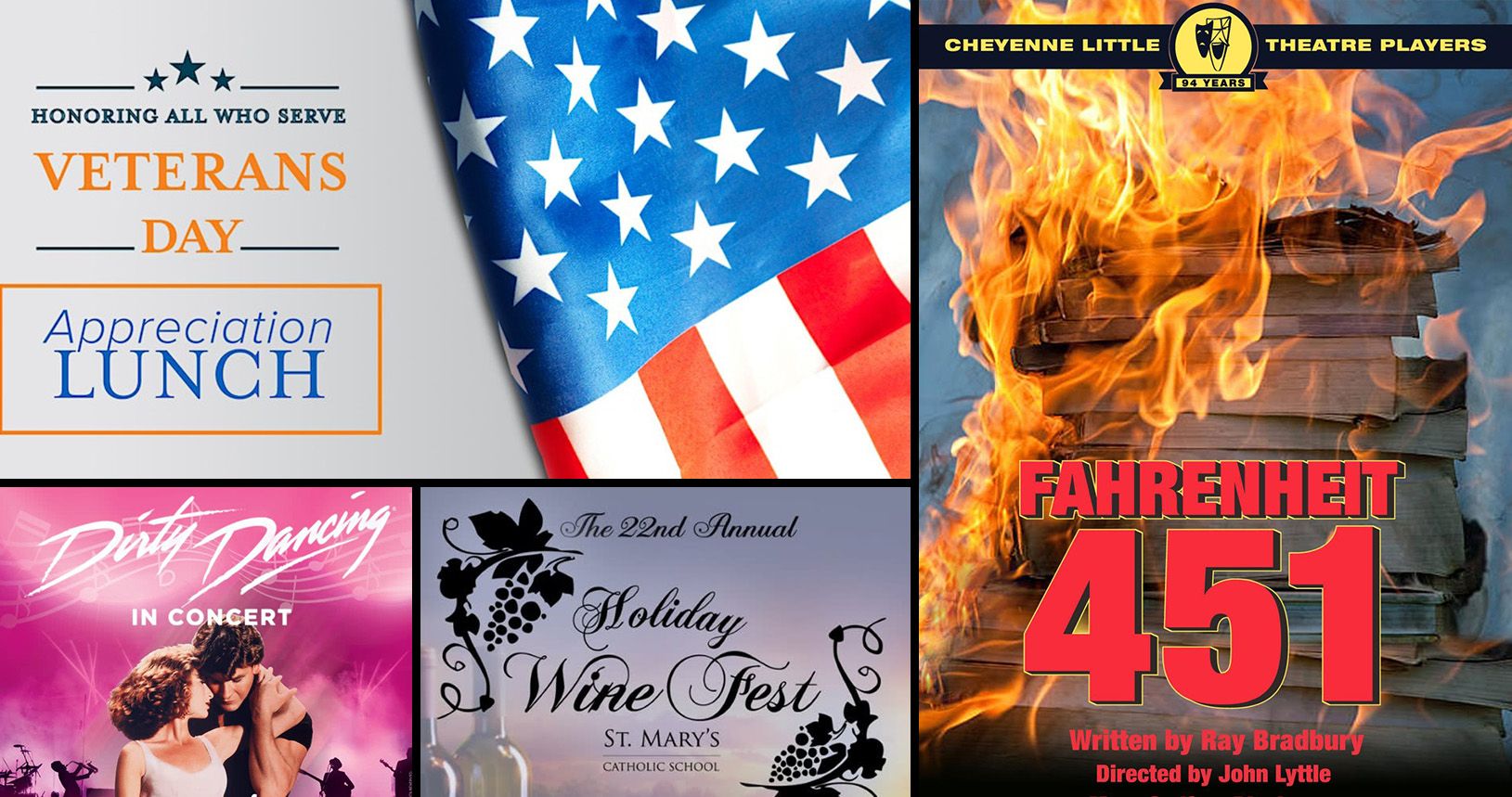 Fahrenheit 451 - Cheyenne Little Theatre Players
November 10-12, and 16-19, 2023 / $12-$29
Fahrenheit 451 is the temperature at which paper ignites. With simple sets and uncomplicated staging, this powerful drama is about the inner struggle of Guy Montag, a fireman. Montag has worked as a civil servant for ten years burning books, but lately he has become increasingly unsure about what he is doing and about his vegetable-like existence. It is not until he meets 16-year-old Clarisse, who is filled with strange ideas, that he is led into a dangerous and highly combustible situation. Now he must choose between continuing his nonexistent existence and risking everything for the right to think.
22nd Annual Holiday Wine Fest - Little America
November 10, 2023 / 5:30pm to 9:00pm / $50-$75
Wine Fest has become a premier wine tasting event with proceeds benefiting St. Mary's Catholic School. It is intended to showcase many local wine vendors and their wonderful wine. There will also be some wonderful appetizers & cheese and a silent auction.
Cheyenne Ladies Night In - Office Bar and Grill
November 10, 2023 / 5:00pm to 7:00pm
Join us for AN ADULT ONLY EVENING featuring Hors D'oeuvres, drinks, shopping & more!
Wyoming Cowboys vs UNLV
November 10, 2023 / 8:45pm
Hairball - The Lincoln Cheyenne
November 10, 2023 / 8:00pm to 11:00pm / $25
A band puts on a concert - Hairball puts on an event! Hairball is a Rock & Roll experience you won't soon forget.
Jason Lenyer Buchanan & The Short Timers - Blue Raven Brewery
November 10, 2023 / 6:00pm to 8:00pm / Free
Jason Lenyer Buchanan and The Short Timers perform songs from their new album, "Crooked Rivers"
Positive Aging - For Whom The Bell Tolls - Laramie County Library
November 10, 2023 / 1:30pm to 4:00pm / Free
Please join us for a screening of For Whom the Bell Tolls (1943), a film adaptation of Ernest Hemingway's Pulitzer- and Nobel Prize-winning novel. Hollywood legends Gary Cooper and Ingrid Bergman star in this epic-yet-intimate look at the Spanish Civil War.
Teen Hunger Games - Laramie County Library
November 10, 2023 / 1:30pm to 5:30pm / Free
Calling all Hunger Games Fans! Come join us to watch The Hunger Games (PG-13), and do some Games-based activities, just in time for the release of The Ballad of Songbirds and Snakes! Dress in your best "Capitol" attire. Are the odds in your favor?
Golden Harvest Bazaar - Holy Trinity Cheyenne
November 10 - 11, 2023 / Free Luncheon - Adults $11; Children 5-12 $5; 4 and under free.
Gift Shoppe: fabulous hand-made items, of wood, fabric and more. Vintage Room: gently used unique treasures. Bakery: delicious home-made goodies! Turkey lunch is served until food is gone.
Mountain Duo at Black Tooth
November 10, 2023 / 6:00pm to 9:00pm
Hot Guitars & Cold Beers in downtown Cheyenne!
Veterans Day Lunch Ceremony at Legion Post 6- sponsored by Nuvision CU
November 11, 2023 / 11:00am to 1:00pm
Free Veterans Day Appreciation Lunch for active and retired military heroes at Francis E Self American Legion Post 6 in Cheyenne!
Dirty Dancing in Concert - Cheyenne Civic Center
November 11, 2023 / 8:00pm to 10:00pm / $45-$95
Audiences attending Dirty Dancing in Concert will experience the hit film in a unique and unforgettable way. A complete screening of the digitally remastered film will play as a five-piece band and vocalists perform the songs live, in sync with the film.
Henry Rollins - The Lincoln Cheyenne
November 11, 2023 / 7:00pm to 11:00pm / $30-$160
On the Good To See You tour, Henry will faithfully recount the events of his life in the brief pre-COVID period since his last tour and the strange things that have happened over the last several months.
LCCC Music Concert: Honoring Our Veterans
November 11, 2023 / 3:00pm to 4:00pm / Free
A concert performed by the Cheyenne Brass Band and the LCCC Wind Ensemble. Located in the LCCC Surbrugg/Prentice Auditorium.
LCCC Music Concert: A Vocal Showcase
November 12, 2023 / 3:00pm to 4:00pm / Free
The LCCC Music Department presents: A concert of vocal talents, including Cantorei, Collegiate Chorale, and Soloists. Located in the LCCC Surbrugg / Prentice Auditorium.
Poetry Open Mic - Hawthorn Tree
November 12, 2023 / 1:00pm to 3:00pm / Free
Join us for a poetry open mic. Each poet gets 5 minutes to read, but occasionally go two rounds, so bring extra poems. Arrive 5 minutes early to sign-up.
The Hipocrats - Outlaw Saloon
November 12, 2023 / 7:30pm to 10:00pm / $5
The Hipocrats are an Americana daydream that blend hair-raising harmonies, spunky lyrical imagery and melodies sure to stick in your head for days.