Take The Plunge This Weekend!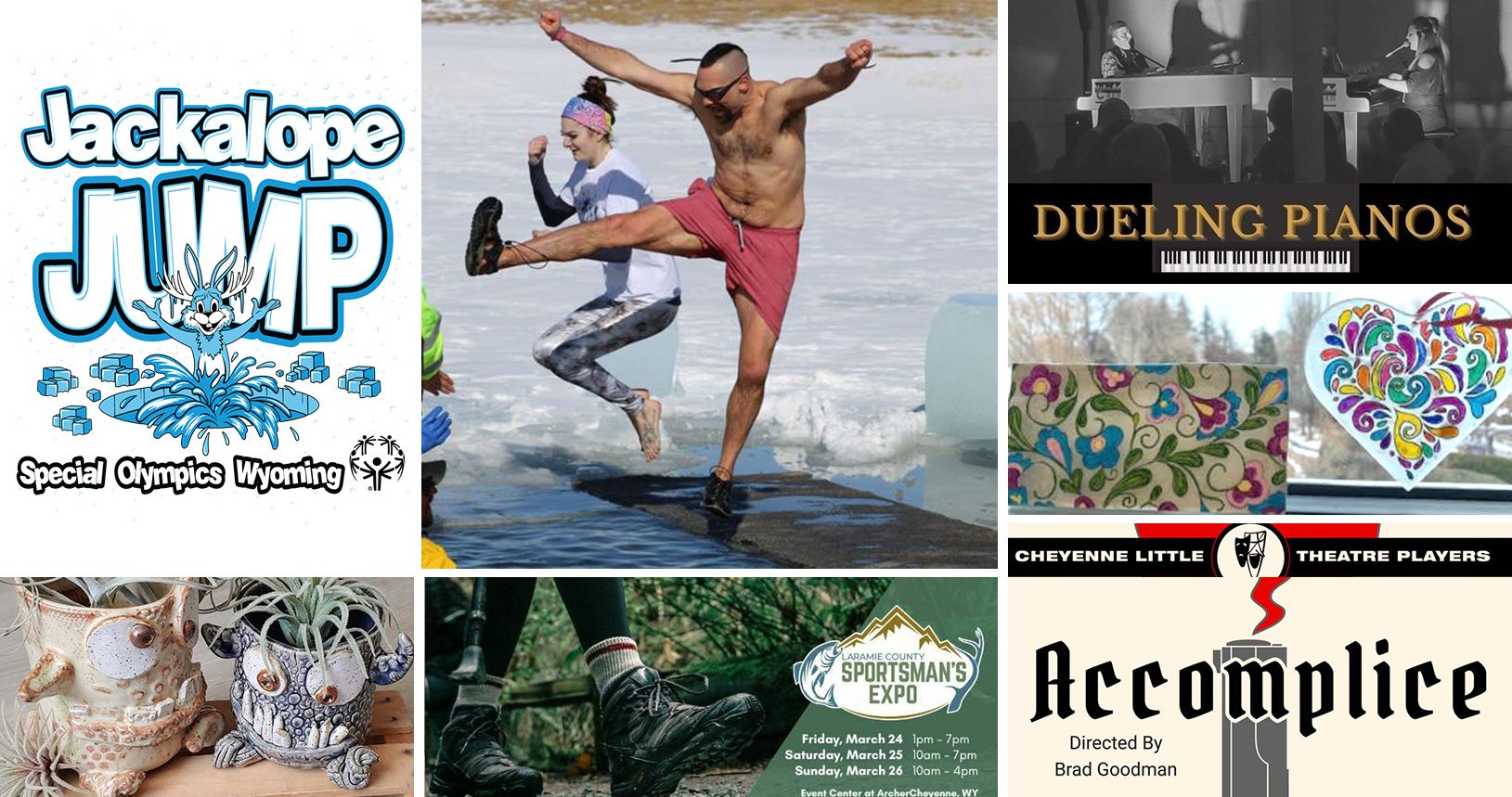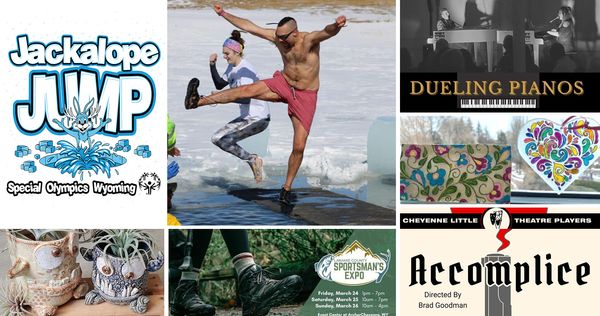 Accomplice - CTLP - Atlas Theatre
March 24-26, 31 - April 2
Winner of the Mystery Writers of America's coveted "Edgar" award (the "Oscar" of crime and suspense) and written by Tony® award winner Rupert Holmes, Accomplice has thrilled audiences on Broadway, across the United States and around the word. The New York Times has called it "a deliciously witty cocktail of a whodunit with a maniacally seamless plot where skullduggery emerges the winner!"
Sportsman's Expo 2023 - Event Center at Archer
March 24 -26, 2023 / Friday 1pm-7pm, Saturday 10am- 7pm, Sunday 10am - 4pm
The Laramie County Sportsman's Expo will host a wide range of businesses showcasing products and services aimed toward the most experienced outdoorsman to those new to the trail. Fisherman, hunters, avid hikers, occasional campers, and day-packers will all find a product or service suited to their next adventure. The event is free and open to the public with food and drink available for purchase from Uncle Fred's Catering.
Friday Night Dueling Pianos - The Metropolitan Downtown
March 24, 2023 / 7:30pm to 11:00pm / $20
Come laugh and sing along in an evening of musical entertainment directed by your requests! Doors open at 7:30PM. Limited menu and drinks are available throughout the show. This is a 21+ event.
Monster Pots - Silver Sage Ceramics
March 24, 2023 / 6:00pm to 9:00pm / $40
Learn how to hand-build a unique Monster Pot! Make it a couples night or come flex your creative muscles! All levels are welcome. Appropriate for ages 10 and up. All materials, instructions, and tools to personalize your gnome will be provided. Choose your glaze at the end and we will call you after the final firing. Please allow 3 weeks for the process to be complete.
2023 Wyoming Bee College & Garden To Market Conference - LCCC
March 24-25, 2023
The Bee College covers all things beekeeping, including Friday workshops with The Minnesota Bee Squad, Getting your Bees through the Seasons, Herbs and Honey.  On Saturday there is an all-day beginners beekeeping 101 class, and numerous journeyman and advanced level topics to choose from. All to help current beekeepers improve at their craft. The Garden to Market Conference address gardens from big to small, in town backyards or on the prairie.  Friday will have a hands on class growing grapes, and building a Geodesic Dome Greenhouse.  The dome will be raffled off that day. Saturday will cover ways to make money from you garden or just enjoy the bounty. Some of Saturday topics will be, growing hazelnuts, UW research on quinoa, yocum, strawberries, raspberries, fruit trees, a canning class and much more.

40th Anniversary Glass Art Celebration - Cheyenne Botanic Gardens
Open Now through April 1, 2023 / Tuesday - Saturday, 10:00am to 5:00pm / FREE
Remarkable glass art in our 2nd floor Hallway space. Many are for sale this year, so make sure you visit before your favorite piece is sold! Ribbons will be awarded for People's Choice and Artist's Choice, and selection is based solely on the total number of votes each artwork receives. Voting begins January 31, 2023 and will end at 5:00pm on April 1, 2023. Winners will be announced via media outlets.
Positive Aging: Respect (The Movie)- Laramie County Library
March 24, 2023 / 1:30pm to 4:00pm
Please join us for the viewing of the remarkable movie Respect (PG-13, 2021). The captivating life and career journey of Aretha Franklin, the Queen of Soul, is depicted through the talented acting of Jennifer Hudson and directed by Liesl Tommy. Optional chair yoga at the start of the event and discussion to follow the movie.
TMULE - Railspur
March 24, 2023 / 8:00pm to 11:50pm
Grunge rock inspired Cosmic Americana and ethereal delay-driven layers of Existential Folk.
2023 Cheyenne Jackalope Jump - Lions Park
March 25, 2023 / 10:00am to 2:00pm / Price Varies
Register today and come to the Jackalope Jump to support the 1,600+ Special Olympics athletes who compete year-round in Wyoming. All funds raised will benefit the Special Olympics athletes.
Apollo Suns//Float Like a Buffalo - The Lincoln Cheyenne
March 25, 2023 / 8:00pm to 10:00pm / $15-$30
Apollo Suns born from the fusing of nine Winnipeg, Canada-based musicians, Apollo Suns have created a refreshing and innovative sound and live performance combining instrumental, jazz, rock, and psychedelic music. Float Like a Buffalo is a Horn-driven, Ska-funk-reggae-rock band that combines multiple genres to make a unique sound that's impossible not to dance to.
Chicken Curling 2023 - Cheyenne Ice and Events Center
March 25, 2023 / 12:00pm / $60-$75
Experience the thrill of pushing a frozen chicken across the ice in our annual Chicken Curling Tournament! There will also be door prizes, raffle prizes, food and adult beverages!
Finding Your Irish Ancestors - Laramie County Library
March 25, 2023 / 4:00pm to 5:30pm / Free
We will explore the complicated history of Ireland, and the print and internet resources that will enable you to find out more about your Irish ancestors.
Gnome Mug - Silver Sage Ceramics
March 25, 2023 / 2:00pm to 5:00pm / $50
Learn how to hand-build a unique Gnome Mug! Make it a couples night or come flex your creative muscles! All levels welcome. Choose your glaze at the end and we will call you after the final firing.
Max Mackey - Railspur
March 25, 2023 / 8:30pm to 11:30pm
Max can be found playing solo with his trusty Martin guitar 'Grace'. "Solo shows are an opportunity to strip down sonically and play the music differently," says Max.
Painted Glass Art Class - Cheyenne Botanic Gardens
March 25, 2023 / 1:00pm to 3:30pm / $25
Join local glass artist Beth Rulli as she instructs you in painting a heart shaped sun catcher and a paper weight with a variety of designs! Baked on paints will be used and instructions will be sent home with you. Suitable for ages 10+. Please wear something old or bring an apron. Don't forget your reading glasses if needed.