Take A Look: Cheyenne Events Happening This Weekend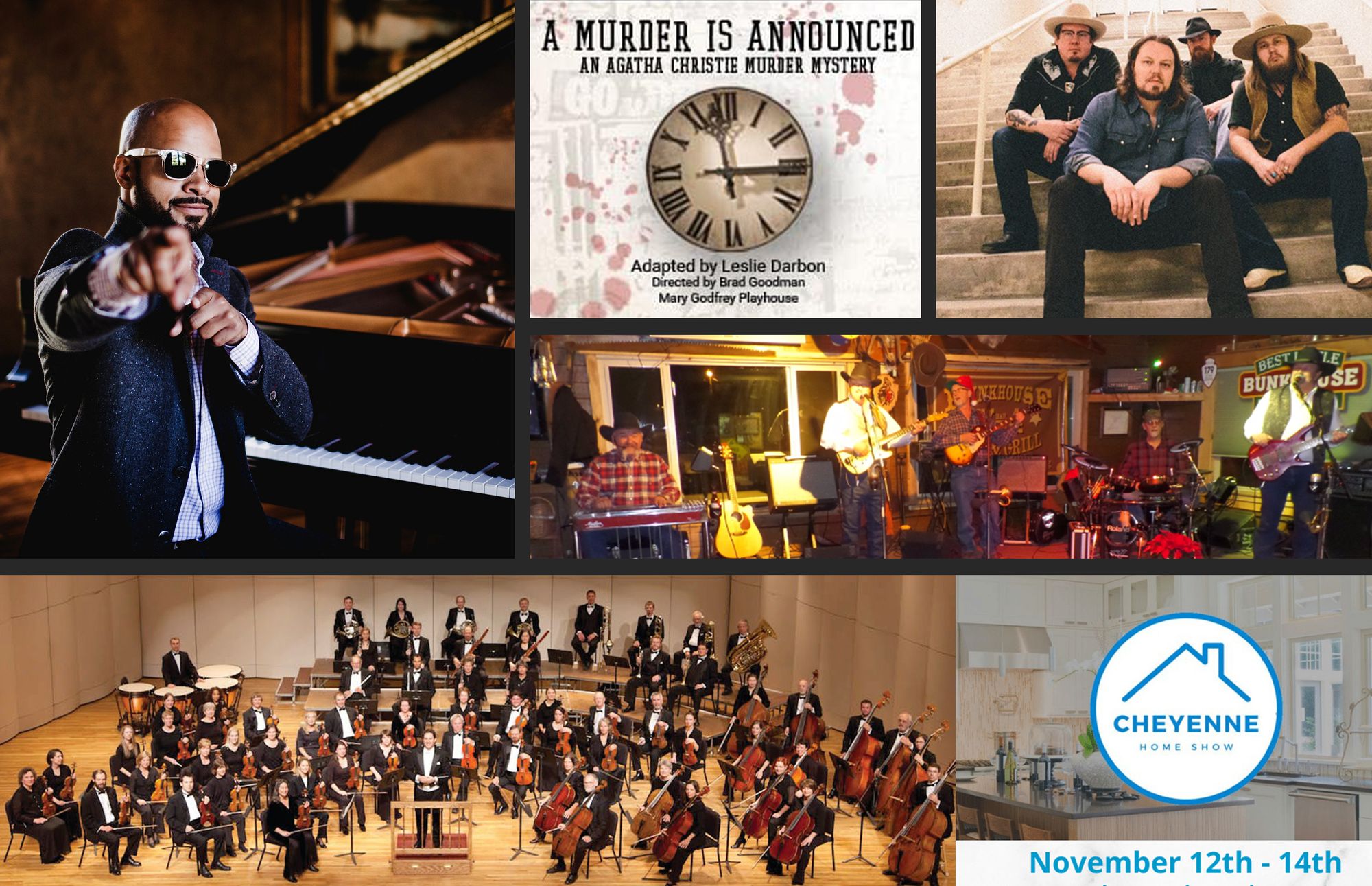 1) Veteran's Day Hall of Honor - VFW 1881
November 11-13 / 9:00am - 6:00pm / Free - donations accepted
VFW 1881, 2816 East 7th Street, will host the Veteran's Day Hall of Honor Thursday-Saturday, November 11-13, 9:00am-6:00pm, use the southeast basement entrance. Private U.S. Armed Forces Military Collections on display including medals dating from 1780 to present. The Medal of Honor display includes approximately 29 different Medals of Honor. Free admission, however, donations and sponsorships are accepted to improve the display. COVID-19 precautions requested.
2) LCCC Theatre Presents "She Kills Monsters"  -Surbrugg/Prentice Auditorium
November 11-13 and 18-20, 2021 / 7:30pm / General - $20, Middle School - College with a valid student ID are free!
Laramie County Community College's Theatre Department will host their first show of the Fall and their first play in the new Surbrugg/Prentice Auditorium at 7:30pm, November 11-13 and 18-20. The department will perform Qui Nguyen's "She Kills Monsters." Tickets are available at lccc.wy.edu/theatretickets. For information, contact Jason Pasqua at jpasqua@lccc.wy.edu or (307)778-4323.
3) CHEYENNE FALL HOME SHOW - Laramie County Fair / Archer
November 11-13, 2021 / Friday: 12pm – 6pm, Saturday: 10am – 5pm, Sunday: 11am – 4pm / Free Admission
See the latest in home improvement, remodeling, design, outdoor living and more. Meet with local and national vendors that can help you tackle any size project! Live demonstrations, prizes, show deals and contests to win provided by professional vendors. Win free prizes and discounts
4) COMEDY NIGHT AT THE MET - The Metropolitan Downtown
November 12, 2021 / 7:30pm to 9:00pm / $18
Laughter is good for your soul! Come enjoy this one and a half hour comedy show with two awesome comedians.
5) THE STEEL WOODS - Terry Bision Ranch
November 12, 2021 / 8:00pm to 11:00pm / $18+
The Steel Woods are an American Country Rock band out of Nashville, TN. Dark roots and plenty of face-melting attitude.
6) A MURDER IS ANNOUNCED - CLTP - Mary Godfrey Playhouse
November 12th-14th, & 18th-21st, 2021 / $12 -$22
Cheyenne Little Theater Players is presenting A Murder Is Announced written by Agatha Christie. An announcement in the local paper states the time and place when a murder is to occur in Miss Blacklock's Victorian house. The victim is not one of the house's several occupants, but an unexpected and unknown visitor. What follows is a classic Christie puzzle of mixed motives, concealed identities, a second death, a determined Inspector grimly following the twists and turns, and Miss Marple on hand to provide the final solution at some risk to herself in a dramatic confrontation just before the final curtain.
7) Red Kettle Kickoff Lunch with First Lady Jennie Gordon - Little America Hotel and Resort
November 12, 2021 / 11:30am - 1:00pm / Individual tickets are $75 a piece, or reserve a table for 8 for $500.
Join us and be a part of The Salvation Army of Cheyenne's mission to make lives better for people in need. Every dollar counts, and every dollar stays right here in Laramie County. This year's lunch features a silent auction and our special keynote speaker, First Lady of Wyoming Jennie Gordon. Please join us!
8) AMERICAN PLAINS ARTISTS ANNUAL JURIED EXHIBIT - Cheyenne Frontier Days Old West Museum
November 5, 2021 - December 5, 2021 Recurring daily / 9:00am to 5:00pm / $25
The American Plains Artists (APA) 36th Annual Juried Exhibit & Sale will be hosted by the Cheyenne Frontier Days™ Old West Museum, November 5 - December 5, 2021, and will open with a "Jump the Gun" Opening Reception for CFD Old West Museum Members and APA Artists on Friday, November 5, from 4:30-5:30 PM. The Opening Reception will open to all other ticket holders at 5:30-7:30 PM.
9) ARTFEST - Laramie County Library
October 20, 2021 - December 1, 2021 Recurring daily
Enjoy painting, photography, sculpture and more by artists age 50+ at the 22nd Annual ArtFest! Presented by Laramie County Senior Services.
10) FRIDAY NIGHT JAZZ - Little America Hotel and Resort
Recurring weekly on Friday / 6:00pm to 9:00pm
Bring some friends, grab a drink and food, and listen to some beautiful music. Music by Jazztet in the relaxing Hathaway's Lounge. Two-drink minimum required.
11) GOLDEN HARVEST BAZAAR - Holy Trinity Cheyenne
November 12 - 13, 2021/  Friday 4:00pm - 7:00pm, Saturday 8:00am - 3:00pm
Come shop in our Gift Shoppe, Vintage Room, and Bakery! Feeling lucky? Check out our two raffle tables supporting HTCCW and Mary's Fund for the chance to win amazing prizes. Be sure to stop by Mother Cabrini Hall on Saturday, November 13th beginning at 11am for a delicious Ham Luncheon!
12) LIVE MUSIC AND DANCING AT THE BUNKHOUSE - Bunkhouse Bar and Grill
Recurring weekly on Friday, Saturday / 7:00pm to 11:00pm
Every Friday & Saturday from 7pm-11pm our house band takes the stage. The Bunkhouse Band plays a collection of classic country western music. This is a family friendly atmosphere, so get the kids, grab your boots and head out to the Bunkhouse for a good time!
13) FALL MARKET FUNDRAISER - Masonic Temple
November 13, 2021 / 9:00am to 3:00pm
Food, crafts and a good time for a good cause!
14) A TIME TO DISCOVER BY THE CHEYENNE SYMPHONY ORCHESTRA -  Cheyenne Civic Center
November 13, 2021 / 7:30pm / Tickets $10-$50; Livestream $15 per household
Discover music by Fanny Mendelssohn and Chen Yi.  Plus, Terence Tam performs the Bruch Violin Concerto No. 1 and Lorraine Min plays Beethoven's Piano Concerto No. 4.
F. Mendelssohn, Overture in C Major
Bruch, Violin Concerto No. 1, featuring Terence Tam
Chen, Shuo
Beethoven, Piano Concerto No. 4, featuring Lorraine Min
15) STRETCH AND SIP - The Metropolitan Downtown
November 13, 2021 / 11:00am to 1:30 pm / $38
Come enjoy an hour long yoga class led by Theresa Hansen, followed by brunch and breakfast cocktails.
16) GRANDPA'S ATTIC: A VETERAN CELEBRATION - East High School Auditorium
November 13, 2021 / 2:00pm
Cheyenne Harmony Chorus and Wyomingaires Barbershop Chorus present Grandpa's Attic: A Veteran Celebration! A free family event in the barbershop style, Saturday, November 13, at 2:00pm, in the East High Auditorium, 2800 East Pershing Boulevard. Donations greatly appreciated, COVID-19 protocols are consistent with LCSD1.
17) BARRON RYAN, PIANIST - Central High School Auditorium
November 14, 2021 / 4:30pm to 6:00pm / $5 Students; $20 Adults/Seniors; $50 for an entire family of 4 or more.
Pianist Barron Ryan draws on many music styles and influences in his concerts, including jazz, ragtime and hip hop.
18) CHILLER IN CHEYENNE CORNHOLE TOURNAMENT AND FUNDRAISER - American Legion Post #6
November 14, 2021 / 12:00pm to 6:00pm / $40
The first annual Chiller in Cheyenne Cornhole Tournament and Fundraiser!
19) GREAT NORTHERN LIVESTOCK EXPOSITION - Archer Event Center
November 15, 2021 - November 30, 2021 Recurring daily / 8:30am to 8:00pm
Jr. Breeding Sheep/Goats, Working Dog Trials, Ranch Rodeo with World Ranch Roping Competition, Western, Tradeshow, Chuckwagon Cookoff, Open Junior Cattle Breed Shows, Market Steer Show, Prospect Steer & Heifer Show/Sale.
20) LIBRARY FOR ALL HOLIDAY PARTY - Laramie County Library
November 15, 2021 / 1:00pm to 3:00pm / Free
An event specifically geared for adults with disabilities, kick off the holiday season by creating homemade ornaments for the library's holiday tree. You can collect your ornaments after the holiday season. RSVP required at lclsonline.org.
SPORTS
WYOMING COWBOY FOOTBALL - Friday, November 12th at 7:00pm against Boise State
DENVER BRONCOS FOOTBALL - Sunday, November 14th at 2:25pm against the Eagles
2021 WHSAA STATE FOOTBALL CHAMPIONSHIPS
The 2021 WHSAA State Football Championships will begin on Friday, November 12th at 12pm with the 1A-6Man Championship game. The 3A game is next at 3pm. Then on Saturday, November 13th, Class 2A starts the day off at 10am, followed by the Class 1A-9Man game at 1pm and finishes up with the Class 4A game at 4pm. All games will be held at War Memorial Stadium, on the campus of the University of Wyoming, in Laramie.