Take A Look At What Is Happening This Weekend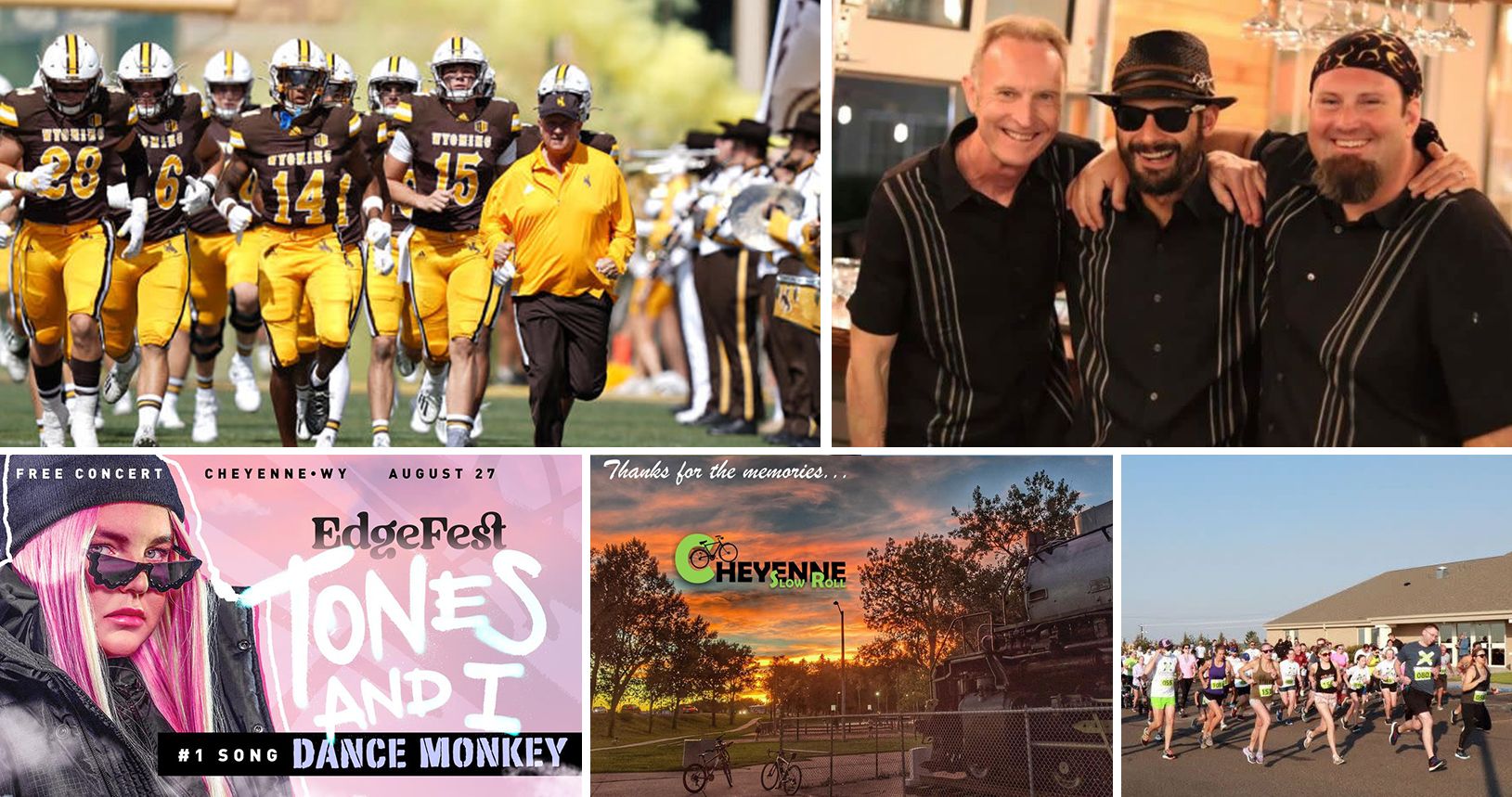 1) Fridays on the Plaza: Jocelyn & Chris with Patti Fiasco
August 26, 2022 / 5:30pm to 9:00pm / Free
Jocelyn and Chris are sibling blues-rock music artists from Upstate New York. Jocelyn sings lead vocals and plays piano, while Chris plays lead and rhythm guitar. The two write all of their music together as a brother-sister team.
2) Brian David Collins - Black Tooth Brewing Co.
August 26, 2022 / 6:00pm to 8:00pm / Free
Live at Black Tooth Brewing Company, Brian David Collins.
3) Hell on Wheels Chuck Wagon Dinner and Rodeo - Laramie County Fair Complex at Archer
August 26, 2022 / 5:30pm to 9:30pm / $25-$50
Any stop in Cheyenne isn't complete without a real Western experience. Nothing gets you closer to our heritage than a real cowboy dinner and a home-grown rodeo under a famous Wyoming sunset! Award-winning 3LazyR Chuck Wagon will be fixin' up some home cooking, made the old fashioned way: Slow-cooked over a fire all afternoon. Brisket and beans, garlic roasted baby potatoes, and warm cobbler will fill your belly and your heart with a true taste of the West. Then, mosey over to the rodeo arena to cheer on our hometown cowboy and cowgirls competing in events including Bareback Riding, Saddle Bronc, Breakaway Roping, Steer Wrestling, Barrels, Bull Riding, and more. Enjoy the West's favorite sport under the open sky with some of Wyoming's finest competitors!
4) Cheyenne Western Collectibles and Gun Show and Auction - Archer
August 26 - 28, 2022 / Open to the Public
Come join New Frontier Show for our annual Western Collectibles and Gun Show and Auction. Friday 12pm-5pm. Saturday 9am -4pm, and Sunday 9am-noon.
5) 5th Annual Watch for Traffic 5K - Cheyenne Hills Church
August 27, 2022 / 8:00am to 9:30am / $10-$25
The 5th annual Watch for Traffic 5K is Saturday, August 27th at Cheyenne Hills Church. Events also include a Kids Fun Run and an Inflatable Dash. Sign up today!
6) 4th Annual Don Sands Hot Rod Re-Union - Uncle Charlie's Package Liquor, Grill & Tavern
August 27, 2022 / 8:00am to 4:00pm
Rev your engines and join us for a "tire-kicking" good time at the Don Sands Hot Rod Reunion.
7) Canning Basics - Cheyenne Botanic Gardens
August 27, 2022 / 11:30am to 1:00pm / $25
Learn how to put up your harvest with this hands-on canning class. Danielle Allman will teach you about pressure canning and water bath methods. Materials will be provided. Pre-registration is required.
8) Edge Fest - W. 21st St. and Bent Ave.
August 27, 2022 / 5:00pm to 11:00pm / Free
Edge Fest is kicking off its 7th annual event with headliner Tones & I, known best for her hit single "Dance Monkey," with supporting acts from TikTok sensation Claire Rosinkranz and Joe P. This FREE concert is open to all ages, with access to drinks, food trucks, and local vendors! Edge Fest is an annual music festival that celebrates live music, food and drink, local vendors, and the historic West Edge of Cheyenne, Wyoming. This music festival was created to bring love and healing to an old, abandoned, industrial zone that was largely responsible for the creation and expansion of the front range of Colorado and Wyoming.
9) End of Summer Foam Party! - Laramie County Library
August 27, 2022 / 10:00am to 12:00pm / Free
Summer is over and it's time to go back to school, so join us for one last hurrah! We will be playing outdoor games and sipping on lemonade as we enjoy the last rays of summer with a foam party! Prepare to get wet as we cool down with some water games and foam fun. Bring your lawn chairs, sunblock, and snacks as we say so long to summertime fun!
10) Thanks For All the Memories, Cheyenne Slow Roll - Blue Raven Brewery
August 27, 2022 / 4:00pm to 8:00pm / Free
It is the end of our Slow Roll season, so we are going out on a bang! We have a special Saturday afternoon roll, and we are not holding back. We will start and end this one from Blue Raven Brewery.
11) University of Wyoming Football Fest - Laramie County Library
August 27, 2022 / 2:00pm to 6:00pm / Free
C-O-W-B-O-Y-S! Cowboys, Cowboys, Cowboys! Prepare your best University of Wyoming football cheer, don your brown and gold, and get ready for game day at the library! Join fellow fans to watch the first game of the season as the Cowboys take on Illinois. Bring your comfy camping chairs–we'll provide tailgate-style refreshments and door prizes.
12) Wyoming Cowboy Football Season Opener vs University of Illinois
August 27, 2022 /  Kick off at 2:00pm
13) Farmers Market - Lot C Frontier Park
August 27, 2022 /  7:00am to 1:00pm / FREE
Spend a beautiful Saturday morning finding everything from fresh produce and breads to homemade jams, cheeses, dried meats, sauces and more! Parking in Lot C. The market is the annual fundraiser of Community Action of Laramie County, Inc.
14) Reggae On The Frontier Part 2! - Blue Raven Brewery
August 28, 2022 /  2:00pm to 6:00pm
Our rain check make up show with The Waking Souls for the ROTF festival. Come on out Cheyenne! Let's try this again!