Take A Look At What Is Happening This Weekend!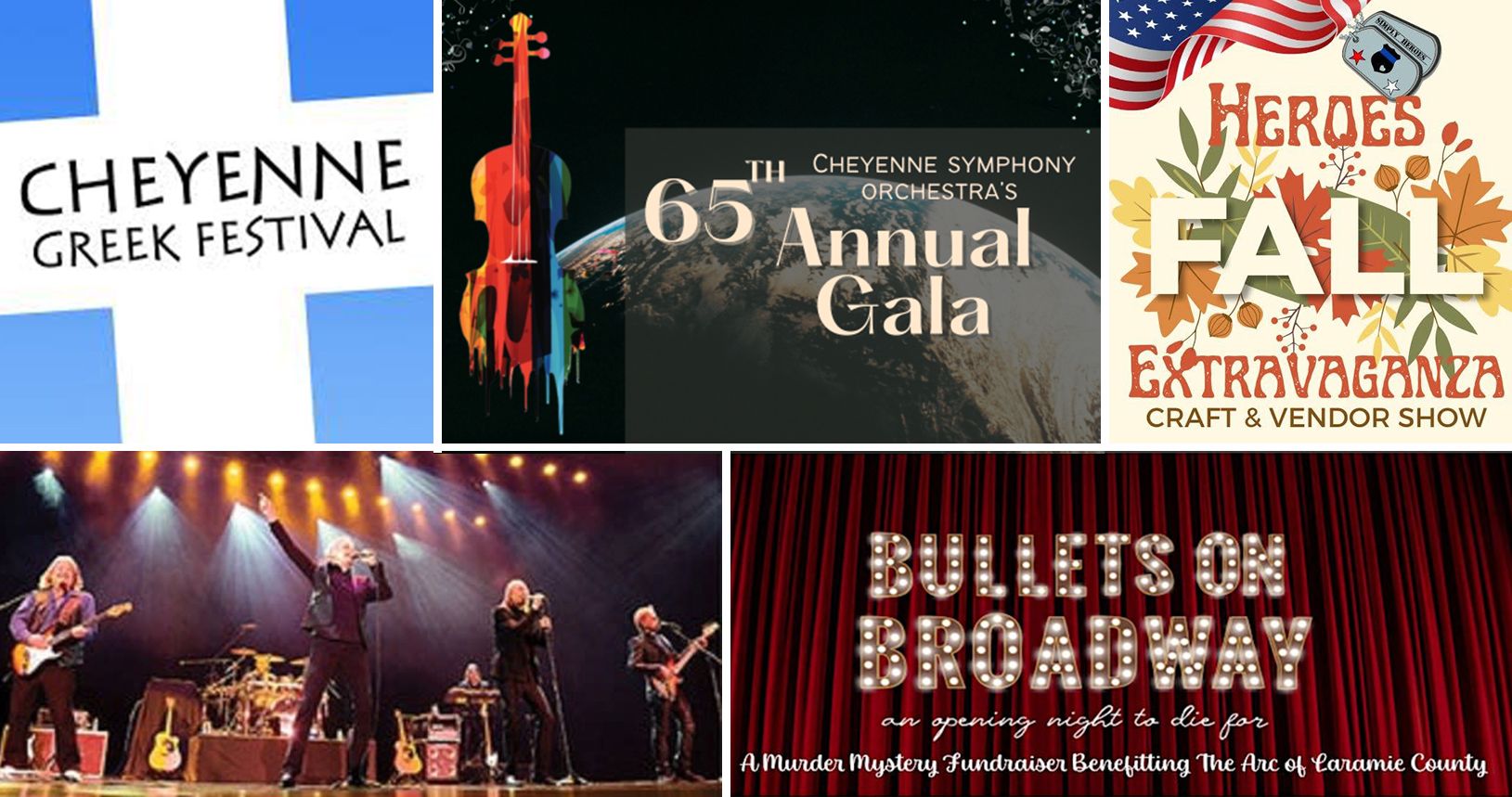 Three Dog Night - Cheyenne Civic Center
September 15, 2023 / 7:30pm
Now in its 5th decade, claiming some of the most astonishing statistics in popular music. In the years 1969 through 1974, no other group achieved more top 10 hits, moved more records, or sold more concert tickets than Three Dog Night.
Greek Festival - Cheyenne Frontier Days Exhibit
September 15-16, 2023 / Friday 4:00pm to 10:00pm & Saturday 11:00am - 8:00pm / Free
The Cheyenne Greek Festival is an annual event for Cheyenne to enjoy and celebrate wonderful Greek food and entertainment.
65th Annual Gala - Little America Hotel & Resort
September 16, 2023 /  5:00pm - 10:00pm / $125
Join the CSO for an evening of elegance and glamour to kick off the 2023/24 season! The evening includes a cocktail hour, three-course gourmet meal, live entertainment, and silent and live auctions at the Little America Grand Ballroom. Black tie optional.
Bird Watching at Wyoming Hereford Ranch
September 16, 2023 /  8:00am - 12:00pm / Free
Birders and beginning birders are welcome to join a free Cheyenne Audubon field trip. The group will leave at 8 a.m. from the Lions Park parking lot at the Children's Village. Although fall migration is already underway, there may still be some late warblers and flycatchers if the warm weather holds until then.
Heroes Fall Extravaganza: Craft & Vendor Show - Cheyenne Ice and Events Center
September 16, 2023 /  9:00am - 3:00pm / Free
With over 90 vendors showcasing their unique and creative products, you're sure to find something you love.
Meet Loaf & Fleatwood Mac Tribute - Outlaw Saloon
September 16, 2023 /  9:00pm - 2:00am / $18 advance tickets/$20 day of show
A tribute to Meatloaf and Fleetwood Mac.
Sketchbook Sessions - Cheyenne Creativity Center
September 16, 2023 /  10:00am - 12:00pm / Free
'Sketchbook Sessions' are monthly events for open worktime for artists to drop in and work in their sketchbooks. This is a great time to plan out a project, do some simple doodling, and talk art ideas with others.
The Cheyenne Farmer's Market - Frontier Parking Lots
September 16, 2023 /  7:00am - 1:00pm / Free
Come support a local nonprofit while shopping for fresh fruits, vegetables, cheeses, pasta sauces, baked goods, honey, kimchi, fermented foods, microgreens, coffee and more!
Bullets on Broadway Murder Mystery Fundraiser Benefitting The Arc of Laramie County - Historic Atlas Theatre
September 16, 2023 /  5:00pm - 9:00pm
It's the opening night of Murder in the First on Broadway, and nerves are high. The cast and crew are all a buzz backstage with the excitement of the lights, the sounds - and the dead body of a big-shot Broadway Producer. There lies Jack Bialystock, shot in the back center stage before the curtain could rise.
Was the murderer a cast member, like Anita Part who's making her Broadway debut tonight, or seasoned performer Sienna Stealer? Was it the sleazy casting director Colin Back, or a member of the audience like Megan Phan who somehow wandered backstage?
There's only one way to find out: Join The Arc of Laramie County on September 16th, 2023 at the Historic Atlas Theatre for our Bullets on Broadway Murder Mystery Fundraiser! The evening will include a silent and paddle auction, Hors D'oeuvres, and fun. Help us solve this crime!!
Fall Planting Day 2023 - Cheyenne Urban Forestry
September 16, 2023 /  7:30am - 4:30pm
Our Fall Planting Day will be on September 16th from 7:30am-4:30pm, Join us to plant trees in our community!
Heirlooms and Blooms Harvest Market - Cheyenne Botanic Gardens
September 16, 2023 /  10:00am - 5:00pm
Get a jumpstart on your holiday shopping!
Join us for an expanded indoor/outdoor market at the beautiful Cheyenne Botanic Gardens. A variety of regionally handcrafted gifts from artists and craftsmen.
You will find everything from home décor, woodworking, art and jewelry, dog treats, baked good, apparel, pottery, and so much more!!