Take A Look At What Is Happening This Weekend!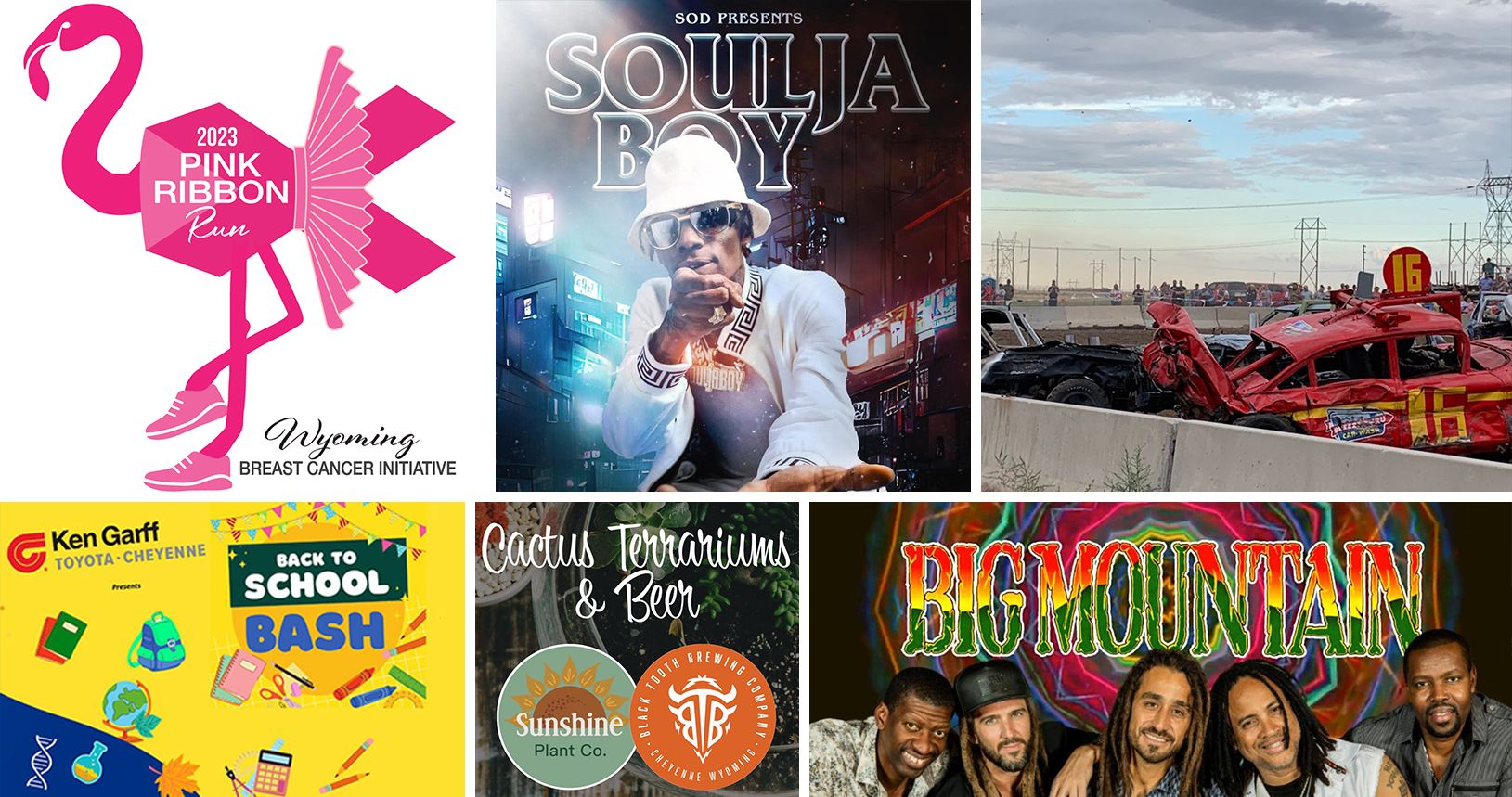 Laramie County Fair
August 2-12, 2023
Take a look at all of the fun events happening at the Laramie County Fair. www.laramiecountyevents.com/fair/
Cheyenne Friday Market - Shrine Club
8/11/2023 / 4:00pm to 7:00pm
Shop the freshest produce, sweet treats, handmade goods, and more from our wonderful vendors. You'll find something for everyone, whether you're looking for a unique gift or a delicious snack. Plus, you'll get the chance to meet and support local artisans and small businesses.
Fridays on the Plaza: Big Mountain
8/11/2023 / 5:30pm to 9:00pm / Free
Big Mountain is an American reggae band known for its remake of Peter Frampton's "Baby, I Love Your Way", which became a top 10 hit single in the US in early 1994
Cheyenne Arts Celebration - Lions Park
August 12, 2023 / 11:00am to 8:00pm / Free
The Cheyenne Arts Celebration is back. Buffalo Nichols and Stephanie Ann Johnson will rock Lions Park with more local and regional acts, tons of visual art vendors, food trucks and more!
Cactus Terrariums & Beer - Sunshine Plant Co.
August 12, 2023 / 10:00am to 12:00pm / $35
We are excited to partner with Sunshine Plant Co. for this event! Cost includes one of our logo'd snifters, all planting/cactus materials, and two beers for the event!
The Cheyenne Farmer's Market - Frontier Park
August 12, 2023 - October 14, 2023 / 7:00am to 1:00pm
Come support a local nonprofit while shopping for fresh fruits, vegetables, cheeses, pasta sauces, baked goods, honey, kimchi, fermented foods, microgreens, coffee and more!
Cheyenne Pink Ribbon Run - Downtown Cheyenne
August 12, 2023 / 8:00am
North Lawn of the WY Supreme Court Building
7:00 am Registration & Resource Booths Open
7:30 am Survivor Ceremony
8:00 am Run Begins
9:30 am McDonald's Breakfast & Run Award Ceremony
Cheyenne Shrine Club: Car & Vendor Show - Cheyenne Ice and Events Center
August 12, 2023 / 9:00am to 3:00pm
Join the Cheyenne Shrine Club on August 12th for their Car & Vendor Show fundraiser! Vendor shopping will be inside the Cheyenne Ice & Events Center from 9 am until 3 pm and the car show will be outside from 10 am until 2 pm.
Demolition Derby - Complex at Archer
August 12, 2023 / 5:00pm to 6:30pm / $15
Get down and derby with our Demolition Derby! Watch the hard hits and crashing of the yearly Fair favorite.
Soulja Boy - The Lincoln Cheyenne
August 12, 2023 / 8:00pm to 11:00pm / $35+
Soulja Boy is an American rapper and record producer. He rose to prominence, after his self-published debut single "Crank That (Soulja Boy)" peaked at number 1 on the Billboard Hot 100.
Back to School Bash - Boys and Girls Club of Cheyenne
August 12, 2023 / 11:00am to 2:00pm / Free
Join the United Way Education Collaborative for the Second Annual Back to School Bash on Saturday, August 12th from 11:00 am to 2:00 pm at the Boys & Girls Club of Cheyenne! This event is free and open to ALL community members! Made possible by Ken Garff Toyota Cheyenne, this event will feature backpacks, school supplies, haircuts (trims & lineups), sports physicals, teeth cleanings, hygiene essentials, lunch & SO MUCH MORE! Back to school, here we come!
Community Vaccine Clinic — Black Dog Animal Rescue
August 12, 2023 / 9:00am to 1:00pm
Does your pet need a vaccine or microchip? Come to BDAR for low-cost and free services.
Poetry Open Mic - The Hawthorn Tree
August 13, 2023 / 1:00pm to 3:00pm / Free
Join us for a poetry open mic. Each poet gets 5 minutes to read, but occasionally go two rounds, so bring extra poems. Arrive 5 minutes early to sign-up.
Tea Cup Painting Class - The Hawthorn Tree
August 13, 2023 / 1:30pm to 2:30pm / $25
Join local mixed media artist Tara Pappas for a fun and relaxing afternoon as you decorate your own, unique glass tea cup! Cost is $25 and includes all the supplies, a free tea and a take-home tea cup made by you! Please pre-register by clicking on the ticket link.