Take A Look At What Is Happening This Weekend!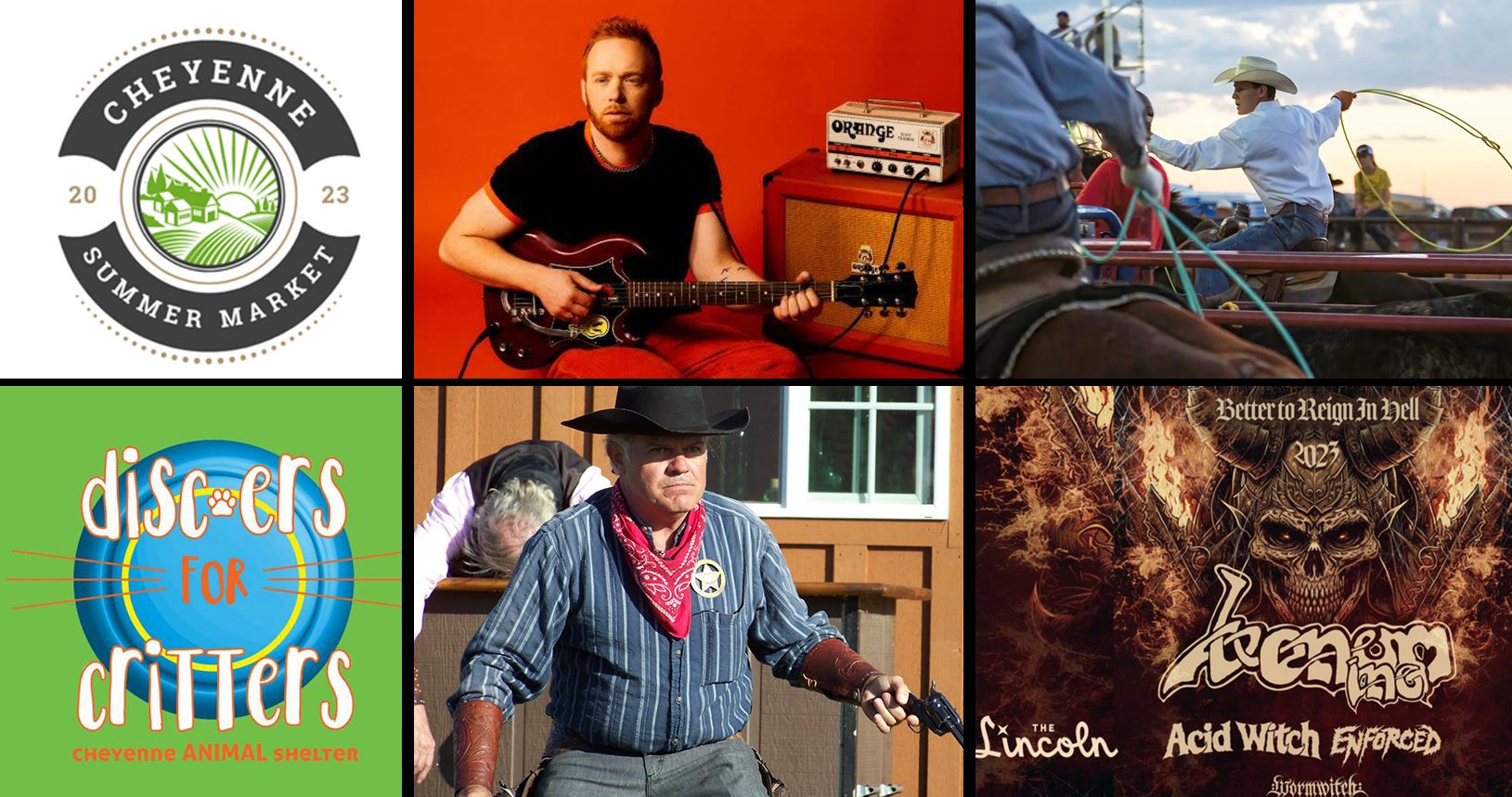 Fridays on the Plaza: Sam Tinnesz
July 7, 2023 / 5:30pm to 9:00pm / Free
Nashville RIAA gold selling artist Sam Tinnesz may not sound familiar by name alone but when you hear his viral hits like "Play With Fire" which has amassed over 400 million streams, and "Legends Are Made" which has contributed to over 5 billion views on TikTok you'll likely recognize his signature voice.
Hell on Wheels Rodeo and Chuck Wagon Dinner - Laramie County Fair Complex At Archer
July 7, 2023 / 5:30pm to 9:30pm / $25-$75
Any stop in Cheyenne isn't complete without a real Western rodeo experience. Nothing gets you closer to our heritage than a real cowboy dinner and a home-grown rodeo under a famous Wyoming sunset! Award-winning 3LazyR Chuck Wagon will be fixin' up some home cooking, made the old fashioned way: Slow-cooked over a fire all afternoon. Brisket and beans, garlic roasted baby potatoes, and warm cobbler will fill your belly and your heart with a true taste of the West. Then, mosey over to the rodeo arena to cheer on our hometown cowboy and cowgirls competing in events including Bareback Riding, Saddle Bronc, Breakaway Roping, Steer Wrestling, Barrels, Bull Riding, and more. Enjoy the West's favorite sport under the open sky with some of Wyoming's finest competitors!
The dinner bell rings at 5:30 and the rodeo begins at 7. Tickets start at $25.
Local Music Showcase- DJ/EDM Producers Night - The Lincoln Cheyenne
July 7, 2023 / 7:00pm to 10:00pm / $5 - Cover
The Lincoln Cheyenne's new series showcasing local musicians- this month featuring DJ's and EDM producers.
Cheyenne Art Walk - Paramount Cafe and Ballroom
July 7, 2023 / 5:00pm to 8:00pm / Free
We'll be featuring:
our Showcase Venue, the Paramount Cafe and Ballroom
music, food trucks and beverages for sale on the Depot Plaza
information about all the First Friday Artwalk venues
The Cheyenne Gunslingers - W. 15th and Pioneer Ave.
July 7 - 31, 2023 / 6:00pm / Free
See gunfights, western skits, and other Wild West activities in Gunslinger Square,15th & Pioneer, in downtown Cheyenne.  All of the shows are family-oriented. Frontier Days shows run daily 6pm and noon on weekends
6th Annual Discers for Critters - Romero Park
July 8, 2023 / 8:00am to 5:00pm
Do you love disc golf and supporting critters?! Join the Cheyenne Animal Shelter on Saturday, July 8th at Romero Park for the sixth annual Discers for Critters tournament! This annual disc golf tournament benefits all of the critters who join us here at the Shelter and is a wonderful opportunity to show off your skills. Registration is open now and must be completed online no later than July 6th to secure your spot.
All Patriots Poker Run
July 8, 2023 / 10:30am to 7:00pm/ $20 per rider, $10 per passenger
The poker run will consist of a 153-mile route through southern Wyoming and Northern Colorado, with an after-party at Civic Commons Park in Cheyenne.
Cheyenne Bonsai Society - Cheyenne Botanic Gardens
July 8, 2023 / 10:00am/ Free
Meet in the Paul Smith Children's Village. Open to the public; beginners welcome.
Cheyenne Summer Market 2023 - Shrine Club
July 8, 2023 / 9:00am - 1:00pm/ Free
Shop the freshest produce, sweet treats, handmade goods, and more from our wonderful vendors. You'll find something for everyone, whether you're looking for a unique gift or a delicious snack.
Fantastic Foam Party - Laramie County Library
July 8, 2023 / 10:00am - 12:00pm/ Free
We are having a party, a FOAM party! Grab your family and head to the library to cool off with foam! Wear your swimsuits and bring your towels because you are gonna get wet! We will also play some fun water games and have ice-cold lemonade and popsicles!
Jordan World Circus - LCCC Arena
July 8-9, 2023 / 2:00pm - 3:30pm
The Jordan World Circus upcoming showtime at LCCC Arena, Cheyenne,
Tim Malm Junior Rodeo - Albin, WY.
July 8, 2023 / 9:00am - 5:00pm
Come to Albin for the Tim Malm Junior Rodeo.
Mr. Byrd and the Perfect Strangers - Bunkhouse Bar & Grill
July 8, 2023 / 1:00pm - 5:00pm
Venom Inc. - The Lincoln Cheyenne
July 8, 2023 / 8:00pm - 11:00pm
A seasoned and punishing heavy metal trio featuring former members of British black metal pioneers Venom, the band is credited as the original inventors and founders of Black Metal.
Poetry Open Mic - The Hawthorn Tree
July 9, 2023 / 1:00pm - 3:00pm / Free
Join us for a poetry open mic. Each poet gets 5 minutes to read, but occasionally go two rounds, so bring extra poems. Arrive 5 minutes early to sign-up.
StoryWalk Sunday - Laramie County Library
July 9, 2023 / 1:15pm - 2:00pm
We will meet in the Willow Room, but the StoryWalk® will be outside, so dress for the weather! Afterwards, we will have snacks and crafts in the Willow Room. If you can't make it to the StoryWalk® Sunday event, the outdoor StoryWalk® is available rain or shine (or snow), all year round, even when the library is closed!
Summer Jackpot Series - DeLancey Team Roping
July 9, 2023 / 1:00pm / $50
In the Sunday Jackpots the Computer picks you a partner for a team made up of #10.5.