Take A Look At What Is Happening This Weekend!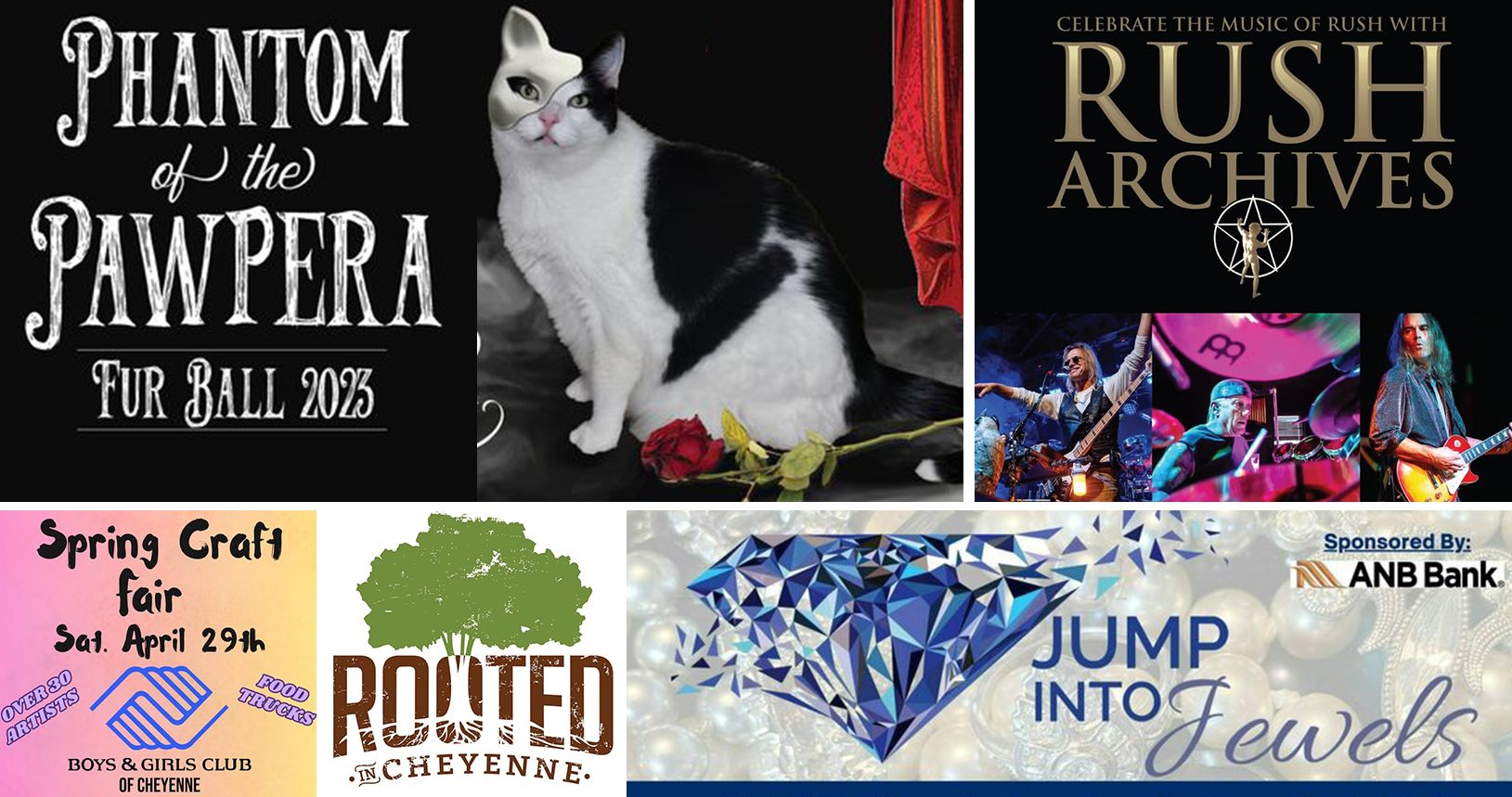 Arbor Day Celebration - Holiday Park
April 28, 2023 / 1:00pm to 3:00pm / Free
In addition to planting 12 trees, we will have activities, free seedling trees, an awards ceremony, an informational booth, Rooted in Cheyenne swag, and a tree planting demonstration!
Jump Into Jewels - Habitat for Humanity
April 28 - 29, 2023 / Friday: 4:30pm to 7:30pm  Saturday: 10:00am to 1:00pm/ Free Admission
Please join Habitat for Humanity of Laramie County for our annual fundraiser. We will have a Happy Hour on April 28th from 4:30-7:30pm and a Brunch on April 29th from 10am-1pm. After the Saturday brunch, we will have free admission to the public to purchase jewelry, purses, and much more!
Southeast Wyoming Chapter Big Game Banquet - Cheyenne Ice & Events Center
April 28, 2023 / 5:00pm to 10:00pm / $85+
Wyoming Rocky Mountain Elk Foundation hosts it's annual banquet.
Ty Warner + The Change Agents - Black Tooth Brewing Co.
April 28, 2023 / 6:00pm to 9:00pm
Catch Ty Warner + The Change Agents at Black Tooth!
Boys & Girls Club Spring Craft Show - 515 W. Jefferson Rd.
April 29, 2023 / 10:00am to 4:00pm / Free Admission
The Boys & Girls Club is hosting it's first ever Craft Show! Shop local vendors and handcrafted creations!
Fur Ball presents Phantom of the Pawpera - Little America Hotel & Resort
April 29, 2023 / 5:00pm to 10:00pm / $275/couple
The Fur Ball is Cheyenne's premiere pet-friendly gala which raises money in support of the animals and programs at the Cheyenne Animal Shelter. 'Don your best attire and join us for a fun evening of adoptable pets, heart-warming stories, exciting auction items, and more!
Rush Archives - Outlaw Saloon
April 29, 2023 / 8:00pm to 11:00pm / $10 in advance, $15 at door
Celebrate the music of Rush at the Outlaw Saloon.
Sacred Mycology - Hawthorn Tree
April 29, 2023 / 10:00am to 11:30am / $22-$33
Come take a deep dive and learn about fungi's history and our relationship with them. Join Brittney Clements and explore fungi's role in the environment within and without and how to work with fungi for immune and nervous system support.
Saturday | Sunday Brunch - The Metropolitan Downtown
April 29, 2023 / 9:00am to 2:00pm
Delight in our brunch menu that includes eggs Benedict, omelets, bottomless mimosas, and free pancakes for the kids!
Royal Tea Party with Cheyenne Little Theatre Players - Cinderella
April 29, 2023 / 10:15am to 11:00am
Celebrate the Cheyenne Little Theatre Players' production of Cinderella with us as we read some books, enjoy some tea party snacks, and make our own crowns. Don't be surprised when our friends from the production pop in for a visit and practice your bows and curtsies!
Global Exhibition Tour of Indigenous American Artists - Wyoming State Museum
Now through May 20, 2023/ 9:00am to 4:30pm / Free
The Wyoming State Museum will showcase "GROUNDED," a strategic and timely art exhibition organized by "ArtSpirit," the arts initiative of Episcopal Church in Wyoming, and "CARAVAN," a global arts non-profit.
Soundembodiment: Tibetan Bowl & Gong Sound Meditation - Little Lotus Yoga
April 30, 2023 / 3:00pm to 4:30pm / $40
In this special ALL levels event you will be guided through a series of seated listening and breathing techniques followed by an extended Tibetan singing bowl & Gong Sound Meditation practice.
Wyoming State Medal Ceremony - Cheyenne Civic Center
April 30, 2023 / 10:30am
Participants from across the entire state that have earned The Congressional Award Bronze, Silver, or Gold Medal will gather to celebrate at this ceremony sponsored by Jonah Bank of Wyoming, FNBO, and Visit Cheyenne.
Block & Bridle Banquet - Laramie County Community College
April 30, 2023 / 5:00pm
Help us honor the achievements of our Ag & Equine clubs, teams, and students at our annual Block & Bridle Banquet.
Dinner will be served at 5:30 p.m. with the awards presentation to follow at 6:30 p.m.