Take A Look At What Is Happening This Weekend!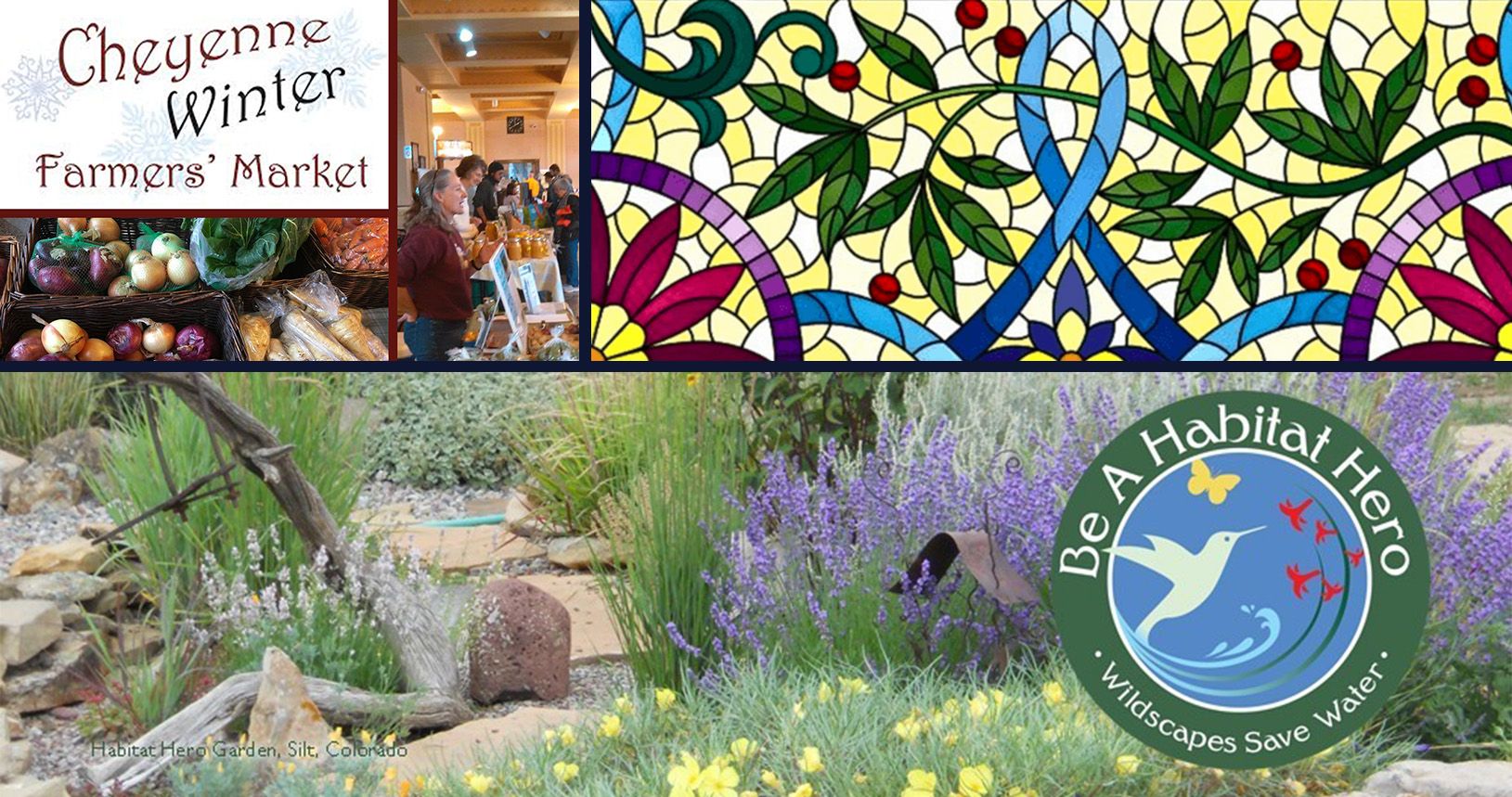 40th Anniversary Glass Art Celebration - Cheyenne Botanic Gardens
Open Now through April 1, 2023 / Tuesday - Saturday, 10:00am to 5:00pm / FREE
Remarkable glass art in our 2nd floor Hallway space. Many are for sale this year, so make sure you visit before your favorite piece is sold! Ribbons will be awarded for People's Choice and Artist's Choice, and selection is based solely on the total number of votes each artwork receives. Voting begins January 31, 2023 and will end at 5:00pm on April 1, 2023. Winners will be announced via media outlets.
Cheyenne Creativity Center Open House - 1620 Thomes Ave.
February 3, 2023 / 5:00pm to 8:00pm
Join us for the February First Friday Artwalk! We'll be the featured venue, hosting an Open House to showcase our brand new arts center--the Cheyenne Creativity Center! Come learn all about The Center, see an exhibition of many of our local artists, and enjoy some delicious food to the sound of great local music!
4th Annual Cheyenne RV Show - Event Center at Archer
February 2-5th, 2023/ 10:00am to 7:00pm
This is the BIGGEST RV Show in Cheyenne! We've packed the event center with travel trailers, fifth wheels, toy haulers, motorhomes, and more. See the top brands at the best price, giving you low RV Show pricing on RVs plus clearance pricing on all remaining 2022 RVs. We also have great financing options available, like payments starting as low as $200 per month on approved credit. And enter to win a brand-new $30,000 travel trailer—no purchase necessary, see rules for details.
Family Day: Wyoming Winter - Wyoming State Museum
February 4, 2023 / 10:00am to 2:00pm / Free
We may have some long, cold winters, but we also know how to make the best out of it. Join us to learn how people across the state work to keep winter fun and safe for everyone in Wyoming, and get inspired about how you and your family can enjoy the unique winter activities nature offers. Reserve your one-hour time slot for free on our website. Family Days are generously sponsored by Scheels in Johnstown, CO, making these events free and open to everyone.
THE BLACK EXCELLENCE PROJECT - Photographed Art Exhibit at The Louise Event Venue
February 4, 2023 / 12:00pm to 3:00pm
Photographed exhibit of Black business owners/ entrepreneurs of Cheyenne, Wyoming.
Winter Farmers Market - Depot Lobby
February 4, 2023 / 9:00am to 1:00pm / Free
The Best Local Foods and Crafts are at the Cheyenne Winter Farmers' Market!
9th Annual Habitat Hero Workshop: Landscaping for Water Realities on the High Plains - LCCC
February 4, 2023 / 8:00am to 4:00pm
Join Audubon Rockies and Cheyenne-High Plains Audubon Society in-person or virtually for a workshop on adapting gardens and landscaping to be more resilient to the current and future water realities on the High Plains. Climate change is affecting water availability across the western U.S. Rethinking the way we garden and landscape can help us conserve water while also supporting pollinators, birds, and other wildlife. Attend "Landscaping for Water Realities on the High Plains" to learn from expert speakers about the shortgrass prairie, groundwater, native plants, pollinators, and more!

Cost: $25 for in-person registration, virtual attendance is free
February 3 is the final day to register.
Mountain Duo at Blue Raven
February 4, 2023 / 5:00pm to 8:00pm
Hot Guitars & Cold Beers in downtown Cheyenne!
Sunshine & Plantiness Workshop - Flydragon Art Studio
February 4, 2023 / 1:00pm to 3:30pm / $50 Adults, $35 Children
Plantiness=the happiness plants give you-Monica
.Join us as Monica of Plantiness FOCO guides you through decorating and planting your own pot with a leafy friend for you to take home. Everyone receives one small extra plant to give away to help spread the Plantiness! The party starts at 1PM, so please arrive 15 minutes early to give yourself time to get settled in before we begin! Sign-up through the ticket link on this event page, or you can call or email us to sign up!
StoryWalk Sunday - Laramie County Library
February 5, 2023 / 1:15pm to 2:00pm
Let us introduce you to our StoryWalk title for February: Bad Dog by Mike Boldt. We will meet in the Willow Room, but the StoryWalk will be outside so dress for the weather! Afterwards, we will have snacks and crafts in the Willow Room.