Take A Look At What Is Happening This Weekend!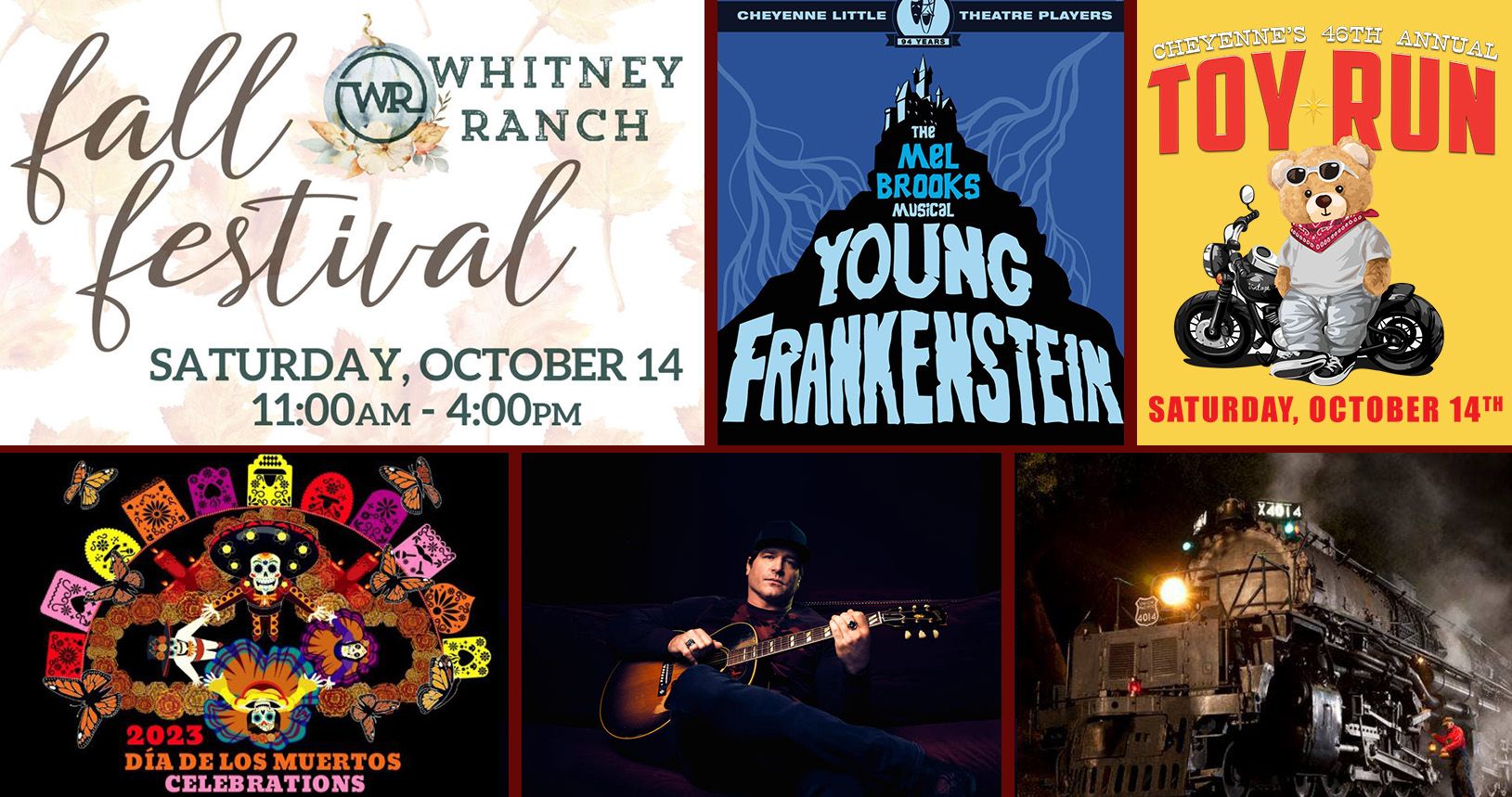 Young Frankenstein - Mary Godfrey Playhouse
Oct 13 - Oct 15 / $21-$31
The comedy genius, Mel Brooks, adapts his legendarily funny film into a brilliant stage creation – Young Frankenstein! Grandson of the infamous Victor Frankenstein, Frederick Frankenstein, inherits his family's estate in Transylvania. With the help of a hunchbacked sidekick, Igor (pronounced "Eye-gore"), and a leggy lab assistant, Inga (pronounced normally), Frederick finds himself in the mad scientist shoes of his ancestors. "It's alive!" he exclaims as he brings to life a creature to rival his grandfather's. Eventually, of course, the monster escapes and hilarity continuously abounds. Every bit as relevant to audience members who will remember the original as it will be to newcomers, Young Frankenstein has all the panache of the screen sensation with a little extra theatrical flair added. It will surely be the perfect opportunity for a production company to showcase an array of talents. With such memorable tunes as "The Transylvania Mania," "He Vas My Boyfriend" and "Puttin' on the Ritz," Young Frankenstein is scientifically proven, monstrously good entertainment.
Dia de los Muertos - Cheyenne Botanic Gardens
October 9-November 4, 2023 / 10:00am to 5:00pm / Daily
Celebrate those that have passed on and learn about the culture, traditions, and history of the Day of the Dead. You can find events across town throughout the month of October and into the first week of November!
Jerrod Niemann - Outlaw Saloon
October 13, 2023 / 8:45pm to 11:00pm / $15
Country star Jerrod Niemann returns to the Outlaw stage
Austin Meade - The Lincoln Cheyenne
October 13, 2023 / 7:00pm to 11:00pm / $18
Southern alt-rocker Austin Meade brings his tour to the Lincoln stage.
Positive Aging - Young Frankenstein the Movie - Laramie County Library
October 13, 2023 / 1:30pm to 4:00pm
Please join us for a screening of a family favorite, Young Frankenstein (PG, 1974). Hollywood greats including Gene Wilder, Teri Garr, Madeline Kahn, Cloris Leachman, Peter Boyle, and Marty Feldman star in this spooky comedy directed by Mel Brooks.
Union Pacific Steam Shop Tour
October 13 - October 20, 2023 / 1:00pm / $40 - Recurring weekly on Friday
See the Big Boy and the 844 Up Close and Personal - We are pleased to offer guests the opportunity to tour the Union Pacific Steam Shop, Round House, and Cheyenne Depot Museum. This is an exclusive ticketed event.
11:30 AM - 12:00 PM: Check-in for ticket holders; Museum open for tours.
- 12:45 PM: Ticket holders board the trolleys for the Steam Shop and Roundhouse.
- 3:00 PM: Board the trolleys and return to the Cheyenne Depot Museum; Museum remains open for tours.
Whitt's End Fall Festival - 1249 Happy Jack Road
October 13 - October 29, 2023 - Recurring weekly on Sunday, Friday, Saturday/ 2:00pm to 7:00pm / $10/person $40/family
Over 80,000 pounds of pumpkins, a petting zoo, hay maze, tractor hay wagon rides, face painting, games and much more!
Frightseeing Ghost Tours - Cheyenne Street Railway Trolley
October 13-15, 20-22, 27-31, 2023 / 6:00pm / $18 adults, $12 and under
Join The Cheyenne Street Railway Trolley for the annual Frightseeing Tours - a brush with the underworld right here in Cheyenne. From gruesome murders to unexplainable phenomena, this approximately 90-minute tour will leave you wondering what is imagined - and what is truly real.
Recommended for ages 10+ | Trigger Warning: Violence, murder, and suicide.
Nightmare 17th Street Haunted House in Cheyenne
October 6- 31, 2023 - Recurring weekly on Friday & Saturday/ 7:00pm to 11:00pm / $15/person. $10 Sep 30th and Oct 1st if you come in costume
The Knights of Pythias annual "Nightmare on 17th Street" Haunted House is back for another year of scares! Back by popular demand, Halloween night will be Blackout Night.
12th Annual Africa MAAFA Remembrance Day - LCCC
October 14, 2023 / 8:30am to 12:00pm / Free
Featuring presentations by Edith Cook, Mohamed Salih, JaQuale Brooks-Rachadson, and James W. Peebles. Free admission including refreshments!
46th Annual Cheyenne Toy Run
October 14, 2023 / 9:00am to 2:00pm / Free. Donation of new toy requested.
Benefiting local Cheyenne families, registration starts at 9am followed by the parade at 11am with lunch on return HCHD.
Afflerbach Elementary Craft & Vendor Show
October 14, 2023 / 9:00am to 3:00pm
You'll find unique handmade items that you won't find anywhere else! See you there!
Annular Eclipse Extravaganza - Laramie County Library
October 14, 2023 / 9:00am to 12:00pm / Free
Join us in viewing and celebrating the partial solar eclipse! The eclipse will peak at 75% coverage at 10:35am and we will have activities for all ages. We will walk you through eclipse-themed crafts and livestream NASA footage of the eclipse from the path of totality. Kids of all ages can enjoy hot drinks and participate in a moonwalking contest. A limited number of viewing glasses will be available.
Dia de los Muertos Pressed Flower Class - Cheyenne Botanic Gardens
October 14, 2023 / 10:00am to 12:00pm / Free
This fun event is geared toward youth ages 7 to 17. Learn how to press flowers to preserve them; then decorate your own Dia de los Muertos skull image with pressed flowers.
Fall Festival at Whitney Ranch
October 14, 2023 / 11:00am to 4:00pm / Free
Join us at Cheyenne's newest neighborhood for fabulous family fun with FREE pumpkins, candy and treats, festive family photos, hot cocoa by City Flavors, music, and more!
Oktoberfest Celebration - Railspur
October 14, 2023 / 12:00pm to 6:00pm / Free
Oktoberfest takes over Railspur featuring properly themed bier's from your favorite breweries, German themed food specials and authentic Oktoberfest drinking games!
Oktoberfestathon - 1509 Pioneer Ave.
October 14, 2023 / 12:00pm to 5:00pm / $25-$35
Break out the lederhosen, brush up on your yodeling and get ready for this fun filled family adventure that brings together bikes, costumes, beer and German food in one of the craziest runs you may ever witness!
Pine Bluffs Fall Festival
October 14, 2023 / 9:00am to 4:00pm
Fall festival activities and vendor fair! Free pumpkin for the first 125 kids!
Rope, Ride & Harvest - Pine Bluffs Distilling Tasting Room
October 14, 2023 / 5:00pm / $100
On Saturday, October 14th, join us for an unforgettable evening at Pine Bluffs, Wyoming! Start your experience with a scenic ride on the Cheyenne Street Railway, departing at 5 PM.
It's an evening of genuine Western hospitality, community, and unforgettable memories you won't want to miss!
Rumours-A Tribute to Fleetwood Mac - The Lincoln Cheyenne
October 14, 2023 / 8:00pm to 11:00pm / $25
A tribute to Fleetwood Mac.
Saturday STEAM - Laramie County Library
October 14, 2023 / 2:30pm to 3:30pm / Free
Children in grades 3–6 can join us each month as we explore a variety of STEAM topics (Science Technology Engineering Arts Math) with crafts, games, experiments, and more. This month, in honor of the moon passing over the sun during today's solar eclipse, we will be exploring the moon phases with a fun craft and Oreos®.
The Cheyenne Farmer's Market - Frontier Park
October 14, 2023 / 7:00am to 1:00pm / Free
Come support a local nonprofit while shopping for fresh fruits, vegetables, cheeses, pasta sauces, baked goods, honey, kimchi, fermented foods, microgreens, coffee and more!
Your Bar Now Tour - The Outlaw Saloon
October 14, 2023 / 9:00pm to 11:00pm /$15-$20
Tyler Halverson and Kylie Frey bring their Your Bar Now Tour to the Outlaw Saloon.
Wyoming Cowboys vs Air Force Falcons
October 14, 2023 / 5:00pm
Intro to Canine Herbalism - The Hawthorne Tree
October 15, 2023 / 1:00pm to 2:00pm /$30
Join Victoria Stees of Revolution K9 and learn the basics of herbal medicine to improve your companion dog's quality of life.