Take A Look At What Is Happening This Weekend!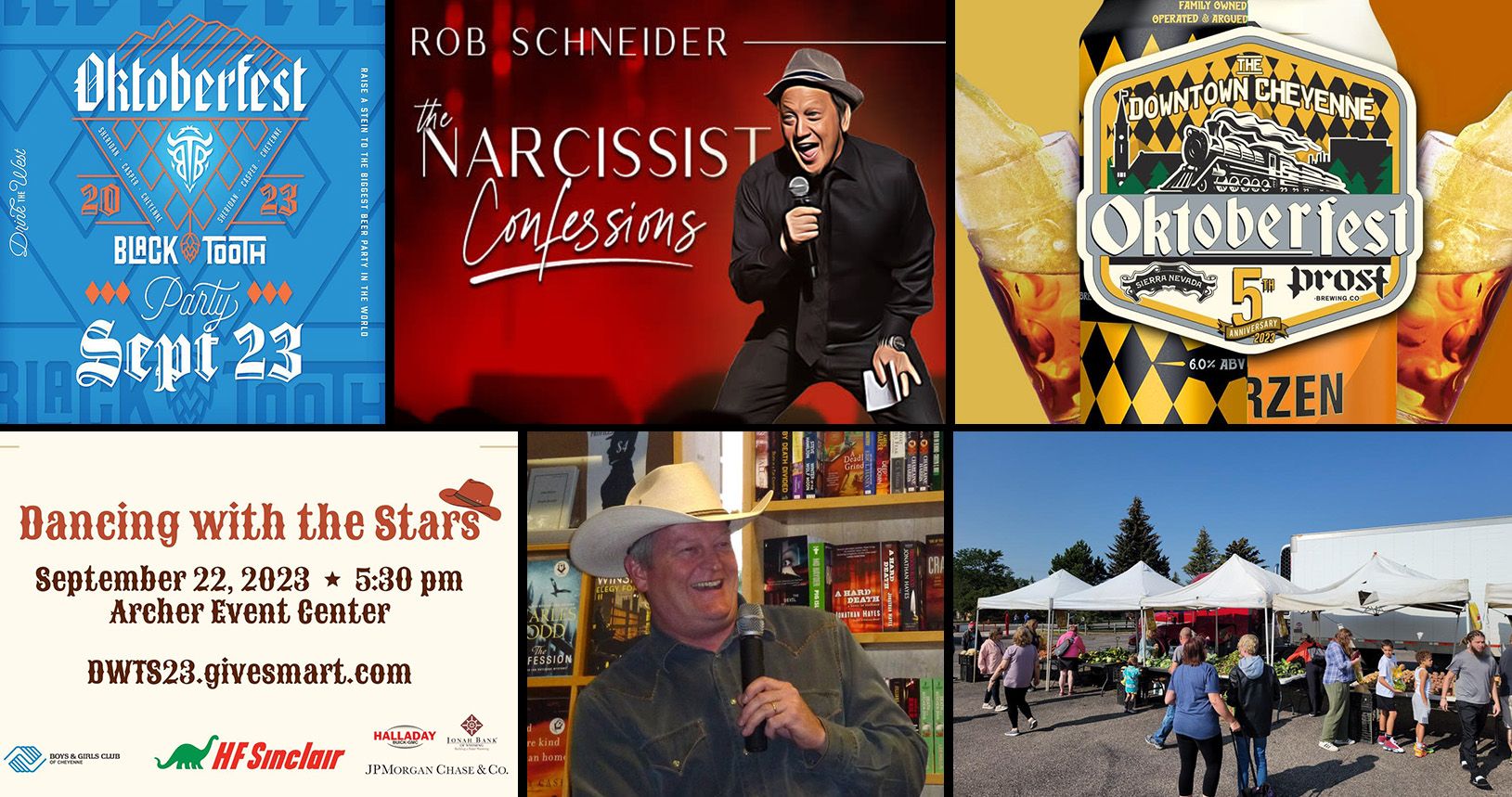 Annual Dancing with the Stars of Cheyenne - B&GC at Archer
September 22, 2023 / 5:30pm to 10:30pm
The Boys & Girls Club of Cheyenne is searching for the best of the West at the 2023 Dancing with the Stars fundraiser!
Nuestra Herencia: Hispanic Heritage in the Rocky Mountains - Wyoming State Museum
September 22, 2023 / 4:00pm to 6:30pm / Free
A celebration of Wyoming Archaeology Awareness Month and Hispanic Heritage Month at the Wyoming State Museum. Come grab some good food and enjoy the fiesta!
Rob Schneider: The Narcissist Confessions - Cheyenne Civic Center
September 22, 2023 / 7:00pm to 9:00pm
A household name and a bona-fide comedy star, Rob Schneider is well known for his trademark blend of character and comedic acting, and has become one of the most popular touring acts in comedy.
The WY Market - Depot Plaza
September 22, 2023 / 5:00pm to 9:00pm
Enjoy a Friday night market at the Depot! There will be food trucks, beer, music, and over 50 vendors.
Community Appreciation Day - Depot Square
September 23, 2023 / 11:00am to 4:00pm
Join us for the 2nd Annual Community Appreciation Day on Saturday. This event is all about saying THANK YOU to each and every one of you who make our community strong, vibrant, and united. Let's create lasting memories together and continue building the bonds that make Cheyenne an amazing place to live, work, and play. Spread the word, invite your friends and neighbors, and let's make this 2nd Annual Community Appreciation Day one for the books! See you there!
Craig Johnson Book Signing: The Longmire Defense - Laramie County Library
September 23, 2023 / 2:00pm to 3:30pm
Spend an afternoon with Craig Johnson. The author will share excerpts from his newest novel, The Longmire Defense, and then answer your burning questions. Stick around and get your book signed!
September 23, 2023 / 11:00am to 12:00pm / Free
Join CSO violist, Sabrina Lloyd and narrator Jennifer Wacker for the telling of Mr. Pusskins: A Love Story for Viola and Narrator! Storytelling will begin at 11a.m. followed by an Instrument Petting Zoo around the gardens! Activities presented in partnership with Delta-Kappa Gamma, Upsilon Chapter. Free and open to the public!
Wyoming Cowboys vs Appalachian State Mountaineers - Jonah Field at War Memorial Stadium
September 23, 2023 / 5:00pm
High Spirit Holistic Show - Red Lion Hotel and Conference
September 23 -24, 2023 / 10:00am to 5:00pm / $5
Enjoy a weekend of relaxation, shopping and visiting with 20 plus vendors.
Oktoberfest at Black Tooth Brewery
September 23, 2023 / 12:00pm to 11:00pm / Free
It's time to get dust off your lederhosen and get ready for Black Tooth's annual Oktoberfest Celebration. Street party, food trucks, games, steins and lots of Black tooth brews!
The Cheyenne Farmer's Market - Frontier Park
September 23, 2023 / 7:00am to 1:00pm / Free
Come support a local nonprofit while shopping for fresh fruits, vegetables, cheeses, pasta sauces, baked goods, honey, kimchi, fermented foods, microgreens, coffee and more!
The Downtown Cheyenne Oktoberfest - Depot Museum
September 23, 2023 / 12:00pm to 8:00pm / Free
5th Annual Downtown Cheyenne Oktoberfest! Bier, food trucks, costume contest, stein hoisting, fun, games, and live music by Rush Archives! Proceeds benefit The Cheyenne Depot Museum.
The Mashup Live - Westby Edge Brewing Company
September 23, 2023 / 6:00pm to 9:00pm / Free
Reggae vibes and ambient grooves reign supreme with surprise content mixed in. You miss a little, you miss a whole lot!
LCCC Music Faculty Showcase
September 24, 2023 / 3:00pm to 4:00pm / Free
Enjoy a variety of solo and chamber music performed by the LCCC music faculty!
Denver Broncos vs Dolphins
September 24, 2023 / 11:00am