Take A Look At What Is Happening In Cheyenne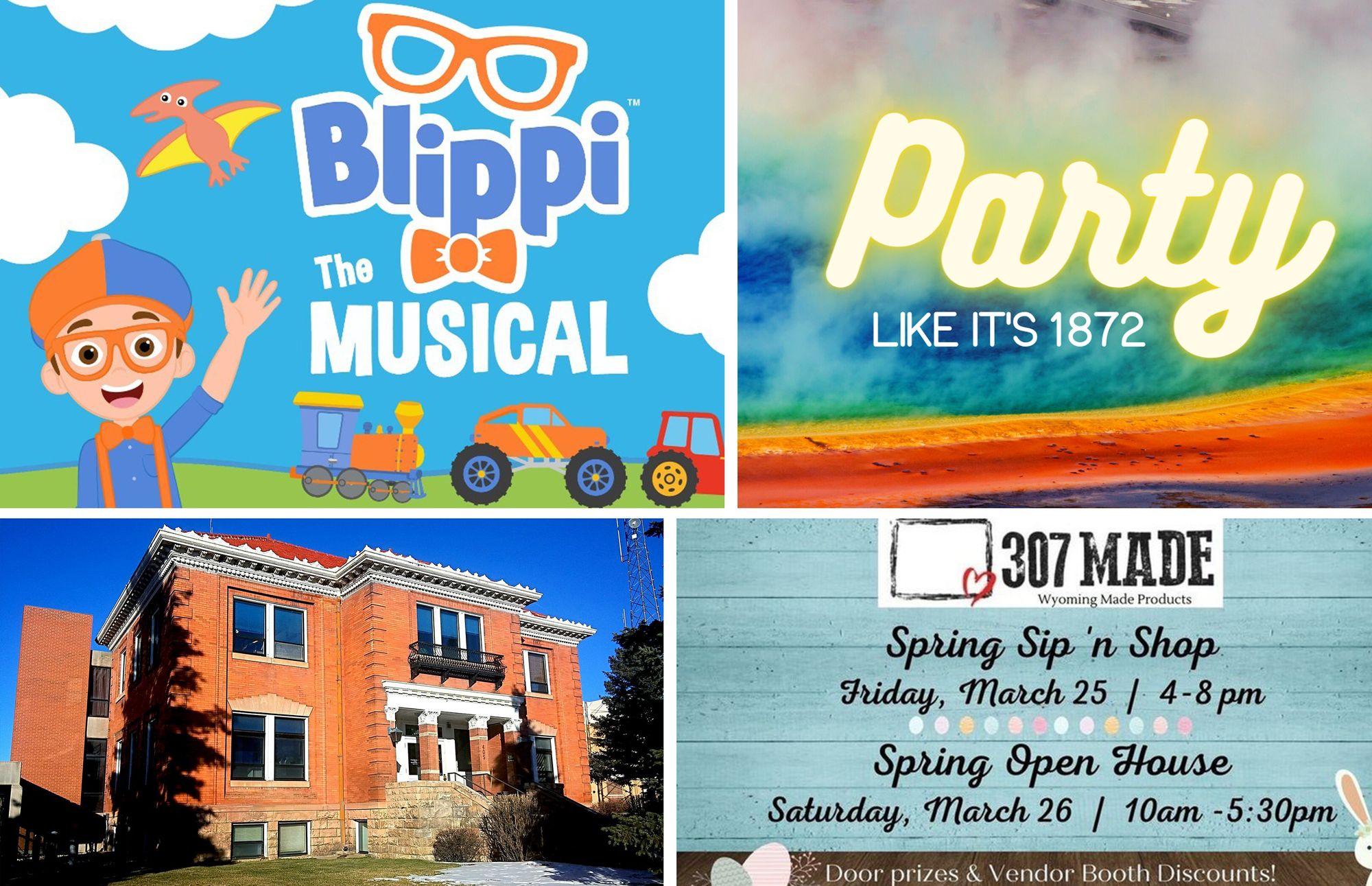 1) COWBOY CARNEGIES - Wyoming State Library
March 23, 2022 - April 1, 2022 Recurring weekly on Monday thru Friday / 9:00am to 5:00pm
A special exhibit now at the Wyoming State Library, "Cowboy Carnegies: Wyoming's Historic Libraries," explores the history, architecture, significance and preservation of these buildings.
2) PARTY LIKE IT'S 1872 - Wyoming State Museum
March 25, 2022 / 5:30pm to 8:30pm / FREE for all adults over the age of 21. Photo ID required.
Party like it's 1872 in honor of Yellowstone's 150th birthday. The Wyoming State Museum invites you to grab some friends (over the age of 21) and celebrate the legacy of the world's first National Park. Organizations and researchers from across the state will be onsite, having conversations and sharing information about all aspects of Yellowstone, from geysers and wildlife management to forest fires and fishing tips. Enjoy beer and wine, a raffle, music, art making, trivia, games, and presentations from former Rangers who worked in the park during the centennial celebrations in 1972. To keep everyone COVID-safe, we are requiring timed registration for this event. Click here to reserve your free ticket!
This event is generously sponsored by Danielmark's Brewing Company and Smile Doctors of Cheyenne.
3) 307 Made Spring Open House - 1721 Carey Avenue
March 25th between 4-8pm / March 26th Open House 10 am - 5:30pm
Join us on Friday for our Sip 'n' Shop event to enjoy snacks and drinks while you shop. On Saturday we will have an Open House from 10 am until 5:30 with vendor booth discounts and just for stopping in you will be entered into our drawing for a Door Prize (no purchase necessary). We hope to see you at one or both of these events!
4) Lip-Sync Battle - Scooters Bar and Package Liquor
March 25, 2022 / 8:00pm - 12:00am
Here's the thing… You don't really have to sing You don't really have to dance No talent is required, just your energy and enthusiasm! Perform a song that is fun, crowd appealing, and no more than 4 minutes long. Costumes and props are strongly encouraged. Bring your cheering section of family and friends and have fun!!
5) BLIPPI THE MUSICAL - The Cheyenne Civic Center
March 26, 2022 / 2:00pm to 4:00pm / $25-$60
Blippi the Musical brings the energetic and loveable character off the screen and onto the stage in this engaging and amazing musical!
6) CHEYENNE FITNESS IN THE PARK SPRING KICKOFF - Lions Park
March 26, 2022 / 8:30am - 10:00am / General Admission $12
This community-based program was designed to encourage physical activity and healthy lifestyles by offering fitness classes in unique spaces – providing easy access and opportunities for people of ALL fitness levels to start or continue their health and wellness journey.
7) Bee Keeping Basics - Cheyenne Botanic Gardens
March 26, 2022 / 11:30am-1:00pm / $5.00
Join us for an informational class on owning bees in Wyoming. You will learn about hiving, collecting honey, necessary equipment, and how and when to purchase bees. The class is on March 26th from 11:30 AM - 1 PM in the Gathering Rooms at the Cheyenne Botanic Gardens. Fee is $5 per person, and pre-registration is required.
8) Community Vaccine Clinic — Black Dog Animal Rescue
March 26, 2022 / 9:00am - 1:00pm
Does your pet need a vaccine? Come to BDAR on Saturday, March 26th for the first low-cost vaccine clinic of 2022.
9) THE PHANTOM TOLLBOOTH - Mary Godfrey Playhouse
March 11-13, 17-20, 25-27, 2022 / 7:30pm to 9:30pm / $12 to $22
Here are Milo's adventures in the Land of Wisdom. Milo learns of the argument between King Azaz and his brother, the Mathemagician, whose disagreement over words and numbers has led to the banishment of Princesses Sweet Rhyme and Pure Reason. Milo is dispatched to rescue the princesses from the Land of Ignorance. The knowledge and skills Milo picks up on his journey help him to save the princesses. Sunday matinees at 2pm.
10) 39TH ANNUAL GLASS ART SHOW - Cheyenne Botanic Gardens
February 1, 2022 - April 2, 2022 Recurring weekly on Tuesday thru Saturday / 10:00am to 5:00pm / Free
Come explore the 39th Annual Glass Art Show! This spectacular showcase of regional Glass Artists from Colorado and Wyoming will be on displaying on the 2nd floor Hallway space at the Cheyenne Botanic Gardens. There are many pieces for sale this year so make sure you visit before your favorite piece is Sold! As always the show is free to view and all are welcome to come and look as often as you like.
11) 41ST ANNUAL WESTERN SPIRIT JURIED ART SHOW AND SALE - Cheyenne Frontier Days Old West Museum
March 5, 2022 - April 17, 2022 Recurring daily /
9:00am to 5:00pm / Admission Included with museum admission
Artwork for the Western Spirit was selected by a two-person independent jury. Jurors Stephanie Hartshorn, a signature member of the American Impressionist Society and artist from the Cheyenne Frontier Days™ Western Art Show, and Mark Vinich, co-founder of Clay Paper Scissors Gallery & Studios, selected 232 unique pieces of art from a pool of 640 unique pieces of art. Western Spirit also features the Vanderwark Miniature Show in the East Gallery of the Museum.
12) HIP-HOP & LYRICAL DON'T STOP DANCE WORKSHOP - Laramie County Library
March 31, 2022 / 10:!5am - 12:00am
Come and learn some awesome hip-hop moves from the experts at En Avant Dance Studio. Be sure to wear comfortable clothing that you can move and groove in.