Take A Look At What Is Happening In Cheyenne This Weekend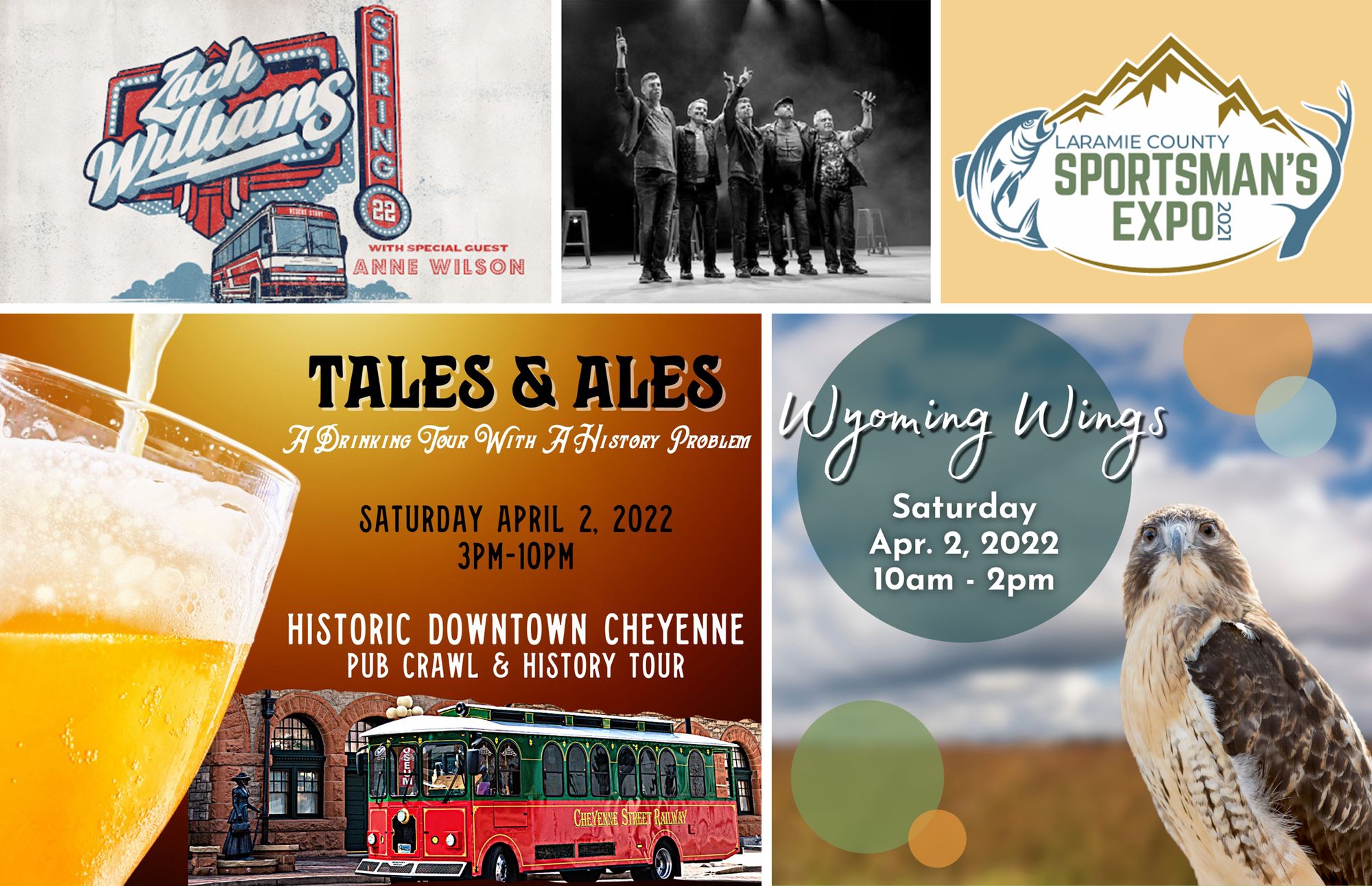 1) FACE VOCAL BAND - The Lincoln Cheyenne
April 1, 2022 / 7:30pm to 10:00pm / $20-$35
Don't miss this captivating acapella group from Boulder, Colorado.
2) SPORTSMAN'S EXPO - Archer Event Center
April 1, 2022 - April 3, 2022 Recurring daily / Free
Laramie County Events presents the 2nd Annual Sportsman's Expo. Join us for demonstrations, vendors and food. Browse products and services fit for the beginner to the experienced outdoors enthusiast.
3) ZACH WILLIAMS - Cheyenne Civic Center
April 1, 2022 / 7:00pm to 10:00pm / $15-$199
Join Zach Williams and special guest Anne Wilson for a night of music and ministry that will fill your heart and have you singing along all night long! Grammy award winner Zach Williams and his signature blend of southern rock, country and faith-filled songwriting are truly unlike anything else in Contemporary Christian music today.
4) ALLIE COLLEEN - Outlaw Saloon
April 2, 2022 / 7:00pm to 12:00am / $10

Named one of Country Thang Daily's Top 15 to Watch in 2021, one of Music Mayhem's 21 Country Artists to Watch In 2021 and Wide Open Country's Artist to Watch 2020! Allie Colleens passion for singing and songwriting since a young age has garnered her a reputation of being a notable songwriter with an iconic-sounding, impeccably strong voice that accents her unique sound.
5) BATTLE OF THE BANDS - ROCK BANDS - The Lincoln Cheyenne
April 2, 2022 / 7:00pm to 11:00pm / $5
The Lincoln Cheyenne's Second Annual Battle of The Bands Competition returns with 4 monthly battles of different genres with a winner chosen each night. Cover charge goes to that night's winner as prize money.
6) CHEYENNE WINTER FARMERS' MARKET - The Depot Lobby
April 2, 2022 / 9:00am to 1:00pm / Free
Featuring Local Foods and Crafts:
Seasonal Local Vegetables and Microgreens
Local Meats and Cheeses
Take-home bunwiches
Local Salsas
Farm fresh eggs
Fresh, locally baked breads, pastries, pies, cookies, sweet rolls, chocolates and more
Kimchi, Dumplings, and other Korean Foods
Fresh, Local Popcorn
Pasta Sauce
Locally roasted fair-trade coffee and locally blended teas
Locally made rubs, spice blends, and seasonings
Locally produced jams, preserves, relishes, and honey
Fermented Foods
Pet Treats
Natural, locally-produced and organic body care products
Hand-crafted fiber goods, pottery, and other crafts
Live Music
7) FAMILY DAY: WYOMING WINGS - Wyoming State Museum
April 2, 2022 / 10:00am to 2:00pm / FREE for all kids and adults
Learn how birds adapt alongside plants and flowers; use STEM skills to protect a delicate egg from a fall; meet a live red-tailed hawk from the Draper Museum; and more! To keep all families COVID-safe, we are requiring timed registration for this event, available on website.
8) PASTEL WORKSHOP - Cheyenne Botanic Gardens
April 2, 2022 / 10:00am to 3:00pm / $25
This workshop is for beginners, but all levels are welcome. After an introduction of the medium of pastel and some basics on papers, choosing your palette, composition, and how to use pastel, you will create your own painting, step by step. All materials provided but if you have a set of pastels please bring them with you. There are 2 sessions to choose from, 10am-12pm or 1- 3pm.
9) TALES & ALES: A DRINKING TOUR WITH A HISTORY PROBLEM - Downtown Development Authority
April 2, 2022 / 3:00pm to 10:00pm / $35 preorder, $40 at the door
Join us Downtown for a whole new pub crawl experience in Downtown Cheyenne! Have a fun time learning about Downtown Cheyenne's rich and exciting history as you hop on and off the trolley to partake in exclusive drink specials at the watering holes in Downtown! Must be 21 to participate.
10) Equine Extravaganza - Open Horse Show - LCCC
April 2, 2022 / 9:00am to 5:00pm
The LCCC Equestrian Team is hosting a one-day open horse show. Classes will include: Showmanship English: Hunt Seat Equitation, Hunt Seat Pleasure, Trail
Western: Reining, Ranch Horse Pleasure, Western Horsemanship, Western Pleasure, Trail.
11) Adult Scavenger Hunt Ride - High Country Harley-Davidson of Cheyenne
April 2, 2022 / 9:45am to 2:00pm
The HCHD team is putting together a scavenger hunt ride to kick off the 2022 riding season. Sign up today to make sure you don't miss the chance to hang with friends and win some prizes!
12) DIRT! FOUNDATIONS OF SOIL WORKSHOP - Cheyenne Botanic Gardens
April 3, 2022 / 4:00pm / $5
Understanding your soil is the first step to creating beautiful landscaping, a productive garden, and managing rangeland/pasture areas on your property. Bring a soil sample, or a few! This will be an interactive workshop with hands-on components, discussion, and sharing resources.
13) COWBOY CARNEGIES - Wyoming State Library
March 23, 2022 - July 1, 2022 Recurring weekly on Monday - Friday / 9:00am - 5:00pm
A special exhibit now at the Wyoming State Library, "Cowboy Carnegies: Wyoming's Historic Libraries," explores the history, architecture, significance and preservation of these buildings.
14) 39TH ANNUAL GLASS ART SHOW - Cheyenne Botanic Gardens
February 1, 2022 - April 2, 2022 Recurring weekly on Tuesday thru Saturday / 10:00am to 5:00pm / Free
Come explore the 39th Annual Glass Art Show! This spectacular showcase of regional Glass Artists from Colorado and Wyoming will be on displaying on the 2nd floor Hallway space at the Cheyenne Botanic Gardens. There are many pieces for sale this year so make sure you visit before your favorite piece is Sold! As always the show is free to view and all are welcome to come and look as often as you like.
15) 41ST ANNUAL WESTERN SPIRIT JURIED ART SHOW AND SALE - Cheyenne Frontier Days Old West Museum
March 5, 2022 - April 17, 2022 Recurring daily /
9:00am to 5:00pm / Admission Included with museum admission
Artwork for the Western Spirit was selected by a two-person independent jury. Jurors Stephanie Hartshorn, a signature member of the American Impressionist Society and artist from the Cheyenne Frontier Days™ Western Art Show, and Mark Vinich, co-founder of Clay Paper Scissors Gallery & Studios, selected 232 unique pieces of art from a pool of 640 unique pieces of art. Western Spirit also features the Vanderwark Miniature Show in the East Gallery of the Museum.