Take A Look At What Is Happening In Cheyenne This Weekend!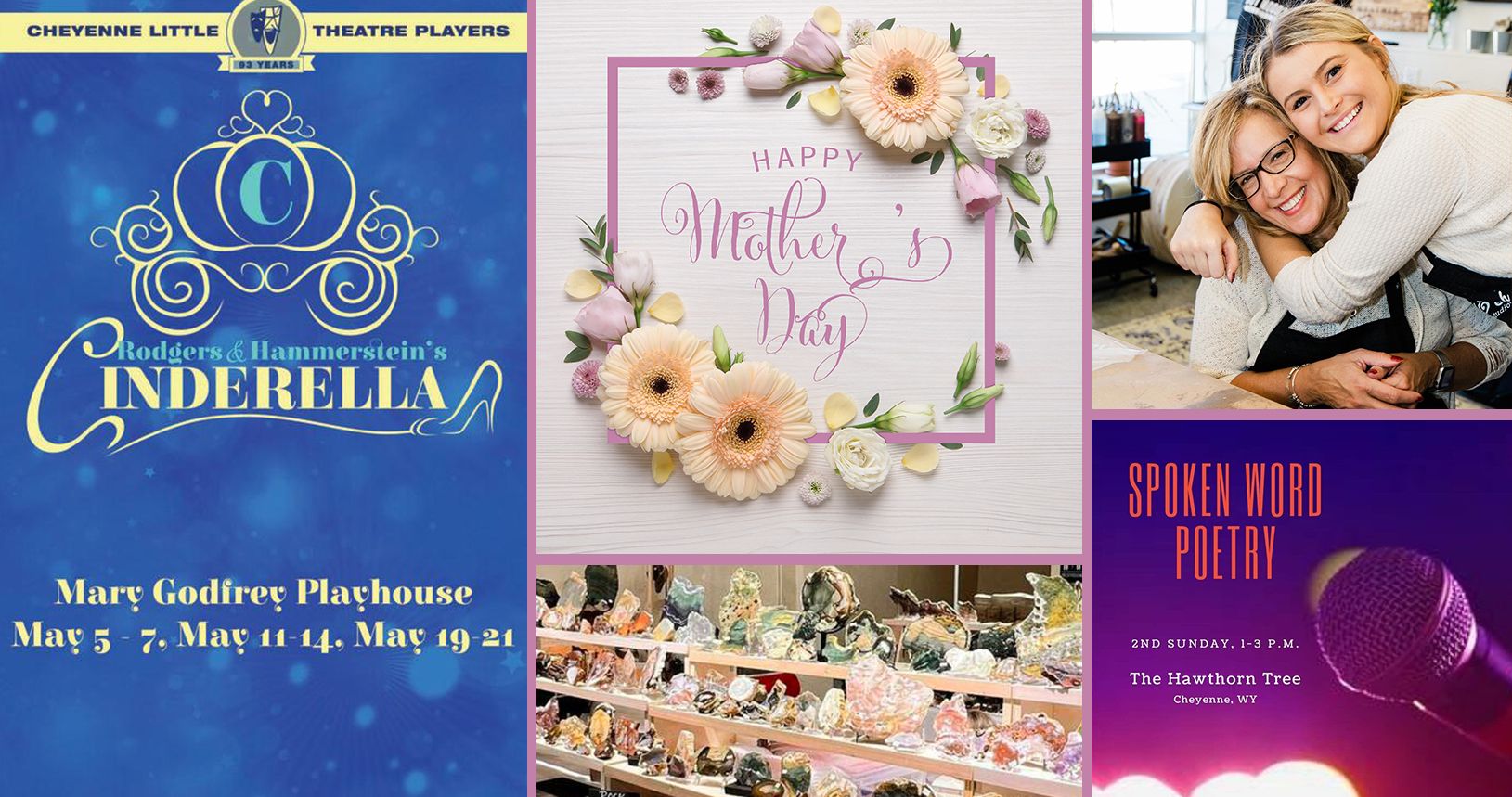 Cinderella - Mary Godfrey Playhouse - CTLP
May 12-14, 19-21, 2023 / $16.50-$26.50
The timeless enchantment of a magical fairy tale is reborn with the Rodgers & Hammerstein hallmarks of originality, charm and elegance. Presented by the Cheyenne Little Theatre Players.
Plant & Paint Night - 600 W. 17th St.
May 12, 2023 / 6:00pm to 8:30pm / $55/ all ages
This Plant & Paint Night, we will be creating a blooming mini garden. After planting and decorating our gardens, get ready for more blooms with a beautiful floral painting right next door with Flydragon Art Studio!
Positive Aging - Laramie County Library
May 12, 2023 / 1:30pm to 4:30pm
Please join us for a viewing of McFarland, USA (PG, 2015). Based on a true story, a band of novice runners and an unlikely coach come together to create an enduring legacy. Refreshments and movie theater popcorn will be provided. Optional chair yoga at the start of the event and discussion to follow the movie.
Vegas Warmup 8 Ball Tournament - Outlaw Saloon
May 12-14, 2023 /4:00pm / $25+
Get ready for Vegas with this warmup 8-Ball tournament!
Scott Rupe - Black Tooth Brewing Co.
May 12, 2023 / 6:00pm to 9:00pm / FREE
Kick weekend off with the styling sounds of Scott Rupe!
Back to the 80's - DT's Liquors
May 13, 2023 / 9:00pm to 2:00am
It's time to party like we're in the 80's! Please join us at Dt's bar in your best 80's outfit
24th Annual Cheyenne Mineral, Gem & Rock Show - Archer Event Center
May 13-14, 2023 / 9:00am to 4:00pm / $3.00
Hosted by the Cheyenne Mineral and Gem Society. Come out and see the selection of rocks, minerals, crystals, jewelry and lapidary equipment. This year we have over 25 vendors! There will be $1.00 grab bags, a children's area, silent auctions and raffle prizes.
Genealogy Beyond the Basics - Laramie County Library
May 13, 2023 / 4:00pm to 5:30pm / Free
This class will take you beyond the very basics of genealogy research and into some forgotten resources that can tell you about your ancestors. We will discuss how to research your ancestors in newspapers, wills, church records, land records, immigration records, military records, and beyond using both Internet and print resources.
Mom & Me Date Day - Board & Brush Creative Studio
May 13, 2023 / 4:00pm to 7:00pm
Celebrate Mother's Day in a unique way! Join our Mom & Me Date Day to spend quality creative time together.
Mother's Day Craft & Vendor Show - 327 S. Main St. Burns, WY.
May 13, 2023 / 9:00am to 3:00pm
Get ready for the Mother's Day Craft and Vendor Show! There will be something for everyone!
Mother's Day Family Picnic - Holliday Park
May 13, 2023 / 11:00am to 6:00pm
Come out and have a wonderful time with our Nay&Jay's family. The event is free and It'll be games, raffles, music, food trucks, and more.
Mother's Day Tea - Rx Tea Time
May 13-14, 2023 / 11:00am to 4:00pm / $30
Rx Tea Time, A Victorian Tea Room. Celebrate Mother's Day with us! Reservations Required.
Mommie and Me "Raindrops on My Window" - Paul Smith Children's Village
May 13, 2023 / 10:30am to 11:30am & 1:00pm to 2:00pm / $35
Come celebrate being a mom with our acrylic painting class for mommies and kiddos. Everything will be provided to complete a 12x12 painting in one hour. There are two sessions available 10:30 am to 11:30 am and 1:00 pm to 2:00 pm. Please expect to get messy so dress accordingly. Tickets are $35.00 for one adult and one child. An additional ticket can be purchased for $5.00 with a purchase of a general admission ticket for any additional children. Please contact Brandi at bmckinley@cheyennecity.org or (307)773-1041 at Cheyenne Botanic Gardens with any questions.
Mountain Duo at Blue Raven
May 13, 2023 / 5:00pm
Hot Guitars & Cold Beers in downtown Cheyenne!
The Final Séance - Cheyenne Makers and Creatives
May 13, 2023 / 6:00pm / $50
The Final Seance is an immersive theatre performance by The Exposure Project. This 75-minute experience will make you part of the show as one of the attendees to try and conjure a spirit from the great beyond.
Wyoming License Plate Society 2023 Meet - Laramie County Community College
May 13, 2023 / 9:00am - 2:00pm / Free
The Wyoming License Plate Society is here to preserve the history of Wyoming license plates and encourage camaraderie of fellow license plate collectors.
Yoga at the Roastery - Snowy Elk Coffee Co.
May 13, 2023 / 9:00am - 10:00am / $15  per class
Join Toni Brannan for 60 minutes of yoga at Snow Elk Coffee's roastery! The smell is divine, the atmosphere is fun, and yoga in a new environment is playful and poignant. All levels with some yoga experience are welcome.
LCCC Commencement
May 13, 2023 / 10:00am
LCCC Commencement will be held at Storey Gymnasium (Storey Gym) at 10 a.m. on Saturday, May 13, 2023. The ceremony will be live-streamed and recorded for guests who cannot attend in-person.
Run like a Mother 5k - Natural Grocers
May 13, 2023 / 8:00am
This race is being held to celebrate Mothers.  This is an out and back course.  The race starts at Natural Grocers and joins the Greenway going towards Mylar Park where runners will turn around and run back to Natural Grocers to finish the race.
Local Music Showcase - Singer/Songwriter Night — The Lincoln
May 13, 2023 / 7:00pm  -10:00pm
The Lincoln Cheyenne's new series to feature local musicians of all genres with the opportunity to play on our state of the art stage with our professional sound and lighting systems. Registration is open to musicians of any age living within 20 miles of Cheyenne, with a limited number of slots for each genre.  There will be a $5 cover charge for public to attend to help cover our expenses for hosting the shows.
Mother's Day Brunch - Little America Hotel & Resort
May 14, 2023 / 10:00am - 2:00pm
Treat Mom to a delicious brunch buffet in the Grand Ballroom. Complimentary family photos are available.
Poetry Open Mic - Hawthorn Tree
May 14, 2023 / 1:00pm - 3:00pm / Free
Join us for a poetry open mic. Each poet gets 5 minutes to read, but occasionally go two rounds, so bring extra poems. Arrive 5 minutes early to sign-up.