Take A Look At What Is Happening In Cheyenne This Weekend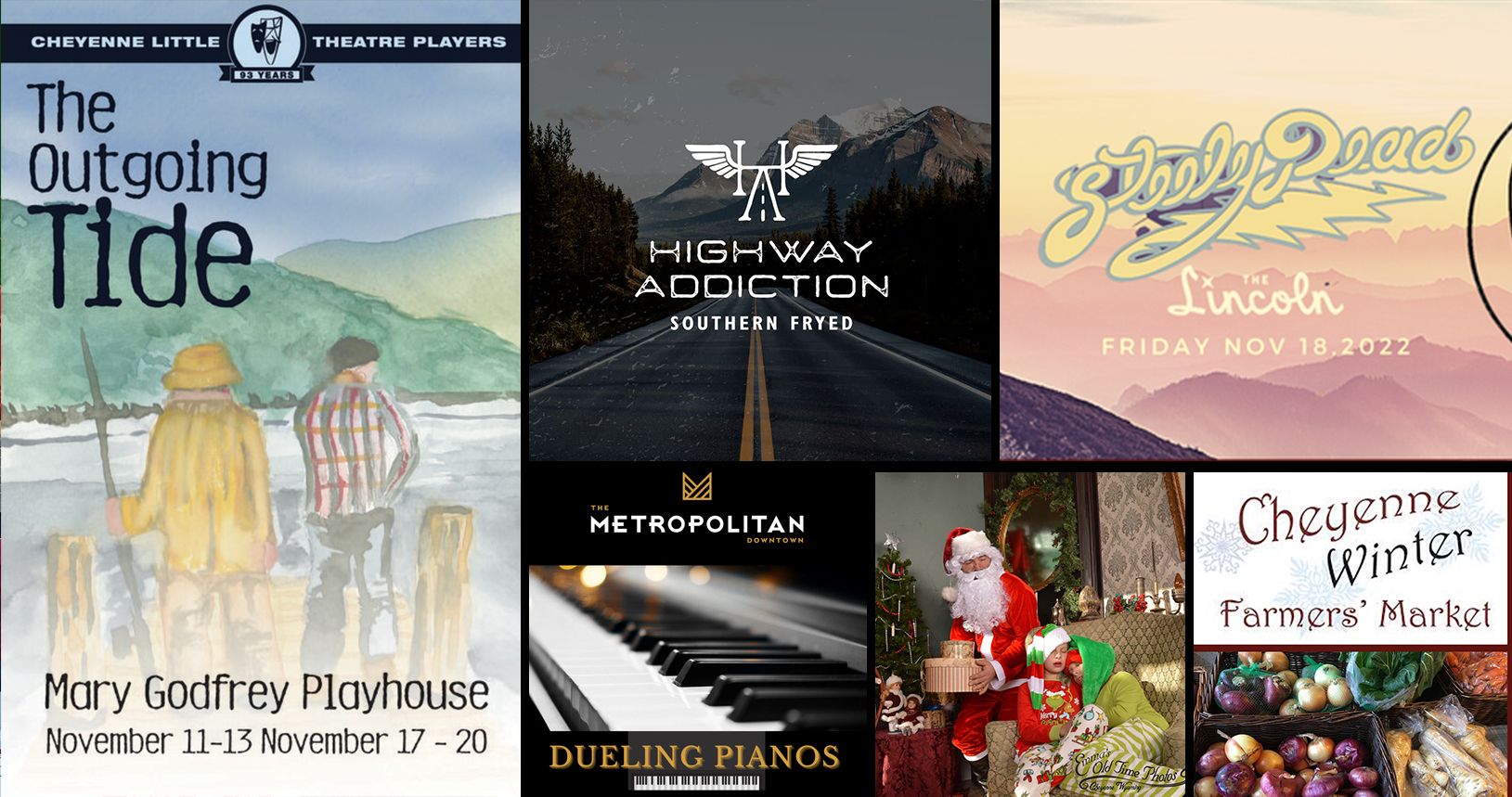 1) The Outgoing Tide - Cheyenne Little Theatre Players
November 17-20, 2022 / 7:30pm, 2:00pm
In a summer cottage on Chesapeake Bay, Gunner has hatched an unorthodox plan to secure his family's future but meets with resistance from his wife and son, who have plans of their own. As winter approaches, the three must quickly find common ground and come to an understanding—before the tide goes out. This drama hums with dark humor and powerful emotion.
2) Friday Night Dueling Pianos - The Metropolitan Downtown
November 18, 2022 / 8:00pm to 10:30pm / $20
Sing, laugh and enjoy a night of music! Doors open at 7:30pm for guests to enjoy cocktails in The Gallery until the show starts at 8:00pm. Limited menu available for food orders during the show and the bar will be open for the duration of the performance. This is a 21 and over event. Pre-show dinner reservations will fill up quickly! Reserve now!
3) Movies at the Library - Belfast
November 18, 2022 / 1:30pm to 4:00pm
Catch a movie at the library! This month, we will watch Belfast (2021, PG-13), a drama that follows a working-class Irish family in the titular city during the conflict-filled late 1960s. The film features Judi Dench and Jamie Dornan. Enjoy free popcorn and a discussion afterward.
4) Steely Dead - The Lincoln Cheyenne
November 18, 2022 / 8:00pm to 10:00pm / $15
Steely Dead is a musical hybrid of the Grateful Dead and Steely Dan. Sonic worlds collide, between the structure, arrangement and precision studio recordings of rock legends Steely Dan, cross-pollinated with the Grateful Dead's free-flowing, melodic improvisation and masterful song segues. Steely Dead merges these major concepts together while infusing the influence unto each band. For example, taking the Grateful Dead's rocking set ender Deal and Steely Dan's Reelin' In the Years creating the mashup Dealin' in the Years. Steely Dead is committed to the nuance of both bands while remaining playful with jam segues between songs, and delivering a unique musical blend. For fans of both or either one of these great bands.
5) Avid Dischord at Black Tooth
November 18, 2022 / 6:00pm to 9:00pm / Free
A group of humans that do not take themselves too terribly serious playing music of all flavors!
6) Cheyenne Fall Coin Show - Red Lion Hotel & Conference Center Cheyenne
November 18-19, 2022 / 9:00am to 5:00pm
The next Cheyenne Coin Expo will be held at the Red Lion Hotel & Conference Center on Nov 18th - 19th, 2022 in Cheyenne, WY.  Admission is Free.
Club will be selling raffle tickets, US and world coins, tokens, currency and stamps.
40+ tables
7) The New Old-Fashioned Santa Experience - Emma's Heritage Photography
November 18 -December 24, 2022 / Recurring Daily
Let Dad wear our costume to create the funnest Santa photos your family can create! Chose from Emma's traditional Victorian Christmas set, or the Pink Pony Winter Funland set. Appointments strongly recommended. Limited walk-in times available. Visit our website to see available booking times. emmasoldtimephotography.com
8) Rocky Mountain Country Showcase - Outlaw Saloon
November 19, 2022 / 7:30pm to 12:00am / $10 in advance
Rocky Mountain Country Showcase with Southern Fryed, Randy Burghardt, Caitlyn Ochsner, and Ben Bell
9) Winter Farmers Market - Depot Lobby
November 19, 2022 / 9:00am to 1:00pm / Free
Spend a Saturday morning and find the best local foods and crafts.
Featuring Local Foods and Crafts:
Seasonal Local Vegetables and Microgreens
Local Meats
Goat's Milk, Cheeses, and Goat-milk Products
Take-home Bunwiches
Local Salsas
Farm fresh Eggs
Fresh, locally baked Breads, Pastries, Pies, Cookies, Sweet Rolls, Cheese Cakes, Chocolates, European Style Desserts and more treats
Kimchi, Dumplings, and other Korean Foods
Pasta Sauces and Pastas
Locally roasted fair-trade Coffee
Locally made Rubs, Spice Blends, and Seasonings
Locally produced Jams, Preserves, Relishes
Local Honey
Natural, locally-produced and organic Body Care
Hand-crafted Fiber Crafts, Pottery, Hand-tied Flies, Photography and other Crafts
Live Music
10) Wyoming Cowboys VS Boise State
November 19, 2022 / 5:00pm
11) Young Readers Book Party - Laramie County Library
November 20, 2022 / 1:15pm to 2:00pm / Free
You're invited to a party! A book party! Join us for a celebration of reading with young readers that's a little bit early literacy class, and a little bit more! We will read and talk about books, sing, play, and learn.
12) Detox / Retox Turkey Run - Freedom's Edge Brewing Co.
November 20, 2022 /Run at 9:30am  Yoga at 11:00am  Beer at  Noon
How about a holiday themed fun group run? This month, we continue our Strava art fun with the CRC Turkey Run. The route is about 5 miles, and will be unmarked. This is a casual run where we will all stick together to leave no one behind, regardless of pace. Post run treats are included.

Following the run, enjoy some yoga led by the always wonderful Teresa Hansen. Finish off the morning with an ice cold pint of delicious Freedom's Edge brew, or a non-alcoholic option.

The run is free, then yoga and beer for only $20 at Freedom's Edge! If you are a CRC member, don't forget to PM Theresa to receive 10% off your Detox / Retox registration.
13) Denver Broncos VS Raiders
November 20, 2022 / 2:05pm