Take A Look At What Is Happening In Cheyenne This Weekend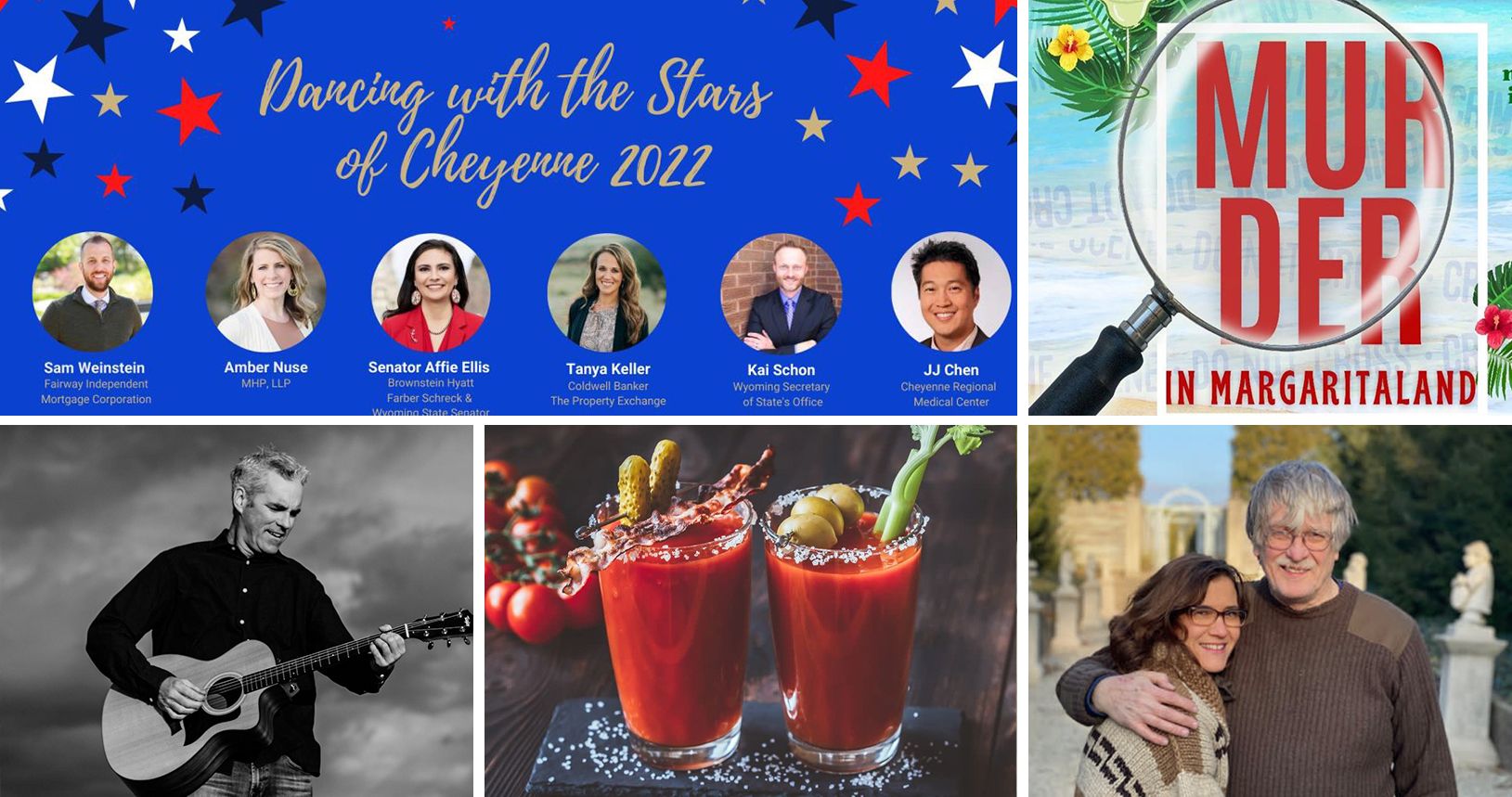 1) Annual Dancing with the Stars of Cheyenne - Little America
October 14, 2022 / 5:30pm
Join the Boys & Girls Club of Cheyenne for Dancing with the Stars! Taking place at the beautiful Little America Hotel & Resort, this patriotic evening will feature all things red, white, and blue and songs that span across all 50 states! This year's dance teams are preparing for the performance of a lifetime, with the goal of winning the Judge's Choice competition and earning your votes for People's Choice!
2) Julie & John Pennell In Concert - Laramie County Library
October 14, 2022 / 7:00pm - 9:00pm / Free
Singer-songwriters Julie and John Pennell will perform from their album Keep on Walkin' as well as material from a variety of musical styles. John's songs have been recorded by major artists including Alison Krauss & Union Station, Sam Bush, and Alan Jackson, and they are both award-winning songwriters. Their instruments include guitar, bass, piano, trumpet, banjo, mandolin, and dulcimer. Don't miss the chance to catch these two amazing artists in concert!
3) Paranormal Investigations of the CFD Old West Museum
October 14, 2022 / 6:30pm / $20
The CFD Old West Museum alongside Haunting Across America offer two tours to give you the chance to see what's lurking within our walls this October! Tickets are limited.
4) Randy's Cheeseburger Picnic - The Lincoln Cheyenne
October 14, 2022 / 8:15pm - 10:15pm / $25-$50
Randy of Trailer Park Boys is bringing his Randy's Cheeseburger Picnic to Cheyenne, WY! Based on the character from the hit program, Trailer Park Boys, Randy's Cheeseburger Picnic brings non-stop laughter and audience interaction. A bit of stand-up, a bit of silly contests, some classic Randy punch lines and a chance to meet your favorite Trailer Park Boys cast member!
5) Nightmare on 17th Street - Knights of Pythias
October 14, 15, 21, 22, 28, 28, 31 / 7:00pm to 11:00pm $15/person.
The Knights of Pythias annual "Nightmare on 17th Street" Haunted House is back for another year of scares! Back by popular demand, Halloween night will be Blackout Night. Groups will be given glow sticks to navigate their way through the dark. Please, no one under 8 years of age, pregnant ladies, or anyone with heart problems for your safety.
6) Street Railway Frightseeing Tours - Cheyenne Trolley
October 14 -30, 2022 (Recurring weekly on Friday, Saturday, Sunday)/ 6:00pm / $15/age 10 and up
The tour is based upon spine-tingling historical local events and the ghostly experiences people have relayed to us. The tours do not include profanity; however the scary tales may frighten some children. We may encounter some creepy ghoulish figures along the way.
7) 3rd Annual Fall Festival Canned Food Drive Craft Show - Blue Community Events Center
October 15, 2022 / 9:00am - 3:00pm
3rd Annual Fall Festival Canned food drive Craft Fair
Over 40 different vendors. Come support this great cause and our small businesses!
8) Afflerbach Elementary Craft & Vendor Show
October 15, 2022 / 9:00am - 3:00pm
Join us for a fun day of shopping as we bring back a tradition of one of the first craft fairs of the fall & holiday season! Proceeds benefit the PTO. There will be something for everyone!
9) Battle of the Bloody's - Freedom of Eagles Lodge #138
October 15, 2022 / 12:00pm - 3:00pm / $20/advance - $25/door
2nd Annual Battle of the Bloody's (Bloody Mary). Come out and sample the best of the best! Vote on your favorite! Tickets will be available at the door or online. Tent party to follow! Proceeds will benefit Safehouse, CASA of Laramie County and FOE Cancer Fund! Donations will be accepted for Toys for Tots.
10) Julie & John Pennell Songwriting Workshop - Laramie County Library
October 15, 2022 / 10:30am - 12:30pm / Free
Join us for a free songwriting workshop taught by two of the best in the business! Julie and John Pennell's workshop will have two parts. First, they'll examine the musical and lyrical components of a song (including melody, harmony, rhythm, and form), play examples, and talk about their musical influences. Second, each participant will sing and play one of their own completed songs, and the group will discuss its musical and lyrical components. Participants may bring an accompanying instrument or a recording of their song. This workshop is limited to only 10 participants, so register today at lclsonline.org/calendar/ to reserve your spot.
11) Murder in Margaritaland: Mystery Dinner Fundraiser - Laramie County Community College
October 15, 2022 / 6:00pm - 9:00pm / $65 ages 14+, $650 sponsor table
Come dressed to kill in your beachy best for an evening of fun whodunit entertainment. Register now to be assigned an interactive character in this tropical murder mystery, where the culprit may be hiding in plain sight! Participants ages 14+ are welcome to attend. Included in ticket price is a Caribbean buffet dinner, a cash bar, and clever game play. Plus, enjoy exciting 50/50 raffles, auction items, and more! Sleuthing Sponsor tables are available for purchase.
12) Struggle Jennings - Outlaw Saloon
October 15, 2022 / 6:00pm - 11:45pm / $20
The grandson of legendary Country Music icon Waylon Jennings, Struggle is part of a long legacy of Gangsters, Outlaws and Rock Stars.. Growing up as a black-sheep in his family, he fought his way out of the streets of West Nashville and into the studio where he would create the foundation for what has become his personal contribution to the Jennings family legacy.
13) Todd Dereemer and Friends - Southeast Wyoming Concert Series
October 15, 2022 / 7:30pm - 9:30pm / $5 Students; $20 Adults/Seniors; $50/family of 4 or more
Cheyenne's favorite local guitarist/singer/songwriter Todd Dereemer, along with a few of his musician friends will perform Todd's original music and other tunes during this first concert of the Southeast Wyoming Concert Series 2022/2023 season.
14) Halloween Edition Beer & Paint Night - Black Tooth Brewing Company
October 15, 2022 / 5:00pm - 8:00pm / $40 per person (3 beers and painting materials included)
Join Black Tooth Cheyenne for our Halloween Edition Beer and Paint Night event, Saturday October 15th from 5pm-8pm! This time instead of a canvas, each individual will get a pumpkin to paint on! Grab some friends and enjoy an evening with plenty of quality craft beer and creativity...