Take A Look At What Is Happening In Cheyenne This Weekend!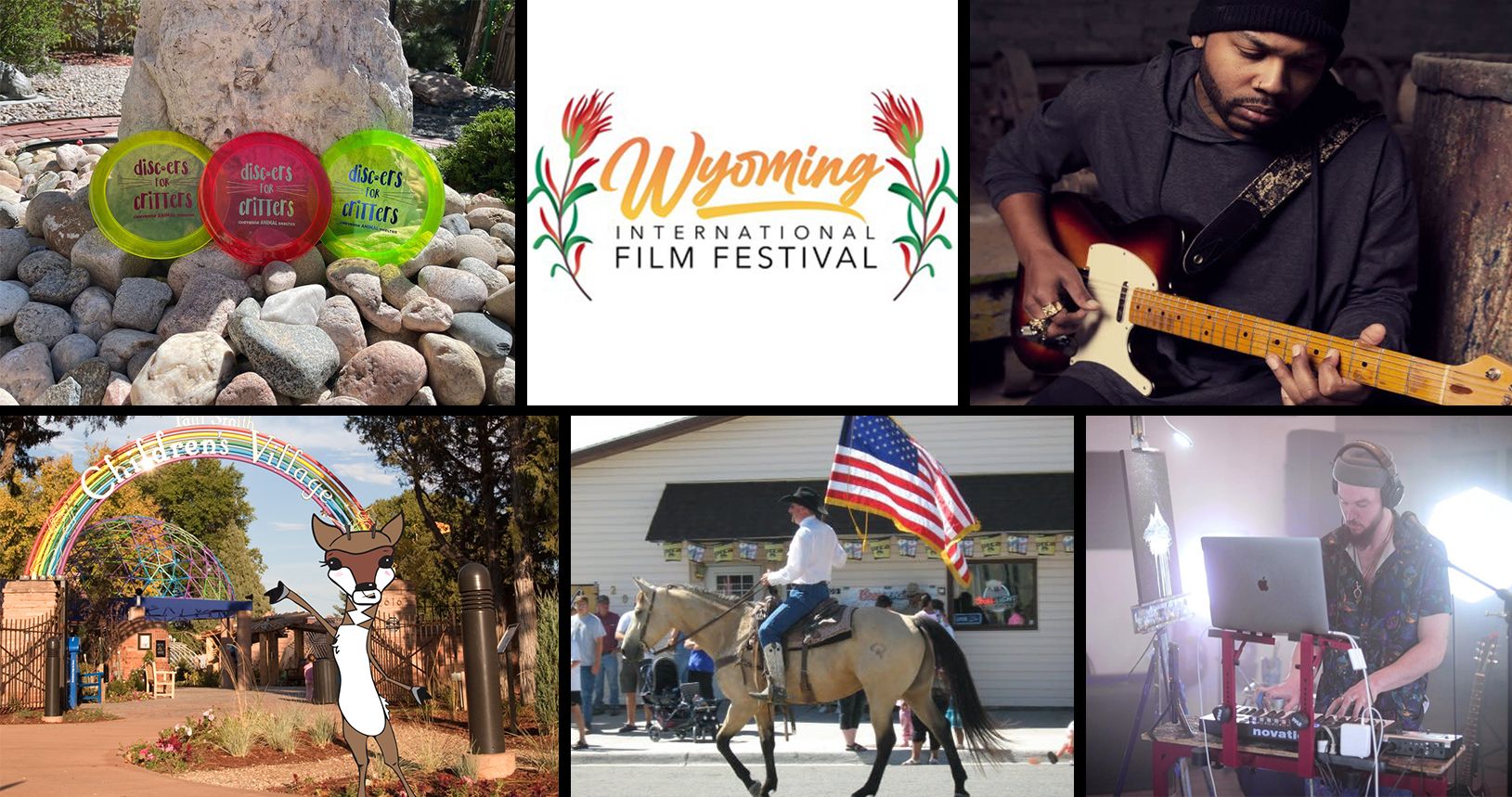 1) Wyoming International Film Festival - Laramie County Community College
July 7 - 10, 2022
128 Films from 18 countries! Come join us for 3 days and 4 nights of movies from all over the world. Nightly parties, filmmaker Q&A's, and special events make the Wyoming International Film Festival the best fest in the west - don't miss out on the fun! Screenings take place at Laramie County Community College.
There are 2 screening rooms; SPA and CC - please check the schedule on Wyoiff.com to see times and locations of screenings. All films are unrated. Viewer discretion is advised. All screenings and events are first come, first served.
2) Bike to the Library Day - Laramie County Library
July 8, 2022 / 4:00pm to 6:00pm
Celebrate National Be a Kid Again Day! What better way to feel like a kid again than to hop on your bike on a summer day and ride to the library? Meet your friends for afternoon bike show-and-tell, draw your bike in sidewalk chalk, or snag an ice-cold Capri Sun as you roll by. Ride safe, wanna-be kids, and remember your helmets!
3) Discers for Critters-Disc Golf Clinic - Romero Park
July 8, 2022 / 5:30pm to 7:00pm / $25 to $50 depending on your level
Join us for a one-of-a-kind disc golf clinic where the basics of disc golf will be taught by some of the areas most experienced disc golf athletes. Donations will be accepted and will go to the Cheyenne Animal Shelter (CAS) whose mission is to enhance the quality of life for animals and people through compassion, respect, and education. Donation options when you register. Registration is free, limited to 30 participants and required online through disc golf scene. Choose the Clinic - CLI division below to register for the clinic if you are not registering for the tournament. If you are registering to play the tournament there is an option to add the clinic during your division registration.
4) Fridays on the Plaza: Ayron Jones with The Catcalls - Depot Square
July 8, 2022 / 5:30pm to 9:00pm / FREE
Ayron Jones is an American guitarist, singer and songwriter. His music blends elements of grunge, rock, hip-hop, soul and other genres.
5) Hell on Wheels Chuck Wagon Dinner and Rodeo - Laramie County Fair Complex at Archer
July 8, 2022 / 5:30pm to 9:30pm / $25-$50
Any stop in Cheyenne isn't complete without a real Western experience. Nothing gets you closer to our heritage than a real cowboy dinner and a home-grown rodeo under a famous Wyoming sunset! Award-winning 3LazyR Chuck Wagon will be fixin' up some home cooking, made the old fashioned way: Slow-cooked over a fire all afternoon. Brisket and beans, garlic roasted baby potatoes, and warm cobbler will fill your belly and your heart with a true taste of the West. Then, mosey over to the rodeo arena to cheer on our hometown cowboy and cowgirls competing in events including Bareback Riding, Saddle Bronc, Breakaway Roping, Steer Wrestling, Barrels, Bull Riding, and more. Enjoy the West's favorite sport under the open sky with some of Wyoming's finest competitors!
6) SMART Sports 30th Birthday Block Party
July 8, 2022 / 5:00pm to 9:00pm
Come celebrate SMART Sports 30th Birthday! Free beer, food trucks, live music, face painting, balloon animals, games and more!!
7) Storytime with Bria Hammock! - Paul Smith's Children's Village
July 8, 2022 / 11:00am to 11:30pm / FREE
Join us at the Children's Village for dancing, laugher, and an entertaining reading of artist Bria Hammock's new children's book, "Catching Fresh Air." Following story time, we will do a collaborative cling wrap paint project with families and kiddos outside. Wear paint-friendly clothes! You can even get your own copy of the book here at our gift shop! Don't miss this opportunity to meet Bria and get your book signed by her.
8) Wyoming International Film Festival After Party - Flippers Family Arcade
July 8, 2022 / 10:00pm
Join us for the Wyoming International Film Fest Friday night after party at Flippers Family Arcade!
9) Jim Wilkinson - Black Tooth Brewing Co.
July 8, 2022 / 6:00pm to 9:00pm / FREE
Your favorite country hits from yesterday and today played by Jim Wilkinson.
10) Family Day: Great Outdoors - Wyoming State Museum
July 9, 2022 / 10:00am to 2:00pm
Hike over to the State Museum to spend a summer day getting to know Wyoming's great outdoors. Make smores and popsicle stick tents, tell campfire stories, and learn how you can become more connected to the natural world around you.
11) Albin Day
July 9, 2022 / 8:00am to 11:55pm
Small town, big celebration. Parades, games, craft show, food, music, and entertainment!
12) Buzz Brothers - The Bunkhouse Bar & Grill
July 9, 2022 / 1:00pm to 5:00pm
We're kicking off the Summer with Saturday afternoon venues on the Deck. We'll have LIVE MUSIC every Saturday till Labor Day!
13) Cheese Making Basics - Cheyenne Botanic Gardens
July 9, 2022 / 11:30am to 1:00pm / $25
Join us for this hands-on class to make your own cheese curds with Danielle Allman. The class is in the volunteer kitchen at the Cheyenne Botanic Gardens. Fee is $25 per person, and pre-registration is required. Materials will be provided.
14) Classics in the Park Series: Macbeth - Holliday Park
July 9 & 10, 2022 / 7:00pm to 9:00pm / FREE
Join us once again as True Troupe presents our Classics in the Park series! Journey with us through Shakespeare's timeless tale of magic, murder, and power, Macbeth. This production is presented in part by a grant from the Wyoming Humanities Council.
15) Rooted Loops - Blue Raven Brewery
July 9, 2022 / 4:00pm to 6:00pm
Come experience a one of a kind performance by multi-instrumentalist, Devon "Tree" Lindsay! Rooted Loops is a unique performance, where Devon Tree, produces music and loops it live, while completing a painting from scratch!
There will be original art and prints available.
16) Second Saturday STEAM - Laramie County Library
July 9, 2022 / 2:30pm to 3:30pm / FREE
Children in grades 3–6 can join us each month as we explore a variety of STEAM topics (Science Technology Engineering Arts Math) with crafts, games, experiments, and more! This month, we're exploring the solution to ocean pollution with a STEAM challenge to design the best invention for removing waste from the ocean.
17) Will Run for Cannoli 5K - Lions Park
July 9, 2022 / 8:00am / $25/adult, $15/child, $70/family
A family friendly 5k in beautiful Lions Park in Cheyenne, Wyoming. Participants can expect lots of fun after the race, including age division prizes, raffles, and cannoli at the finish line! Proceeds will benefit the Boys and Girls Club! Meet at the Shelter near the playground and beach at Lions Park!
18) Poetry Open Mic - The Hawthorn Tree
July 10, 2022 / 1:00pm to 3:00pm / FREE
Join us for a poetry open mic. Each poet gets 5 minutes to read, but occasionally go two rounds, so bring extra poems. Arrive 5 minutes early to sign-up.
19) All Ages Chess - Laramie County Library
July 10, 2022 / 2:00pm to 3:00pm
Whether you're 7 or 70, everyone is invited to this fun chess event! We will spend the first part of the hour exploring fun strategy and spend the rest of the time playing.
20) The Cheyenne Gunslingers - W. 15th at Pioneer Ave.
Starting July 1st, 2022 and reoccurring throughout July / 6:00pm / FREE
See gunfights, western skits, and other Wild West activities in Gunslinger Square in downtown Cheyenne. All of the shows are-family-oriented! Weekdays at 6 pm and Saturdays at noon! Frontier Days Shows run daily at noon and 6pm and noon on Sundays!