Take A Look At What Is Happening Around Cheyenne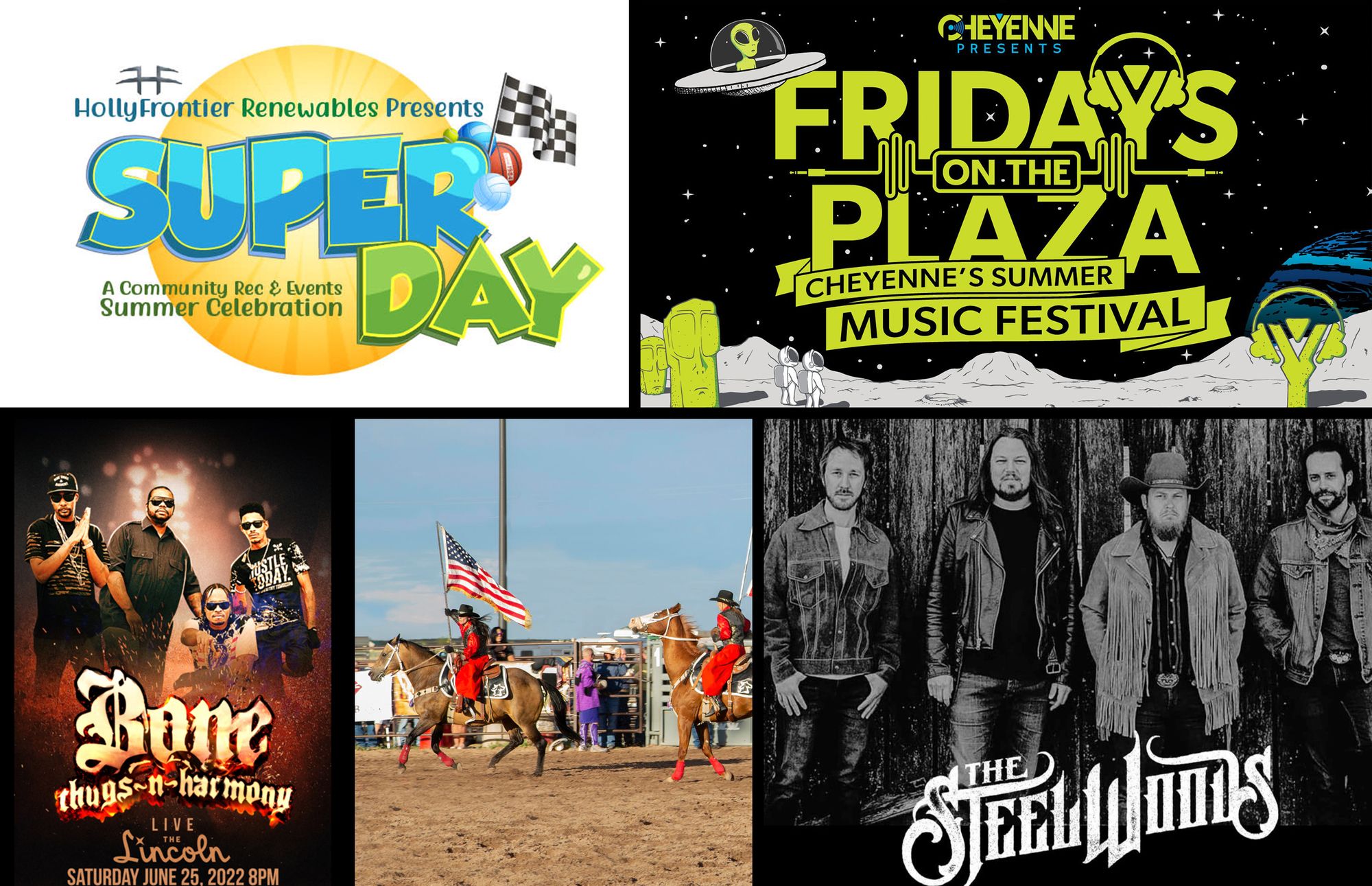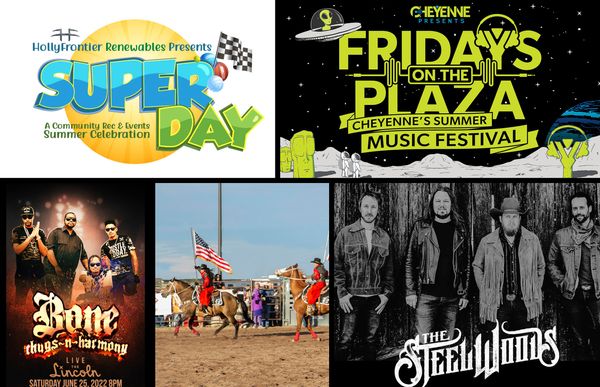 1) Eclectic Cause - Blue Raven Brewery
June 24, 2022 / 5:00pm to 9:00pm
Up for some Country, Classic Rock, and Blues? Live music is at the Blue Raven, so get your family and friends over here, it'll be a blast! No food truck tonight so bring some food in from outside to enjoy while you listen.
2) Friday Night Strongman: Truck Pull - Pepsi Distribution Center
June 24, 2022 / 6:00pm to 9:00pm / FREE
We're coming together for another Friday Night Strongman, and we're all going to be hitting the Truck Pull! We're meeting out at the Pepsi Distribution Center here in Cheyenne to make sure we have enough room to make some vehicles move. We'll have vehicles of varying sizes to make sure that everyone can get a solid pull. Come take your shot at this iconic event!!!
3) Fridays on the Plaza: Dragondeer with Motherfolk - Depot Square
June 24, 2022 / 5:30pm to 9:00pm / FREE
Denver band Dragondeer has conjured the rhythm spirits to concoct a blend of Psychedelic Blues, Retro Funk, Soul and Rock-n-Roll into a genre blur that's aim is to speak to souls and keep the body moving. Four good friends that brew a musical alchemy that is song centric with a proclivity to stretch things out and see where the evening leads. Heard across radio waves, through the trees at festivals like Electric Forrest, Firefly, and Telluride Blues this band keeps growing and morphing and wants you in on the ride.
4) Hell on Wheels Chuck Wagon Dinner and Rodeo - Laramie County Fair Complex at Archer
June 24, 2022 / 5:30pm to 9:30pm / $25- $50
Any stop in Cheyenne isn't complete without a real Western experience. Nothing gets you closer to our heritage than a real cowboy dinner and a home-grown rodeo under a famous Wyoming sunset! Award-winning 3LazyR Chuck Wagon will be fixin' up some home cooking, made the old fashioned way: Slow-cooked over a fire all afternoon. Brisket and beans, garlic roasted baby potatoes, and warm cobbler will fill your belly and your heart with a true taste of the West. Then, mosey over to the rodeo arena to cheer on our hometown cowboy and cowgirls competing in events including Bareback Riding, Saddle Bronc, Breakaway Roping, Steer Wrestling, Barrels, Bull Riding, and more. Enjoy the West's favorite sport under the open sky with some of Wyoming's finest competitors!
5) Oceans of Stories Featuring Rainbow Fish - Laramie County Library
June 24, 2022 / 10:15am to 4:00pm
Join us for a special family Tales Together as we learn more about our ocean friends. We'll have stories, songs, crafts, and more as well as a special guest appearance from our friend Rainbow Fish!
6) BONE THUGS-N-HARMONY - The Lincoln Cheyenne
June 25, 2022 / 8:00pm to 11:00pm
Signed and nurtured by the legendary Eazy-E (founder of Ruthless Records), Bone Thugs-N-Harmony's brand of flowing, rolling, rapid-clip, harmonized rap - dubbed the "Cleveland Sound" - hit the top of the charts and never looked back.
7) Boogie Woogers - The Bunkhouse Bar & Grill
June 25, 2022 / 1:00pm to 5:00pm
We're kicking off the Summer with Saturday afternoon venues on the Deck. We'll have LIVE MUSIC every Saturday till Labor Day!
8) Cheyenne Animal Shelter Fundraiser - Blue Raven Brewery
June 25, 2022 / 12:00pm to 11:00pm
Come out to support the Cheyenne Animal Shelter and other local businesses! Plus, enjoy good food, beer and music while you contribute to a great cause. Blue Raven Brewery will donate $0.50 to the shelter for every beer purchased. They will also have on site donation bins and a raffle for some great prizes. Looking for furry friend? Cheyenne Animal Shelter will be bringing a few available dogs up for adoption between Noon-3pm.
9) STEAM Expo Day & Children's Business Fair - Paul Smith Children's Village
June 25, 2022 / 10:00am to 2:00pm / FREE
This all-ages STEAM event will be filled with hands-on activities and experiments on science, technology, engineering, art, and math! Kids will explore the world around them in this free family event.
10) Superday 2022 - Lions Park
June 25, 2022 / 10:00am to 4:00pm / FREE
Superday is an annual celebration that kicks off July as National Parks and Recreation Month and is hosted by the City of Cheyenne Community Recreation & Events Department to promote greater awareness of the value and availability of local recreation and leisure activities.
11) Tour De Prairie - Lions Park
June 25, 2022 / 6:00am to 4:00pm
This long-distance, 100-mile, course route heads out and back from Cheyenne through the open, rolling prairie into the town of Chugwater for a uniquely Wyoming tour. The Tour de Prairie features 25-, 50-, 75-, and 100-mile rest stations/turn around points. Breakfast and lunch are included for registered Tour de Prairie riders!
12) City of Cheyenne Cornhole Tournament - Kiwanis Community House
June 25, 2022 / 9:00am to 2:00pm / $25 for Singles & $35 for Doubles
Download a registration form at www.cheyennerec.org and turn in completed form with payment to Kiwanis Community House 4603 Lions Park Drive, Cheyenne WY 82001.
13) Aaron Davis & the Mystery Machine - Lions Park
June 25, 2022 / 8:00pm
Multi-instrumentalist, songwriter and vocalist Aaron Davis has spent half of his life in Kentucky, the latter half in Wyoming, and another lifetime carving out a humble existence as an independent recording artist in the country's least populated state. He's chiefly known as co-founder of decade long alt-folk/alt-country band Screen Door Porch, for his eclectic solo ramblings and the accompanying project Aaron Davis & the Mystery Machine, and as a studio engineer-producer and session player at his Three Hearted Recording Studio in Hoback, Wyoming. Aaron was awarded a Music Performance and Songwriting Fellowship from the National Endowment of the Arts, "a merit-based honor for an artist's work in their field," which spurred his tenth release, Catalyst. Aaron (vocals, banjo, harmonica, guitars—acoustic, electric, resonator, lap steel) and the texture experts of The Mystery Machine work the lesser-worn corners of the American musical fabric through an unconventional lens.
14) Floral Design Class - The Prairie Rose
June 25, 2022 / 3:00pm - 5:00pm
Join us to make an arrangement to take home with you! All materials and instructions will be provided, bring yourself or bring some friends!
15) The Steel Woods - Outlaw Saloon
June 25, 2022 / 8:00pm to 12:00am
The band's two original members are native sons of the south who both hale from small-town backgrounds. The Alabama-born Wes Bayliss played harmonica from the age of eight in his family's gospel band, eventually teaching himself piano, bass and drums. Jason "Rowdy" Cope turned his love of Jimmy Page and Jimi Hendrix into a career as a session guitarist/songwriter and producer, moving to Los Angeles, then playing in Jamey Johnson's band for nine years. The two met in Nashville playing for the same cover band in some out-of-town dive, and immediately discovered an affinity for each other.

Part hard-edged Southern rock, part Americana roots country folk, man-made, yet organic, rock but also bluegrass, R&B, blues, gospel, soul and heavy metal, The Steel Woods' completed their first recordings barely months after they first met before being joined by current bassist Johnny Stanton.
16) Yiddish Food Festival -Mt. Sinai Synagogue
June 26, 2022 / 11:00am to 3:00pm
Join us at the Mt. Sinai Synagogue to buy and eat food, listen to music, dance, take tours of the Synagogue and learn about Judaism!
17) Summer Soiree: Intrigue - Laramie County Library
June 26, 2022 / 2:00pm to 6:00pm / $50
Join fellow readers, library lovers, and book worms at the Surbrugg/Prentice Auditorium for Laramie County Library Foundations afternoon event celebrating some of Wyoming's incredible authors. Visit laramiecountylibrary.org/foundation to reserve your spot.
18) The Dead South - The Lincoln Cheyenne
June 26, 2022 / 8:00pm to 11:00pm / $40
A rock band without a drummer, a bluegrass band without a fiddler. To the gentlemen of the Dead South, a self-styled 4-piece string band from Regina, Saskatchewan, it's about how, not what, you play. Their sound, built on a taut configuration of cello, mandolin, banjo and guitar, speeds like a train past polite definitions of acoustic music into the grittier, rowdier spaces of the bluegrass world.