Take A Look At The Variety Of Fun Events Happening This Weekend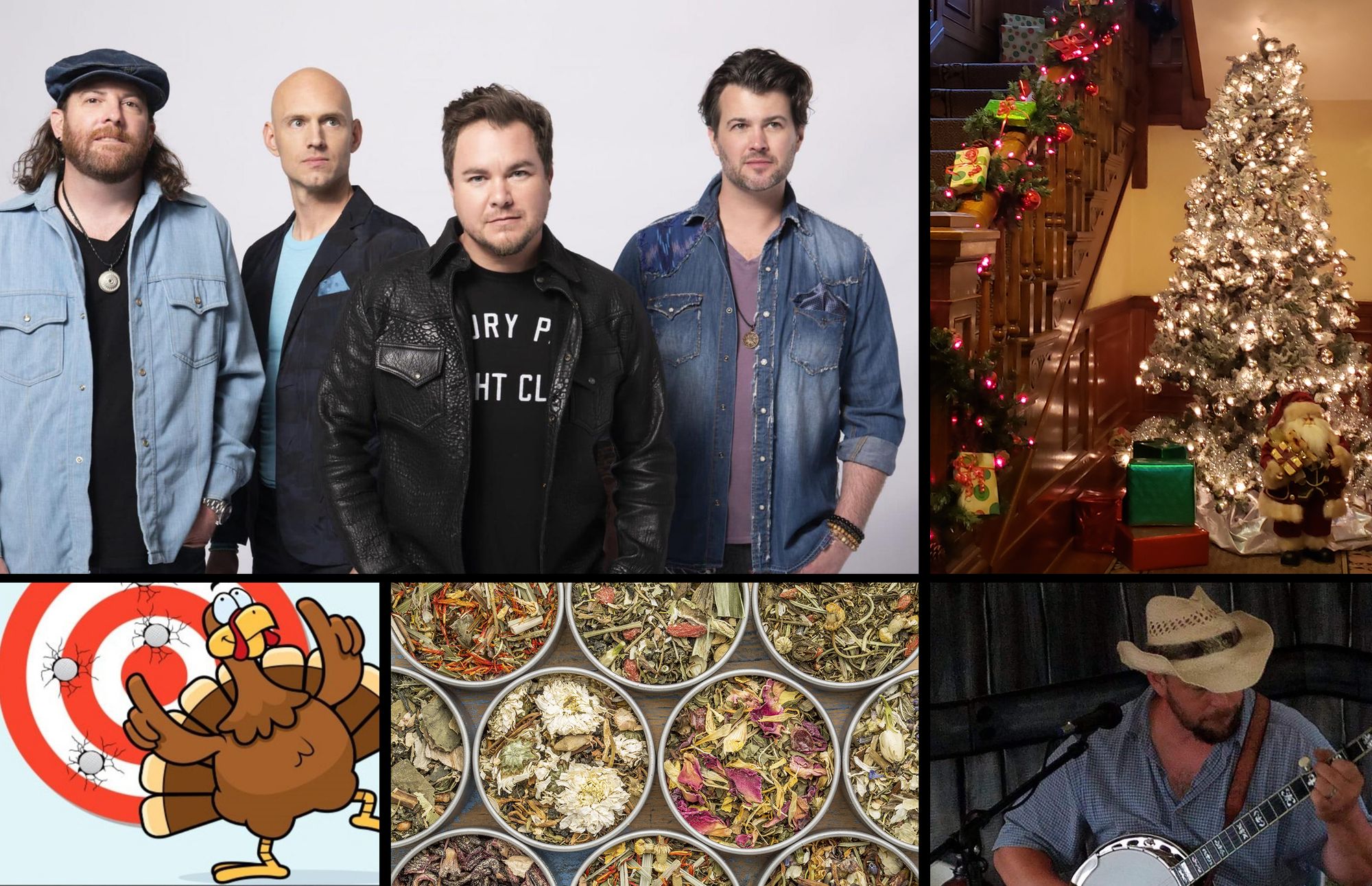 1) LCCC Theatre Presents "She Kills Monsters"  -Surbrugg/Prentice Auditorium
November 11-13 and 18-20, 2021 / 7:30pm / General - $20, Middle School - College with a valid student ID are free!
Laramie County Community College's Theatre Department will host their first show of the Fall and their first play in the new Surbrugg/Prentice Auditorium at 7:30pm, November 11-13 and 18-20. The department will perform Qui Nguyen's "She Kills Monsters." Tickets are available at lccc.wy.edu/theatretickets. For information, contact Jason Pasqua at jpasqua@lccc.wy.edu or (307)778-4323.
2) A MURDER IS ANNOUNCED - CLTP - Mary Godfrey Playhouse
November 12th-14th, & 18th-21st, 2021 / $12 -$22
Cheyenne Little Theater Players is presenting A Murder Is Announced written by Agatha Christie. An announcement in the local paper states the time and place when a murder is to occur in Miss Blacklock's Victorian house. The victim is not one of the house's several occupants, but an unexpected and unknown visitor. What follows is a classic Christie puzzle of mixed motives, concealed identities, a second death, a determined Inspector grimly following the twists and turns, and Miss Marple on hand to provide the final solution at some risk to herself in a dramatic confrontation just before the final curtain.
3) Art in The Wine Country - The Office
November 19 - 20, 2021 / 6:00pm on the 19th and 5:00pm on the 20th
The Office Bar and Grill and The Executive Cigar Lounge in coordination with WY/ART Coalition will present some of Wyoming's finest artist and artisans in the region. Our Wine Country banquet facility will showcase original fine arts and fine hand made crafts.
Friday- 6:00 pm to 8:00 pm -- Reception open to all guests which will include an acoustic guitarist, a full service bar with wine and spirits, and of course, our featured Artists and Artisans.

Saturday - 11:00 am to 5:00 pm -- Art In The Wine Country: Artists and Artisans work will be on display for all guests to view and purchase.
4) DUELING PIANOS - The Metropolitan Downtown
November 19, - 20, 2021 Recurring daily / 8:00pm to 11:00pm / $20
Come laugh and sing along in an evening of musical entertainment directed by your requests!
5) GREAT NORTHERN LIVESTOCK EXPOSITION - Archer Event Center
November 15, 2021 - November 30, 2021 Recurring daily / 8:30am to 8:00pm
Jr. Breeding Sheep/Goats, Working Dog Trials, Ranch Rodeo with World Ranch Roping Competition, Western, Tradeshow, Chuckwagon Cookoff, Open Junior Cattle Breed Shows, Market Steer Show, Prospect Steer & Heifer Show/Sale.
6) HAPPY BEERS GIVING! - Danielmark's Brewery & Tap Room
November 16 - 30, 2021 Recurring daily / 2:00pm to 9:00pm
Habitat for Humanity receives $1 for every 32 ounce crowler sold between 11/16 and 11/30 so stop in! Open 2-9 PM daily!
7) TINSEL THROUGH TIME OPENING RECEPTION - Historic Governors' Mansion
November 19, 2021 / 4:00pm to 8:00pm / Admission is Free
Our Annual Opening Reception for our Christmas Exhibit: Tinsel Through Time. There will be holiday decor, live entertainment, and light refreshments! For more information, visit us on Facebook, or give us a call!
8) AMERICAN PLAINS ARTISTS ANNUAL JURIED EXHIBIT - Cheyenne Frontier Days Old West Museum
November 5, 2021 - December 5, 2021 Recurring daily / 9:00am to 5:00pm / $25
The American Plains Artists (APA) 36th Annual Juried Exhibit & Sale will be hosted by the Cheyenne Frontier Days™ Old West Museum, November 5 - December 5, 2021, and will open with a "Jump the Gun" Opening Reception for CFD Old West Museum Members and APA Artists on Friday, November 5, from 4:30-5:30 PM. The Opening Reception will open to all other ticket holders at 5:30-7:30 PM.
9) VIRTUAL SPECIAL THANKSGIVING FAMILY EVENT - Laramie County Library
November 19, 2021 / 10:15am  to 11:00am / Admission Free  
We will have books, songs, music, and a special craft that everyone in the family can enjoy. Pick up the craft bag from the Ask Here desk on the 2nd floor beginning November 15, then join us on Zoom as we celebrate gratitude together. RSVP required.
10) ELI YOUNG BAND - Outlaw Saloon
November 20, 2021 / 6:00pm to 10:00pm / $25
Eli Young Band brings their fan favorite songs back to Cheyenne.
11) Cheyenne Thanksgiving - First Christian Church
November 20, 2021 / 1:00pm to 5:00pm
In true Cheyenne fashion, Connections (Cheyenne), First Christian Church and RightSide LeftSide LLC would like to invite you to participate in this event and give back to our community. We want to help the Cheyenne Community and feed 100 families for Thanksgiving.
12) FLANNELS & FRIENDS-GIVING - Black Tooth Brewing Company
November 20, 2021 /  3:00pm – 11:00pm
Join Black Tooth Brewery for our Flannels and Friends-giving party. It's holiday (and flannel) season, so grab some friends and enjoy the following specials: BOGO deal for anyone wearing flannel (buy a beer, get a beer free).

Friends-giving food boxes from The Hungry House food truck (boxes include a variety of Thanksgiving Day themed food items) and a Black Tooth brew all for $25!
13) WARMING WINTER TEA BLENDING CLASS - The Hawthorn Tree
November 20, 2021 / 2:00pm to 3:30pm / $25
Join herbalist and director of Equinox Center of Herbal Studies, Laura Cascardi, in this hands-on, informative class that combines the art of tea blending with the discipline of energetics. This class is appropriate for the beginning herbalist, all the way to the advanced! We will make a tea blend together to take home along with recipe ideas. Let's warm up this winter, with knowledge! Please pre-register by visiting our website.
14) CHEYENNE TRAP AND SKEET TURKEY SHOOTS - Cheyenne Trap and Skeet Club
November 20, 2021 / 8:00am to 12:00pm / $8.00 per entry
Cheyenne Trap and Skeet Club is hosting Turkey Shoots for all interested. Grab your shells and your Shotgun and head out to the Cheyenne Trap and Skeet club for a fun day of shotgun sports.
J15) EFF SIMANO AT THE BREWERY - Danielmark's Brewery and Tap Room
November 21, 2021 / 2:00pm to 5:00pm
Jeff Simano will be serenading the taproom with his voice and guitar! Stop in, have a beer, and let yourself be transported to another place.
WYOMING COWBOYS WILL BE PLAYING UTAH STATE ON SATURDAY AT 6:00PM