Take A Look At The Fun Things Happening This Weekend!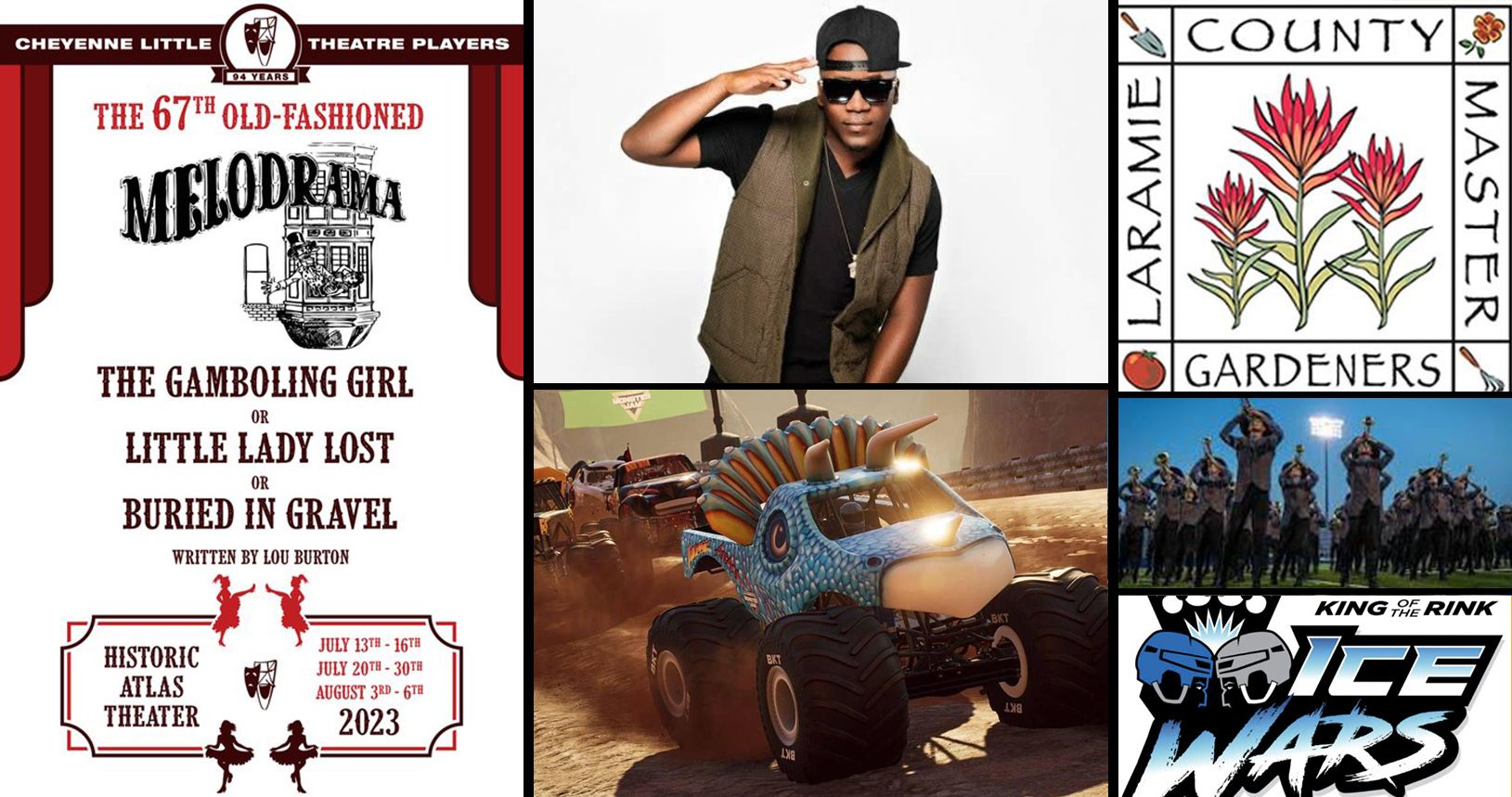 The 67th Old Fashioned Melodrama - Atlas Theatre
July 13 - Aug 6, 2023
A beautiful orphan, a bronc-bustin' cowboy, a sweet young lass who dreams of stardom, a sly snake of a man and more all converge on the Fallen Angel Hotel, owned by Madame Décolleté. Whose dreams will come true? Who will win the day? Find out in CLTP's 67th Old Fashioned Melodrama! Cheer for the hero, boo the villain and have a hoot-hollerin' good time.
3OH!3 - Depot Plaza
July 14, 2023 / 7:30pm to 9:30pm / Free
OH!3 stands for 303, the telephone code for Boulder, Colorado, which happens to be the number-one question Nathaniel Motte and Sean Foreman get asked in interviews... well, that and, "how tall are you?!" (they're 6'8" and 6'1", incidentally). So now that that's out of the way we can get to the juicer details of this mountain-raised, finely-aging boy band. 3OH!3 continue to tour all over the world, and YES, they will still play all your favorite hits off of their first album WANT so your "middle school self" can truly live.
The Cheyenne Gunslingers - W. 15th and Pioneer Ave.
July 13 - 31, 2023 / 6:00pm / Free
See gunfights, western skits, and other Wild West activities in Gunslinger Square,15th & Pioneer, in downtown Cheyenne.  All of the shows are family-oriented. Frontier Days shows run daily 6pm and noon on weekends.
Cheyenne Friday Market - Cheyenne Shrine Club
July 14, 2023 / 4:00pm to 7:00pm
Shop the freshest produce, sweet treats, handmade goods, and more from our wonderful vendors. You'll find something for everyone, whether you're looking for a unique gift or a delicious snack. Plus, you'll get the chance to meet and support local artisans and small businesses.
Drums Along the Rockies - Cheyenne South High School
July 14, 2023 / 7:00pm / $20-$35
Featuring The Battalion, Seattle Cascades, Pacific Crest, The Academy, and the Casper Troopers.
Friday Night Dueling Pianos - The Metropolitan Downtown
July 14, 2023 / 7:30pm to 11:00pm / $20
Sing, laugh and enjoy a night of music!
Hell on Wheels Rodeo and Chuck Wagon Dinner - Laramie County Fair Complex At Archer
July 14, 2023 / 5:30pm to 9:30pm / $25-$75
Any stop in Cheyenne isn't complete without a real Western rodeo experience. Nothing gets you closer to our heritage than a real cowboy dinner and a home-grown rodeo under a famous Wyoming sunset! Award-winning 3LazyR Chuck Wagon will be fixin' up some home cooking, made the old fashioned way: Slow-cooked over a fire all afternoon. Brisket and beans, garlic roasted baby potatoes, and warm cobbler will fill your belly and your heart with a true taste of the West. Then, mosey over to the rodeo arena to cheer on our hometown cowboy and cowgirls competing in events including Bareback Riding, Saddle Bronc, Breakaway Roping, Steer Wrestling, Barrels, Bull Riding, and more. Enjoy the West's favorite sport under the open sky with some of Wyoming's finest competitors!
The dinner bell rings at 5:30 and the rodeo begins at 7. Tickets start at $25.
Monster Trucks at Intermountain Speedway
July 14, 2023 / 7:30pm to 10:00pm
Cheyenne will be motorsport entertainment's epicenter with the nation's most competitive monster trucks as they invade the Intermountain Speedway for 2 Monster shows! See these incredible 10,000-pound, car crushing giants compete in racing, wheelie contests, and then rock the house with amazing freestyle action during the Monster Truck Nitro Tour! Plus, you can see the trucks up close at the pre-event Pit Party!
Oh Like WOW - Blue Raven Brewery
July 14, 2023
Come on out for a special night of relaxation and smiles with live Reggae and Jazz music preformed by Oh Like WOW
Positive Aging - Laramie County Library
July 14, 2023 / 1:30pm to 4:30pm
Please join us for a viewing of Top Gun: Maverick (PG-13, 2022) starring Tom Cruise, Val Kilmer, and Jennifer Connelly.
Tween After Hours: Interactive Movie - Laramie County Library
July 14, 2023 / 6:00pm to 8:00pm / Free
Come and enjoy a world of pure imagination with this special, interactive after-hours showing of the 1971 classic Willy Wonka & the Chocolate Factory (G) for children in grades 3-6. Be ready to sing, laugh, eat lots of candy, and use fun props to enhance your viewing experience. You can even come in costume if you like! Be sure to come by the Ask Here desk on the second floor to get your permission slip and a "Golden Ticket" to get you in the door. Signed permission slip is required.
Alli and I - Blue Raven Brewery
July 15, 2023 / 3:00pm to 6:00pm
Alli and I live at Blue Raven!
Chalk the Block - Laramie County Library
July 15, 2023 / 10:00am to 1:00pm / Free
We have the chalk, all you need to bring is your imagination! Grab the whole group and come out to the library to help decorate our sidewalk around the block. When you're done, cool off with an ice cold lemonade and a treat.
Fridays on the Plaza: IYAZ
July 15, 2023 / 5:30pm to 9:00pm / Free
Keidran Jones, better known by his stage name Iyaz, is a British Virgin Islands singer and songwriter, formerly signed with the record label Beluga Heights Records. He is known for his singles "Replay", "Solo" and "Pretty Girls".
Gene Clemetson and The Mashup - Old Chicago
July 15, 2023 / 6:00pm to 9:00pm / Free
What's the mashup? It's an eclectic blend of reggae, country, rock, pop, hip-hop and always with special guests.
Ice Wars International - The Outlaw Saloon
July 15, 2023 / 7:00pm / General Admission: $45.00 Reserved Seating: $95.00
See a fascinating new world where only those rough enough, tough enough and skilled enough will come out on top.
Cheyenne Cruise Night
July 15, 2023 / 6:00pm to 9:00pm
Cheyenne Cruise Night Hosted By Recover Wyoming.
Laramie County Master Gardeners 2023 Garden Walk
July 16, 2023 / 1:00pm to 5:00pm / Free
You may start the Walk at any of the stops along the tour, which include private residences in Monterey Heights, The Avenues, and the Native Pollinator Habitat Project at the Laramie County Library. A list of the gardens can be found on our website.