Take A Look At All Of The Fun Things Happening This Weekend!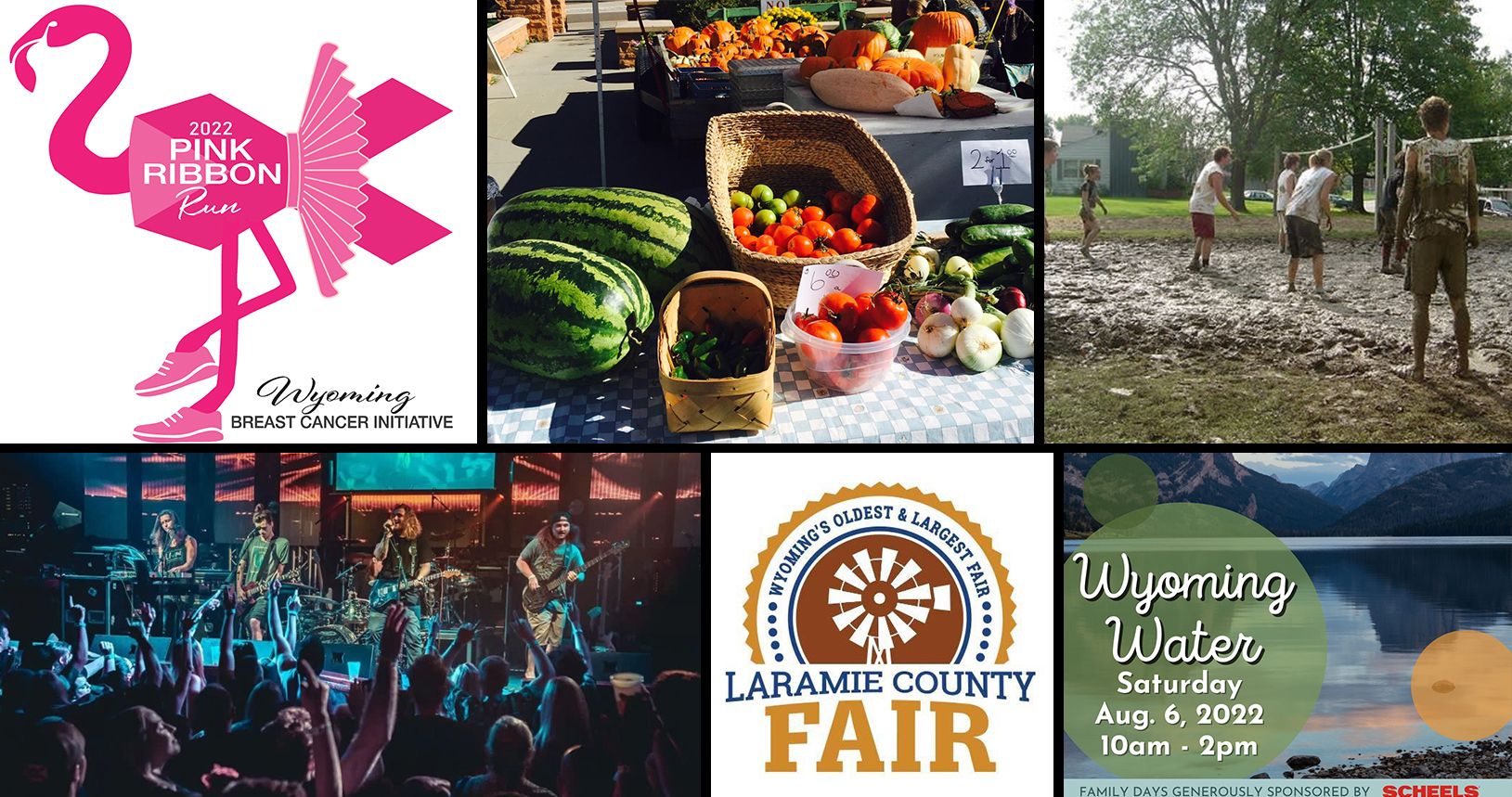 1) Laramie County Fair - Archer Complex
August 3, 2022 - August 13, 2022 / Recurring Daily
Wyoming's Oldest and Largest County Fair is located right here in Cheyenne, celebrating 115 years! Enjoy Livestock Shows, Static Exhibits, Vendors, Food Trucks and more. The midway is full of FREE family fun including an inflatable zone, balloon twisting, face painting, magic shows, pedal tractors, and a mobile dairy classroom. Visit the Fjellborg Viking encampment in our midway and experience an authentic living history and battlefield reenactment.
Be sure to check out the FREE Virtual Reality Escape Room and Arcade and Experience.
When the sun sets, the fun doesn't stop. Our first Saturday, watch the Truck and Tractor Pull starting at 5pm at the Laramie County Motorsports Park (ticketed event). Tuesday, August 9th enjoy a FREE night of Mutton Bustin' presented by Bish's RV and come back Wednesday, August 10th for a FREE night of Pig Wrestling presented by LG Drilling. Finish off Fair with a roaring night of excitement at our Motorsports Park with a Demolition Derby presented by Breeze Thru Car Wash starting at 5pm.
2) The 66th Old-Fashioned Melodrama - Historic Atlas Theatre
July 14, 2022 to August 7, 2022/ Monday- Saturday 7:00pm, Sunday 2:00pm, July 22-30 additional 9:00pm performances.
"Treachery Makes the Heart Grow Fonder or All's Fair in Love and Villainy or The Showdown at the Sarsaparilla Saloon". Director: Nancy Stange.
Sally Sarsaparilla is fed up with waiting for a marriage proposal from her dimwitted beau Danny DoGood, while Bella BadLove is tired of the failings of her partner Peter Pigwallop, a "bad" guy who can barely manage unpleasantly annoying. Together, they concoct a scheme to make the two men achieve success despite themselves, hoping to achieve their own dreams in the process, marriage and respectable villainy, respectively.
3) Charley Crockett - The Lincoln Cheyenne
August 5, 2022 / 8:00pm to 11:00pm / $30+
Charley Crockett has been a fairly remarkable artist to follow. He's got a sound. He's got something to say. He has a look. And there's a gauzy veil of mystery surrounding him suggesting he knows more than he's letting on. And still, despite his penchant for pearl snaps and western hats, Charley Crockett has managed to elude being pigeon-holed. Call him neo-country-western if you'd like. It's true that few contemporaries present themselves as part of a lineage harkening back to Hank Williams and George Jones like Charley does, and even fewer can pull it off convincingly. His voice is one-of-a-kind. His distinctive, plaintive vocals crack unapologetically with emotion, and he phrases his lines around the beat like a jazz singer, while he expounds upon personal relationships and the world beyond.
4) Fridays on the Plaza: Kash'd Out with Josh Gonzales
August 5, 2022 / 5:30pm to 9:00pm / Free
Kash'd Out released their first full-length album in 2017 entitled "The Hookup" via LAW Records. The record reached #2 on both the Billboard and iTunes Reggae Charts. Josh Gonzales is a tried-and-true local favorite. This will be a great show!
5) Youth Photography Workshop - Historic Governor's Mansion
August 5, 2022 / 9:00am to 12:00pm / Free
A half day summer youth program to learn the basics of photography. Students are encouraged to bring cameras or cell phones if they have them, but we will have tablets to use if they don't. Open to 10-14 year-olds, and limited limited to 10 students.
6) Cheyenne Art Walk - Downtown Cheyenne
August 5, 2022 / 5:00pm to 8:00pm
Join us Friday, August 5th, 2022 as we showcase Blue Door Arts for the First Friday Artwalk!  We'll be featuring:
beautiful art from Georgia and Dave Rowswell
the all new ArtHaus
food trucks, beverages and music
information about all the other Cheyenne First Friday Artwalk artists & venues for August 5th, 2022
7) CHEYENNE - Pink Ribbon Run/Walk - Capitol Hill Building
August 6, 2022 / 6:30am to 10:00am
This is our opportunity to celebrate breast cancer survivors and remember those we have lost to this devastating disease. Funds from the event support WBCI grants for breast cancer education, early detection, patient navigation and survivor supports. Are you a breast cancer warrior or survivor? Register for free thanks to our generous sponsors. You are also invited to attend the survivor celebration the morning of the event. Everyone who registers receives a free event t-shirt for you to proudly wear as you support an amazing cause!
8) Ethiopian Coffee Ceremony - Hawthorne Tree
August 6, 2022 / 1:00pm to 3:00pm/ Free
In Ethiopia, coffee is enjoyed with family, neighbors, and new friends. Mothers in the neighborhood take turns brewing coffee. Their coffee time is where they unwind, exchange new info, laugh, and gossip. The ceremonial coffee takes a minimum of 2 hours. In those two hours of each day, mothers build a strong community, meaningful relationship, and most importantly a great sense of belongingness. Hence creating a larger dependable family outside your own family.
9) Family Day: Wyoming Water- Wyoming State Museum
August 6, 2022 / 10:00am to 2:00pm / Free for all kids and adults
Learn about the importance of water in all our lives—from Wyoming to the International Space Station—with science kits from the Wyoming State Geological Survey. Enjoy miniature boat races, make a beaver puppet, and pledge to save water in your everyday life. Visit website to reserve your one-hour time slot.
10) Harry Potter Birthday Celebration - Laramie County Library
August 6, 2022 /  1:00pm to 5:30pm
Your letter has arrived and Hogwarts is calling. Platform 9¾ is getting full! Are you ready for the Hogwarts Express? We've all been waiting to go back to wizard school and the time has finally arrived. Dust off your brooms, iron your robes, and clean the cobwebs from your cauldron because it's going to be an excellent celebration! Once again, we will have Quidditch, wand duels, trivia, a costume contest, and so much more. So grab all the witches, wizards, and even the muggles in your life and join us for our 6th annual Harry Potter Birthday Celebration! We promise it will be even more fun than partying with freed house elves.
11) After-Hours Harry Potter Trivia - Laramie County Library
August 6, 2022 /  6:00pm to 7:30pm / Free
Accio adult muggles, wizards, and everyone in between! Test your Harry Potter knowledge in a battle of wits with other fans for a chance to win prizes. Come with a team (please have a team name in mind), or as an individual to be placed in a group. Muggle snacks will be provided. Costumes encouraged, but Extendable Ears are strictly forbidden! Sign up soon and we'll see you in the Great Hall.
12) Longhorn Stampede 5K - Pine Bluffs Community Center
August 6, 2022 /  7:00am to 10:00am / $20 until July 8. $25 day of race
5K Run Walk/1 Mile Walk will start at 7:00am. Starting line is at the Pine Bluffs Community Center.
13) Farmers Market - Lot C Frontier Park
August 6, 2022 /  7:00am to 1:00pm / FREE
Spend a beautiful Saturday morning finding everything from fresh produce and breads to homemade jams, cheeses, dried meats, sauces and more! Parking in Lot C. The market is the annual fundraiser of Community Action of Laramie County, Inc.
14) 2nd Annual Cars In The Yard - Freedom's Edge Brewing Co.
August 6, 2022 /  10:00am to 3:00pm / FREE
2nd Annual Cars In The Yard car/motorcycle show to benefit the Wyoming chapter of the Alzheimer's Association!
15) Capital City Games - CrossFit Cheyenne
August 6, 2022 / $175 includes T-shirt or Tank and swag bags
CrossFit Cheyenne is excited to announce the release of our first competition hosted in the Capital City!
16) Celebrate DOGust 1st with Cheyenne Animal Shelter!
August 1-6, 2022
Cheyenne Animal Shelter is teaming up with North Shore Animal League America in partnership with Baby Doge to PAW-TY! Join these partners in animal rescue as they celebrate DOGust 1st®, the universal birthday for all rescue dogs, during a celebration throughout the week of August 1st.
From Monday, August 1st through Saturday, August 7th, Cheyenne Animal Shelter iscelebrating the dogs and puppies (and all the other animals) in their care while they work tofind them loving, responsible homes. Cheyenne Animal Shelter is open for adoptions Monday through Saturday from 12:00pm– 6:00pm.
17) 30th Annual Co-Ed Mud Volleyball Tournament - Pine Bluffs
August 7, 2022 / 10:00am to 8:00pm / $50 per Team
Come have some fun in the mud at the 30th Annual Co-Ed Mud Volleyball Tournament!
18) Adam and Amy Pope @ Terry Bison Ranch
August 7, 2022 / 2:00pm
Adam and Amy Pope are a husband/wife duo from the Nashville area who perform Country and Christian music. 
 Originally from North Carolina, Adam Pope is a country, rockabilly, and bluegrass songwriter who has worked in multiple bands.
19) Cheyenne Frontier Days Western Art Show - Old West Museum
July 21 - August 14, 2022
The 41st Annual Cheyenne Frontier Days™ Invitational Western Art Show & Sale will take place from Thursday, July 21 to August 14, 2022. The Western Art Show features the nation's top Western artists who bring to life the celebration, the heritage, and the outlook of the American West.
20) 2022 CowKid Camp: Western Art Camp - Cheyenne Frontier Days Old West Museum
August 8, 2022 - August 12, 2022/ 8:30am to 3:30pm / Cost per student per camp: $200 for Museum Members; $230 for non-Museum members.
Fees include art supplies and snacks.  Pre-registration required. Kids will learn the basics of western and folk art, creating a wide variety of projects. Ages 5-12.