Young Frankenstein, Everclear, Dogtoberfest, Kites and So Much More Happening!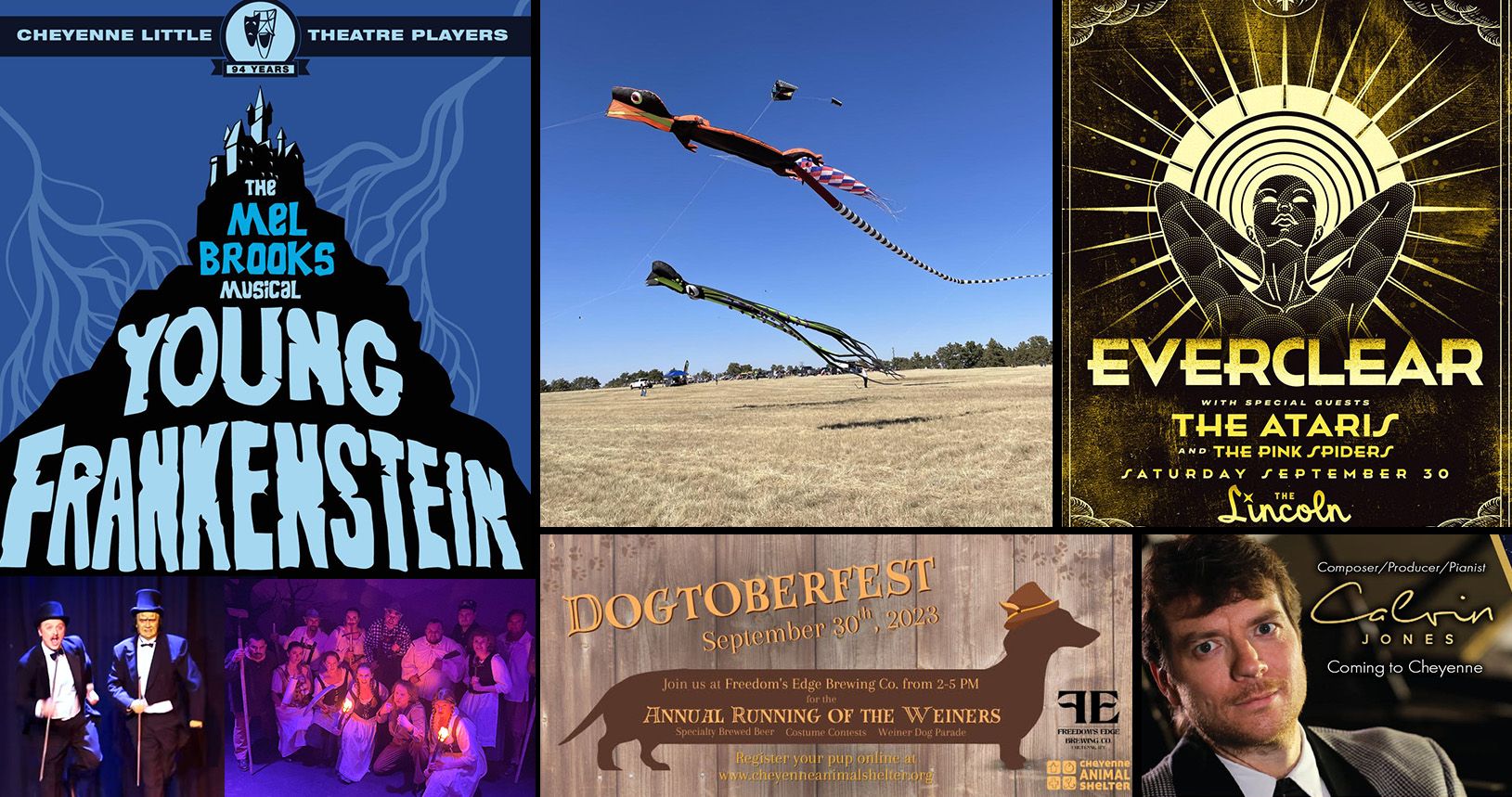 Young Frankenstein - Mary Godfrey Playhouse
Sep 29 - Oct 1, Oct 6 - Oct 8, Oct 13 - Oct 15 / $21-$31
The comedy genius, Mel Brooks, adapts his legendarily funny film into a brilliant stage creation – Young Frankenstein! Grandson of the infamous Victor Frankenstein, Frederick Frankenstein, inherits his family's estate in Transylvania. With the help of a hunchbacked sidekick, Igor (pronounced "Eye-gore"), and a leggy lab assistant, Inga (pronounced normally), Frederick finds himself in the mad scientist shoes of his ancestors. "It's alive!" he exclaims as he brings to life a creature to rival his grandfather's. Eventually, of course, the monster escapes and hilarity continuously abounds. Every bit as relevant to audience members who will remember the original as it will be to newcomers, Young Frankenstein has all the panache of the screen sensation with a little extra theatrical flair added. It will surely be the perfect opportunity for a production company to showcase an array of talents. With such memorable tunes as "The Transylvania Mania," "He Vas My Boyfriend" and "Puttin' on the Ritz," Young Frankenstein is scientifically proven, monstrously good entertainment.
Rustic 307 Barn & Brush Workshop - 4304 Dutch Ct. Cheyenne, WY.
September 29, 2023  / 10:00am to 1:00pm / $40
Are you interested in a fun event with friends? Join us for a fun Barn & Brush Party and let us do all the prep work! Sign up today and invite a friend to register as well. We are looking forward to painting with you!!
During this party we will create some fall & Halloween decor items. Select from one of the choices pictured. Included: refreshments (you are welcome to BYOB!)
Kits, Paint & Supplies, Instruction & assistance.
Comea Comedy Award Show - Cheyenne Civic Center
September 29, 2023  / 6:00pm to 8:00pm / $15+
Come Join us for a night of laughs with the hilarious Vinnie Montez Headlining with guest John Novosad.
Harvest Moon Stroll - Cheyenne Botanic Gardens
September 29, 2023  / 7:00pm to 8:30pm
Celebrate the harvest season by seeing the Botanic Gardens in the light of the full harvest moon.
Whitt's End Fall Festival - 1249 Happy Jack Road
September 29, 2023 - October 29, 2023 - Recurring weekly on Sunday, Friday, Saturday/ 2:00pm to 7:00pm  / $10/person $40/family
Over 80,000 pounds of pumpkins, a petting zoo, hay maze, tractor hay wagon rides, face painting, games and much more!
Nightmare 17th Street Haunted House in Cheyenne
September 29, 2023 - October 31, 2023 - Recurring weekly on Friday & Saturday/ 7:00pm to 11:00pm  
SNEAK PEEK WEEKEND! NIGHT 2
JOIN US* for the OPENING WEEKEND of the 2023 season! Wear a costume and receive a special admission fee of $10!!! SEPTEMBER 29th & 30th ONLY.
Monster Pots - Silver Sage Ceramics
September 29, 2023  / 6:00pm
Join us for a one-time experience learning how to hand-build a unique Monster Pot! Make it a couples night or come flex your creative muscles! All levels welcome. All materials, instructions, and tools to personalize your monster will be provided. Choose your glaze at the end and we will call you after the final firing.
Please allow 3 weeks for the process to be complete.
10 spaces available
$55
Prior Registration Required
Wyoming Cowboys vs University of New Mexico at Jonah Field at War Memorial Stadium
September 30, 2023  / 2:00pm
7th Annual End of the Trail Kite Festival - Pine Bluffs
September 30, 2023  / 11:00am to 3:00pm / Free
Enjoy watching Semi-Pro Kite Fliers from the American Kitefliers Association and the Rocky Mountain Kite Association. There will be Large Kites, Stunt Kites, Sport Kites and Single Line Kite Flying. Everyone is encouraged to bring their own kites to fly! Free Kites will be given to the first 100 kids Age 14 & under.
11:00a-3:00p – Kite Show, Kite Vendors, Bounce Houses, Craft Vendors, Food Vendors, Large Kite, Stunt & Sport Kite Flying Demonstrations.                       12:00p – All Fly for Everyone
Calvin Jones - Cheyenne Civic Center
September 30, 2023  / 7:00pm to 10:00pm / $25-$65
Calvin is known as the author of celebrated compositions and soundtracks for record setting movies and as a worldwide performer who has released 6 albums of solo piano and instrumental compositions on Sony Records plus his latest album of original symphonic works.
PROJECT FOREIGNER - Outlaw Saloon
September 30, 2023  / 7:00pm to 11:00pm
Capidolls vs. Bitter Sweet Bombshells  - Roller City
September 30, 2023  / 6:30pm to 9:30pm
Too School For Cool: Capidolls v. Bitter Sweet Bomb Home Roller Derby Bout.
Dogtoberfest 2023 - Freedom's Edge Brewing Co.
September 30, 2023  / 2:00pm to 5:00pm / $25 per dog
Fall is in the air, and you know what that means — Dogtoberfest!There will be beer, a costume parade (for pets and people), food trucks, "Wiener Dog Measuring", and the annual "Running of the Wieners" aka Wiener Dog Races!
Everclear with The Ataris - The Lincoln Cheyenne
September 30, 2023  / 7:30pm to 11:00pm / $35+
Everclear will take The Lincoln stage with help from special guests The Ataris and The Pink Spiders for one hell of a night!
Fall on the Farm - Archer Event Center
September 30 - October 1, 2023
This patch will host, tractor rides, horse rides, a petting zoo, farm games, vendors, food, hot drinks and of course wonderful pumpkins! Come on our and see us for the 2nd annual Fall on the Farm hosted by East High School.
Harvest Festival - Laramie County Library
September 30, 2023  / 10:00am to 12:00pm
Come join us for our third annual Harvest Festival! There will be fall-inspired games, crafts, and treats and something spooky for the whole family to enjoy!
The Cheyenne Farmer's Market - Frontier Park
September 30, 2023 / 7:00am to 1:00pm / Free
Come support a local nonprofit while shopping for fresh fruits, vegetables, cheeses, pasta sauces, baked goods, honey, kimchi, fermented foods, microgreens, coffee and more!
LCCC Music Department Concert: "With a Song in Our Heart..."
October 1, 2023 / 3:00pm to 4:30pm / Free
Enjoy an evening full of familiar and beautiful music, performed by LCCC's talented Jazz Ensemble, Chamber Orchestra, and Wind Ensemble.
Denver Broncos vs Bears
October 1, 2023 / 11:00am