Take A Look At All Of The Fun Things Happening This Weekend!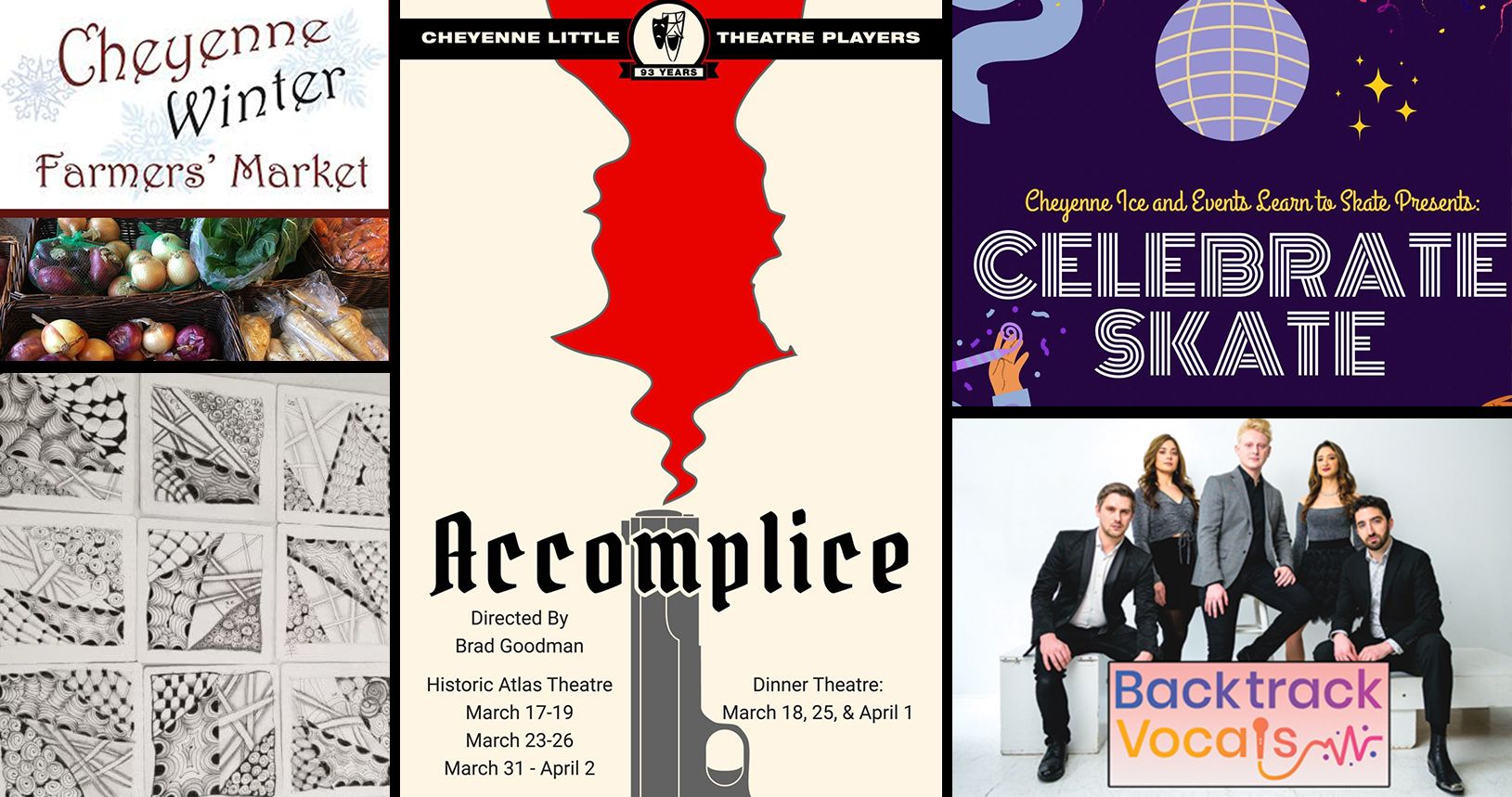 Accomplice - CTLP - Atlas Theatre
March 17-19, 24-26, 31 - April 2
Winner of the Mystery Writers of America's coveted "Edgar" award (the "Oscar" of crime and suspense) and written by Tony® award winner Rupert Holmes, Accomplice has thrilled audiences on Broadway, across the United States and around the word. The New York Times has called it "a deliciously witty cocktail of a whodunit with a maniacally seamless plot where skullduggery emerges the winner!"
*Special Performances* The Outgoing Tide -  Mary Godfrey Playhouse
March 18th at 2:00pm, March 19th at 7:30pm
The play follows a family of three, a father, mother and son, at a summer house on the Chesapeake Bay. Gunner has hatched an unorthodox plan to secure his family's future but meets with resistance from his wife and son, who have plans of their own. As winter approaches, the three must quickly find common ground and come to an understanding—before the tide goes out. This drama hums with dark humor and powerful emotion.The story navigates the patriarch's deteriorating mental state due to Alzheimer's. Pain, forgiveness, resentment and compassion consequently force each character to face their personal and familial struggles.
Tween After Hours: NERF Wars!
March 17, 2023 / 5:30pm - 8:15pm
It's game ON! Tween NERF® Wars is back! We've got the NERF® guns and snacks, all we need is you and your friends. *Please note: a signed permission slip from a parent or guardian is required for this event; visit the 2nd floor Ask Here desk to fill one out.
Backtrack Vocals A Capella Group - Central High School Auditorium
March 18, 2023 / 7:30pm
A 5-person, multi-genre acapella group based in NYC, Backtrack Vocals takes the stage. These musicians each bring their own unique sound and personality to the group and have learned the importance of listening, working together as a team and embracing diversity.
Beer & Yoga - Black Tooth Brewery
March 18, 2023 / 10:00am to 12:00pm / $25
Get a one-hour vinyasa style flow and a pint! Bring your own mat and good vibes.
Beginner Vegetable Gardening - Cheyenne Botanic Gardens
March 18, 2023 / 11:00am to 12:00pm / $5
New to town or new to gardening? Stop in and pick up some tips and tricks to get started to growing and eating your own produce. You will also take away some seeds!
Celebrate Skate - Cheyenne Ice and Events Center
March 18, 2023 / 1:00pm to 3:00pm / $5
Support our Learn to Skate participants and celebrate all of their accomplishments!
Finish it! Sewing Workshop - Cheyenne Creativity Center
March 18, 2023 / 1:15pm to 4:15pm / $10
Local seamstress Leslie Beadles will lead an afternoon workshop to help creatives complete an unfinished sewing project. Participants are asked to bring their own materials.
Ice Bowl Disc Golf Tournament - Clear Creek Park
March 18, 2023 / 12:00pm to 3:00pm / $30-$40
This disc golf tournament benefits Meal on Wheels.
Mantra Meditation & Mala Making Workshop - Blossom Yoga
March 18, 2023 / 11:00am to 2:00pm / $65/members $75/non-members
We will have all the supplies available for you to create your own one-of-a-kind mala, instructions and guidance to complete your mala, an intention setting practice and mantra meditation.
Plant and Paint Night Bonsai Addition - Flydragon Design Art Studio
March 18, 2023 / 6:00pm to 9:00pm / $60
Join us at Sunshine Plant Co. to pot a bonsai garden to take home. Then, head right next door to Flydragon Art Studio to paint! We are in the same building. After potting your bonsai in a handmade ceramic dish, you will be painting on a 12x16" stretched cotton canvas. All supplies are included!
Rooted in Cheyenne Benefit - Hawthorn Tree
March 18, 2023 / 1:00pm to 4:00pm / Free
Come enjoy an afternoon of art and live music to benefit Rooted in Cheyenne. The event will include live acoustic music from local artists Ocean Plains and Mason McTell. There will also be a live auction for a print from local artist Taurus Tracks. The bidding will conclude at 3:45 and a winner will be announced. All proceeds will go to Rooted in Cheyenne.
Seed Library Opening Day - Laramie County Library
March 18, 2023 / 10:00am to 1:00pm / Free
"Check out" seeds for your garden! We have a wide variety of flowers, herbs, and vegetables to choose from, all suitable for beginning gardeners in our climate. Seeds are free, and no library card is needed. Each person is limited to 12 packets of seeds.
Tri-Tip Dinner Fundraiser - Pine Bluffs Distilling
March 18, 2023 / 4:00pm to 7:00pm / $20/dinner $30/beer wristband $30/cocktail wristband
Annual Tri-Tip dinner fundraiser to benefit Laramie County Community Christmas. Laramie County's own Jim Wilkinson will hit the stage at 6pm!
Zentangle Basics Class - Cheyenne Artists Guild
March 18, 2023 / 1:00pm to 4:00pm / $25 for members, $30 for non-members
Learn the basics of Zentangle art. We will learn six basic Zentangle and the eight steps of the Zentangle method. A Zentangle practice is yoga for your mind.
Winter Farmers Market - Depot Lobby
March 18, 2023 / 9:00am to 1:00pm / Free
Spend a Saturday morning and find the best local foods and crafts.
Sketchbook Sessions - Cheyenne Creativity Center
March 18, 2023 / 10:00am to 12:00pm
'Sketchbook Sessions' are monthly events for open worktime for artists to drop in and work in their sketchbooks.
Fundraiser for Wyoming Down Syndrome - Wyoming Bank and Trust
March 18, 2023 / 1:00pm
You are Invited! WYDSA Fundraiser with Frenchie Stamps Wyoming Down Syndrome Date: March 18, 2023 Time: 1 pm mountain time Location: Wyoming Bank and Trust 5827 Yellowstone Rd, Cheyenne.
Detox Retox - Freedom's Edge Brewing Co.
March 19, 2023 / 11:00am to 1:00pm / $20
Join me upon your mat for an hour long Vinyasa Flow to detox the body and mind and then have a bit of hair of the dog to retox.
Young Readers Book Party - Laramie County Library
March 19, 2023 / 1:15pm to 2:00pm /Free
You're invited to a party! A book party! Join us for a celebration of reading with young readers that's a little bit early literacy class, and a little bit more! We will read and talk about books, sing, play, and learn. This month's theme is Spring.
Cheyenne Meetup Book Club - Laramie County Library
March 19, 2023 / 3:00pm to 5:00pm /Free
Hoping to meet others who share my love of books. I think it would be fun to switch the location of each meeting to members homes where we can also do a potluck each time while we discuss the current book.
RYB : Shamrocks & Shenanigans
March 19, 2023 / 9:30am
Thank me lucky stars, Run + Yoga + Beer is back with some St. Paddy's Day themed fun! Join us for one of our infamous GPS Art runs through downtown, as we create a fun design with our running route. Don't forget to wear green.
Immediately following the run enjoy provided refreshments, before you are able to join Little Lotus Yoga for an always wonderful yoga session. Finish it all off with a frosty pint of Freedom's Edge's finest brew with friends, both new and old. Sláinte!