Take A Look At All Of The Fun & Festive Events Happening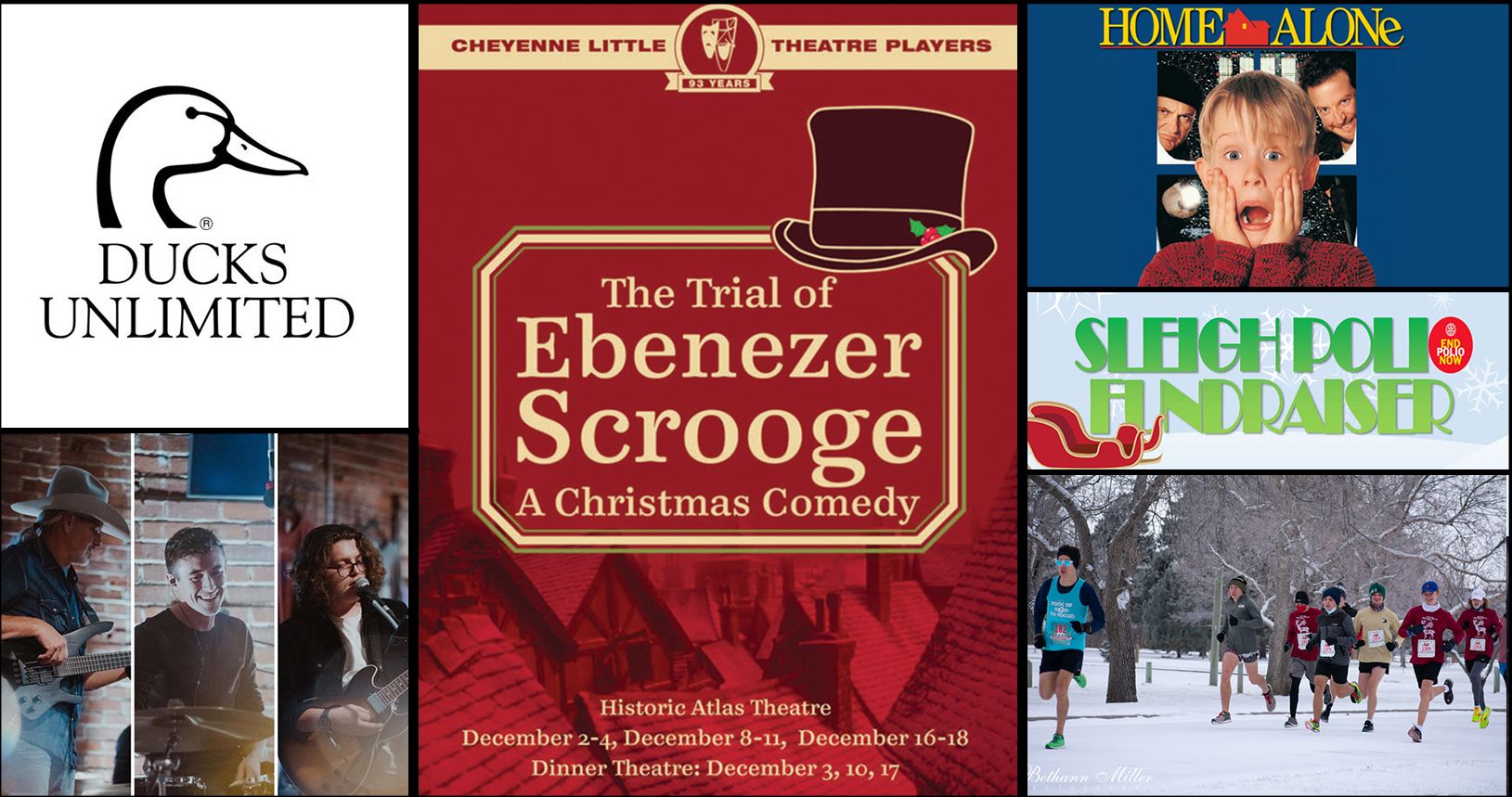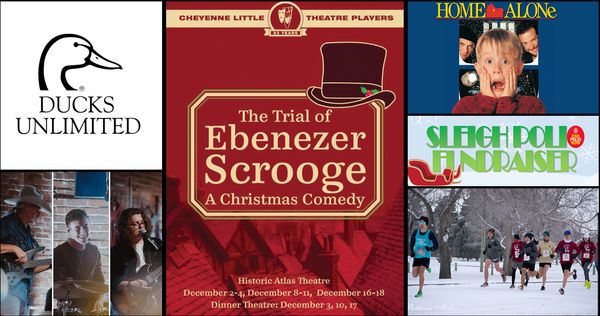 1) The Trial of Ebenezer Scrooge - Historic Atlas Theatre
December  9-11, 16-18/2022 / $14.50-24.50. Dinner theater $26-48
A year after his miraculous transformation, Ebenezer Scrooge is back to his old ways and is suing Jacob Marley and the Ghosts of Christmas Past, Present, and Future. Bob Cratchit, Scrooge's nephew Fred, solicitor and philanthropist Sara Anne Wainwright, and the ghosts themselves take the witness stand to give their account of the night in question. In a staggering turn of events, Scrooge makes the spirits an offer: work every day, not just one day a year, and he'll drop the charges. It's the trial of the century and you need to be there. Dinner theater options are available December 3, 9, 10, 16, and 17.
2) Home Alone in Concert - Cheyenne Civic Center
December 9 -10, 2022 / 7:30pm / $12- $55
Ring in the season with a true holiday favorite the whole family will enjoy! This beloved, comedy classic features renowned composer John Williams' charming and delightful score, performed live to picture by the Cheyenne Symphony Orchestra.
3) Tinsel Through Time - Melodies of Christmas, Historic Governors' Mansion
December 8 -24, 2022 / 9:00am to 5:00pm / Free
This year's theme is Melodies of Christmas and is inspired by some of the classic songs of the holiday. Make sure you stop by to enjoy everyone's favorite time of year at the Historic Governors' Mansion! The first level of the mansion is accessible via a ramp along the west side of the building.
4) Comea Comedy Award Show - The Lincoln Cheyenne
December 9, 2022 / 5:30pm to 10:00pm / $40/ per person
Headlining comedian Christopher Titus has six one-hour comedy specials currently running on Comedy Central, and his seventh special, Born With a Defect, spent four weeks on the Billboard Top Ten Comedy Chart. He debuted his one-man show "Norman Rockwell is Bleeding" at the Hudson Theater in Los Angeles, and from this performance the dark comedy, "Titus," was born on Fox. Newsday called him "TV's most original voice since Seinfeld."
5) The Dugan Irby Band at Black Tooth
December 9, 2022 / 6:00pm to 9:00pm / Free
The Dugan Irby Band's (The DIB) music is best described as Modern Americana that blends a variety of styles, creating a listening experience that will sooth your soul!
6) 51 Years of Freedom - Laramie County Library
December 10, 2022 / 2:00pm to 4:00pm
Wyoming historian Kylie McCormick commemorates the anniversary of women's suffrage in WY. A fresh take on a longstanding controversy, this presentation offers critical new evidence to Wyoming's suffrage story and restores the contributions to the movement made by both Dr. Grace Raymond Hebard and Esther Hobart Morris.
7) A Christmas Carol Read Aloud - Laramie County Library
December 10, 2022 / 5:30pm to 8:30pm
Usher in the spirit of the season by participating in the community read aloud of the Charles Dickens classic, A Christmas Carol. All are invited to attend and participate by reading a portion of the book. Enjoy cookies, cocoa, and hot cider while you listen to this beloved holiday tale. We will assign 3–5 readers per time slot ahead of time; each reader will read for 7–10 minutes and listen to the other assigned readers. Festive attire encouraged but not required.
8) Breakfast with Santa - Laramie County Fair Complex at Archer
December 10, 2022 / 8:00am to 11:00am
Join Santa for a catered breakfast and enjoy holiday music and a festive atmosphere. A photographer is on hand to snap a photo of your child and Santa, or bring a camera. Event is for all ages but an adult must accompany children. Limited to 500 people. Registration (required) for breakfast opens at 10:00 AM on Friday, December 2nd. Session 1: 8:30am; Session 2: 10am.
9) Cheyenne Ducks Unlimited Banquet - Red Lion Hotel
December 10, 2022 / 5:30pm to 9:00pm / Single/$50, Couples/$90, Youth (under 18)/$35, Gun Table $1,200
Auctions/raffles include numerous guns, guided hunts, DU swag, coolers, alcohol, jewelry, paintings, photos and much much more! Bring the entire family—there will be raffles and games specifically for children! 8 top (Gun) tables available and include dinner.
10) Santa's Workshop Make & Take Ornaments  - Board & Brush
December 10, 2022 / 10:00am to 11:30am / 3 for $15
Join us for a Make & Take workshop! We provide all the materials and instruct you step-by-step to create an ornament set perfect for your tree or for a gift. Choose from a variety of paint colors in the workshop. Please note, due to the size of these projects, no personalization is accepted. We look forward to seeing you soon!
11) Christmas Beer & Paint Night - Black Tooth Brewery
December 10, 2022 / 5:00pm to 8:00pm /$40 per person (3 beers and painting materials included)
Join us for another Beer and Paint Night event (Christmas edition)! Get ready for a surprise Christmas scene (on canvas) from the very talented Danielle Kirby. Grab some friends and enjoy an evening with plenty of quality craft beer and creativity.......YOU CAN PURCHASE TICKETS AT BLACK TOOTH (ask your bartender)--spots are limited to 30 people, first come first served
**Please bring your ticket on the night of**
12) Christmas Classic 5k - Lions Park
December 10, 2022 / 9:00am to 11:30am /$25 till Nov. 30th, $30 after that
Challenge Santa and Mrs. Claus to a race. Prizes will be given to the males who beat Santa and the Females who beat Mrs. Claus. To add a little more jingle to your step each participate will receive little bells with your registration packet to tie on your shoes! We encourage you to dress up as much as you want! In the past those with some real Christmas spirit joined us with 2 reindeer costumes. Race packets will be available for pick up Thursday - Friday at Foot of the Rockies the week of the Race, and also the day of the race at the Picnic Pavilion at the Park from 8:15 - 8:45 AM. The awards ceremony will be held at the Foot of the Rockies after the race. Warm homemade breakfast burritos will be available for runners, along with hot chocolate or tea to warm back up.
13) Cowboy Christmas Market - Event Center at Archer
December 10-11, 2022 / 9:00am to 4:00pm
Join us for this two-day event to shop from local artisans offering unique handcrafted items and more well-known brands. This is our biggest event of the year with over 200 vendors, concessions, pictures with Santa and his red truck, and more! A portion of the proceeds benefit the Cheyenne Shriners.
14) Sleigh Polio Fundraiser - Wyoming Bank and Trust
December 10, 2022 / 10:00am to 1:00pm / $15
Pictures w/ Mr. and Mrs. Claus Courtesy of Ideal Images Photography, Letters to Santa, DIY Ornaments, Cookie Decorating along with other fun treats for purchase courtesy of 307 Cakes & Treats and more! Proceeds go to end polio. Mark your calendars - we can't wait to see you there!
15) Tinsel Through Time Children's Holiday Tea
December 10, 2022 / 1:00pm - 2:00pm / Free
Join us for a special celebration with the children. Ages 5-10 with accompanying adult. RSVP only.
16) TubaChristmas - Cheyenne Depot
December 10, 2022 / 1:30pm - 2:30pm / Free
Come in from the cold and sing along with Cheyenne's Merry TubaChristmas tradition! This concert is presented with thanks to the Cheyenne Depot Museum and with the permission of the Harvey Phillips Foundation.
17) Christmas Tea - Rx Tea Time
Recurring Daily / 11:00am - 4:00pm
A Victorian Christmas Tea. Reservations required. $30/person (does not include tax or gratuity). Call (307) 461-1574.
18) Poetry Open Mic - The Hawthorn Tree
December 11, 2022 / 1:00pm - 3:00pm / Free
Join us for a poetry open mic. Each poet gets 5 minutes to read, but occasionally go two rounds, so bring extra poems. Arrive 5 minutes early to sign-up.
19) StoryWalk Sunday - Laramie County Library
December 11, 2022 / 1:15pm - 2:00pm
A guided tour of our new StoryWalk® title for December: May Your Life Be Deliciosa by Michael Genhart. We meet in the Willow Room, but the StoryWalk® will be outside, so dress for the weather. Afterward, we have snacks and crafts.
20) Virtual Jeopardy!® - Laramie County Library
December 11, 2022 / 2:00pm - 3:00pm / Free
Think you've got what it takes to be a trivia champ? Join us for Jeopardy!® Battle for prizes and bragging rights! Visit lclsonline.org/calendar/ to receive an email with the Zoom link.
21) CRC Nog Jog - North Cheyenne Park
December 11, 2022 / 3:00pm
Join us for our 3rd annual Nog Jog!! What is a Nog Jog, you may ask? Well... it is a fun festive celebration where all you have to do is run 4 laps at 400 m each. Oh, and drink an 8 to 12 oz cup of eggnog before each lap. Easy! Though a fair bit of warning, going slow is likely the best way to do this one.

Bring your own eggnog (dairy free alternatives, or Apple Cider substitutes, are completely acceptable), and join us for one hoot of a great time! No alcoholic beverages though please.