Take A Look At All Of The Fun & Exciting Things Happening This Weekend!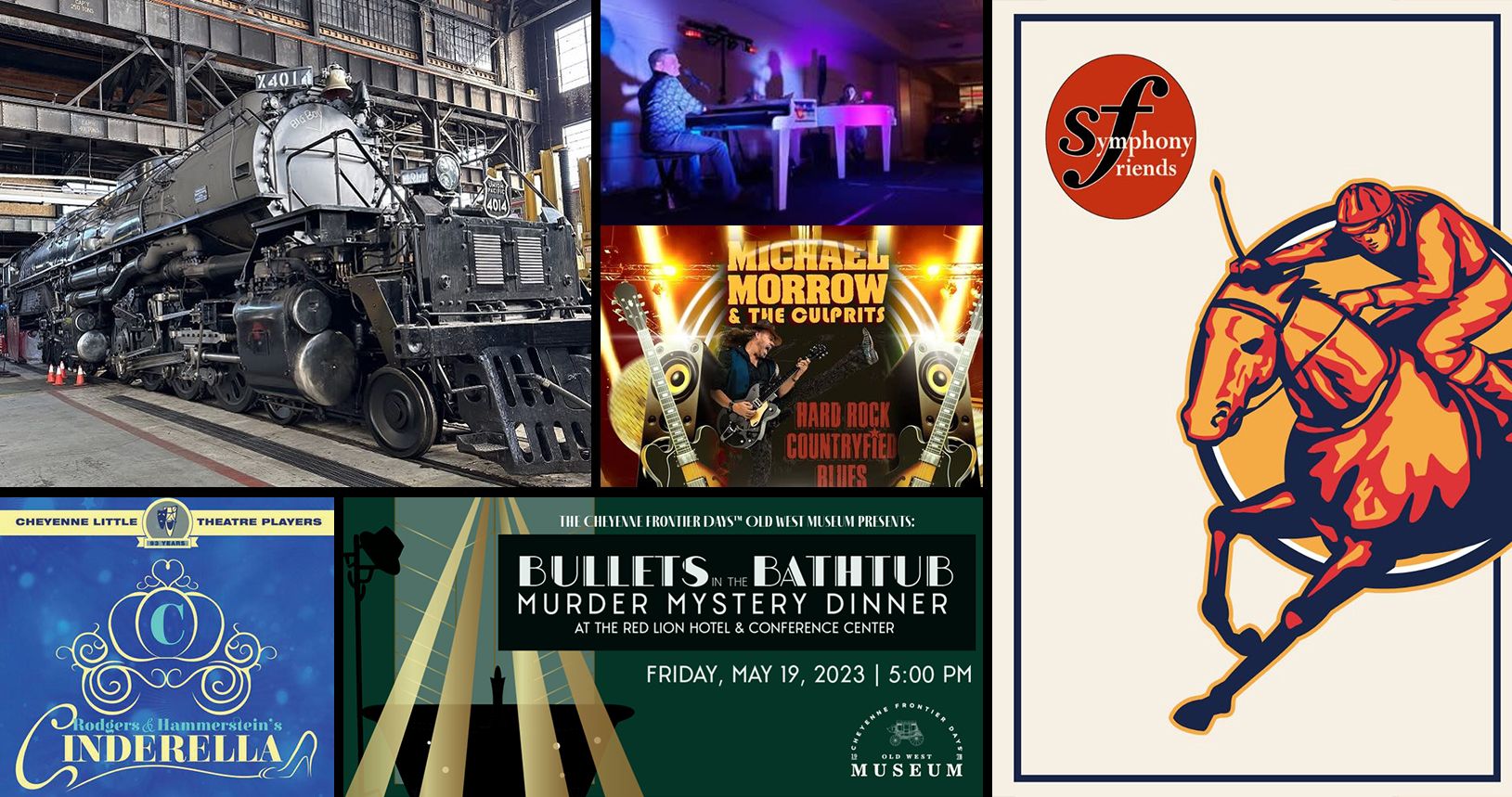 Bullets in the Bathtub Murder Mystery Dinner - Cheyenne Frontier Days Old West Museum
May 19, 2023 / 5:30pm to 8:00pm / $75 for non-members, $65 for members. Ticket Prices increase at the door to $90
Keep your wits about you, and join us for a vintage romp through the 1920s during the Bullets in the Bathtub Murder Mystery Dinner. This event will be interactive, so be prepared for a killer time! We recommend groups of 6 or more purchase a table.
Cinderella - Mary Godfrey Playhouse - CTLP
May 19-21, 2023 / $16.50-$26.50
The timeless enchantment of a magical fairy tale is reborn with the Rodgers & Hammerstein hallmarks of originality, charm and elegance. Presented by the Cheyenne Little Theatre Players.
Dueling Pianos - The Metropolitan Downtown
May 19, 2023 / 7:30pm to 10:00pm / $20
Laugh and sing along in an evening of musical entertainment by two dueling pianists directed by your requests! Tix can be purchased for 2, 4, 6, or 8 guests per table.
Michael Morrow & The Culprits - Outlaw Saloon
May 19, 2023 / 8:30pm to 11:00pm / $10
One of the premier rock bands out of Denver!
Book Babies - Laramie County Library
May 19, 2023 / 10:15am to 11:00am / Free
Join us for a short early literacy class designed just for babies and their caregivers! Enjoy books, songs, lap bounces, and rhymes! Afterwards, babies can play with our educational toys while caregivers visit.
Jim Wilkinson - Black Tooth Brewing Co.
May 19, 2023 / 6:00pm to 9:00pm / Free
Your favorite country hits from yesterday and today.
Bourbons for Beethoven - Cheyenne Symphony Orchestra
May 20, 2023 / 2:00pm to 6:00pm / $70
Join the Symphony Friends at the Cheyenne Country Club as they raise funds in support of the Cheyenne Symphony Orchestra. This special afternoon includes a guided tasting of four incredible Bourbons, heavy hors d'oeuvres, live music and games, and culminates with a live viewing of the Preakness Stakes horse race.
Gene Clemetson and The Mashup - Old Chicago
May 20, 2023 / 6:00pm to 9:00pm / Free
What's the mashup? It's an eclectic blend of reggae, country, rock, pop, hip-hop, plus, plus, plus and always with special guests.
UNBARRED: High Plains Arboretum
May 20, 2023 / 1:00pm to 4:00pm / $20 for AHW/CBG Members, $25 for general public
Join the Alliance for Historic Wyoming and the Cheyenne Botanic Gardens on May 20th for a tour of the historic High Plains Arboretum in celebration of Historic Preservation Month. The tour will begin at the historic greenhouse and lath house, then move to the Civilian Conservation Corps projects from the 1930s. Tickets include transportation from the greenhouse to the CCC camp by the Cheyenne Trolley. Space is limited to 45 participants. "Unbarred" tours provide the opportunity to see historic places that are not always accessible or open to the public, and they create a space for inspiration to preserve local heritage and history while highlighting preservation efforts.
Yoga Together - Laramie County Library
May 20, 2023 / 10:15am to 10:45am / Free
Come and experience stories, stretching, and fun with a special early literacy class. This month's theme is Splish, Splash Ducky.
Depot Days
May 20 -21, 2023 / 9:00am to 3:00pm / $10-$20
Admission will grant you access to the Depot Museum, access to vendors, as well as a seat on the trolley to tour the Union Pacific Steam Shop and Roundhouse.
Spring 2023 Planting Day - Cheyenne Urban Forestry
May 20, 2023 / 7:30am to 4:00pm
Adding trees to our public rights-of-way and boulevards is an important part of helping keep Cheyenne beautiful! But, how does this whole process work? In order to be able to plant a tree at your residential property, your home must be within the city limits of Cheyenne and have the room available to do so. Right now, we only offer trees to residential properties. Apply for trees starting March 1st: https://rootedincheyenne.com/apply/
Greenway Gathering - Lions Club
May 21, 2023 / 2:00pm to 5:00pm
The Lions Clubs of Cheyenne are inviting friends and members of the community to a family friendly event on Sunday, May 21st. We have named our event the Greenway Gathering. The Gathering will take place from 2 pm to 5 pm.
We have a two-fold purpose. We want to clean up the Greenway from Mylar Park to Cahill Park for an hour and afterwards have an afternoon of family-friendly activities at Mylar Park.