Take A Look At All Of The Events Happening In Cheyenne!!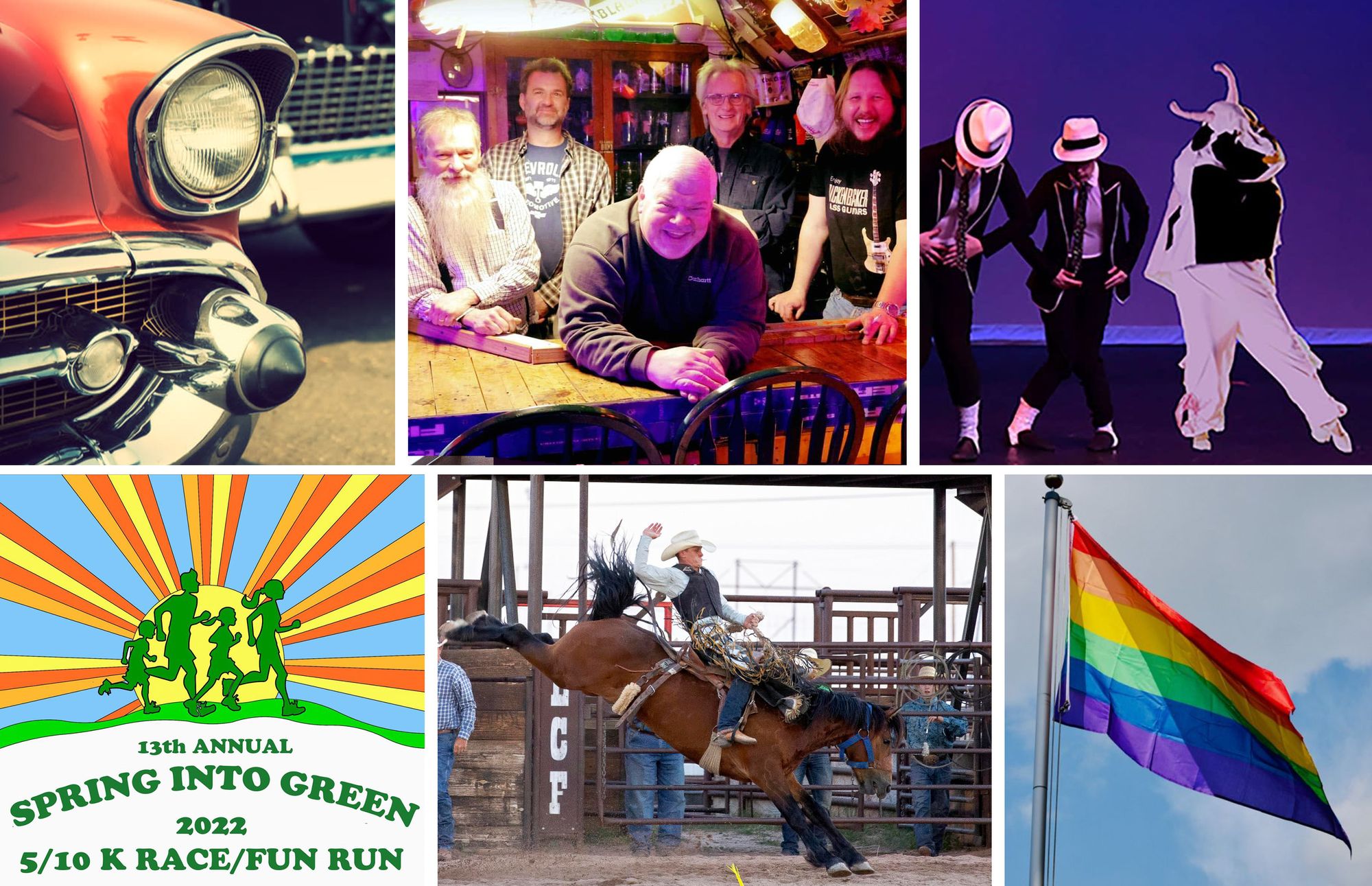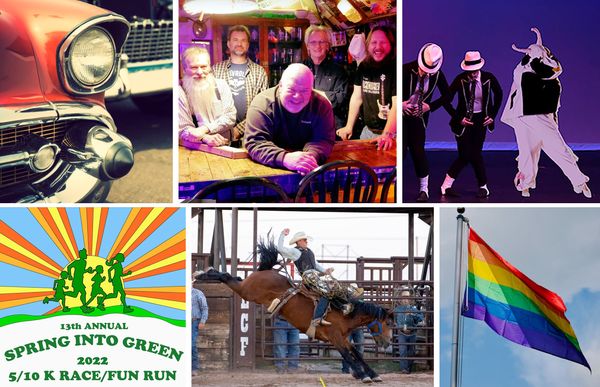 1) Battle of the Bands - Winner Showcase - The Lincoln Cheyenne
June 10, 2022 / 7:00pm to 11:00pm / $5
The Lincoln Cheyenne's Second Annual Battle of The Bands Competition ends on June 10th with a set performed by the winner of each Battle of the Band nights! Come enjoy original music by these winning acts.
2) Beyond the Hunt Official Whiskey Release Party - Pine Bluffs Distilling Tasting Room
June 10, 2022 / 4:00pm to 9:00pm /FREE
Rick and the Beyond the Hunt team will be at the distillery to help launch our new, limited release, co-branded whiskey! Join us for this once-in-a-lifetime opportunity to meet Rick and his team, sample the whiskey, enjoy tunes from Loren Woodin and fill your belly with yummy food from Graffiti Cuisine.
3) Celtic Bison Strongman 2022
June 10, 2022 / 10:00am to 5:00pm /FREE for Spectators
Athletes will compete in a battery of events to see who is the strongest. Events will include a Dinnie Stone Walk, Axle Tire Deadlift, Head to Head Viking Press, Keg and Barrel Medley, and the Yoke Ladder. There are VIP tables for viewing from the Accomplice Brewery, and plenty of room to watch in the plaza. Fun for all ages!
4) Fridays on the Plaza: Flatfoot 56 with The Byrne Brothers - Depot Square
June 10, 2022 / 5:30pm to 9:00pm /FREE
Flatfoot 56 is an American Celtic punk band from Chicago, Illinois, that formed in 2000. The group's use of Scottish Highland bagpipes has led to their classification as a Celtic punk band.
5) Hell on Wheels Chuck Wagon Dinner and Rodeo - Laramie County Fair Complex at Archer
June 10, 2022 / 5:30pm to 9:30pm /$25-50
Any stop in Cheyenne isn't complete without a real Western experience. Nothing gets you closer to our heritage than a real cowboy dinner and a home-grown rodeo under a famous Wyoming sunset! Award-winning 3LazyR Chuck Wagon will be fixin' up some home cooking, made the old fashioned way: Slow-cooked over a fire all afternoon. Brisket and beans, garlic roasted baby potatoes, and warm cobbler will fill your belly and your heart with a true taste of the West. Then, mosey over to the rodeo arena to cheer on our hometown cowboy and cowgirls competing in events including Bareback Riding, Saddle Bronc, Breakaway Roping, Steer Wrestling, Barrels, Bull Riding, and more. Enjoy the West's favorite sport under the open sky with some of Wyoming's finest competitors!
6) MIGNON AND FRIENDS DANCING THROUGH THE LIBRARY - Cheyenne Civic Center
June 10, & 11, 2022 / 6:00pm to 9:00pm & 2:00-3:00/$12-$15
Mignon the dancing cow leads an exploration of themes inspired by a library visit in three student dance performances featuring different classes and levels. Presented by En Avant Dance in a collaboration with the Laramie County Library Foundation and Co-sponsored by the Cheyenne Civic Center all three performances are fundraisers for Laramie County Library.
7) Tim Schumacher Live at Black Tooth - Black Tooth
June 10, 2022 / 6:00pm to 9:00pm /FREE
Variety music from yesterday and today. Stop down have a pint or two and enjoy!
8) 12th Annual Spring into Green 5k/10k - Greater Cheyenne Greenway Multi Use Trail
June 11, 2022 / 8:00am / $20-$35
The 13th Annual "Spring into Green" Greenway Celebration is a 5k run/walk and a 10k run put on by the Cheyenne Greenway Foundation. It is a fundraising event supporting the mission of the organization to improve the amenities along the 40 plus miles of multi use Greenway in Cheyenne.
9) All Levels Wheel Throwing Class - Silver Sage Ceramics
June 11, 18, 25, 2022 /  9:00am to 12:00pm / $150 plus tax
This course's small class size allows our instructor to assist students and tailor individual lessons as needed to help you grow your skills with spinning clay. This course meets once a week for 4 weeks on Saturdays at 9 a.m. Beginners will learn the basics of learning how to throw on the pottery wheel. We will start by building your confidence in centering to making fully functional pieces like mugs or bowls. We will then spend a session on surface treatments and glazing your favorite pieces. It's not as easy as it looks, but we know you can do it with a little help from our instructors. Our small class size benefits you with more one-on-one attention from the instructor and a chance to get to know each other.
CLASS FEE INCLUDES 12.5 lbs. CLAY, STUDIO GLAZES, FIRING & BASIC TOOLS
10) Arboretum Garden Walk - Cheyenne Botanic Gardens
June 11, 2022 / 1:00pm to 3:00pm /FREE
Jessica Friis, Horticulturist at the Paul Smith Children's Village, is giving a garden walk of the Arboretum. She will tell the stories of the plants in the arboretum while some are blooming. The walk begins at 1 PM and is free and open to the public!
11) Burns Day - Main Street in Burns
June 11, 2022 / 7:00am to 11:00pm /FREE
We are planning a FULL day of Family Fun 7am-11pm. 5K, Parade, Car and tractor Show, 6 Live Bands, Vendor Fair, Corn Hole, Kids Games, volleyball, Basketball, Horseshoes, Dummy Roping, Food Trucks and MORE!!!
12) Cheyenne Pride Bar Crawl
June 11, 2022 / 12:00pm to 4:00pm
Celebrate the pride in our community and some fantastic downtown businesses! Presented in part by Cheyenne Gay Mens Social. Join any or all of the locations, drink specials all day, and dogs are welcome at most stops!
Start at Blacktooth Brewery at 12 and make stops at Blue Raven Brewery, Wigwam Lounge, Accomplice Brewing, Freedoms Edge, and Chronicles Distilling!
13) Dogs & Tags 7th Annual Charity Golf Tournament - Airport Golf Club
June 11, 2022 / 12:30pm to 6:00pm / $80 individual, $320 for a team
RED, Remember Everyone Deployed, with be holding their 7th annual charity golf tournament. There will be silent auctions and raffle prizes you don't want to miss!
14) Drag Bingo - Atlas Theatre
June 11, 2022 / 7:00pm to 10:00pm / $10
A LGBTQ+ Pride Event & Cheyenne Little Theatre Players Fundraiser at the Historic Atlas TheatreHosted by Oblivia, Queen of the Clueless & Za Za DeBoustierWith Glitta Bear'D, Temple Ceiling, Ambrosia Beaverhousen, Maverick, & LennyThis event is appropriate for ages 18+.
15) Mr. Byrd and the Perfect Strangers - Bunkhouse Bar & Grill
June 11, 2022 / 1:00pm to 5:00pm
We're kicking off the Summer with Saturday afternoon venues on the Deck. We'll have LIVE MUSIC every Saturday till Labor Day!
16) Plant Pandemonium - Cheyenne Botanic Gardens
June 11, 2022 / 9:00am to 12:00pm / FREE
A community planting day! Join the gardens staff in planting our annual color displays and installing our Plant Select Demonstration Garden. Everyone one is welcome and it is free and open to the public. We encourage participants to bring a trowel, water, and sunscreen if possible. The planting will take place inside the Children's Village as well as in the front parking lot of the Botanic Gardens. This event is sponsored by Taco Johns and Microsoft!
17) Cheyenne Celtic Festival - Lions Park
June 11, 2022 / 10:00am to 4:30pm / FREE
Cheyenne Celtic Festival is back at Lions Park softball field! This festival will showcase different clans, vendors, several bands and of course a full course of Highland Games!
18) Cups4Cups
June 11, 2022 / 5:00am to 10:00pm
Join us for the 5th annual statewide Cups4Cups event. Participating coffee shops are encouraged to "pink out" their business and special Cups4Cups coffee cup sleeves will be provided. Coffee shops will graciously donate a portion of their proceeds from the event to WBCI. Funds will be granted to a breast cancer early detection screening voucher program available in every Wyoming County. Check back here for an updated list of participating coffee shops. Coffee shops interested in participating, please contact info@wyomingbreastcancer.org.
19) Detox Retox - Freedom's Edge Brewing Co.
June 12, 2022 / 11:00am to 2:00pm / $20
Join Theresa Hansen, ERYT for yoga and a pint! The first pint is on Theresa.Theresa has been pairing yoga and beer for many years now and the one thing she has learned is how much FUN it is. Whether you are a practiced yogi, never been on a yoga mat, practice with someone else YOU will feel right at hOMe at this event.
20) Frontier Summer Bash Car Show - Frontier Trampoline Park
June 12, 2022 / 9:00am to 1:00pm
Good music, yummy food trucks, and some AWESOME vehicles. If you have a vehicle you would like to enter, you can register day of or ahead of time, just come down to Frontier Trampoline Park! $10 per vehicle. Five trophy classes; classics (50s>), cars, trucks, bikes, hot rods/rat rods. First 100 entries get a dash plate.
21) Lacy J Dalton - Senator's Steakhouse at Terry Bison Ranch
June 12, 2022 / 2:30pm
Lacy J Dalton, dubbed "country's Bonnie Raitt" is bringing her captivating voice to the Senator's Steakhouse.
22) Poetry Open Mic - Hawthorn Tree
June 12, 2022 / 1:00pm to 3:00pm / FREE
Join us for a poetry open mic. Each poet gets 5 minutes to read, but occasionally go two rounds, so bring extra poems. Arrive 5 minutes early to sign-up.
23) All Ages Chess - Laramie County Library
June 12, 2022 / 2:00pm to 3:00pm / FREE
Whether you're 7 or 70, everyone is invited to this fun chess event! Each month we will get together and spend the first part of the hour exploring fun strategy and spend the rest of the time playing.