Tailgate Recipes To Make Game Day A Success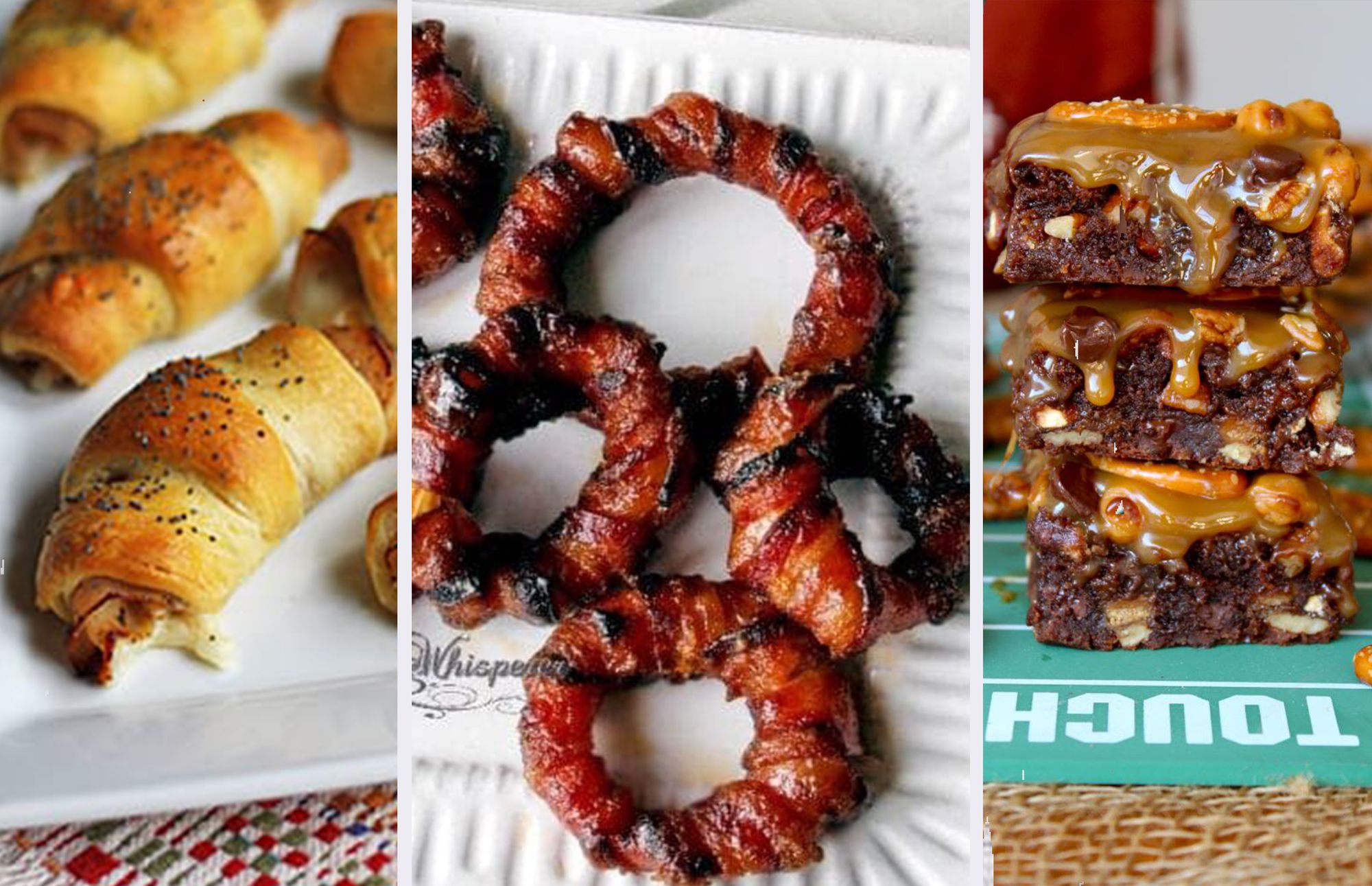 Football season is finally here, and tailgate food is a must when it comes to cheering on your favorite team! These recipes are loaded with game day fun, that will make your tailgate party an absolute touchdown! Plus don't forget the Wyoming Cowboys will be kicking off their season opener this Saturday at 2pm at Jonah Field at War Memorial Stadium - Go Pokes!
1) Turkey and Pepper Jack Roll Ups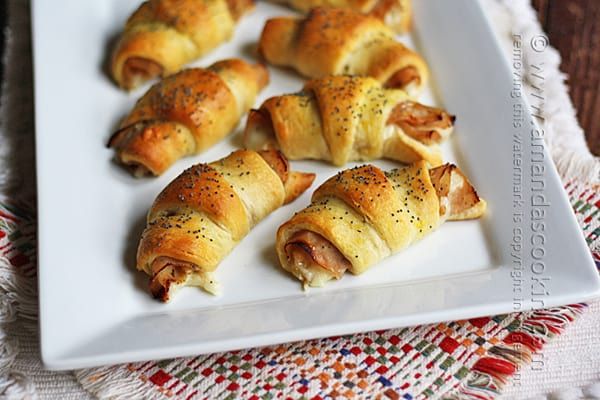 These delicious Turkey Pepper Jack Roll Ups are great for parties, and football games!
Ingredients
8 ounce can crescent rolls
8 slices deli turkey
4 ounces shredded pepper jack cheese or slices
2 tablespoons unsalted butter melted
1 teaspoon yellow mustard
1/2 tablespoon poppy seeds
Instructions
Preheat oven to 375 F. Line a baking sheet with parchment paper.
Stir mustard into the melted butter and set aside.
Fold a slice of turkey in half and place it on the wide end of the crescent. Top turkey with about a tablespoon of shredded pepper jack cheese. Roll up the crescent and place on baking sheet. Repeat for all crescent rolls and bake for 11-13 minutes, or until golden brown.
Remove crescents from oven and transfer to a cooling rack. Brush with butter and mustard mixture then immediately sprinkle with poppy seeds. It's best to work in batches of 2 or 3 so the butter does not begin to harden before you can add the topping.
Serve warm.
2) BBQ Pulled Pork Tailgate Fries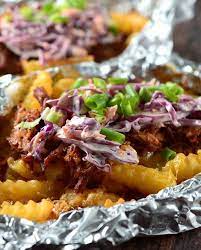 You'll love all of the deliciousness of a BBQ Pulled Pork Sandwich on top of crispy crinkle cut fries!
COLESLAW INGREDIENTS:
2 cups finely shredded red cabbage
1/2 cup grated carrots
1/4 cup mayonnaise
1 teaspoon dijon mustard
1 teaspoon vinegar
salt and pepper
BBQ PULLED PORK FRIES
1 (26 ounce) bag frozen extra crispy crinkle cut fries

2 tablespoons canola or olive oil

1 1/2 cups shredded pepper jack cheese

1 1/2 cups shredded medium cheddar cheese

1/2 cup BBQ sauce

3 cups slow cooked pulled pork
INSTRUCTIONS
Combine all ingredients for coleslaw together in a bowl. Mix well and refrigerate until ready to use.

2. Heat a grill for indirect heat to 450 degrees.

3. Toss French fries with oil.

4. Combine BBQ sauce and pulled pork.

5. Tear off 4 12 inch pieces of aluminum foil. Crimp the ends together to make boats,. Divide French fries among the 4 boats so that they lay in a single layer. Cook on grill for 15 minutes. Turn and cook another 10 minutes or until golden brown and crispy.

6. Divide cheese evenly among fries. Divide pork evenly among fries. Cook for 5 more minutes or until the cheese melts. Remove from grill top with coleslaw and green onions. Serve immediately.
3) Bacon-Wrapped Onion Rings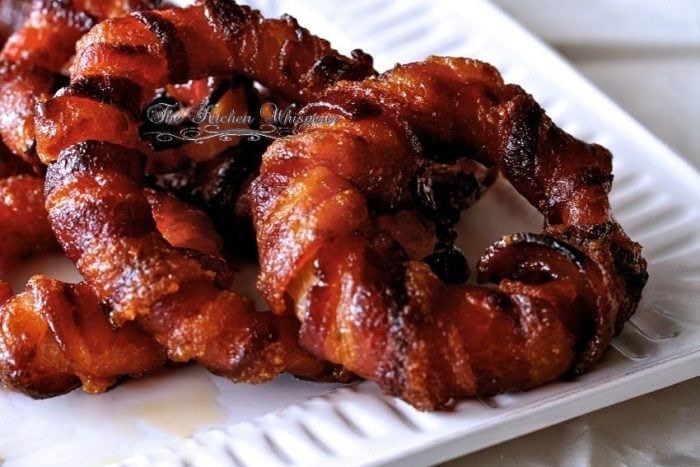 Baked Sriracha glazed candy bacon wrapped onion rings are sure to be a hit! Game on! It is bacon time!!
Ingredients
2 large Vidalia onions, peeled and cut into 1/2" rings (do not separate rings)
3 Tbl Sriracha
1 1/2 cups light brown sugar
16 slices of bacon
Wooden skewers (optional)
Instructions
Preheat oven to 400F, rack in the middle.
Line a baking sheet with foil and place a cooling rack on top.
Lightly spray the cooling rack.
Place the brown sugar in a pie tin.
Place the Sriracha in a bowl.
Gently separate the onion rings leaving 2 rings together (you want to double up on the onions when you wrap them). For this dish you want the larger rings. The smaller, inner rings you can set aside and use in another dish.
Take 2 strips of bacon and coat each side with brown sugar (doesn't have to be caked on but coated evenly).
If your hands are sensitive, put on plastic gloves and using a pastry brush or rubber tipped brush, baste the Sriracha on all sides of the onion rings (leaving the 2 together).
Starting at one end of the bacon, snuggly but gently wrap the bacon around the onion ring slightly overlapping itself. You should be able to get half way around (again, depends on how big your rings are).
Take the second piece of bacon and place one end over top of the previous piece of bacon (where you left off) and continue wrapping until you have completely wrapped the onion ring in bacon.
If you wish at this point you can skewer the bacon in place (I didn't).
Place end side down on the rack and continue wrapping the rest of the rings. For the smaller rings I used 1 1/2 slices of bacon. You really don't want to overload this with bacon as you want the bacon to cook evenly.
Once all the rings are wrapped, place in the oven and bake for 20 minutes.
Using tongs GENTLY flip over.
Cook for another 15-20 minutes. The last 3 minutes I broiled them as I wanted that charred appearance.
Remove from the oven and immediately plate. They will be soft so be careful but the bacon will crisp up and they will become crispy crunchy.
4)Touchdown Brownies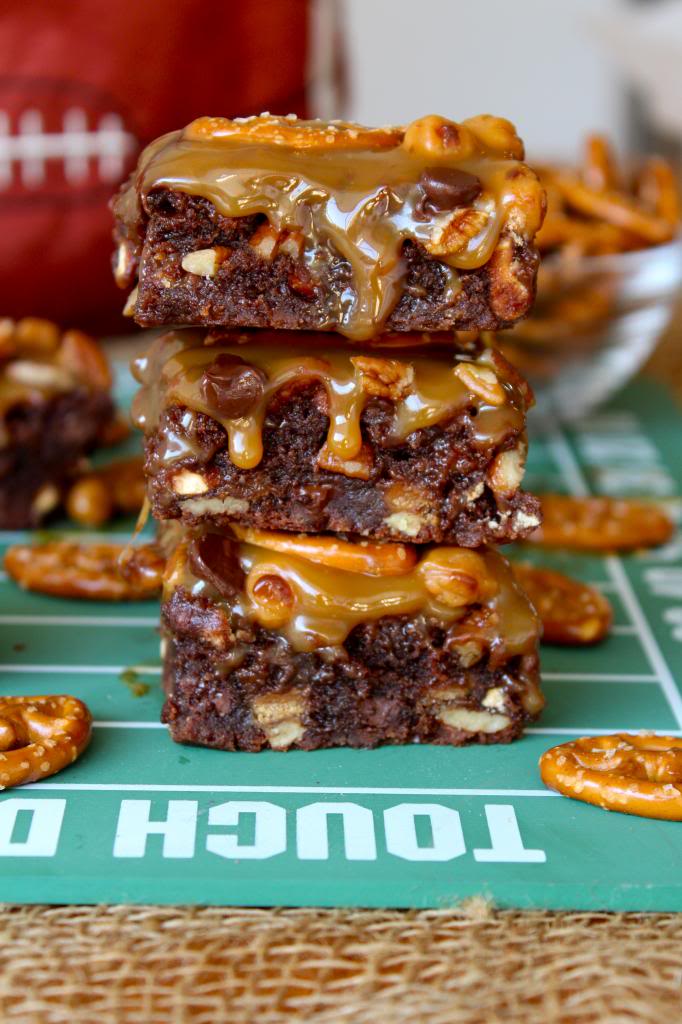 Super fudgy brownies loaded with winning players like caramel, pecans and pretzels. They're always a gameday winner!
INGREDIENTS
1 cup (2 sticks) unsalted butter
3 cups semi-sweet chocolate chips, divided
2 cups sugar
4 large eggs
1 teaspoon vanilla
1 and 1/2 cups all-purpose flour
1/2 cup unsweetened cocoa powder
1 teaspoon baking powder
1/4 teaspoon salt
1 cup caramel bits, divided
1 cup chopped pecans, divided
1 (12 to 15 ounce) jar caramel sauce
35–40 mini pretzels (football shaped if you can find them), for garnishing
INSTRUCTIONS
Preheat oven to 350°F. Line 9×13-inch baking dish with parchment paper and lightly grease with non-stick cooking spray.
In a large microwavable bowl, melt the butter and 2 cups chocolate chips in 30 seconds intervals until completely melted, about 2 minutes. Stir in the sugar then whisk in the eggs, one at a time, until well combined. Stir in the vanilla.
In a separate bowl, whisk together the flour, cocoa powder, baking powder and salt. Gently stir flour mixture into the wet ingredients until well incorporated.
Fold in 3/4 cup caramel bits, 3/4 cup chocolate chips and 3/4 cup chopped pecans. Spread batter evenly into prepared baking dish. Bake for about 30-40 minutes or until a toothpick inserted in the center comes out clean.
Place on a wire rack and let cool for 30 minutes before spreading caramel sauce evenly over the top of the brownies. Place football pretzels or crushed pretzels evenly over caramel and sprinkle with remaining 1/4 cups of chocolate chips, caramel bits and chopped pecans. Let brownies cool for at least 30 more minutes before lifting out of baking dish with parchment paper. Cut into squares.