So Much To Do This Weekend - Don't Miss Out!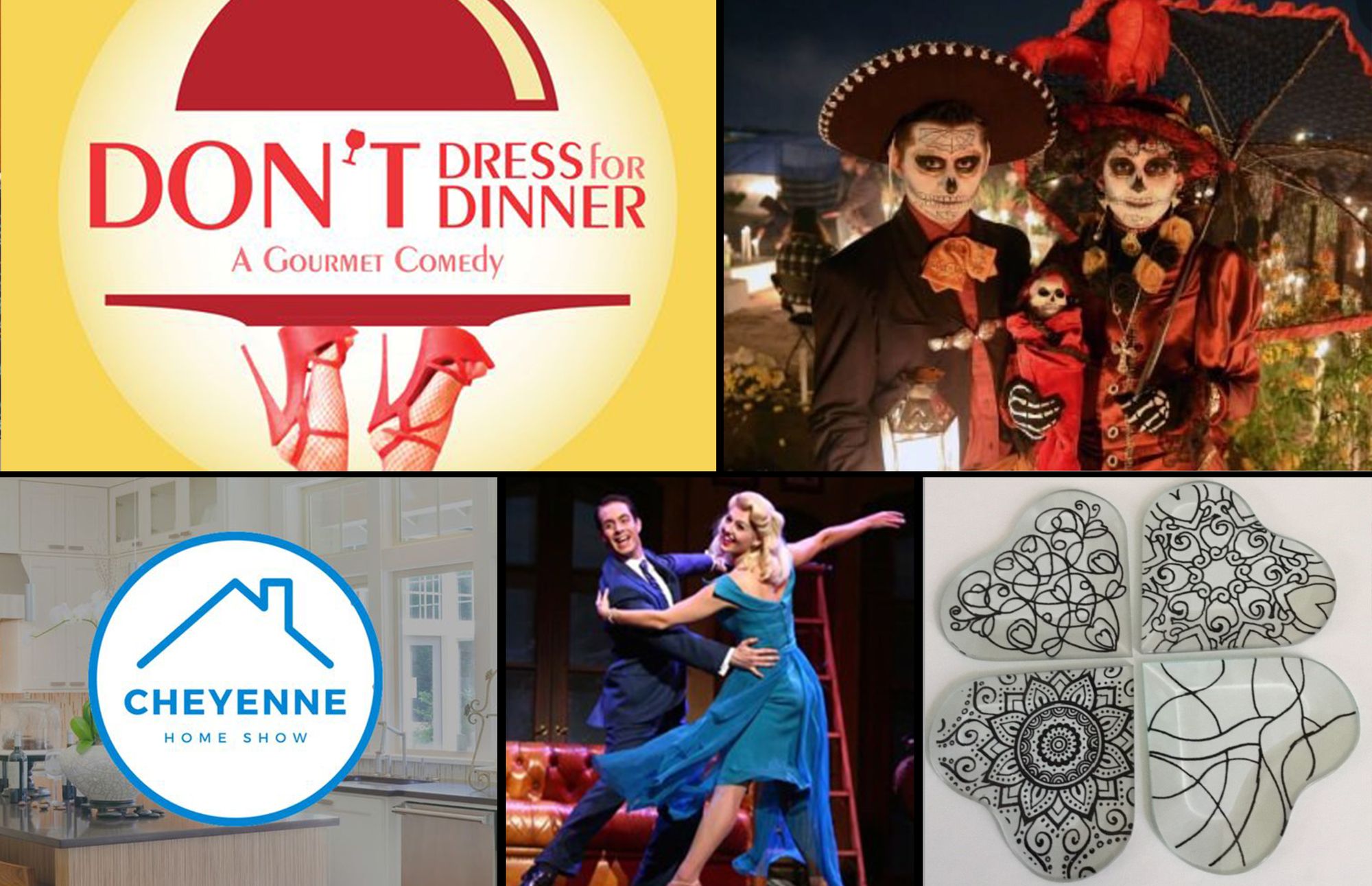 1) CHEYENNE HOME SHOW - Laramie County Fair Complex at Archer
February 11th - 13th, 2022 / 10:00am to 5:00pm / Free
Just in time to finish up your home improvement projects for spring. See the latest in home improvement, remodeling, design, outdoor living, and more. Meet with local and national vendors that can help you tackle any size project!
2) DON'T DRESS FOR DINNER - Atlas Theatre
February 11th - 13th, 17th-20th, 25th - 27th, 2022/ 7:30pm to 9:30pm / $12-$46
A weekend of romance turns out to be a weekend of confused alibis. The hilarious confusion ensues as characters have to improvise at breakneck speed! For dinner theater nights, dinner starts at 6 PM.
3) BEER MY VALENTINE BINGO & PASTA DINNER - Danielmark's Brewery and Tap Room
February 11, 2022 / 6:30pm to 9:00pm / $25/person or $40/couple
Tracy and Jason are back hosting our Beer Your Valentine BINGO & pasta dinner. Includes 6 rounds of BINGO and a delicious pasta plate to fill you up. All proceeds from this event will for to help find a cure for Neurofibromatosis and be donated to the Children's Tumor Foundation.
4) COMEDY NIGHT - The Metropolitan Downtown
February 11, 2022 / 7:30pm - 9:00pm / Tickets Required - $20
Seating begins at 7:00pm, comedian at 7:30pm. This is a 21 and over event. Limited menu available during show. Tables are offered with 2, 4,6 or 8 guests per table, spaced graciously in The Gallery. Tickets are limited so visit www.themetdowntown.com today to reserve your spot and enjoy a funny night out on the town.
5) ELEMENTARY SCHOOL ART SHOW - Laramie County Library
February 11, 2022 - April 4, 2022 Recurring daily / Free
Enjoy wonderful art created by K-6 students in LCSD #1. All three floors will house these creative wonders!
6) CHEYENNE DANCE CLUB BIG BAND DANCE - Little America
February 12, 2022 / 7:00pm / $87 per couple, $46/Singles. Includes Dinner and Dance.
A fun-filled evening of dancing pleasure to the sound of the DEKette Orchestra. Pre-dance class offering in: 2 Basic Techniques Every Beginner Ballroom Dancer Should Master with David Urquidez from 5pm to 6pm. Dance only: $35/couple, $20/singles. Meal choices: London broil, Teriyaki Salmon or Vegetarian. Reservations are required by February 9 at 6pm.
7) DAY OF THE DEAD VALENTINE'S BALL - The Historic Plains Hotel
February 12, 2022 / 7:00pm to 10:00pm / $15 entry, $20 entry for 2 and free beers, $225 VIP Table (Seats 6) 2 buckets of beer and bartender service.
Day of the Dead themed Valentine's Day Ball!!! Come dressed to impress in Day of the Dead make up and attire. Lets dance the night away with the live mariachi band and a D.J. THE T.R.I.B.E. ZOO TATTOO will be taking walk- ups for tattoos and piercings all through the day and night inside the Historical Plains Hotel Ballroom. We will also have vendors including face painting, tarot readings, adult balloon twisting plus so much more!!! The Bar, Restaurant and Hotel will be offering deals on drinks, meals and rooms!!
8) 39TH ANNUAL GLASS ART SHOW - Cheyenne Botanic Gardens
February 1, 2022 - April 2, 2022 Recurring weekly on Tuesday thru Saturday / 10:00am to 5:00pm / Free
Come explore the 39th Annual Glass Art Show! This spectacular showcase of regional Glass Artists from Colorado and Wyoming will be on displaying on the 2nd floor Hallway space at the Cheyenne Botanic Gardens. There are many pieces for sale this year so make sure you visit before your favorite piece is Sold! As always the show is free to view and all are welcome to come and look as often as you like!
9) FLYING B YOUTH BULL RIDING - Riata Ranch
February 12, 2022 / 11:00am to 5:00pm / $5/person. Kids under 12 free.
Kids ages 7 to 18 are competing for series prizes and to earn a spot on the Youth Bull Riding World Finals Team.
10) GLASS HEART PAINTING - Cheyenne Botanic Gardens
February 12, 2022/ 1:00pm / $30per person
Join local glass artist Beth Rulli as she instructs you in painting beveled glass hearts with a variety of designs! Acrylic paints will be used and the hearts can be hung as ornaments or sun catchers. All materials are provided and is suitable for ages 10+.
11) SPEED FRIENDING - Black Tooth Brewing Co.
February 12, 2022 / 5:00pm to 8:00pm / $20
As bartenders, we consistently meet people who are new to Cheyenne, who want to meet new people (friends, other singles/other couples), and people who want to network with other business professionals! So, we thought we'd help you guys out. You get 2 beer tokens and 2.5 hours of meeting new people (5 minute rounds and 2 minutes for rating and rotation).
12) YOUNG READERS BOOK PARTY - Laramie County Library
February 13, 2022 / 1:15pm to 2:00pm / Free
You're invited to a party! A book party! Join us for a celebration of reading with young readers that's a little bit early literacy class, and a little bit more!
13) BATHROBE BRUNCH - Danielmark's Brewery and Tap Room
February 13, 2022 / 10:00am - 1:00pm
No need to get dressed, come in your jammies and start your Sunday off right with brunch.
14) Super Bowl LVI - Cincinnati Bengals vs Los Angeles Rams
February 13, 2022 / 4:30pm