So Much Is Happening In Cheyenne This Weekend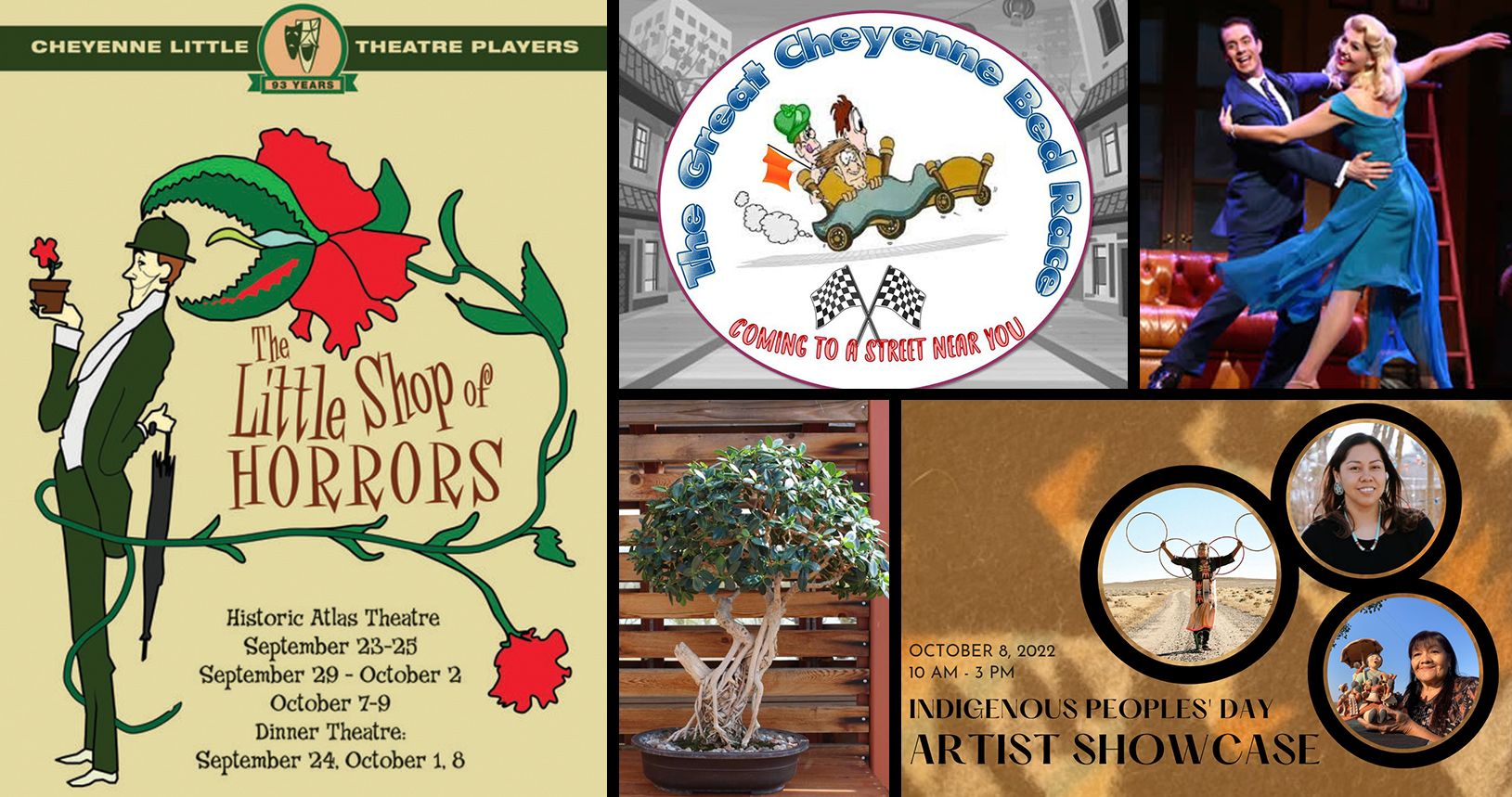 1) The Little Shop of Horrors - Atlas Theatre
October  7-9, 2022 / $14-$50
Little Shop of Horrors is a delectable sci-fi horror musical with an electrifying 1960s pop/rock score by Alan Menken and Howard Ashman.
Seymour Krelborn is a meek and dejected assistant at a floral shop who happens upon a strange plant, which he affectionately names "Audrey II" after his crush at the shop. Little does he know that this strange and unusual plant will develop a soulful R&B voice, a potty mouth, and an unquenchable thirst for HUMAN BLOOD. As Audrey II grows bigger and meaner, the carnivorous plant promises limitless fame and fortune to Seymour, as long as he continues providing a fresh supply of blood. Just when it's too late, Seymour discovers Audrey II's extra-terrestrial origins and his true drive for world-domination.
2) OctoberWest Harvest Feast - Pine Bluffs Distilling
October  7, 2022 / 6:30pm / $75 per Plate
Get a taste of Laramie County with our 100% farm-to-table feast! Tickets are limited, so buy yours today.
3) Cheyenne Art Walk - Hynds Building
October  7, 2022 / 5:00pm to 8:00pm
We'll be featuring:
4) Mountain Duo At Black Tooth Cheyenne
October  7, 2022 / 6:00pm to 9:00pm
Hot Guitars + Cold Beers = Your New Favorite Band at Cheyenne's Newest Brewery. DRINK THE WEST! See you there!
5) Nightmare on 17th Street - Knights of Pythias
October  7, 8, 14, 15, 21, 22, 28, 28, 31 / 7:00pm to 11:00pm $15/person.
The Knights of Pythias annual "Nightmare on 17th Street" Haunted House is back for another year of scares! Back by popular demand, Halloween night will be Blackout Night. Groups will be given glow sticks to navigate their way through the dark. Please, no one under 8 years of age, pregnant ladies, or anyone with heart problems for your safety.
6) Street Railway Frightseeing Tours - Cheyenne Trolley
October 7, 2022 / 6:00pm / $15/age 10 and up
The tour is based upon spine-tingling historical local events and the ghostly experiences people have relayed to us. The tours do not include profanity; however the scary tales may frighten some children. We may encounter some creepy ghoulish figures along the way.
7) 11th Annual Africa MAAFA Remembrance Day - Laramie County Community College
October 8, 2022 / 9:00am to 12:00pm/ Free
Featuring presenters Dr. Frederick Douglass Dixon, James W. Peebles, and Nate Breen. Free admission including refreshments!
8) Bed Race, Live Music, Food Trucks - Blue Raven Brewery
October 8, 2022 / 12:00pm to 9:00pm
Still a bit of time to get your racin' bed ready, but PLENTY of time to get yourself in the mood for a great day of laughter and fun as we watch the teams race on their makeshift beds. For more information about this event, please go to the event page and contact the charity reps: https://fb.me/e/2NalIDaTK. The bed race benefits PTSD Dogs And Tags Of Wyoming, which assists people suffering from PTSD/TBI. Music by Space Monkeys of the Future, a psychedelic folk rock band passionate about mental health awareness and spreading peace and love. Noam's Table and Jessie's Mexican Cuisine are serving up the food throughout the event.
9) Cheyenne Bonsai Society - Cheyenne Botanic Gardens
October 8, 2022 / 10:00am
Meet in the Paul Smith Children's Village. Free. Open to the public, open to beginners.
10) Cheyenne Dance Club Big Band Dance - Little America
October 8, 2022 / 5:00pm to 10:00pm
Join us for a fun filled evening of listening and dancing pleasure to the sound of the Don Elwood Orchestra. Not sure how to dance? Take advantage of this month's pre-dance class, offering Basic Mambo for Beginner Ballroom Dancer with David Urquidez from 5-6pm.Treat yourself or that special someone to a dance lesson, dinner, and a night dancing all for one price, or choose our ala carte attendance offers. Dance only: $40/couple, $20/single. Dance lesson: $5/person. Dinner and dance $96/couple, $48/single. Meal reservations are required by October 1st at 6pm.
11) Cheyenne High Spirit Holistic Show - Red Lion Hotel and Conference
October 8 -9, 2022 / 10:00am to 5:00pm /$5 or 5 non-perishable food items or personal hygiene items
Two day event with jewelry, gems, Healing, tarot readers, palm readers, massage, reiki and so much more...
12) Indigenous Peoples' Day Artist Showcase- Wyoming State Museum
October 8, 2022 / 10:00am to 3:00pm / FREE for all adults and children
Indigenous Peoples' Day was established to honor the traditional and living cultures of the first people to live on this land. Join us for an Indigenous Peoples' Day Artist Showcase, a collaborative celebration hosted by the Wyoming State Museum and Wyoming Arts Council. Visit the museum to meet three contemporary Native artists, witness their methods, and learn about their artistic processes.
13) Second Saturday STEAM - Laramie County Library
October 8, 2022 / 3:00pm to 4:00pm / FREE
Children in grades 3–6 can join us each month as we explore a variety of STEAM topics (Science Technology Engineering Arts Math) with crafts, games, experiments, and more! This month is all about spooky, scary spiders. Spiders are spin-artists, and there are a variety of spiders that spin a variety of webs. Become a spin-artist yourself and recreate the web of your favorite spider with the supplies we provide!
14) University of Wyoming Football Fest - Laramie County Library
October 8, 2022 / 5:00pm to 9:00pm / FREE
C-O-W-B-O-Y-S! Cowboys, Cowboys, Cowboys! Prepare your best University of Wyoming football cheer, don your brown and gold, and get ready for game day at the library! Join fellow fans to watch the first game of the season as the Cowboys take on Illinois. Bring your comfy camping chairs–we'll provide tailgate-style refreshments and door prizes.
15) Farmers Market - Frontier Park Lot B
October 8, 2022 / 7:00am to 1:00pm / Free
What's more refreshing than a leisurely stroll through a farmer's market? Every Saturday, local and regional vendors fill B Lot parking area at Frontier Park in Cheyenne (off of 8th Avenue and Carey) to sell their produce, honey, jams, meat, bakery and specialty items, and so much more. Through October 8th. We accept SNAP/EBT and credit/debit cards.
16) High Country Harley-Davidson® of Cheyenne - 45th Annual Toy Run
October 8, 2022 / 9:00am to 2:00pm
The entry fee for this ride is one new, unused toy to donate to a young girl or boy in need. The Salvation Army Cheyenne Corps will be on site to collect toys and providing coffee in the morning. Food by G-LICIOUS BBQ and Music by DJ45ive before and after - plus Bad Bitch Patch Stitch will be here from 10am-3pm! Registration starts at 9am. KSU at 11am.
17) Wyoming Cowboys Football vs New Mexico
October 8, 2022 / 5:00pm
18) Poetry Open Mic - Hawthorn Tree
October 9, 2022 / 1:00pm to 3:00pm / Free
Join us for a poetry open mic. Each poet gets 5 minutes to read, but occasionally go two rounds, so bring extra poems. Arrive 5 minutes early to sign-up.
19) Young Readers Book Party - Laramie County Library
October 9, 2022 / 1:15pm to 2:00pm / Free
You're invited to a party! A book party! Join us for a celebration of reading with young readers that's a little bit early literacy class, and a little bit more! We will read and talk about books, sing, play, and learn.