So Much Holiday Fun Happening This Weekend!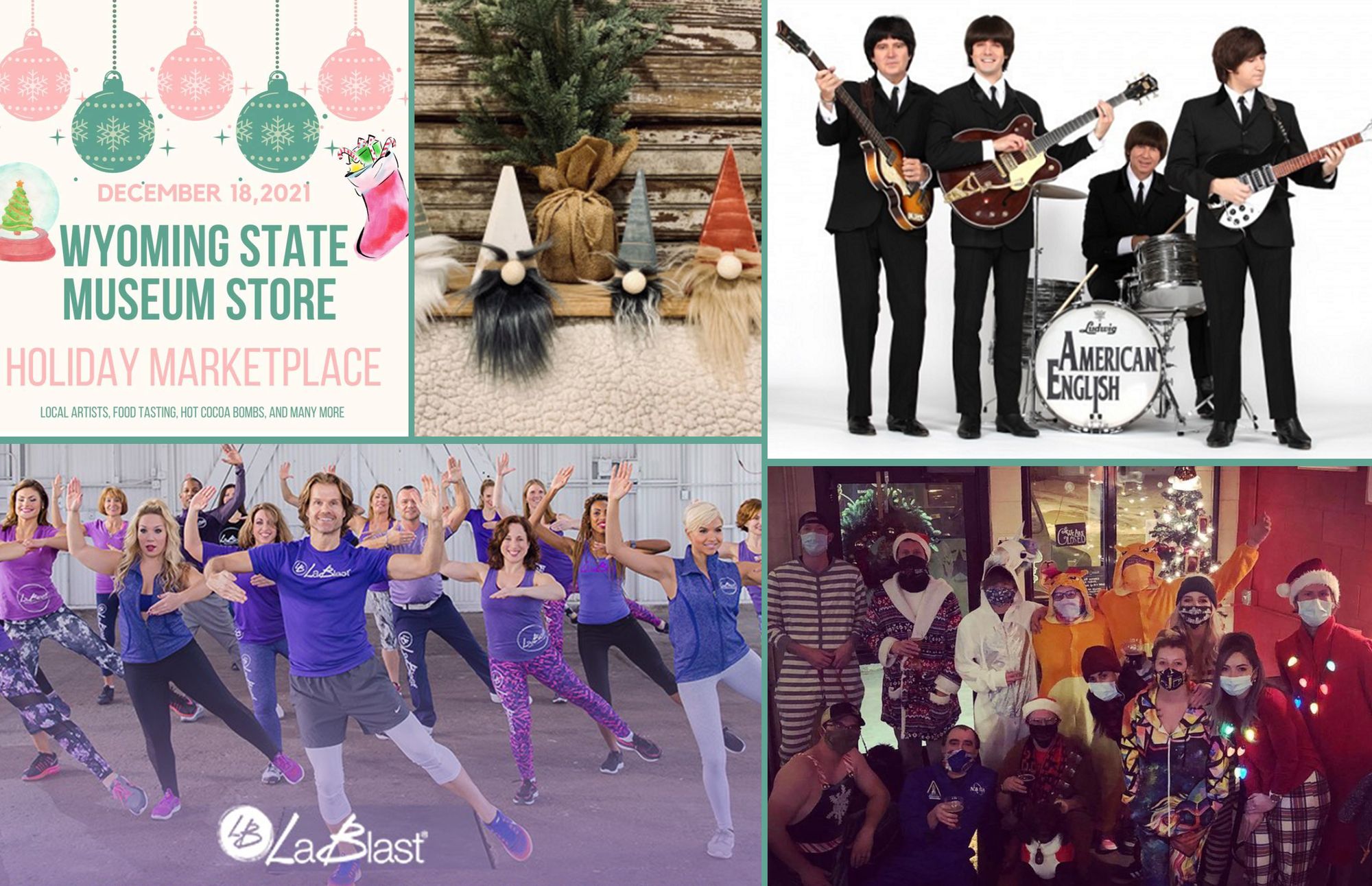 1) GONG MEDITATION - Twinkle Twinkle Little Store
December 17, 2021 / 7:00pm to 9:00pm / $25
Sound healer, Judy Bernard, is bringing her Gong and Song Meditation to Twinkle Twinkle Little Store! Space is limited to reserve your spot today.
2) ANNUAL HOLIDAY MARKETPLACE - Wyoming State Museum and Gift Shop
December 18, 2021 / 9:00am to 4:30pm
The Museum lobby will be filled to the brim showcasing Wyoming artists, artisans, authors, vendors and offering local food tastings! A little something for everyone to help you complete your Christmas shopping. This is an event you won't want to miss!
3) YOU BETTER WATCH OUT - A CHRISTMAS COMEDY - Atlas Theatre
December 9th-12th & 17th-19th (Dinner theatre :December 10th, 11th, 17th, 18th) / Regular seating $12-$22, Dinner Theater nights $24-$46
It's Christmas Eve at the Willow Inn, and a group of travelers is stuck due to a snowstorm raging outside. Only one recognizes that a guest is the Spirit of Christmas, and he must help a grieving man see the joy of Christmas. For dinner theater nights dinner is at 6 PM.
4) HOLIDAY LIGHT TOURS- Cheyenne Street Railway Trolley
December 10, 2021 - January 2, 2022 Recurring daily / 6:00pm & 8:00pm /     $15/ Person
Behold the spectacular holiday light displays throughout the city while riding the enchanting Cheyenne Street Railway Trolley. View the beautifully decorated homes and yards all from the warmth and comfort of the trolley. Tours at 6 pm and 8 pm.
5) IT'S A WONDERFUL ONESIE PARTY! - Freedom's Edge Brewing Co.
December 18, 2021 / 6:00pm to 10:30pm / Free but donations to Bar Bucks of Laramie County is encouraged.
Who needs an ugly sweater when you can wear a one piece pajama?! Talk about the ultimate holiday party level of comfort! Freedom's Edge is like a second home anyway so why not wear pajamas & drink beer there, am I right?
6) LABLAST DANCE FITNESS CLASSES AT THE CFD OLD WEST MUSEUM
December 18, 2021 - March 26, 2022 Recurring weekly on Saturday / 10:00am to 12:00pm / $10 per person/per session
Whether you want a reason to get out of the house, or some fun motivation to help you with your resolution, the Museum is here for you! This Dance Fitness Program is based on ballroom dances that you may see on Dancing with the Stars. It is partner-free, includes all components of fitness, and uses a wide variety of music. Dance your way into the new year, and the new you.
7) Indoor Drive-In Movie featuring The Polar Express - Event Center At Archer
December 18, 2021 / 6:00pm / FREE - must register
Drive on in for our Indoor Drive-In Movie featuring a Christmas family favorite, The Polar Express. The 2004 film is based on the beloved children's book by Christ Van Allsburg, follows a young boy's train ride adventure to the North Pole.
"Lawn" seating is available on a walk-in basis. Bring your lawn chairs and blankets for seating on the main floor (concrete). Popcorn and drinks provided at no charge thanks to Pepsi, additional concessions will be available for purchase from Stacy Cakes and Uncle Freds Catering.
8) POTTERY - SLAB PROJECT - Flydragon Design Art Studio
December 18, 2021 / 2:00pm to 4:00pm / $46
You'll be guided through creating a beautiful slab project. Boxes, bowls, and cups are just a few things you can make. This is a two-part session. Hand-build your piece during the 1st session. We will let it dry for a week or two and fire it to bisque. Then, we will call you to come in and glaze your piece at your convenience. We will then fire it again and call you to pick up your beautiful handmade work of art. All supplies, and both firings are included!
9) SPIRIT OF GIVING - BREAKFAST WITH SANTA - M & K Buildings Archer Parkway
December 18, 2021 / 8:00am to 11:30am / Free
Join Santa for a catered breakfast. Enjoy holiday music and a festive atmosphere. We will have a photographer on hand to snap a photo of your child and Santa. You are also welcome to bring a camera.

Event is open to all ages. An adult must accompany children to the event. This event is limited to 500 people. Registration is required. Registration for breakfast opens at 10:00 AM on Wednesday, December 1st.

Breakfast is provided for FREE thank you to our sponsors:
Uncle Fred's Catering, DazBog, Case Custom Meats

Event Hours:
Session 1: 8:30 AM
Session 2: 10:00 AM
10) THE FAB FOUR - Cheyenne Civic Center
December 18, 2021 / 8:00pm to 10:00pm / $26.50 - $63.50
Experience the best Beatles tribute ever, the Emmy Award winning Fab Four-The Ultimate Tribute.
11) WINTER ELVES WORKSHOP - Dillinger's
December 18, 2021 / 2:00pm to 4:00pm / $35
A perfect winter day out with the family - making your own new family of winter elves! Each guest will create their own family of 3. Pricing includes all of your materials and your first glass of wine, beer or craft cocktail. Seating is limited so be sure to reserve your spot today!
12) TINSEL THROUGH TIME - Historic Governors' Mansion
November 20, 2021 - December 24, 2021 Recurring weekly on Wednesday, Thursday, Friday, Saturday / 4:00pm to 8:00pm / Free
Holiday decor and joy! Each room decorated to represent a different decade.
13) CHEYENNE ARTIST GUILD HOLIDAY FAIR - Holiday Park
December 1-23, 2021 / Every Tue thru Fri 12pm‑5pm, Sat 10am‑2pm, Sun & Mon closed
The Holiday Fair showcases the many and diverse talents of the local artists in and around Cheyenne, Wyoming. It's a great place to find unique handmade items for anyone on your Holiday shopping list!
14) DETOX RETOX - Freedom's Edge Brewing Company
December 19, 2021 / 11:00am to 1:00pm / $20
It is time to get Merry! Don your festive apparel and join Theresa Hansen, ERYT and owner of Little Lotus Yoga for an hour long Vinyasa Flow in the brewery. After your practice enjoy a refreshing locally crafted beer. First beer is on Theresa. Please bring your own mat. Space is limited, please register prior to the event.
15) CHRISTMAS BRUCH AT THE SHRINE CLUB - Cheyenne Shrine Club
December 19, 2021 / 9:30am to 12:30am / $15 for adults, $10 for kids ages 5-12
Free for 5 and under
You're invited! Join the Cheyenne Shriners for Christmas Brunch at the Shrine Club on Sunday, December 19th from 9:30 am until 12:30 pm located at 224 E. Iowa Street. We'll be serving up made-to-order omelets, pancakes, fruit salad and all the fixings!
16) VICTORIAN CHRISTMAS TEA - RX Tea Time
November 27, 2021 - January 2, 2022 Recurring daily / 11:00am to 4:00pm/ $25 per person
Victorian Christmas Tea at Rx Tea Time November 26- January 2. Call for Reservations.
17) CROSSROADS: CHANGE IN RURAL AMERICA - Laramie County Library
December 11, 2021 - January 23, 2022 Recurring daily / Free
Explore the Smithsonian's Museum on Main Street exhibit on all three floors of the library to learn about our identity as rural Americans, who we were, who we are, and where we are going. Enjoy a variety of Crossroads events and activities, as well as an art exhibit, Art at the Wyoming Crossroads.
18) DENVER BRONCOS  play the Bengals on Sunday, December 19th at 2:05pm