So Many Fun Things Happening This Weekend - Take A Look!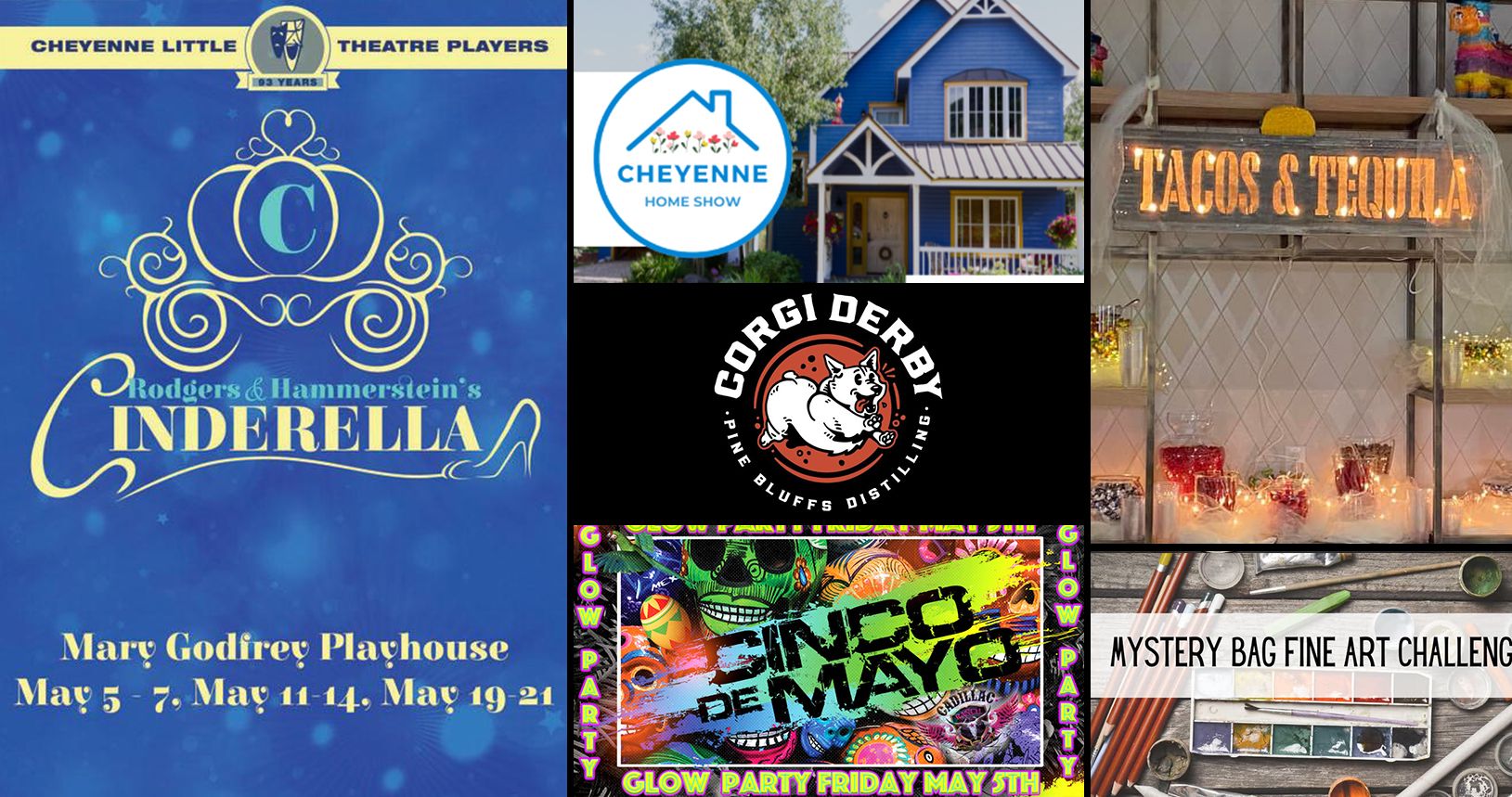 Cinderella - Mary Godfrey Playhouse - CTLP
May 5 -7, 12-14, 19-21, 2023 / $16.50-$26.50
The timeless enchantment of a magical fairy tale is reborn with the Rodgers & Hammerstein hallmarks of originality, charm and elegance. Presented by the Cheyenne Little Theatre Players.
ArtWalk @the Hynds
May 5, 2023 / 5:00pm to 8:00pm / Free
Emma's Old Time Photos, along with Art @the Hynds and Earthly Jewels, is proud to present the culmination of the Mystery Bag Fine Art Challenge.  Artwork may be voted on by donation, and will be available for bid at the Silent Auction during the ArtWalk.
Cheyenne Spring Home Show - Cheyenne Ice and Events Center
May 5-7, 2023 / Friday 12pm-6pm, Saturday 10am-5pm, Sunday 11am-4pm / Free
Whether you're planning on upgrading your home or need a reliable contractor to fix your leaking roof. The Home Show is the spot to find all local remodeling experts. The Cheyenne Home Show, hosts local and national exhibitors offering exclusive deals and discounts. Save time and money while at the Cheyenne Home Show.
10 Year Anniversary/Glow Party - Cadillac Ranch Bar
May 5, 2023 / 9:00pm to 2:00am
Its our favorite party NEON/ GLOW PARTY! MAKE SURE TO WEAR YOUR NEON-GLOW OUTFITS!!!
Paint Your Wine Glass - Cheyenne Artists Guild
May 5, 2023 / 6:00pm to 8:00pm
This class will guide you through the basics on how to paint wine glasses. Each person will make 2 wine glasses. There will be a few beer mugs available. This would also be great for date night! All supplies are included and light refreshments provided.
Tacos and Tequila - Support Comea at BEAST Foundation
May 5, 2023 / 5:30pm to 10:00pm / $50 per person
Support Comea. Ticket price includes event admission, access to silent and live auction, taco buffet, and bar!
Tifanne Lark - Black Tooth Brewing Co.
May 5, 2023 / 6:00pm to 9:00pm
Tifanne Lark is an American country music artist from rural Kansas who specializes in guitar and vocal performances.
Wynona / SGRNY / Mason McTell / John Poland - Redwood Lounge
May 5, 2023 / 6:00pm to 10:00pm
Spend Cinco de Mayo with this line up of local bands!
Wyoming Willow at Blue Door Arts
May 5, 2023 / 5:00pm to 8:00pm
Blue Door Arts welcomes Kim Shaver as the gallery's guest artist for the May first Friday Cheyenne Artwalk. Listen to the Bluegrass beat of Bonomo and enjoy some homemade treats while watching Kim demonstrate her willow weaving skills. Enjoy a night downtown from 5-8pm. For more information on all the Artwalk happenings visit www.cheyenneartwalk.com
2023 Corgi Derby - Pine Bluffs Distilling Tasting Room
May 6, 2023 / 2:00pm to 4:00pm
Join the Cheyenne Animal Shelter and Pine Bluffs Distilling for the annual Corgi Derby!
As If We Never Said Goodbye: Songs of Stage and Screen
May 6, 2023 / 7:00pm to 9:00pm / $35
Cheyenne Chamber Singers presents Songs from Stage and Screen. Event includes heavy hor d'oeuvres/wine/beverages with admission.
Family Day: Military Appreciation - Wyoming State Museum
May 6, 2023 / 10:00am to 2:00pm / Free
Let's celebrate, honor and recognize members of our military! May is Military Appreciation month, a time to pay tribute to the people who serve in all branches of the US military.
Josh Ward - Outlaw Saloon
May 6, 2023 / 9:00pm to 11:00pm / $15
Enjoy a night of live music with Josh Ward.
Kentucky Derby Brunch - The Metropolitan Downtown
May 6, 2023 / 10:00am to 12:30pm / $50 per guest $500 for table of 8
Join us for our annual celebration of the Kentucky Derby with brunch, drinks, gift baskets, dog derby race and more!
LCMG Annual Plant Sale - Archer Event Center
May 6, 2023 / 8:00am to 4:00pm
The Laramie County Master Gardeners annual plant sale features hundreds of plants chosen specifically for the growing conditions in Laramie County.
Stella Luna Musical Storytime & Instrument Petting Zoo - Paul Smith's Children's Village
May 6, 2023 / 11:00am to 12:00pm / Free
Join CSO musicians, violinist Sarah McCoy, violist Sabrina Lloyd and bassoonist Tom Bittinger for musical story time with narrator Jennifer Wacker! Activities presented in partnership with Delta-Kappa Gamma, Upsilon Chapter.
Storytime at Wyoming State Museum's Family Day
May 6, 2023 / 10:00am to 1:00pm / Free
We're taking storytime to the museum! Head on over to the Wyoming State Museum for their Family Day to participate in one of our early literacy storytimes and other fun activities. This month's Family Day theme is Military Appreciation.
Winter Farmers Market - Depot Lobby
May 6, 2023 / 9:00am to 1:00pm / Free
Spend a Saturday morning and find the best local foods and crafts.Mother's Day
Tea at Historic Governors' Mansion
May 6-7, 2023 / 1:00pm / $25 per person
Both teas will begin at 1 p.m., and last approximately one hour. Guests will enjoy a variety of baked goods, tea sandwiches, and beverages during these highly popular Mother's Day events. Spots are $25 per person and reservations are required. To make a reservation for either Tea, please call Mansion staff at 307-777-7878.
Lucas Hoge: Glory Days Tour with Chapel Hart - Cheyenne Civic Center
May 6, 2023 / 7:00pm to 11:00pm
Lucas Hoge will be joining Chapel Hart on their Glory Days Tour 2023 Lucas Hoge's Dirty South, topped the chart hitting No. 1 on Billboard Country Album Sales Chart and No. 5 Billboards TOP Country Albums. Lucas has traveled overseas to perform for our troops for the past 12 years. He made his Grand Ole' Opry debut in November 2017 and has been asked back over 8 times. "Hoge Wild" TV show is airing in the US & Canada on Sportsman Channel, follow Lucas as he hunts, fishes, scuba dives and performs across the globe!
Yoga for Runners Workshop - Blossom Yoga
May 7, 2023 / 10:00am to 11:30pm / $25
Incorporating yoga into your running routine can help loosen tight spots, build strength, and prevent injuries. Join Kelly Schroeder for an all-levels friendly workshop that will give you tools to take from the mat to the trails