So Many Fun Things Happening This Weekend - Don't Miss Out!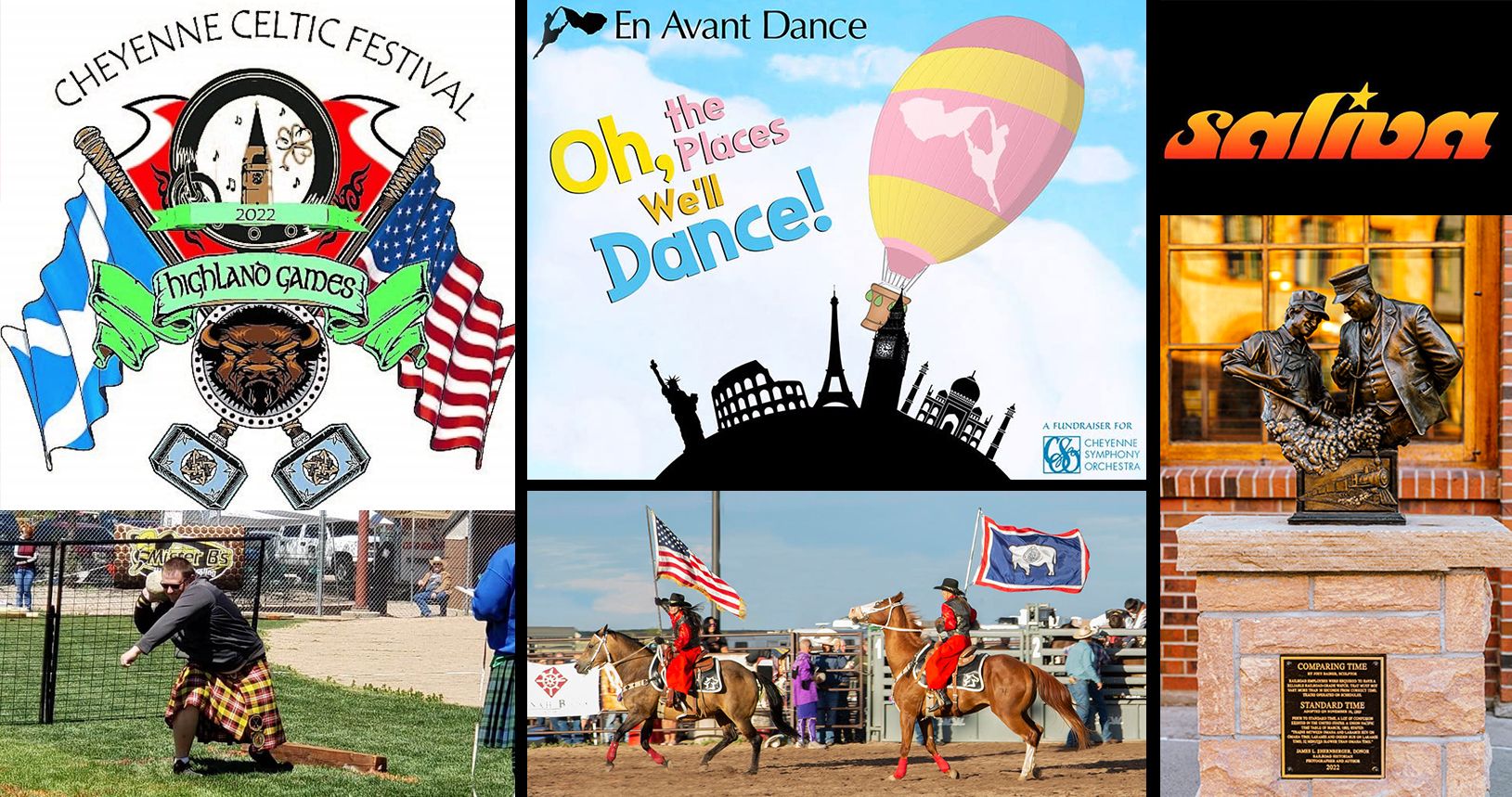 Arboretum Walk - High Plains Arboretum
June 9, 2023 /1:00pm to 2:00pm / $10
Meet Paul Smiths Children's Village Horticulturalist and High Plains Arboretum author, Jessica Friis, and Director Scott Aker for a tour of the High Plains Arboretum. We hope to show off some of the wonderful spring-blooming trees on the grounds, and we'll be able to see the historic greenhouse, headhouse, and lath house.
Fridays on the Plaza: Saliva
June 9, 2023 /5:30pm to 9:00pm / Free
With hit's like "Click Click Boom", Saliva is sure to get you on your feet with their hard rock inspired sound!
Hell on Wheels Rodeo and Chuck Wagon Dinner - Laramie County Fair Complex at Archer
June 9, 2023 /5:30pm to 9:30pm / $25-$75
Any stop in Cheyenne isn't complete without a real Western rodeo experience. Nothing gets you closer to our heritage than a real cowboy dinner and a home-grown rodeo under a famous Wyoming sunset! Award-winning 3LazyR Chuck Wagon will be fixin' up some home cooking, made the old fashioned way: Slow-cooked over a fire all afternoon. Brisket and beans, garlic roasted baby potatoes, and warm cobbler will fill your belly and your heart with a true taste of the West. Then, mosey over to the rodeo arena to cheer on our hometown cowboy and cowgirls competing in events including Bareback Riding, Saddle Bronc, Breakaway Roping, Steer Wrestling, Barrels, Bull Riding, and more. Enjoy the West's favorite sport under the open sky with some of Wyoming's finest competitors!
The dinner bell rings at 5:30 and the rodeo begins at 7. Tickets start at $25.
Positive Aging: The Woman King - Laramie County Library
June 9, 2023 /1:30pm to 4:30pm
Please join us for a viewing of The Woman King (PG-13, 2022) starring Viola Davis. Inspired by true historical events in the Kingdom of Dahomey in the 18th and 19th centuries, warrior Nansica fights for her peoples' freedom while grappling with her past.
Oh the Places We'll Dance - Cheyenne Civic Center
June 10, 2023 / 2:00pm and 6:00pm / $8-$12
For thirty-four years En Avant Dance Studio has provided fun and excellent dance education and support for Cheyenne organizations. This year's performances benefit the Cheyenne Symphony Orchestra. Join Cheyenne students for one or both charming performances in support of our community orchestra.
Capitol Avenue Bronze Project Dedication
June 10, 2023 / Noon to 3:30pm
Everyone is invited! The celebration will take place between noon and 3:30 p.m. on Capitol Avenue between 24th Street in front of the Capitol and 21st Street south of St. Mary's Cathedral. It will include live entertainment, food trucks, guided tours and history presentations.
14th Annual Spring into Green 5k/10k - Greater Cheyenne Greenway Multi Use Trail
June 10, 2023 / 8:00am to 11:00am / $20-$35
The 14th Annual "Spring into Green" Greenway Celebration is a 5k run/walk and a 10k run put on by the Cheyenne Greenway Foundation. It is a fundraising event supporting the mission of the organization to improve the amenities along the 40 plus miles of multi use Greenway in Cheyenne.
18th Annual Cheyenne Celtic Festival and Highland Games - Lions Park
June 10-11, 2023 / 10:00am to 4:30pm / Free
18th annual Celtic Festival and Highland games. Clan's, Vendors, Entertainment, Education, Athletic competitions, Vendors, Food Drink and More.
Cheyenne Summer Market 2023 - Cheyenne Shrine Club
June 10, 2023 / 9:00am to 1:00pm / Free
Join us for the Cheyenne Summer Market. Shop the freshest produce, sweet treats, handmade goods, and more from our wonderful vendors. You'll find something for everyone, whether you're looking for a unique gift or a delicious snack. Plus, you'll get the chance to meet and support local artisans and small businesses. A portion of the proceeds benefit the Cheyenne Shrine Club.
Cornhole Tournament for Black Dog Rescue - Blue Raven Brewery
June 10, 2023 / 10:00am to 5:00pm / $75 per team of 2 to participate, free to the public to attend
The tournament will be split into an Upper and Lower division determined by a Round Robin. ACL regulation, double-elimination and includes monetary prizes for the top three teams in each division!
Groovy Obstacle Course - Laramie County Library
June 10, 2023 / 10:00am to 11:30am / Free
The race is on! Can you beat this far-out obstacle course? Grab your family, friends, or just yourself to complete this block-long course that stretches all around the library. Are you up for the challenge? Sunscreen and water are encouraged, as well as cheers and good times!
Live Fire: Farm-to-Table Dining Experience - Rabou Farms in Albin, WY.
June 10, 2023 / 5:00pm to 9:00pm
Join us for an unforgettable evening of upscale farm-to-table cuisine featuring locally sourced ingredients prepared using the age-old technique of open-flame cooking.
Our Lady of Peace Shrine Pilgrimage - Pine Bluffs
June 10, 2023 / 9:00am
People will gather at the Our Lady of Peace Shrine for a special service and Mass. Hamburgers and hot dogs will be served after Mass.
Pink Paradise - Atlas Theatre
June 10, 2023 / 7:30pm to 10:00pm / $15
A Drag Game Night! Hosted by: Oblivia, Queen of the Clueless Appearances by: Ambrosia Beaverhousen, Temple Ceiling, Maverick, ZaZa D'Bustier, Ladycat Lavera De'Ore, & Tatum Silver-Down.
Second Saturday STEAM - Laramie County Library
June 10, 2023 / 2:30pm to 3:30pm / Free
Children in grades 3–6 can join us each month as we explore a variety of STEAM topics (Science Technology Engineering Arts Math) with crafts, games, experiments, and more. This month, fling yourselves into summer by making your own catapult with popsicle sticks!
Dog Days of Summer - Concert in the Dog Park
June 11, 2023 / 5:00pm to 7:00pm / Free
Get ready to rock and roll at the 2023 Dog Days of Summer concert! Join us on Sunday, June 11th from 5-7 PM at the Nancy Mockler Dog Park for a free concert, exciting raffles, delicious food and drinks, and more! Cash and supply donations are welcome and will directly support the Cheyenne Animal Shelter and all of the sweet pets who join us. Bring your pups and lawn chairs and enjoy a chill evening while listening to Johnny Velvick perform with his band!
Poetry Open Mic - Hawthorn Tree
June 11, 2023 / 1:00pm to 3:00pm / Free
Join us for a poetry open mic. Each poet gets 5 minutes to read, but occasionally go two rounds, so bring extra poems. Arrive 5 minutes early to sign-up.
June Cars and Coffee - Rail Yard
June 11, 2023 / 7:00am / Free