Saddle Up For Some Fun This Weekend!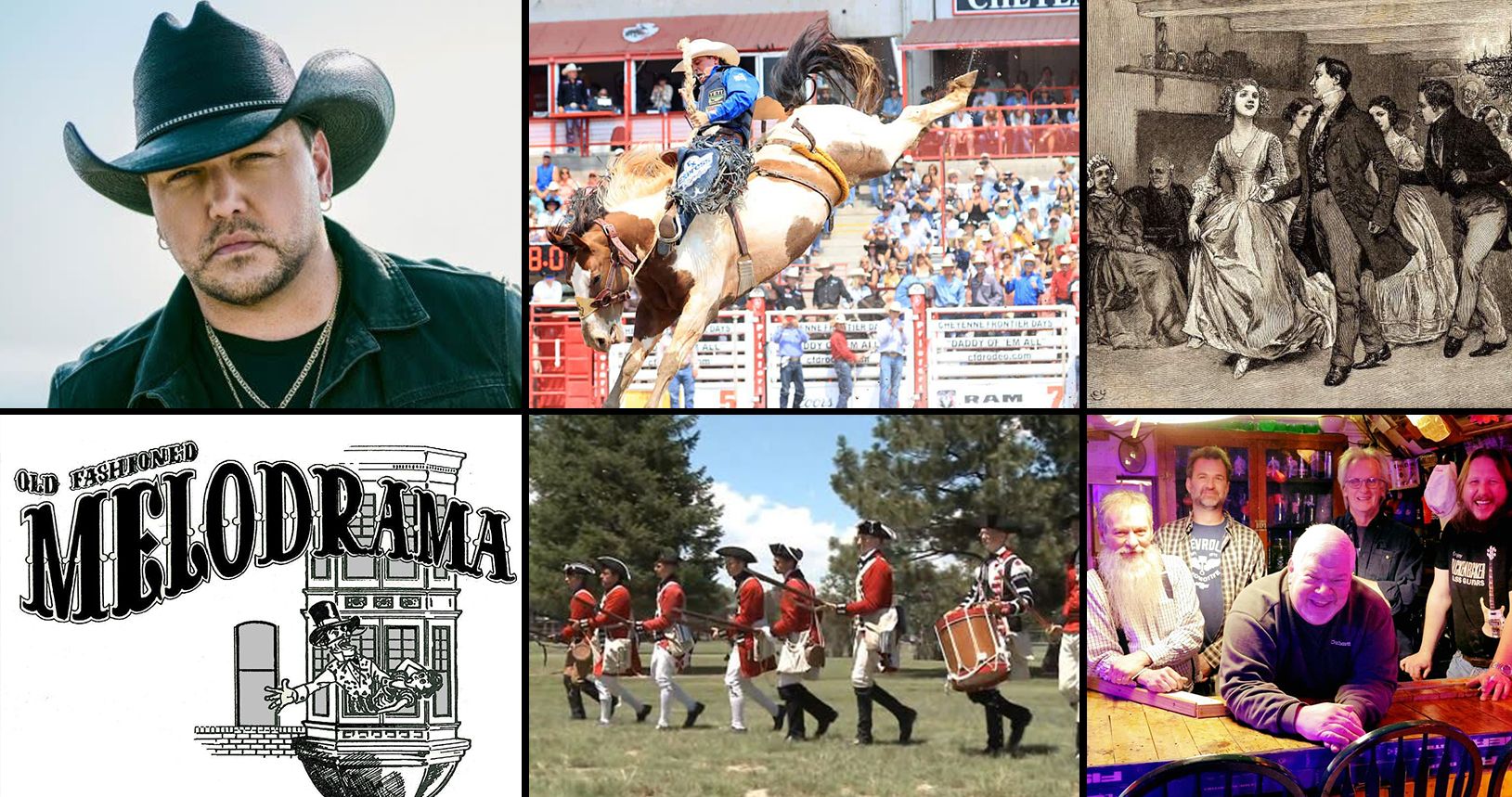 1) The 66th Old-Fashioned Melodrama - Historic Atlas Theatre
July 14, 2022 to August 7, 2022/ Monday- Saturday 7:00pm, Sunday 2:00pm, July 22-30 additional 9:00pm performances.
"Treachery Makes the Heart Grow Fonder or All's Fair in Love and Villainy or The Showdown at the Sarsaparilla Saloon". Director: Nancy Stange.
Sally Sarsaparilla is fed up with waiting for a marriage proposal from her dimwitted beau Danny DoGood, while Bella BadLove is tired of the failings of her partner Peter Pigwallop, a "bad" guy who can barely manage unpleasantly annoying. Together, they concoct a scheme to make the two men achieve success despite themselves, hoping to achieve their own dreams in the process, marriage and respectable villainy, respectively.
2) Adam Doleac - Outlaw Saloon
July 22, 2022 / 9:00pm / $10
Welcome to the Outlaw with Adam Doleac! Come listen to Adam play.
3) Cheyenne Frontier Days
July 22, 2022 - July 31, 2022
Cheyenne Frontier Days takes place the last full week of July.  The world's largest rodeo includes ten days of rodeo action, parades, pancake breakfasts, the U.S. Air Force Thunderbirds, and the hottest concert acts. Purchase tickets at cfdrodeo.com.
4) Fridays on the Plaza: The Josephines with Jimmy Keith & Freeway Soul - Depot Square
July 22, 2022 / 5:30pm to 9:00pm / Free
The Josephines are a rag tag group of rock n roll drenched country hoodlums from Bowling Green, KY. Made up of singer Brad Tabor, lead guitarist Zach Lindsey, bassist Josh London and steel guitarist Alex Lindsey, the Josephines are the embodiment of the country rebel spirit.
5) Frontier Nights Jason Aldean with Gabby Barrett and John Morgan
July 22, 2022 / 7:00pm to 11:00pm / $70-$105
Since his 2005 debut with the scorching "Hicktown," the singer has set himself apart from the pack as a truly unique artist. He addresses his Georgia-born brand of country music with a singular vision, and he intends to keep it that way.
6) Partners in Prosperity - Cheyenne Ice and Events Center
July 22, 2022 / 11:15am to 1:30pm
A community tradition & an epic part of Cheyenne's history is the Cheyenne Frontier Days Rodeo. Pardners in Prosperity, proudly hosted by the Greater Cheyenne Chamber of Commerce, is the kick off lunch to the "Daddy of 'em All".
7) Tween/Teen LARPing - Laramie County Library
July 22, 2022 / 4:00pm to 5:30pm
Join us for LARPing at the library. LARP (Live Action Role Playing) is a collaborative role playing game where participants will create characters, designate specific roles, create costumes, build armor and weapons out of cardboard, and make some friends along the way. This will be a series of events working on different aspects of LARPing, ending with a final campaign.
8) Gabriel the Brute - Black Tooth Brewing Co.
July 22, 2022 / 6:00pm to 9:00pm / Free
Gabriel the Brute is a singer, songwriter, cover artist, and guitar player.
9) DA Russell Days Period Style Dance - FE Warren AFB
July 23, 2022 / 5:300pm to 9:00pm /Free
FREE TO THE PUBLIC - Join the DA Russell Day's evening celebration near gate 1 on FE Warren Air Force Base. Dance instruction is provided and it will be fun for the whole family. Historic period clothing (Edwardian) or western attire preferred but not required. Government ID (driver's license or passport) will be required at the gate for anyone over 18.
10) Fort D.A. Russell Days Open House Base Tour - FE Warren AFB
July 23, 2022 - July 24, 2022 / 9:00am to 2:30pm
Enjoy an air conditioned bus tour through historic FE Warren Air Force Base featuring noted landmarks from its early existence as Fort DA Russell (1867) to the present. Base visitors must enter at Gate 1 off of Pershing/Randall which will open at 9am. A government ID will be required. Buses will be loaded at the DA Russell Days Grounds just inside the gate. All events and parking are free. Park and ride from the CFD Complex will run until 3:00pm.
11) Frontier Nights Dierks Bentley with Chancy Williams
July 23, 2022 / 7:00pm to 11:00pm / $70-$105
Not so many years ago, Dierks Bentley was singing for tips in Second Avenue bars and soaking up country music history at his day job working in the video tape library of the late, great Nashville Network. Today he's among the most successful and relevant country singers in the business. Bentley's kind of country has never been straight-up-the-middle. Instead, the Arizona-native grew up on a potent hybrid of honky-tonk, bluegrass, singer/songwriters, classic country and modern rock & roll, forging his own sound along the way.
12) Goat Yoga at Pine Ranch - Carpenter, WY.
July 23, 2022 / 9:00am to 10:30am / $35 per person
Kick off your Frontier Days adventure in an unforgettable way - Goat Yoga!
This exciting class will have you doing Downward Facing Dog alongside and with our Ranch goat babies!  This is a group yoga class with the addition of live baby goats who are guided by their trainer to interact with students in specific poses.  Indeed, the baby goats will be guided with feed, and also stop them from occasionally munching on a ponytail. (Trainers also take responsibility for cleaning up any accidents. But be warned: There's no guarantee a goat won't do its business while on top of your back.)
You will have 1/2 hour before class to visit and get to know your classmates and the goats.  Mat time will be 1 hour with some time after for cool down and goat snuggling.  We ask that you arrive fifteen minutes before class starts.  Bring an outdoor-friendly mat, your yoga beverage of choice and wear comfortable clothes.  Children are always welcome but we ask that your children be old enough to quietly sit on their mat for the entire duration of class without disruption should they choose not to participate in yoga.
13) Laramie County Fair Ranch Rodeo - Laramie County Fair Complex at Archer
July 23, 2022 / 12:00pm / Free
FREE and open to the public!! Join us for an exciting afternoon of rodeo at the Archer Arenas. Food and drinks will be available for purchase.

10 minute-Four Person Scramble
• Wild Cow Milking
• Calf Branding
• Steer Doctoring
• Trailer Loading

Ranch Bronc Riding
Calcutta for the Top-5 before the final round.

14) Mr. Byrd and the Perfect Strangers - The Bunkhouse
July 23, 2022 / 1:00pm to 5:00pm
We're kicking off the Summer with Saturday afternoon venues on the Deck. We'll have LIVE MUSIC every Saturday till Labor Day!
15) Ned Ledoux - Outlaw Saloon
July 23, 2022 / 7:00pm to 11:00pm / $10
Hoping to carry on his dad's legacy, Ned LeDoux is back on tour singing his dads hit and new songs of his own!
16) Reggae on the Frontier - Blue Raven Brewery
July 23, 2022 / 11:00am to 10:00pm
Galactic Lemonz! Lion Lab! Walking Souls! Inside the Mind! Luna Shade! Don't miss out on this day of wondrous music and libations. During Cheyenne Frontier Days, music loving rodeo fans can even watch the rodeo from the brewpub. The best of both worlds at Blue Raven Brewery!
17) Cowboy Market 2022 - Cheyenne Ice and Events Center
July 23, 2022 / 10:00am to 6:00pm / Free
A huge variety of handmade items from 60+ vendors —and food trucks! Make sure you stop by both weekends since there will be different vendors each weekend. This event is inside, so no need to worry about the heat, sun and dust!
18) Scott Rupe - Black Tooth Brewing Co.
July 23, 2022 / 6:00pm to 9:00pm / Free
Kick weekend off with the styling sounds of Scott Rupe!
19) Chris Murray - Blue Raven Brewery
July 24, 2022 / 1:00pm to 3:00pm
Chris Murray is a live-looping musician and song writer, working with guitar, bass, piano, hand percussion, voice, and other instruments to create a dynamic performance ranging from a solo musician to a full band sound. His mind-bending styles pull from folk, grass, rock base with funk, reggae, electronic, and jam origins. Chris pieces together a unique set list for every show, which include originals, covers, organized medleys and improv loops. Come out to Blue Raven Brewery and enjoy the show!
20) Fort D.A. Historic Homes Tour - FE Warren AFB
July 24, 2022 / 9:00am to 3:00pm
Join us at FE Warren Air Force Base for the 51st Historic Homes Tour July 24th. Gate 1 will open to all visitors at 9am and the last tour bus will leave at 3:00pm. You won't want to miss stepping back in time by walking through the beautiful historic brick homes during the DA Russell Days Celebration.
21) Frontier Nights Parker McCollum with Ian Munsick & Brett Kissel
July 24, 2022 / 7:00pm to 11:00pm / $70-$105
Parker McCollum wants it both ways. Restless soul who can slam dunk a major venue. Texas spirit who can exist on mainstream country radio. Songwriter with a sense of turpentine and truth singing for people whose life isn't quite the truckbed/field party revel much of country music would have you believe.
22) Randall King - Outlaw Saloon
July 24, 2022 / 7:00pm to 11:00pm / $10
One of country's new crop of modern traditionalists, Warner Music Nashville artist Randall King grew up on the endless plains of West Texas – and his sound is steeped in their timeless beauty, both gritty and graceful at the same time. He grew up singing in the back of a '93 Chevy Suburban, mimicking the pure-country vocals of stars like Keith Whitley, George Strait, Alan Jackson and John Anderson and over the years became drawn to the electrifying energy of modern stars like Eric Church, Dierks Bentley and Jason Aldean. After years of hustling and a road-warrior's diet of 150 shows each year, King produced and released the defiant 2016 EP, Another Bullet, then followed up with a 2018 self-titled album.