Relax, Play And Have Fun In Cheyenne This Weekend!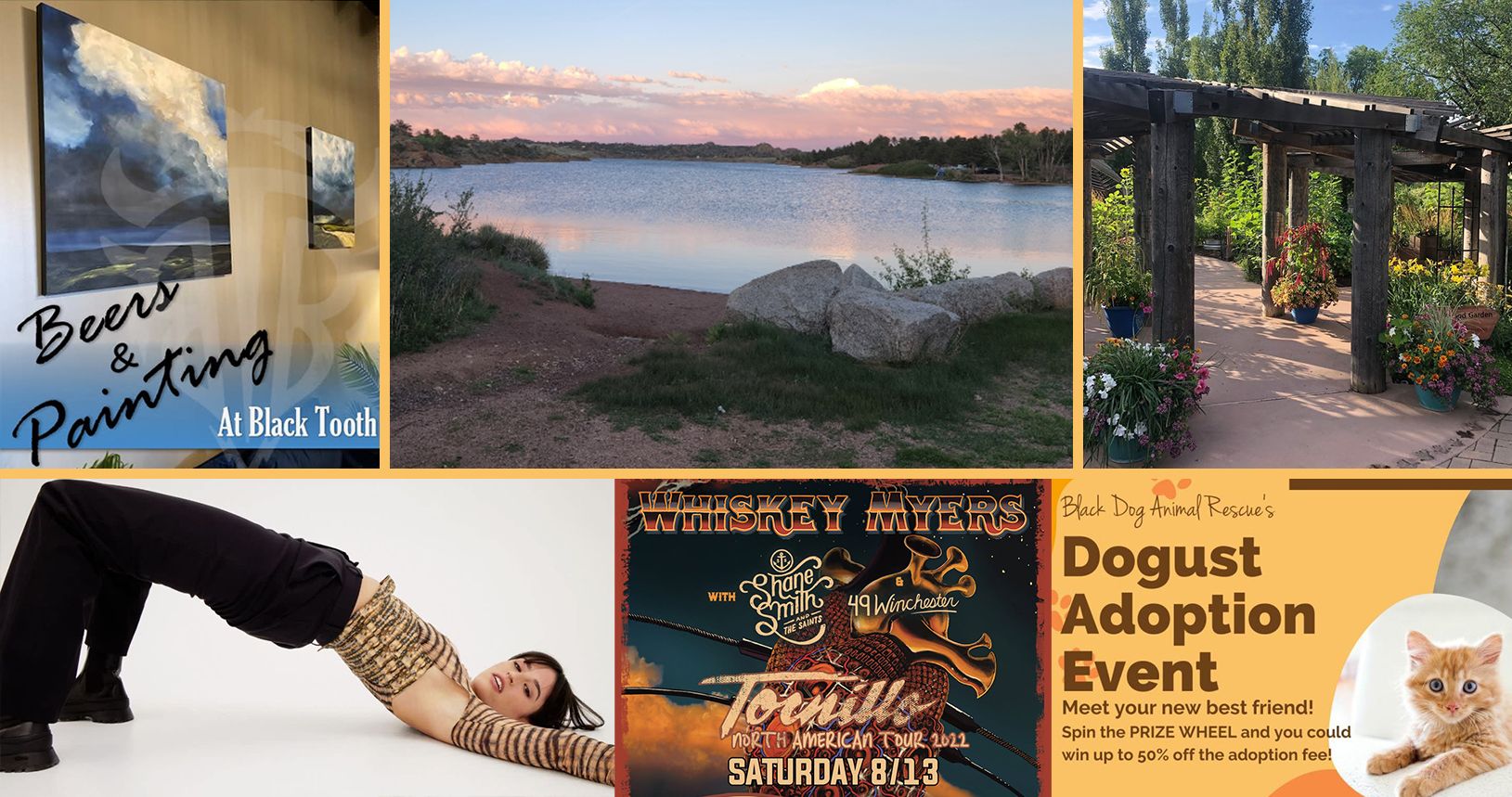 1) Laramie County Fair - Archer Complex
August 3, 2022 - August 13, 2022 / Recurring Daily
Wyoming's Oldest and Largest County Fair is located right here in Cheyenne, celebrating 115 years! Enjoy Livestock Shows, Static Exhibits, Vendors, Food Trucks and more. The midway is full of FREE family fun including an inflatable zone, balloon twisting, face painting, magic shows, pedal tractors, and a mobile dairy classroom. Visit the Fjellborg Viking encampment in our midway and experience an authentic living history and battlefield reenactment.
2) Fridays on the Plaza: Rozzi with Holdfast
August 12, 2022 / 5:30pm to 9:00pm / Free
Over the years, Rozzi has carved out a powerful niche as a singer-songwriter who is unafraid to share the depths of her soul with audiences. As it was on Bad Together, her ability to connect over shared experience and universal moments is at the forefront of Berry. On the bold, R&B-styled "I Can't Go To The Party," Rozzi explores the mix of anxiety and longing around bumping into an ex out in public. "Sometimes I feel silly, talking about a boyfriend," she admits. "But the songs aren't really just about a boyfriend. They're about being changed by someone and how that makes you grow."
3) Hell on Wheels Chuck Wagon Dinner and Rodeo - Laramie County Fair Complex at Archer
August 12, 2022 / 5:30pm to 9:30pm / $25-$50
Any stop in Cheyenne isn't complete without a real Western experience. Nothing gets you closer to our heritage than a real cowboy dinner and a home-grown rodeo under a famous Wyoming sunset! Award-winning 3LazyR Chuck Wagon will be fixin' up some home cooking, made the old fashioned way: Slow-cooked over a fire all afternoon. Brisket and beans, garlic roasted baby potatoes, and warm cobbler will fill your belly and your heart with a true taste of the West. Then, mosey over to the rodeo arena to cheer on our hometown cowboy and cowgirls competing in events including Bareback Riding, Saddle Bronc, Breakaway Roping, Steer Wrestling, Barrels, Bull Riding, and more. Enjoy the West's favorite sport under the open sky with some of Wyoming's finest competitors!
4) Cooper Allen - Outlaw Saloon
August 12, 2022 / 7:00pm to 9:00pm / $25
Up and coming country singer Cooper Alan plays in Wyoming for the first time!
5) Jim Wilkinson - Black Tooth Brewing Co.
August 12, 2022 / 6:00pm to 9:00pm / Free
Your favorite country hits from yesterday and today played by Jim Wilkinson.
6) Back to School Bash - Cheyenne Boys and Girls Club
August 13, 2022 / 11:00am to 2:00pm
Join the Boys & Girls Club, Needs Inc., Youth Alternatives, Ask, Big Brothers Big Sisters, Laramie County School District & United Way for a Back to School Bash! August 13th from 11am-2pm we will be providing backpacks filled with School Supplies, Haircuts, School Physicals, Teeth Cleaning and Supplies, Food, Drinks & SO MUCH MORE! *Stay tuned for more updates! All community members are welcome!!!
7) Beer & Paint Night - Black Tooth Brewing Co.
August 13, 2022 / 5:00pm to 8:00pm / $40 per person
Grab some friends and enjoy an evening with plenty of quality craft beer and creativity.3 beers and painting materials included. YOU CAN PURCHASE TICKETS AT BLACK TOOTH (ask your bartender)--spots are limited to 30 PEOPLE, first come first served.
8) Cheyenne Bonsai Society - Cheyenne Botanic Gardens
August 13, 2022 / 10:00am
Meet in the Paul Smith Children's Village. Free. Open to the public, open to beginners.
9) Zach Rushing with Dustin Sims and Jesse Peyton Live! - Historic Atlas Theatre
August 13, 2022 / 7:00pm to 10:00pm
Viral comedians Zach Rushing, Dustin Sims and Jesse Peyton hit up Cheyenne Wyoming for one very special and hilarious night!
10) Danny Derail Band - The Bunkhouse Bar and Grill
August 13, 2022 / 1:00pm to 5:00pm
We're kicking off the Summer with Saturday afternoon venues on the Deck. We'll have LIVE MUSIC every Saturday till Labor Day!
11) BDAR Dogust Adoption Event - Laramie County Library
August 13, 2022 / 10:00am - 12:00pm
Come meet adoptable dogs and cats at the Laramie County Library for our Dogust Adoption Event. Dogust is an annual birthday celebration for rescue dogs that don't know their true birthdate. In honor of them, we're have some goodies to share and a prize wheel that could get YOU 50% off the adoption fee!
12) Greet the Dawn Hike - Curt Gowdy State Park
August 13, 2022 / 6:00am - 7:00am / $7/vehicle
All ages & experience levels are welcome at this free public hike. Please bring your own flashlights and/or headlamps; we will not have extras available. The hike will start and end at the same location. The group will meet at the parking area directly north of the Causeway at 6:00 am and depart shortly thereafter. Please be aware that you must pay day use or overnight fees to be in Curt Gowdy State Park.
13) Paul Smith Children's Village Garden Walk - Lions Park
August 13, 2022 / 1:00pm / Free
Jessica Friis, Horticulturist at the Cheyenne Botanic Gardens, is giving a garden walk of the Paul Smith Children's Village. You will learn all about the plants growing and enjoy the scenery. The walk begins at 1 PM and is free and open to the public!
14) Metalachi - The Lincoln Cheyenne
August 13, 2022 / 8:00pm - 11:00pm / $15
The world's first metal mariachi band!
15) Whiskey Myers, Shane Smith & The Saints, 49 Winchester - The Chinook
August 13, 2022 / 7:00pm - 11:00pm / $29.50
Genre-bending band Whiskey Myers have played more than 2,500 live shows to ever-increasing crowd sizes since their emergence in 2007. This band is known for their high-energy live show and unique sound!
16) Yoga and Cocktails - Pine Bluffs Distilling Tasting Room
August 13, 2022 / 1:00pm - 3:00pm / $25
Who is ready to get out of town? I have heard that the tasting room at the Distillery has a new look, time to check it out! Join me in Pine Bluffs for an all levels Vinyasa Flow yoga practice followed by the sipping of a delicious cocktail or two. What better way to relax before the school year begins? Get your friends together for a fun filled afternoon. You are welcome to bring snacks to enjoy with your cocktails. Please bring your own yoga mat. Cost includes your hour long yoga practice and 1 cocktail. I would encourage you to carpool. Please pre-register.
17) Farmers Market - Lot C Frontier Park
August 13, 2022 /  7:00am to 1:00pm / FREE
Spend a beautiful Saturday morning finding everything from fresh produce and breads to homemade jams, cheeses, dried meats, sauces and more! Parking in Lot C. The market is the annual fundraiser of Community Action of Laramie County, Inc.
18) Poetry Open Mic - The Hawthorn Tree
August 14, 2022 /  1:00pm to 3:00pm / FREE
Join us for a poetry open mic. Each poet gets 5 minutes to read, but occasionally go two rounds, so bring extra poems. Arrive 5 minutes early to sign-up.