Recipe: Honey-Ginger Cedar Plank Salmon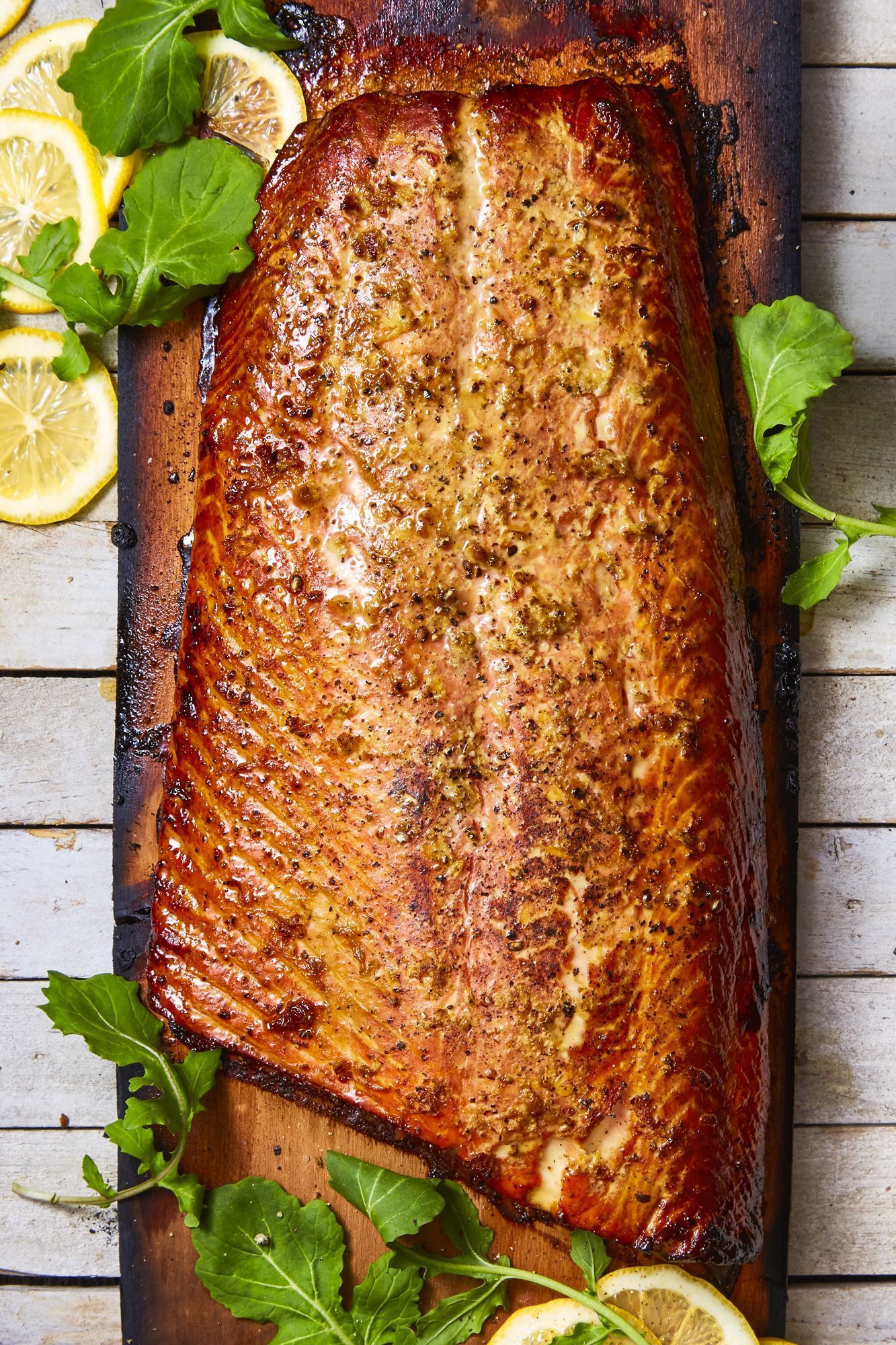 Don't let summer pass you by without trying this delicious grilled salmon recipe. You can't beat this sweet, spicy and earthy salmon grilled slowly on a cedar plank.
Yields: 8 Servings     Prep Time: 15 mins     Total Time: 30 mins
Ingredients
1 lb. lemon, plus slices for garnish
2 tsp. grated peeled fresh ginger
1 large piece skin-on wild Alaskan salmon (about 2 lbs.)
3 tbsp. lower-sodium soy sauce
2 tbsp. honey
1 tbsp. Sriracha hot sauce
1 clove garlic, crushed with press
4 c. packed arugula, plus more for garnish
4 miniature seedless cucumbers, thinly sliced
1 1/4 c. cooked corn kernels (from 2 ears)
1/2 c. loosely packed cilantro leaves
Directions
Soak large cedar grilling plank (about 15-inches-by-7-inches) in water 1 to 2 hours. Heat grill on medium.
From lemon, grate 1 teaspoon zest and squeeze 1/4 cup juice; set juice aside. Combine zest with ginger and 1/2 teaspoon coarsely ground black pepper; rub all over flesh side of salmon.
Place salmon on soaked plank skin side down; sprinkle with 1/2 teaspoon salt. Grill 20 to 25 minutes, covered, or until desired doneness.
Meanwhile, in medium bowl, whisk soy sauce, honey and Sriracha; set aside half. To remain- ing soy mixture, add garlic, reserved lemon juice and 1/4 teaspoon salt; toss with arugula, cucumbers, corn and cilantro. Brush salmon with reserved soy mixture. Garnish with arugula and lemon slices. Serve with cucumber salad.