Music, Art And So Much More Happening This Weekend!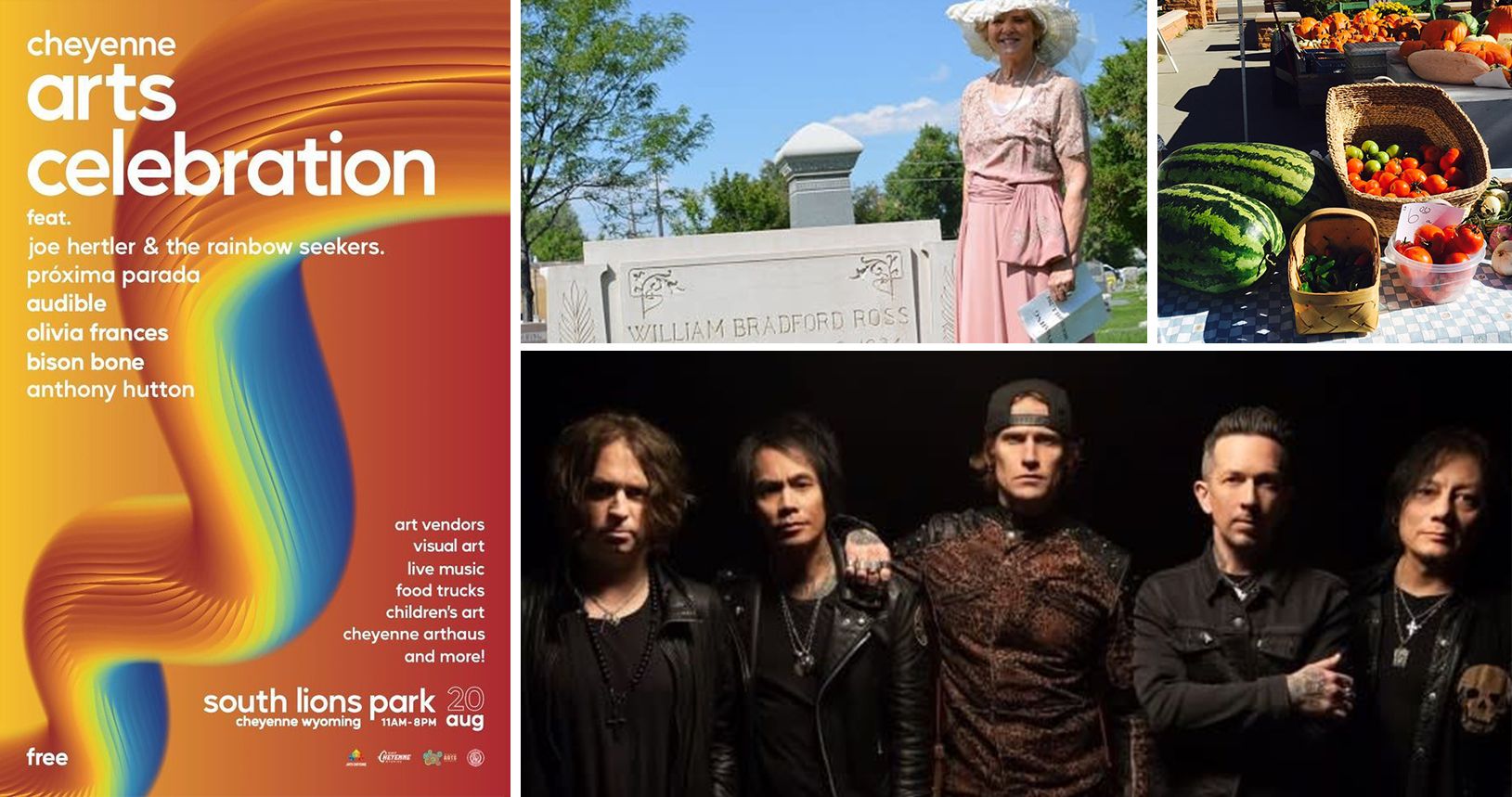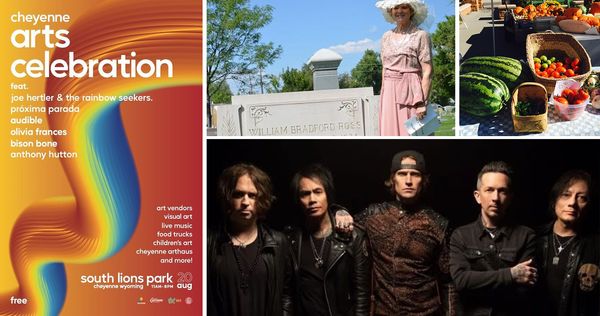 1) Buckcherry LIVE- Outlaw Saloon
August 19, 2022 / 8:00pm to 11:00pm / $22
Buckcherry is an American rock band from Anaheim, California, formed in 1995. The band released two albums, Buckcherry and Time Bomb, before dissolving in 2002. Buckcherry's first album Buckcherry was DreamWorks first album to go gold. Catch them at the Outlaw Saloon!
2) Country Dancing with David Uriquidez - Cheyenne Frontier Days Old West Museum
August 19, 2022 / 6:00pm to 8:00pm / $15/person or $25/couple
Bring your boots down to the Cheyenne Frontier Days™ Old West Museum for some country dancing. Be the star of the country bar with the hottest country moves. Ladies, have your man sweep you off your feet! Gentlemen, have that confidence on and off the dance floor!
3) Fridays on the Plaza: Jeremiah Tall with Dirty Grass Players
August 19, 2022 / 5:30pm to 9:00pm / Free
Jeremiah Tall is a singer song writer from Bucks County, Pennsylvania backed by a hand painted suitcase converted into a kick drum.
4) Summer Movie Series: Deep - Laramie County Library
August 19, 2022 / 2:00pm to 4:00pm / Free
Join us all summer long as we watch an ocean-themed movie each month! August's movie is Deep (rated PG). In 2100, when humanity has abandoned the earth, a colony of extravagant creatures still thrives in the deepest abyss of the ocean. Deep, an adventurous "dumbo" octopus, and his two friends must take a perilous journey to find a new home.
5) Scott Rupe - Black Tooth Brewing Co.
August 19, 2022 / 6:00pm to 9:00pm / Free
Kick weekend off with the styling sounds of Scott Rupe!
6) Buzz Brothers - The Bunkhouse Bar & Grill
August 20, 2022 / 1:00pm to 5:00pm
We're kicking off the Summer with Saturday afternoon venues on the Deck. We'll have LIVE MUSIC every Saturday till Labor Day!
7) Cheyenne Arts Celebration - Lions Park
August 20, 2022 / 12:30pm to 7:00pm / Free
The Cheyenne Arts Celebration is back and better than ever in 2022! Join us in Lions Park for a full day of FREE fun featuring musical performances from Joe Hertler & The Rainbow Seekers (Lansing, MI), Próxima Parada (San Luis Obispo, CA), Audible (Denver, CO), Olivia Frances (Nashville, TN), Bison Bone (Denver, CO), and Hells Half Acre (Cheyenne, WY)...as well as tons of amazing art vendors, children's art activities, the Cheyenne ArtHaus, food trucks, beer, and so much more!!This year, the Celebration will take place on the south end of Lions Park near the Sloans Lake beach, the softball field, etc.
8) Historic Cemetery Walk-Remembering the Ladies - Lakeview Cemetery Walk
August 20, 2022 / 9:30am / $10 for 12 and over
"Japanese Joe"-railroad worker, George Trostle-bull-train boss, Portagee Phillips-gold miner, Levi Powell-trail herder, Lucy Phillips-former slave, "Frenchy" Cazabon-French tinker, "Apple Annie"-street peddler…these are a few of Cheyenne's fascinating and historical figures you will meet at the Lakeview Cemetery Walk.
Participants should begin to gather 15-20 minutes before the start of each group. Walkers are encouraged to wear comfortable shoes and sun protection and bring drinking water if desired. All proceeds help fund book acquisitions for Special Collections at the Laramie County Library by the Cheyenne Genealogical and Historical Society.
9) Puddle of Mudd - The Lincoln Cheyenne
August 20, 2022 / 8:00pm to 11:00pm / $30
Puddle of Mudd is an American rock band formed in Kansas City, Missouri, in 1991. To date, the band has sold over seven million albums and has had a string of No. 1 mainstream rock singles in the United States. Their major-label debut Come Clean has sold over five million copies. Puddle of Mudd has been described as post-grunge, nu metal, alternative metal, and hard rock.
August 20, 2022 / 10:00am to 11:00am / $8.00 Adults, $7.00 Military, $4.00 (ages 12-17), Children 11 and under FREE.
Join us Saturday August 20 at 10:00am for Prehistory to Present Day, a Ranger Talk with Ranger Laura! We will discuss how the land around the Quebec 01 Missile Alert Facility State Historic Site has been used for over 10,000 years by Paleoindians, the Air Force, and Wyoming State Parks.

Come by for the program hosted in the Quebec 01 Site lobby, and stay for a tour of the underground launch capsule! The interpretive program will run approximately 45 minutes, while the underground tour is about 30 minutes.

This program is free and open to the public but please be aware that day use fees still apply.

Quebec 01 Missile Alert Facility is approximately 30 miles North of Cheyenne. Take Exit 39 off I-25. Turn left and go approximately 1/4 mile. The site will be on your left.
11) Farmers Market - Lot C Frontier Park
August 20, 2022 /  7:00am to 1:00pm / FREE
Spend a beautiful Saturday morning finding everything from fresh produce and breads to homemade jams, cheeses, dried meats, sauces and more! Parking in Lot C. The market is the annual fundraiser of Community Action of Laramie County, Inc.
12) Poppa John Varga's 3rd Annual Memorial Run - Registration & First Pull
August 20, 2022 /  9:00am to 10:00am
High Country Cheyenne will be your starting point for this Poker Run to benefit the John Varga Memorial Run and UMF of America. Registration, waiver and first card starts at 9am. Kickstands Up @ 10am
Stops: Bruce's Bar -Severance, CO
The Forks Mercantile & Saloon - Hwy 287
Buckhorn Bar - Laramie, Wy
Bunkhouse - Happy Jack Road - Cheyenne
Final Stop & After Party: 2112 York Avenue, Cheyenne, Wy / 6th Card & Winners Announced
ANYTHING WITH A MOTOR IS WELCOME!
POKER RUN $20 HAND + 50/50 RAFFLE
13) Meditation & Embodiment Class - Hawthorn Tree
August 21, 2022 /  2:00pm to 3:00pm / $22
This class begins with group connection, followed by an embodiment session. The embodiment portion of class will generally include light movement and grounding practices. The class then concludes with a guided meditation and integration period. All levels are welcome. Tory Travers is a certified yoga instructor, holistic wellness coach, and reiki master. Her main purpose in life is to empower others along their healing journeys.