Make Some Sweet Treats For Your Valentine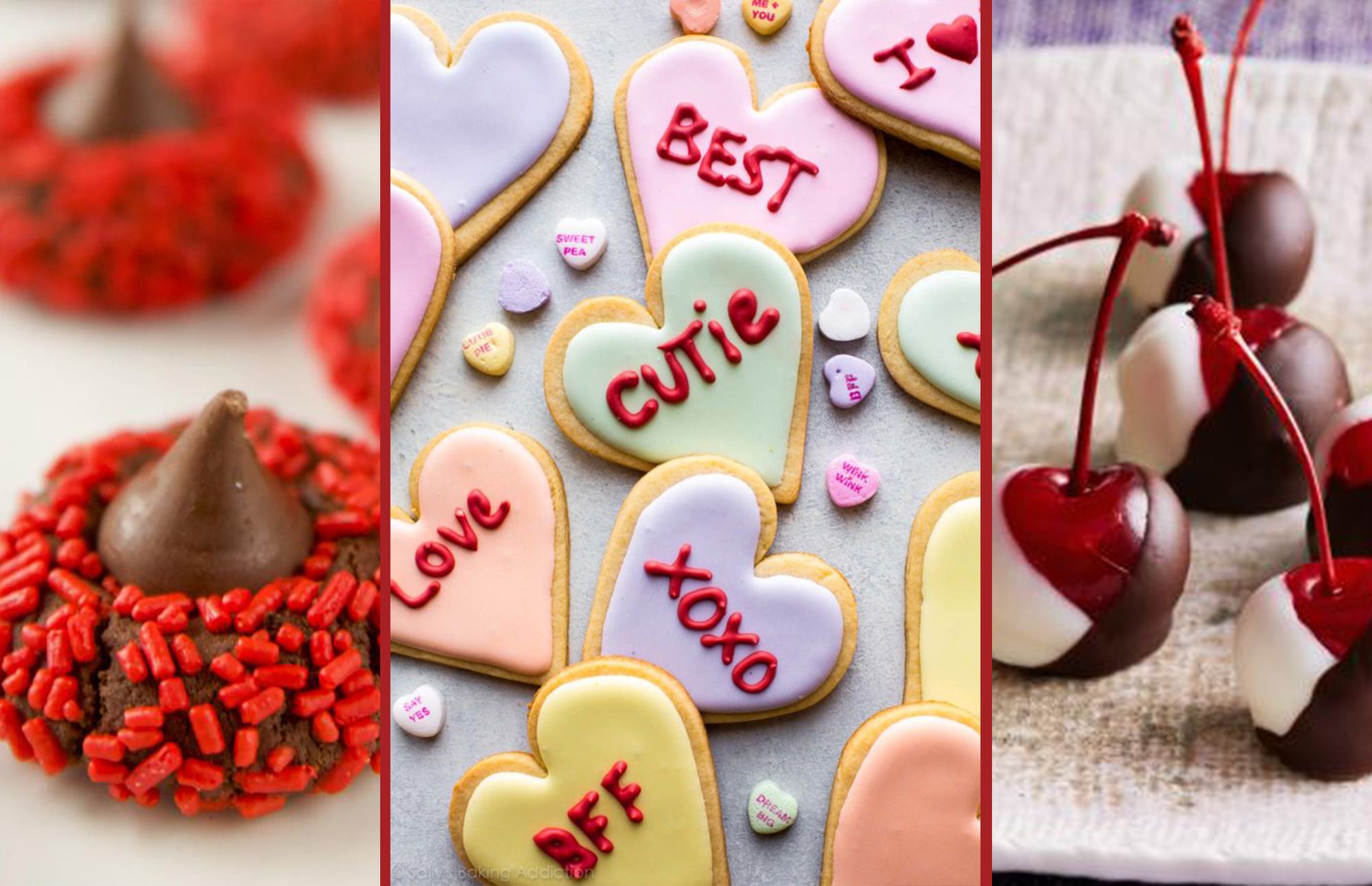 Valentine's Day is just right around the corner, and your sweetheart will fall head-over-heels in love with these delicious and fun treats. These sweet desserts will be the perfect finish to that special day!
Valentine's Day Heart Sugar Cookies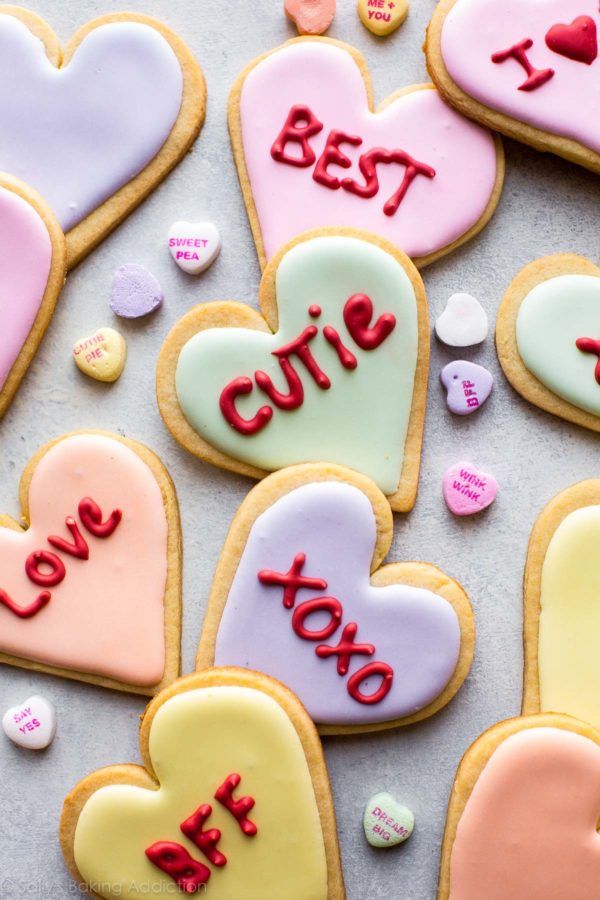 These decorated Valentine's Day heart sugar cookies resemble conversation heart candies- so delicious and fun to make for the holiday!
Prep Time: 3 hours
Cook Time: 11 minutes
Total Time: 6 hours
Yield: 25 3-inch cookies
Ingredients
2 and 1/4 cups all-purpose flour
1/2 teaspoon baking powder
1/4 teaspoon salt
3/4 cup unsalted butter, softened to room temperature
3/4 cup granulated sugar
1 large egg, at room temperature
2 teaspoons pure vanilla extract
optional for added flavor: 1/4 – 1/2 teaspoon almond extract
Royal Icing
4 cups confectioners' sugar, sifted
3 Tablespoons meringue powder
9–10 Tablespoons room temperature water
Soft Gel Paste Color Kit for coloring
Instructions
Whisk the flour, baking powder, and salt together in a medium bowl. Set aside.
In a large bowl using a hand mixer or a stand mixer fitted with a paddle attachment, beat the butter on medium-high speed until smooth, about 1 minute. Add the granulated sugar and beat on medium-high speed until creamed, about 2 minutes. Add the egg, vanilla, and almond extract (if using) and beat on high speed until combined, about 1 minute. Scrape down the sides and up the bottom of the bowl and beat again as needed to combine.
Add the dry ingredients to the wet ingredients and mix on low until combined. If the dough seems too soft, you can add 1 Tablespoon more flour so it's a better consistency for rolling.
Divide the dough into 2 equal parts. Roll each portion out onto a piece of parchment paper or a lightly floured silicone baking mat (I prefer the nonstick silicone mat) to about 1/4″ thickness. The rolled-out dough can be any shape, as long as it is evenly ¼-inch thick.
Stack the pieces, with parchment paper between the two, onto a baking sheet and refrigerate for at least 1-2 hours and up to 2 days. If chilling for more than a couple hours, cover the top dough piece with a single piece of parchment paper.
Once chilled, preheat oven to 350°F (177°C). Line 2 large baking sheets with parchment paper or silicone baking mats. Remove one of the dough pieces from the refrigerator and using a heart cookie cutter, cut into heart shapes. Re-roll the remaining dough and continue cutting until all is used. Repeat with 2nd dough piece.
Bake for 10-11 minutes, until lightly browned around the edges. Make sure you rotate the baking sheet halfway through bake time. Allow cookies to cool on the baking sheet for 5 minutes then transfer to a wire rack to cool completely before decorating.
Make the icing: In a large bowl using a hand mixer or a stand mixer fitted with a whisk attachment, beat all of the icing ingredients together on high speed for 5 minutes. When lifting the whisk up off the icing, the icing should drizzle down and smooth out within 10-12 seconds. If it's too thick, add a little more water. (On particularly dry days, I use up to 12-14 Tablespoons water total.) If it's too thin, add a little more sifted confectioners' sugar. Separate icing into 6 different bowls. Stir in 1 tiny drop of the following colors into each bowl, 1 color per bowl: pink, violet, green, yellow, and orange. The 6th bowl is for the writing. Use 2-3 drops of red.
Add icing to piping bag fitted with round icing tip #5. Decorate cookies with colored icing. Use round icing tip #1 for writing. Do not cover cookies as icing sets. Icing will set within 2-3 hours.
Decorated or plain cookies stay fresh covered at room temperature for 5 days or in the refrigerator for up to 10 days.
Chocolate Covered Cherries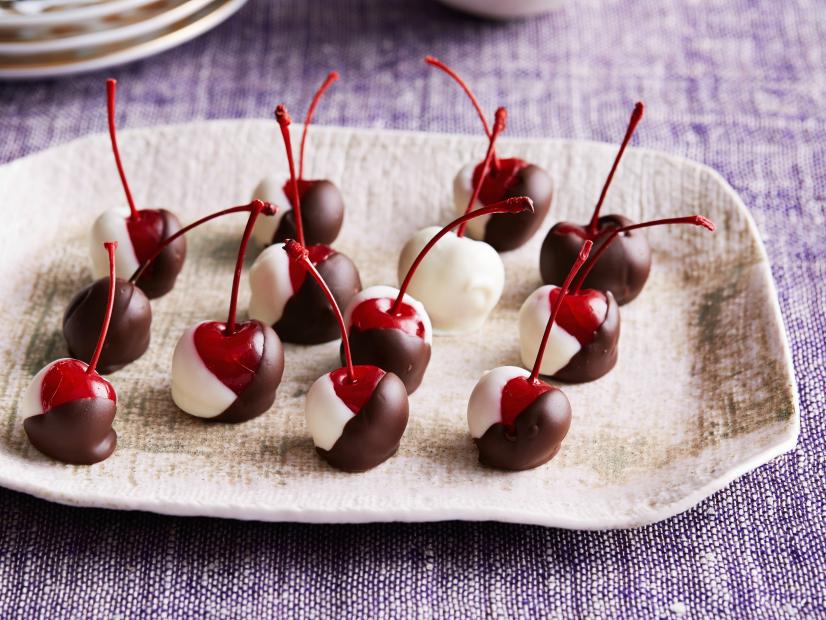 Prep: 20 min
Inactive: 40 min
Cook: 5 min
Yield: 40 cherries
Ingredients
40 maraschino cherries with stems (packed in very heavy syrup), drained well
1 cup (6 ounces) semisweet chocolate morsels
1 cup (6 ounces) white chocolate morsels
Directions
Line a cookie sheet with parchment paper or waxed paper. Pat cherries dry with paper towels.
Melt chocolates separately in stainless steel bowl set over pan of simmering water, stirring until smooth.
Holding stem of cherry, dip cherry into melted chocolate to coat. You can coat half of cherry in white chocolate and half in semisweet chocolate, if desired. Transfer chocolate-dipped cherry to prepared cookie sheet. Repeat with remaining cherries and melted chocolate.
Refrigerate for about 40 minutes, or until set.
Love and Kisses Cookies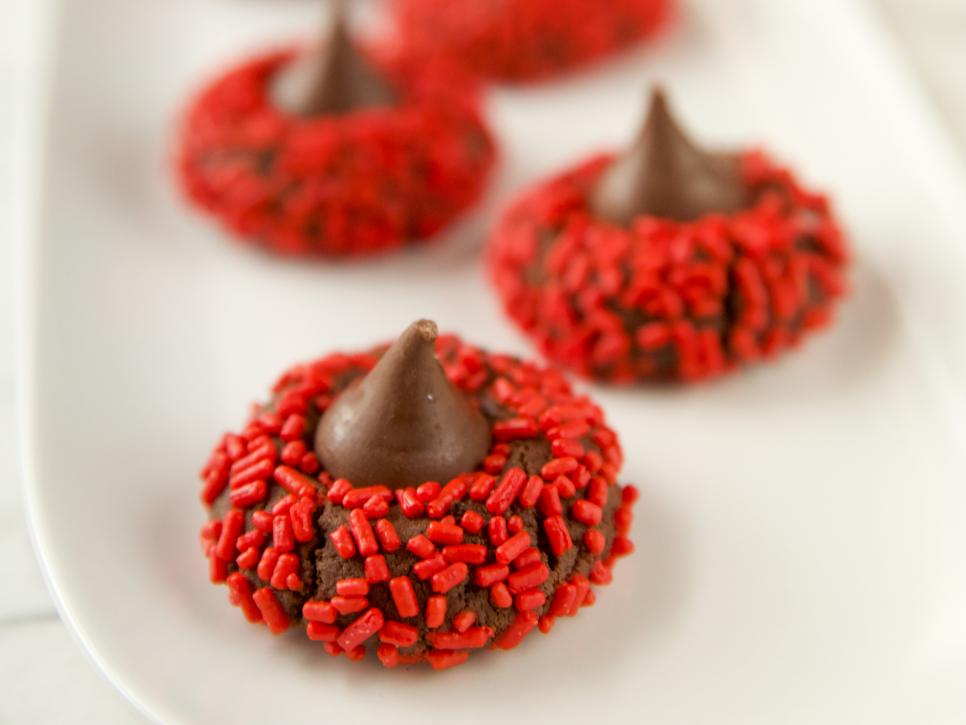 Total: 1 hr 20 min(includes cooling time)
Active: 25 min
Yield: 48 cookies
Ingredients
12 ounces semisweet chocolate chips
1 cup packed brown sugar
1 cup granulated sugar
1 stick (8 tablespoons) salted butter, softened
3 large eggs
1 tablespoon vanilla extract
2 cups all-purpose flour
1/2 cup cocoa powder
1 teaspoon baking powder
1/2 teaspoon kosher salt
2 cups red sprinkles
48 milk chocolate candies, such as Hershey's Kisses®
Directions
Preheat the oven to 350 degrees F. Line 2 baking sheets with silicone baking mats or parchment paper.
In a microwave-safe bowl, add the chocolate chips. Microwave in 30-second intervals, stirring between each interval, until melted. Allow to cool.
Using a stand mixer with a paddle attachment, mix the brown sugar, granulated sugar, butter and cooled chocolate on medium speed until combined. Add the eggs one at a time, mixing after each addition, then the vanilla. Scrape the sides of the bowl and continue to mix on medium speed until combined.
Whisk together the flour, cocoa powder, baking powder and salt in a bowl. Gradually add the dry ingredients to the mixer and mix until just combined.
Put the red sprinkles in a bowl. Scoop mounded tablespoons of the dough. Roll into balls and roll each ball in the sprinkles to cover completely. Place on the prepared baking sheets. Bake until the cookies are poufy and set, about 10 minutes. When still warm, press a chocolate candy into the top of each. Let the cookies sit on the baking sheets for 2 minutes, then remove them to a wire rack to cool completely. Repeat with the remaining dough, sprinkles and chocolate candies.