Looking For Something Fun To Do This Weekend?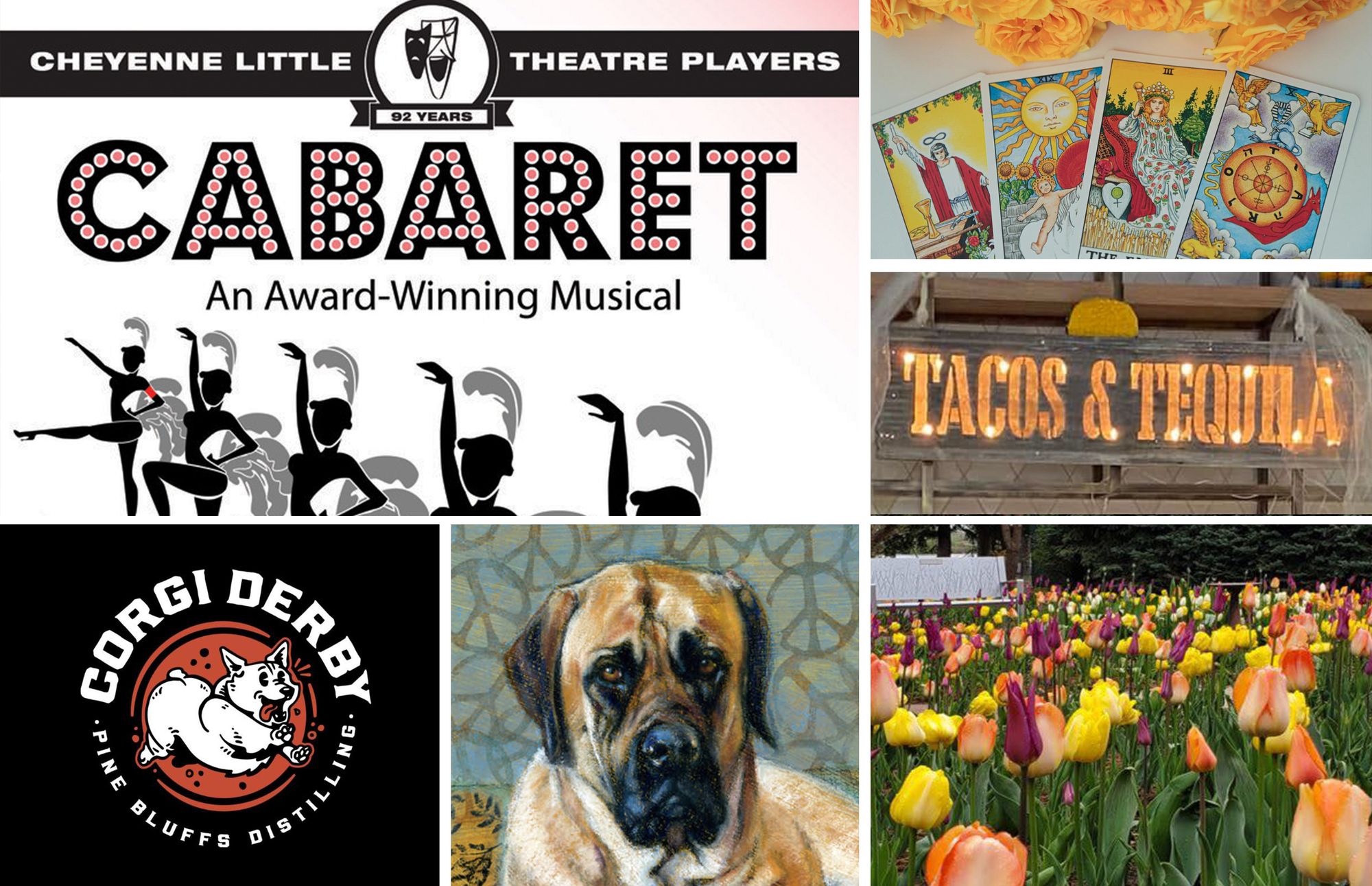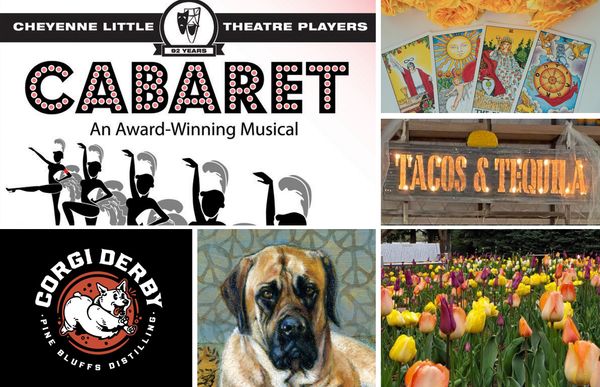 1) Cabaret - Cheyenne Little Theatre
May 6 - 8, 12 - 15, 20-22 / Dinner Theatre Available / $14- $48
Come to the Cabaret! In a Berlin nightclub, as the 1920's draw to a close, a garish Master of Ceremonies welcomes the audience and assures them they will forget all their troubles at the Cabaret. Cliff, a young American writer newly arrived in Berlin, is immediately taken with English singer Sally Bowles. Meanwhile, Fräulein Schneider, proprietor of Cliff and Sally's boarding house, tentatively begins a romance with Herr Schultz, a mild-mannered fruit seller who happens to be Jewish. Musical numbers include "Willkommen," "Cabaret," "Don't Tell Mama" and "Two Ladies."
*This Show Contains Adult Language, Themes & Situations. Recommend Ages 16+
2) Cheyenne Artwalk at Blue Door Arts
May 6, 2022 / 5:00 pm to 8:00 pm / Free
"For the Love of Animals," an exhibition of animal portraits in pastel and collage combine sensitivity and humor by Lander artist Susan Grinels, and will be on display at Blue Door Arts during April and May. Opening reception is during the Thursday April 14th Cheyenne Artwalk. Closing reception is Friday May 6th during the new First Friday Cheyenne Artwalk.
3) May Margarita Madness - Blooming Lotus, INC.
May 6, 2022 / 4:00 pm - 11:00 pm
Join us at Alf's Pub and Package Friday May 6th at 4pm for a fun-filled afternoon of fundraising! We will have awesome silent auction items donated by local businesses to be won, a live auction and a 50/50 raffle! All money raised goes to Blooming Lotus, Inc. to help the disabled community in Laramie County!
4) Tacos and Tequila - CFD Exhibit Hall
May 6, 2022 / 5:00 pm to 10:00 pm / $40 per person
Fundraiser for COMEA Shelter. Ticket price includes event admission, access to silent and live auction, taco and fajita buffet, free tequila tasting, and a full bar!
5) Ty Warren - The Office Bar & Grill
May 6, 2022 / 6:00 pm - 9:00 pm / Free
Live music every Friday night in the cigar lounge at The Office Bar and Grill.
6) Aubrey Dale - Black Tooth Brewing Co.
May 6, 2022 / 6:00 pm - 9:00 pm / Free
Come listen to Aubrey Dale at Black Tooth Brewing.
7) 4th Annual Corgi Derby - Pine Bluffs Distilling Tasting Room
May 7, 2022 / 2:00 pm to 4:00 pm / $25 to enter a dog
Just like last year, we are allowing 50 DOGS to participate in the races, including the Mutt race. Mutt race winners don't qualify for the overall Derby trophy but still receive recognition and a special prize. The corgi winner will receive a very special trophy, plus bragging rights!

Come dressed in your best derby attire (the bigger hat, the better!) Dog costumes are also welcome. Prizes will be given to both humans and furry friends for "Best in Show," so be sure to bring your "A-Game!" There will also be food trucks for this very special event and drink specials served throughout the day that highlight Pine Bluffs Distilling's famous spirits! Best of all - $1 from every drink purchased will be donated to the Cheyenne Animal Shelter so be sure to come thirsty!
8) All Things Tulips - Cheyenne Botanic Gardens
May 7, 2022 / 2:00 pm to 3:00 pm / $5.00
Join Isaiah Smith as he discuses the biology, history, and use of tulips. He will also give tips on how to design and plant tulips in your own garden.
9) Cheyenne Winter Farmers' Market - Depot Lobby
May 7, 2022 / 9:00 am to 1:00 pm / Free
Your winter market for local foods and crafts!
10) Family Day: May Flowers - Wyoming State Museum
May 7, 2022 / 10:00 am to 2:00 pm / FREE for all kids and adults
Join the Wyoming State Museum for a day dedicated to the diverse plant life of our state. Make your own potted plant, explore the root systems of your favorite flowers, and meet experts! To keep all families COVID-safe, we are requiring timed registration for this event. Use the link to reserve your one-hour time slot for FREE!
11) Introduction to Tarot - Hawthorn Tree
May 7, 2022 / 10:30 am to 12:00 pm / $30
Join Maren Kallas to explore the basic organization of a common deck by delving into the concepts behind the Major and Minor Arcana.
12) Kentucky Derby Brunch - The Metropolitan - Gallery
May 7, 2022 / 10:00 am to 12:30 pm /$25 per guest, $300 for full reserved table
Enjoy brunch with K9s 4 Mobility at The Metrepolitan, downtown Cheyenne, on May 7th. Place your predictions on the live K9s Derby Puppy Run! Fun begins at 10 am with entertainment, games, drinks and fun!!!
You can purchase tickets in advance at the K9s 4 Mobility website. Southern Fyed will be our entertainment!
13) Cheyenne Fine Art Exchange - Cheyenne Depot Museum
May 7, 2022 / 4:00 pm to 10:30 pm
The Fine Art Exchange is Wy/Art Coalition's fine arts and crafts juried show for sale and trade.
14) Storytime at Wyoming State Museum's Family Day
May 7, 2022 / 10:00 am to 1:00 pm / Free
We're taking storytime to the museum! Head on over to the Wyoming State Museum for their Family Day to participate in one of our early literacy storytimes and other fun activities. This month's theme is May Flowers!
15) Symphony Storytime - Paul Smith's Children's Village
May 7, 2022 / 11:00 am to 12:00 pm / Free
Join us for a very special story time featuring "The Three Little Pigs". There will be dancing, instruments, laughter, and so much more. After the performance we will have local music/band students demonstrate and play in small groups throughout the garden.
16) Tats for Trees - T.R.I.B.E. Zoo, LLC Tattoo
May 7, 2022 / 1:00 pm to 8:00 pm
This event should be a blast. The T.R I. B. E. Zoo tattoo shop will be doing tree-themed tattoos with the proceeds going to Rooted in Cheyenne on this day but feel free to stop by anytime to support their business that wants to help beautify Cheyenne with trees. Stop by and get a tattoo so you can show it off when you volunteer for our planting day the next weekend (May 14). We are always finding new ways to fundraise for the trees. We are so thankful for the support we get from our local businesses
17) Poetry Open Mic - Hawthorn Tree
May 8, 2022 / 1:00 pm to 3:00 pm  / Free
Join us for a poetry open mic. Each poet gets 5 minutes to read, but occasionally go two rounds, so bring extra poems. Arrive 5 minutes early to sign-up.
18) Painting & Pints - Flydragon Design Art Studio
May 8, 2022 / 6:00 pm to 8:00 pm  / $40
We team up with Flydragon Design Art Studio to bring you a beer-inspired guided painting session. All your supplies + one pint are included. The painting changes each month and can be found on our website, social media or Flydragon's website— where you can also register.