Looking For Something Fun To Do This Weekend In Cheyenne?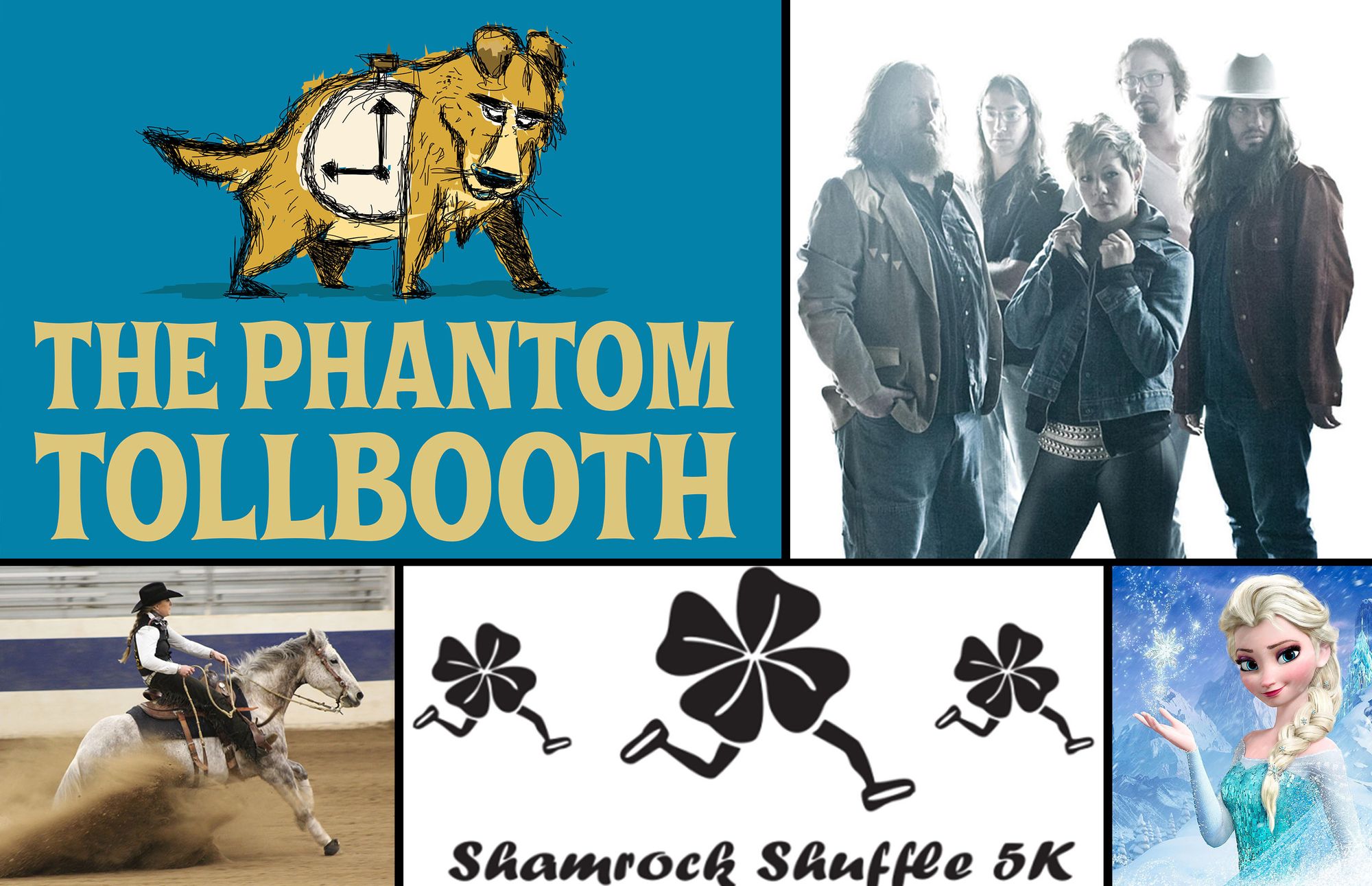 1) SYMPHONY UNDERGROUND WITH PATTI FIASCO - The Lincoln Cheyenne
March 18, 2022 / 8:00pm to 11:0pm / $30
Maestro William Intriligator and musicians of the Cheyenne Symphony Orchestra hit the stage with local rock band Patti Fiasco
2) DUELING PIANOS - The Metropolitan Downtown
March 18 and 19th, 2022 / 8:00pm to 11:00pm / $20
Come laugh and sing along in an evening of musical entertainment directed by your requests!
3) FCA 'POST SEASON' Tournaments - Central High School
March 18, 2022 / 6:00pm - 9:00pm
Tournaments include: volleyball, cornhole, and dodgeball. There will also be food and Kyle Pope, former UW wrestler, will be the inspirational speaker.
4) LCCC RANCH HORSE COMPETITION - LCCC
March 18, 2022 - 20, 2022  / Free
During the three-day competition, riders will compete in reining, ranch riding, ranch trail, and working cow horse classes. This regional competition will feature competitors from multiple states and includes both a collegiate and open division for competitors. Collegiate competition will begin Friday, March 18 at noon, and Saturday, March 19, at 8 a.m., with participating schools competing for a collegiate team title. The open, amateur, and youth rider's divisions are for community members and will be held on Saturday and Sunday, also in the LCCC Arena.
5) LEARN TO DANCE - Burns Lions Club
March 18, 2022 / 7:00pm
All ages welcome. Bring the family and learn how to country dance. Dave Urquidez will be instructing again.

6) THE PHANTOM TOLLBOOTH - Mary Godfrey Playhouse
March 11-13, 17-20, 25-27, 2022 / 7:30pm to 9:30pm / $12 to $22
Here are Milo's adventures in the Land of Wisdom. Milo learns of the argument between King Azaz and his brother, the Mathemagician, whose disagreement over words and numbers has led to the banishment of Princesses Sweet Rhyme and Pure Reason. Milo is dispatched to rescue the princesses from the Land of Ignorance. The knowledge and skills Milo picks up on his journey help him to save the princesses. Sunday matinees at 2pm.
7) CHEYENNE WINTER FARMERS' MARKET - Depot Lobby
March 19, 2022 / 9:00am to 1:00pm
Featuring Local Foods and Crafts:
Seasonal Local Vegetables and Microgreens
Local Meats and Cheeses
Take-home bunwiches
Local Salsas
Farm fresh eggs
Fresh, locally baked breads, pastries, pies, cookies, sweet rolls, chocolates and more
Kimchi, Dumplings, and other Korean Foods
Fresh, Local Popcorn
Pasta Sauce
Locally roasted fair-trade coffee and locally blended teas
Locally made rubs, spice blends, and seasonings
Locally produced jams, preserves, relishes, and honey
Fermented Foods
Pet Treats
Natural, locally-produced and organic body care products
Hand-crafted fiber goods, pottery, and other crafts
Live Music
8) FAMILY MATINEE: A TIME TO IMAGINE - Cheyenne Civic Center
March 19, 2022 / 2:30pm to 4:30pm / $5-$10
Bring the entire family to enjoy music from hit films! Costumes encouraged! Lobby activities begin at 1:30pm. Presented by McDonald's Restaurants of Cheyenne. Featuring Music From The Avengers, Frozen, Hook, The Lego Movie, How to Train Your Dragon, Moana, Hamilton, And More!
9) Cheyenne Small Business Market: Spring 2022 -  Cheyenne Shrine Club
March 19, 2022 / 9:00am to 3:00pm
Hop into Spring and get a jump start on your shopping for mom's, dad's and grad's! Over 30 vendors and crafters will offer plenty of unique gifts to choose from.
10) World Water Day at the Brewery - Danielmark's Brewing Company
March 19, 2022 / 12:00pm to 10:00pm
Danielmark's will be partying for a cause! Join us as we help support Clay Hess in his mission to make sure that everyone has clean water for World Water Day!
There will be food, live music and of course LOTS AND LOTS OF BEER!!
11) You Are Awesome! - Women's Event - Cheyenne Hills Church
March 19, 2022 / 8:00am to 10:00am
Breakfast, fun, and come ready to have your nails done! For women only!
12) Shamrock Shuffle 5K - Lions Park
March 19, 2022 / 9:00am
This festive footrace takes place at Lions Park here in Cheyenne, and will follow 1 of 2 5k courses around the park. Both courses have a small hill about halfway through the course. Dress as festively as you like and come join the fun!!
13) LIFE- The Foundations of Democracy: From Plato to Madison and Beyond - Session 1 - LCCC
March 19, 2022 / 8:30am - 5:00pm / Registration required
Enjoy a day of learning and friends. This Learning Is For Everyone Program will delve into the beginnings and evolution of our constitution. Join government teachers Don Morris, Nate Breen, Dick Kean and Erin Freeman for this fun and Informative day. Advance registration is required. Check-in and Coffee social begins at 8:00 am with our first presentation at 9:00 am. Lunch and snacks included in the cost of the class.
14) Detox Retox - Freedom's Edge Brewing Co.
March 20, 2022 / 10:00am
Join Theresa Hansen, ERYT for yoga and a pint! The first pint is on Theresa.
Theresa has been pairing yoga and beer for many years now and the one thing she has learned is how much FUN it is. Please bring your own mat. Space is limited. Pre-registration is encouraged.
15) 39TH ANNUAL GLASS ART SHOW - Cheyenne Botanic Gardens
February 1, 2022 - April 2, 2022 Recurring weekly on Tuesday thru Saturday / 10:00am to 5:00pm / Free
Come explore the 39th Annual Glass Art Show! This spectacular showcase of regional Glass Artists from Colorado and Wyoming will be on displaying on the 2nd floor Hallway space at the Cheyenne Botanic Gardens. There are many pieces for sale this year so make sure you visit before your favorite piece is Sold! As always the show is free to view and all are welcome to come and look as often as you like.
16) 41ST ANNUAL WESTERN SPIRIT JURIED ART SHOW AND SALE - Cheyenne Frontier Days Old West Museum
March 5, 2022 - April 17, 2022 Recurring daily /
9:00am to 5:00pm / Admission Included with museum admission
Artwork for the Western Spirit was selected by a two-person independent jury. Jurors Stephanie Hartshorn, a signature member of the American Impressionist Society and artist from the Cheyenne Frontier Days™ Western Art Show, and Mark Vinich, co-founder of Clay Paper Scissors Gallery & Studios, selected 232 unique pieces of art from a pool of 640 unique pieces of art. Western Spirit also features the Vanderwark Miniature Show in the East Gallery of the Museum.