Listen To Music, Buy A Book, Look At Art, Plus So Much More You Can Do This Weekend!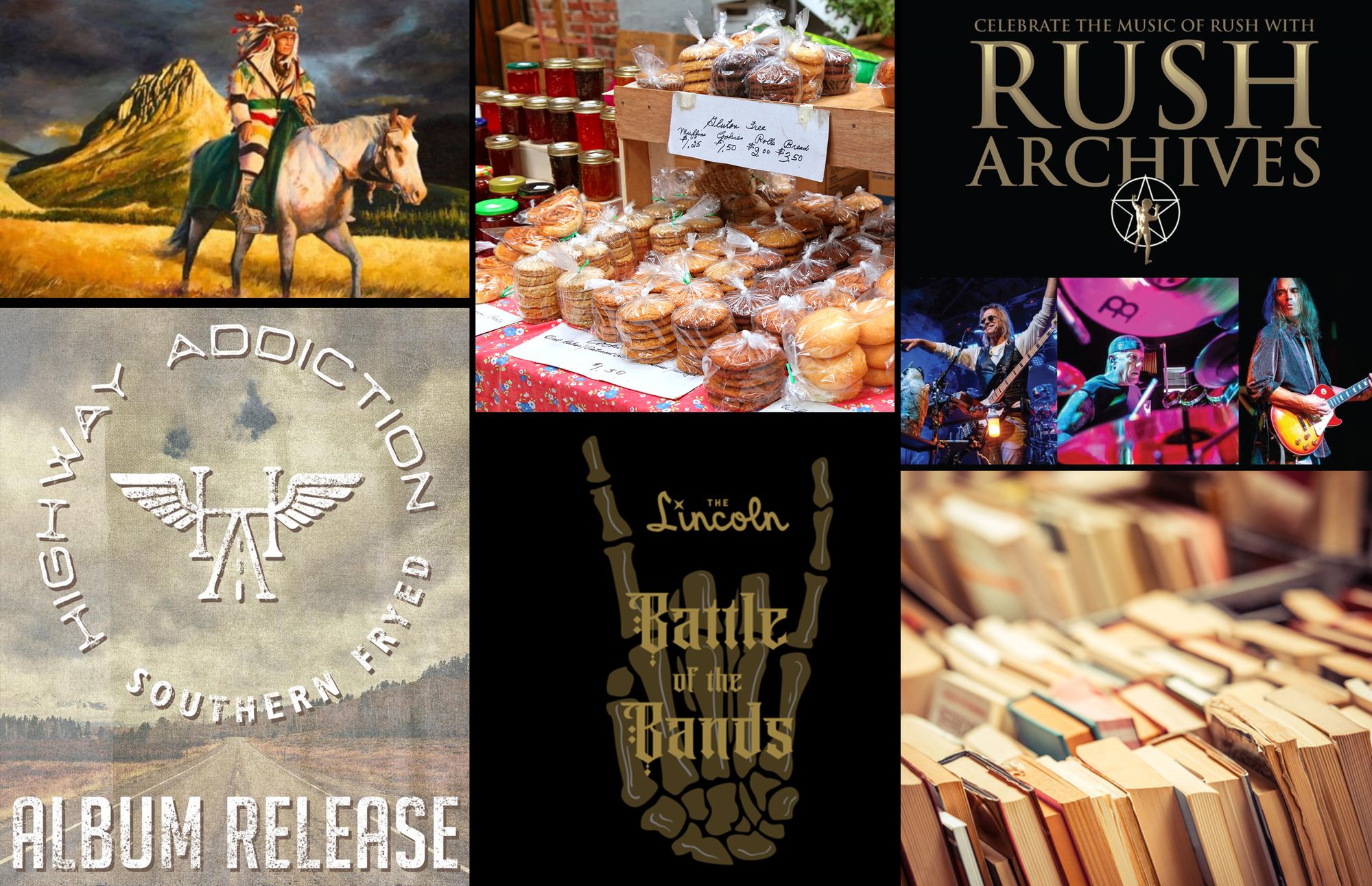 1) RUSH ARCHIVES - Outlaw Saloon
March 4, 2022 / 8:30pm to 11:30pm / $10 presale in advance, $15 at door
Celebrate the music of Rush!
2) GAMERS UNITE: JACKBOX GAMES - Laramie County Library
March 4, 2022 / 3:00pm to 5:00pm / Free
Come and get wacky with some fun multiplayer games through Jackbox. The library is limiting attendance capacities in an effort to safely host in-person events for children and teens
3) 39TH ANNUAL GLASS ART SHOW - Cheyenne Botanic Gardens
February 1, 2022 - April 2, 2022 Recurring weekly on Tuesday thru Saturday / 10:00am to 5:00pm / Free
Come explore the 39th Annual Glass Art Show! This spectacular showcase of regional Glass Artists from Colorado and Wyoming will be on displaying on the 2nd floor Hallway space at the Cheyenne Botanic Gardens. There are many pieces for sale this year so make sure you visit before your favorite piece is Sold! As always the show is free to view and all are welcome to come and look as often as you like!
4) BATTLE OF THE BANDS - SINGER/SONGWRITERS - The Lincoln Cheyenne
March 5, 2022 / 7:00pm to 11:00pm / $5
The Lincoln Cheyenne's Second Annual Battle of The Bands Competition returns with 4 monthly battles of different genres with a winner chosen each night. Cover charge goes to that night's winner as prize money.
5) CHEYENNE WINTER FARMERS' MARKET - Depot Lobby
March 5, 2022 / 9:00am to 1:00pm / Free
Your winter market for local foods!
Featuring Local Foods and Crafts:
Seasonal Local Vegetables and Microgreens
Local Meats and Cheeses
Take-home bunwiches
Local Salsas
Farm fresh eggs
Fresh, locally baked breads, pastries, pies, cookies, sweet rolls, chocolates and more
Kimchi, Dumplings, and other Korean Foods
Fresh, Local Popcorn
Pasta Sauce
Locally roasted fair-trade coffee and locally blended teas
Locally made rubs, spice blends, and seasonings
Locally produced jams, preserves, relishes, and honey
Fermented Foods
Pet Treats
Natural, locally-produced and organic body care products
Hand-crafted fiber goods, pottery, and other crafts
Live Music
6) Southern Fried Album Release - Terry Bison Ranch
March 5, 2022 / 8:00pm / Free
This Saturday March 5th at the Terry Bison Ranch in Cheyenne we're launching the release of our new album with an album release party! Show starts at 8 and the show is free to the public!
7) SEED LIBRARY OPENING DAY - Laramie County Library
March 5, 2022 / 10:00am to 1:00pm / Free
"Check out" seeds for your garden! We have a wide variety of flowers, herbs, and vegetables to choose from, all suitable for beginning gardeners in our climate. Seeds are free, and no library card is needed. Each person is limited to 12 packets of seeds.
8) 38TH ANNUAL DELTA KAPPA GAMMA USED BOOK SALE - At The Former Big Lots
March 5, 2022 - March 6, 2022 / 8:00am / Free
The 38th annual Delta Kappa Gamma Used Book Sale will be held at the former Big Lots. Proceeds are used to support educational programs, scholarships for students pursuing careers in education, and grants to current educators seeking further degrees and professional development. Bringing your own bag or box is recommended.
9) Storytime at Wyoming State Museum's Family Day
March 5, 2022 / 10:00am to 1:00pm
We're taking storytime to the museum! Head on over to the Wyoming State Museum for their Family Day event to participate in one of our early literacy storytimes and other fun activities. Visit the Wyoming State Museum's website at https://wyomuseum.wyo.gov/ to register for the event. This month's Family Day theme is Happy Birthday, Yellowstone!
10) 41ST ANNUAL WESTERN SPIRIT JURIED ART SHOW AND SALE - Cheyenne Frontier Days Old West Museum
March 5, 2022 - April 17, 2022 Recurring daily /
9:00am to 5:00pm / Admission Included with museum admission
Artwork for the Western Spirit was selected by a two-person independent jury. Jurors Stephanie Hartshorn, a signature member of the American Impressionist Society and artist from the Cheyenne Frontier Days™ Western Art Show, and Mark Vinich, co-founder of Clay Paper Scissors Gallery & Studios, selected 232 unique pieces of art from a pool of 640 unique pieces of art. Western Spirit also features the Vanderwark Miniature Show in the East Gallery of the Museum.
11) LCCC Presents "Music... Literally!" - Surbrugg/Prentice Auditorium
March 6, 2022 / 2:00pm / Free
Laramie County Community College's Music Department presents "Music…Literally!," it's first concert of the spring semester at 2 p.m., Sunday, March 6 in the Surbrugg/Prentice Auditorium (SPA). The concert is a collaboration with the college's Theatre and Art departments that features performances, original paintings and monologues inspired by literature. The performance is free and open to the public.
LCCC's Jazz Ensemble, Cantorei, Collegiate Chorale, Chamber Orchestra, and Wind Ensemble will perform music inspired by "Alice in Wonderland," "Twelfth Night," "Mary Poppins," "Memoirs of a Geisha," "The Lord of the Rings" and the poetry of Robert Frost.
12) ALL SKILL-LEVEL ORGANIC VEGETABLE GARDENING WORKSHOP - Cheyenne Botanic Gardens
March 6, 2022 / 4:00pm to 5:00pm / $5 per person
Start the growing season off right with Cheyenne Botanic Gardens & your fellow gardening neighbors! Whether you're planning for a few tomatoes on the patio, your new raised beds, or you're decades into your gardening career, this workshop is an opportunity to share and learn. Bring pictures, questions, soil samples, seeds to swap, seed catalogs, or nothing at all! We will gauge skill levels before the class and have some break-out sessions with mixed skill levels, some separated by skill level. For the beginners, we can hit the components of a basic garden plan before the end of the workshop. For the moderate and advanced crowds, Samantha will bring some ideas to help you further diversify your garden plans, whether your goal is to make your garden less labor intensive, integrate pollinator/companion planting, incorporate perennials, or simply to learn some new tips from the other attendees. Bring your friends and lets learn from each other, with a few interesting resources to complement as well.
SPORTS
UNIVERSITY OF WYOMING COWBOYS BASKETBALL - Arena-Auditorium
March 5th, 2022 /  2:00pm
University of Wyoming Cowboys will be taking on the Freson State Bulldogs.
WHSAA 1A/2A STATE BASKETBALL CHAMPIONSHIPS
March 3rd - 5th, 2022
The 2021-22 WHSAA 1A/2A State Basketball Championships will be held in Casper at the Ford Wyoming Center and Natrona County High School on Thursday March 3rd - Saturday, March 5th.
WHSAA STATE INDOOR TRACK AND FIELD CHAMPIONSHIPS
March 4th - 5th, 2022
The 2021-22 WHSAA State Indoor Track and Field Championships will be held in Gillette on Friday, March 4th and Saturday, March 5th.
WHSAA STATE ALPINE SKIING CHAMPIONSHIPS
March 4th - 5th, 2022
The 2021-22 WHSAA State Alpine Skiing Championships will be held in Jackson on Friday, March 4th and Saturday, March 5th.