Lets Have Some Fun This Weekend!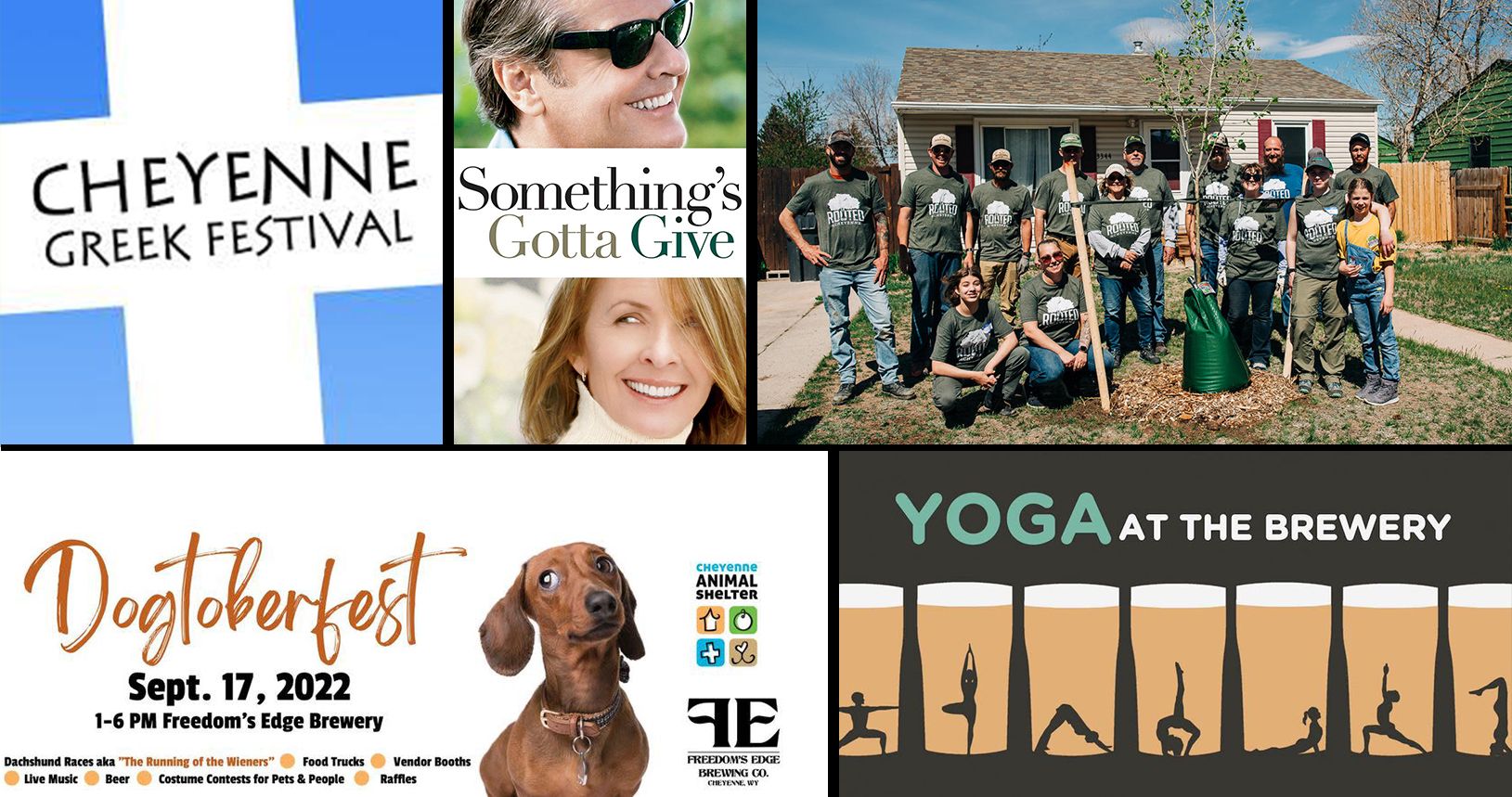 1) Greek Festival - Cheyenne Frontier Days Exhibit Hall
September 16 - 17th, 2022 /  Free
The Cheyenne Greek Festival is an annual event for Cheyenne to enjoy and celebrate wonderful Greek food and entertainment. What started as a modest bazaar at the Greek Orthodox Church has become a cultural staple in Cheyenne. The Greek Festival will return to Cheyenne Friday and Saturday, once again bringing the vibrant Greek culture to life at the Frontier Park Exhibition Hall.
2) Wyoming Cowboys Football vs. Air Force - War Memorial Stadium
September 16, 2022 / 6:00pm
3) 3rd Annual Divots & Drivers Golf Tournament - Cheyenne Country Club
September 16, 2022 / 9:00am /$150/individual, $500/team of 4
Divots and Drivers was created in an effort to raise funds that are directly reinvested in projects in Downtown. The event itself has been a smash success and exceeded our fundraising goals. We were able to purchase the first set of new planters with the money raised from the golf tournament as well as the Hynds/Hole. This year's Divots and Drivers Golf Tournament will be all the more impactful, with all proceeds helping us organize the first ever Cheyenne Community Appreciation Day in downtown as well as help us bring bigger and more exciting events to our downtown community in 2023. Hole prizes will be awarded and golf carts will be provided, however, there must be two players per cart (no individual carts are available). Be sure to snag your spot as soon as possible, as space is limited to 100 players! Registration begins at 9am and shot-gun start time at 10am!

4) CFD Hall of Fame Induction - CFD Exhibit Hall and Event Center
September 16, 2022 / 5:00pm /$75 for non-museum members, $50 for members, $800 for a table with guaranteed seating.
Join the Cheyenne Frontier Days™ Old West Museum as we induct a group of eight distinguished groups and individuals during the Cheyenne Frontier Days™ Hall of Fame Induction Ceremony. The Induction will occur on September 16, 2022, at 6:00 pm at the Event Center at the Cheyenne Frontier Days™ Headquarters Building. Admission includes both the ceremony and a prime-rib dinner. Parking for the event will be available in the B-Lot of Frontier Park. Tickets are selling fast, so get yours today!
5) Positive Aging: Something's Gotta Give - Laramie County Library
September 16, 2022 / 1:30pm to 4:00pm / Free
t's back! Join us to watch Something's Gotta Give (2003, rated PG-13), a romantic comedy about an aging womanizer who finds himself falling for the mother of his young girlfriend during a trip to the Hamptons. Starring Jack Nicholson and Diane Keaton. Enjoy free popcorn and a discussion afterward.
6) Drew Allen - Black Tooth Brewing Co.
September 16, 2022 / 6:00pm to 9:00pm / Free
Live music of Drew Allan, and cold beer.
7) Annual Dogtoberfest - Freedom's Edge Brewery
September 17, 2022 / 1:00pm to 6:00pm / Free
Fall is in the air, and you know what that means —Dogtoberfest! Join the Cheyenne Animal Shelter and Freedom's Edge Brewery for this festive street party on September 17th, 2022 from 1-6 PM. There will be beer, costume contests (for pets and people), food trucks, and the annual "Running of the Wieners" aka Wiener Dog Races! Registration for the Running of the Wieners will be open from August 29th through September 16th at $25 per dog; all proceeds from race entry will go to the Cheyenne Animal Shelter. (Dachshund mixes will be allowed to enter!)In addition to the Wiener Dog Race, one round of "Mutt Races" will be run with five entry spots for any other pup who's ready to win the gold!
8) Cheyenne Symphony Orchestra's 64th Annual Gala - Little America Hotel and Resort
September 17, 2022 / 5:00pm to 9:30pm / $125/person
oin the CSO for an evening of elegance and glamour to kick off the new season! The evening includes a cocktail hour, three-course gourmet meal, live entertainment, and silent and live auctions in the Grand Ballroom at Little America.

Cocktail hour begins at 5pm and dinner is served at 6:30pm. Black tie optional. Silent Auction Opens Monday, Sept. 12th at 10:00am Event tickets are required. Please RSVP by Sept. 9th. Call 307-778-8561 or visit cheyennesymphony.org
9) Fall Tree Planting Day - Rooted in Cheyenne
September 17, 2022 / 7:30am to 4:00pm
Help us make Cheyenne beautiful! Rooted in Cheyenne is hosting its Fall Planting Day where volunteers will help us plant 100+ trees throughout the day across the city. There are two shifts: 7:30-11:30 a.m. and 11:30 a.m.-4:00 p.m. We provide coffee and breakfast in the morning and lunch in the afternoon. Volunteers must complete an online application form. For safety reasons, volunteers must be at least 12 years of age.
10) Kiwanis Garage Sale - 1804 Pacific Ave.
September 17, 2022 / 9:00am to 3:00pm
Join us at the Kiwanis Wearhouse for a garage sale! If you would like to donate items to the garage sale to help us raise money for the numerous programs and projects we support, please contact the Kiwanis office.
11) Shred 4 Stef Skateboard Competition - Brimmer Skate Park
September 17, 2022 / 3:00pm to 8:00pm / $5.00
Shred 4 Stef Skateboard Competition at Brimmer Skate Park going from 3 p.m. to 8 p.m. Roll down for live music, food, and a skate competition, all for a good cause! Tickets are $5.00. Ask them about sponsorship opportunities.
12) Heirlooms and Blooms Harvest Market - Cheyenne Botanic Gardens
September 17, 2022 / 10:00am to 5:00pm
Get a jumpstart on your holiday shopping! Join us for an expanded indoor/outdoor market at the beautiful Cheyenne Botanic Gardens.
13) Farmers Market - Frontier Park Lot B
September 17, 2022 / 7:00am to 1:00pm / Free
What's more refreshing than a leisurely stroll through a farmer's market? Every Saturday, local and regional vendors fill B Lot parking area at Frontier Park in Cheyenne (off of 8th Avenue and Carey) to sell their produce, honey, jams, meat, bakery and specialty items, and so much more. Through October 8th. We accept SNAP/EBT and credit/debit cards.
14) Cheyenne Marathon - Archer Event Center
September 18, 2022 / 6:30am to 1:00pm
Join us for the 4th Annual Cheyenne Marathon in historic Cheyenne, Wyoming! We'll be introducing a brand-new course this year. All events will start and finish at the Archer Recreation Complex just off I-80, exit 370. After Party & Award Ceremony. The Awards Ceremony will be held at 10:30 am at the Archer Recreation Complex. https://register.chronotrack.com/event/tracking/eventID/65339
15)Posture and Pints - Blue Raven Brewery
September 18, 2022 / 11:00am to 2:00pm
Join Theresa Hansen, ERYT on the patio at Blue Raven for an hour of mindful movement (Vinyasa Yoga Practice) followed by a delicious locally crafted pint. This event is open to all levels, as Theresa teaches in such a way that you can meet yourself where you are. This is a practice of exploration and fun not perfection. Please bring your own mat and dress for the weather.
16) Young Readers Book Party - Laramie County Library
September 18, 2022 / 1:15pm to 2:00pm / Free
You're invited to a party! A book party! Join us for a celebration of reading with young readers that's a little bit early literacy class, and a little bit more! We will read and talk about books, sing, play, and learn.
17) Denver Broncos vs. Texans
September 18, 2022 / 2:25pm