It's Time For Some Weekend Fun!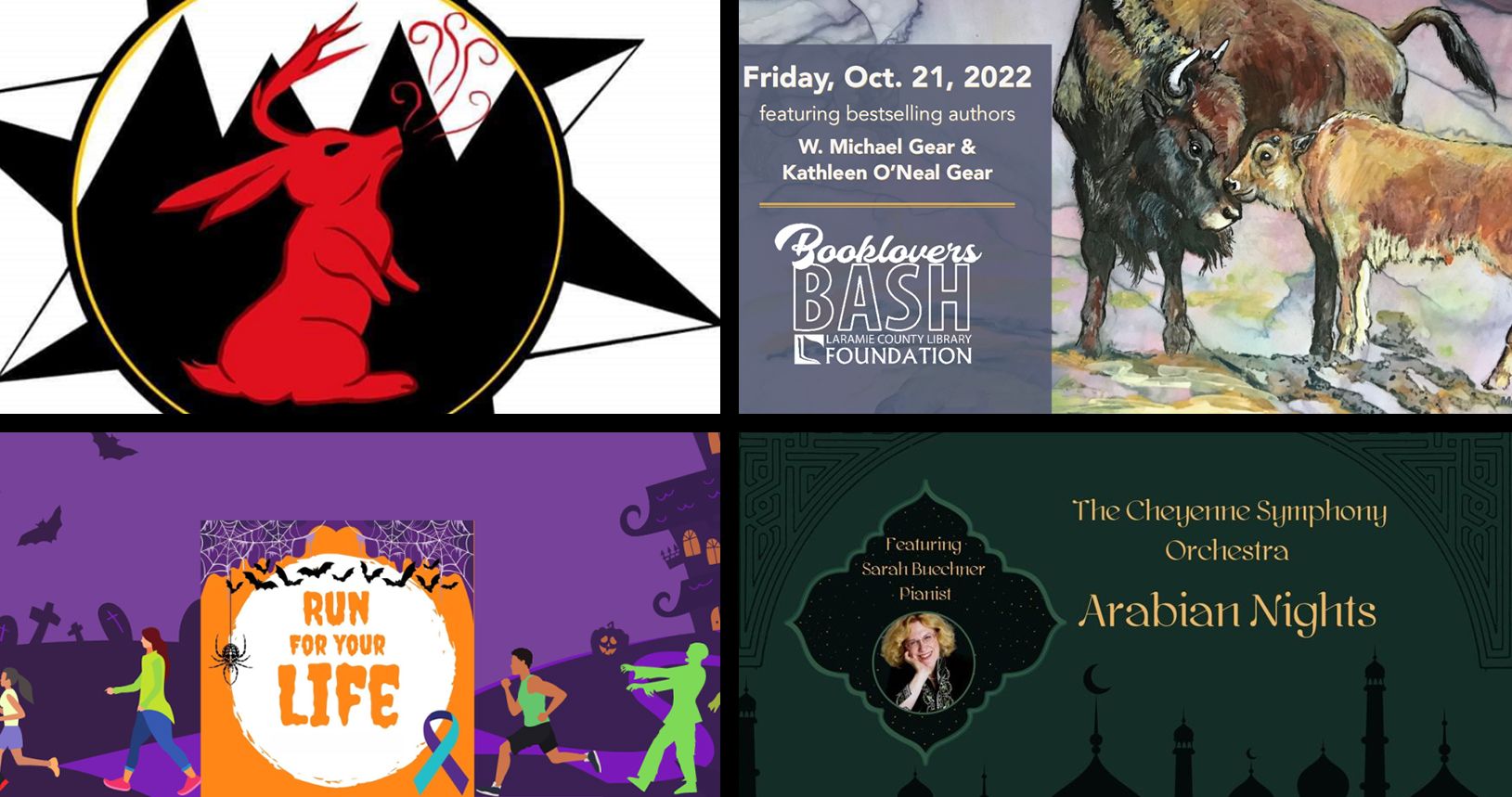 1) Booklovers Bash - Little America Hotel
October 21, 2022 / 5:30pm to 9:00pm
Kathleen O'Neal Gear & W. Michael Gear are New York Times bestselling authors and nationally award-winning archaeologists with 18 million copies of their works printed worldwide. They have published 84 novels and over 200 non-fiction articles in the fields of archaeology, history, and bison conservation. The Gears have won numerous awards, including the "Owen Wister Award" for lifetime achievement in western literature. These prolific and renowned authors will bring their insights to Cheyenne, Wyoming for Laramie County Library Foundation's Booklovers Bash, and the evening promises to be as exciting as the many worlds they write about! Their talk will be accompanied by dinner, a silent auction, a live auction, and the infamous dessert dash. Don't miss the opportunity to hear from these accomplished authors, all in support of Laramie County Library System.
2) Classic Conversations: Lunch and Learn Series - Laramie County Library
October 21, 2022 / 12:00pm to 1:00pm / Free
Join Maestro Intrilligator and guest pianist Sara Buechner for an informal and entertaining discussion including musical insights about the concert on October 22. Patrons may attend the event in the Cottonwood Room or view the livestream, on the Cheyenne Symphony Orchestra's Facebook page.
3) Midnight West Fest - Atlas Theatre
October 21st, 22nd, 23rd, 2022 / 7:00pm to 9:30pm/ $5-$75
Join us for three days of film, music, ghost hunts, and more! Situated in the heart of Historic Downtown Cheyenne, Midnight West Fest careers to your independent genre film needs! Kick off Friday with our best comedy selections during Midnight West Classic! Saturday starts off with a mix of action and drama at High Noon, and then round out the night with After Dark, our grindhouse and horror celebration. 15% of all ticket sales are donated to Cheyenne Little Theatre Players for the upkeep and maintenance of the Historic Atlas Theatre.
4) Snakehips - The Lincoln Cheyenne
October 21, 2022 / 8:00pm to 11:30pm / $20-$40
Across their ten-year career, Oliver Lee and James Carter have amassed billions of streams and record sales, performed on the main stages of the world's biggest festivals and cultivated a global following in the process. Much like a snake shedding its skin, the Snakehips sound continues to evolve, with each layer being peeled back to reveal another exciting chapter in the story.
5) Nightmare on 17th Street - Knights of Pythias
October 21, 22, 28, 28, 31 / 7:00pm to 11:00pm $15/person.
The Knights of Pythias annual "Nightmare on 17th Street" Haunted House is back for another year of scares! Back by popular demand, Halloween night will be Blackout Night. Groups will be given glow sticks to navigate their way through the dark. Please, no one under 8 years of age, pregnant ladies, or anyone with heart problems for your safety.
6) Street Railway Frightseeing Tours - Cheyenne Trolley
October 21 -30, 2022 (Recurring weekly on Friday, Saturday, Sunday)/ 6:00pm / $15/age 10 and up
The tour is based upon spine-tingling historical local events and the ghostly experiences people have relayed to us. The tours do not include profanity; however the scary tales may frighten some children. We may encounter some creepy ghoulish figures along the way.
7) "Run For Your Life" Zombie Crawl Run or Walk 1K/5K - Lions Park
October 22, 2022 / 9:00am to 12:00pm
Calling all zombies to "rise up" and stomp out bullying! A family fun event filled with zombies that walk, creep, and crawl after race participants. To survive one must run or walk to maneuver their way through the zone. Do you want to run without the stress of ensuing zombies? Indicator belts will be provided to those identifying as immune to the zombie outbreak! Pick up a belt the day of the race at start-up.
8) Ace Hood - The Lincoln Cheyenne
October 22, 2022 / 8:00pm to 11:00pm / $25
Catch Ace Hood on his Protect Your Energy Tour!
9) Arabian Nights - Cheyenne Symphony Orchestra
October 22, 2022 / 7:30pm / $10-$50; Livestream $25 per household
CSO and Maestro William Intriligator open our season-long world tour with Arabian Nights! You'll be transported by Rimsky-Korsakov's Scheherazade. Plus, pianist Sara Buechner performs Rachmaninoff's Rhapsody on a Theme of Paganini. Coleman, Seven O'Clock Shout; Rachmaninoff, Rhapsody on a Theme of Paganini, featuring pianist Sara Buechner; Rimsky-Korsakov, Scheherazade.
10) Halloween Harvest Market - Archer Event Center
October 22, 2022/ 9:00am to 3:00pm / Free
Join us for a fun fall celebration! Kids of all ages, come dressed in costume for this fun-filled event!-Vendors offering unique, handmade items
-Trunk or Treat
-Halloween Carnival Games
-Concessions
11) OktoberFest - Burns Lion Club
October 22, 2022/ 6:00pm to 10:00pm / Free
The Burns Lions Club is bringing a little bit of German tradition! Listen to live music, and eat the food catered by the Rustic Dinner and Rustic Plate.
12) Poetry Reading/Book Signing - Hawthorn Tree
October 22, 2022/ 1:00pm to 3:00pm / Free
'Mountain Song' is Nicholas Trandahl's fourth poetry collection and offers up poems of wildness and prayer. In his accessible and honest lines, Trandahl grapples with complex subjects—from his conflicted time as a soldier in the Middle East, to studies of art and music, to his earnest search for truth in the high country of the American West. These are poems about how we are broken and the journeys that make us whole again. Books will be available for purchase during the event.
13) Wyoming Cowboys VS Utah State at War Memorial Stadium
October 22, 2022/ 7:45pm
14) Kendall Street Company w/Tenth Mountain Division - The Lincoln Cheyenne
October 23, 2022 / 7:00pm to 9:00pm / $12
Kendall Street Company is a jam-alt rock band based out of Charlottesville, Virginia. From late-night jam sessions at the University of Virginia to main stages at venues and festivals throughout the country, Kendall Street Company has broken the mold of improvised rock and entered a world of jazz-grass infused psychedelic bliss. The band's musical style incorporates elements of jam, folk, jazz, funk, and psychedelic rock. They embrace mind-altering riffs as well as soulful and jazzy wit while remaining true to their folksy songwriting roots.
15) Virtual Jeopardy!® - Laramie County Library
October 23, 2022 / 2:00pm to 3:00pm /Free
Think you've got what it takes to be a trivia champ? Join us for Jeopardy!® Battle for prizes and bragging rights! Visit lclsonline.org/calendar/ to receive an email with the Zoom link.
16) Young Readers Book Party - Laramie County Library
October 23, 2022 / 1:15pm to 2:00pm /Free
You're invited to a party! A book party! Join us for a celebration of reading with young readers that's a little bit early literacy class, and a little bit more! We will read and talk about books, sing, play, and learn.
17) Denver Broncos VS Jets
October 23, 2022/ 2:05pm