It Is Time For Frontier Days Fun!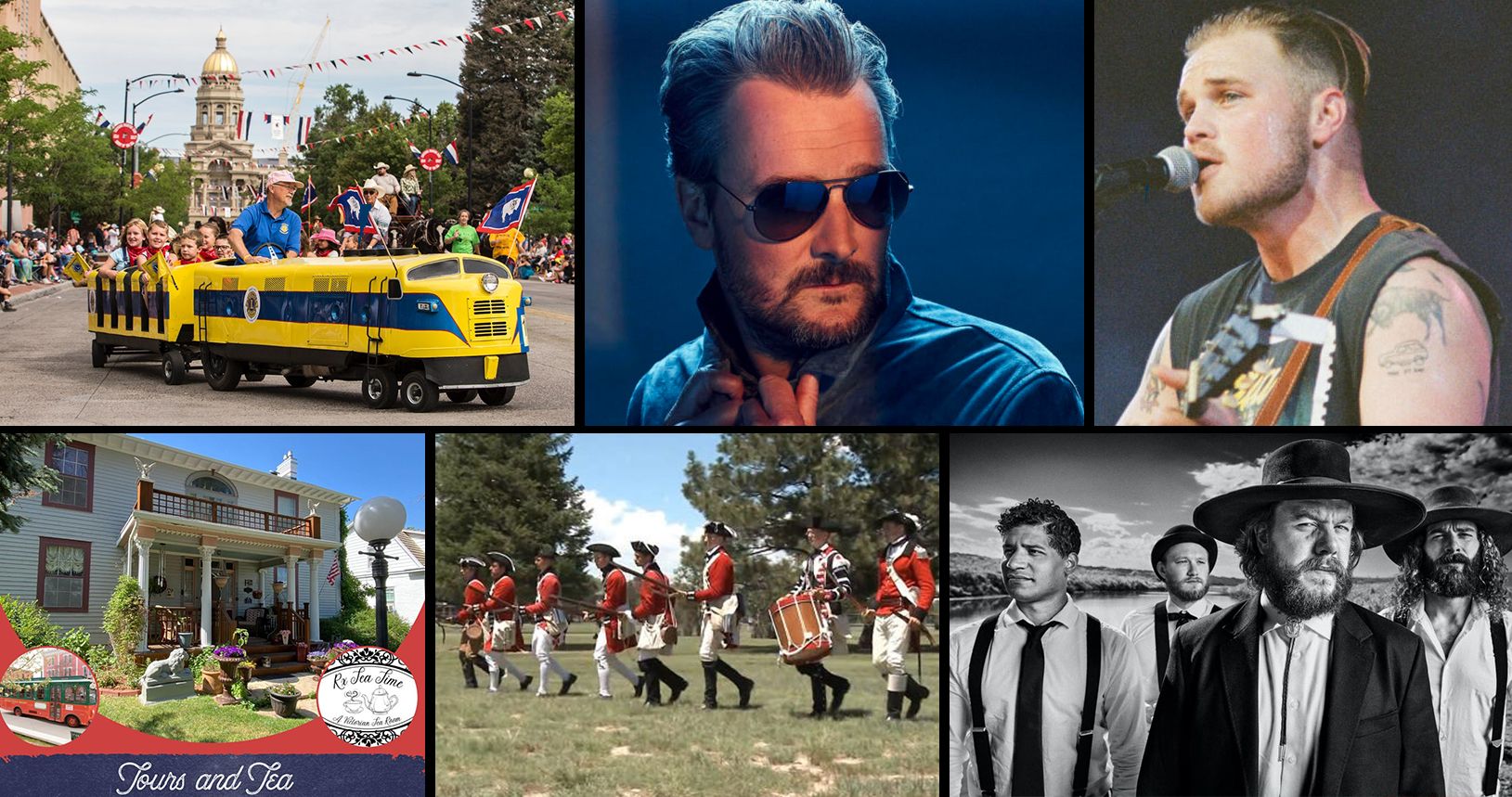 The 67th Old Fashioned Melodrama - Atlas Theatre
July 20 - Aug 6, 2023
A beautiful orphan, a bronc-bustin' cowboy, a sweet young lass who dreams of stardom, a sly snake of a man and more all converge on the Fallen Angel Hotel, owned by Madame Décolleté. Whose dreams will come true? Who will win the day? Find out in CLTP's 67th Old Fashioned Melodrama! Cheer for the hero, boo the villain and have a hoot-hollerin' good time.
The Cheyenne Gunslingers - W. 15th and Pioneer Ave.
July 20 - 31, 2023 / 6:00pm / Free
See gunfights, western skits, and other Wild West activities in Gunslinger Square,15th & Pioneer, in downtown Cheyenne.  All of the shows are family-oriented. Frontier Days shows run daily 6pm and noon on weekends.
Fort D.A. Russell Days - FE Warren AFB
July 21 - July 23, 2023 / 9:00am to 4:00pm
All events during the two-day open house are free to the public and include historic military presentations, living history and period-style dances. People interested in attending any of the events may access the base through Gate 1 off of Randall Avenue. All adults must have a photo I.D. and all vehicles are subject to random checks by security forces personnel. Free, designated parking is available for all attendees.
F.E. Warren Air Force Base is located at exit 11 on I-25 in Cheyenne.
Fridays on the Plaza: Tris Munsick & The Innocents
July 21, 2023 / 5:30pm to 9:00pm / Free
One of Wyoming's top country acts, Tris Munsick and the Innocents have shared the stage with Big & Rich, Blackhawk, the Eli Young Band, Cody Johnson, Casey Donahew, Marty Stuart, Ian Munsick, and many more.
Frontier Nights Eric Church w/ Paul Cauthen
July 21, 2023 / 8:00pm to 11:00pm / $72-$275
A seven-time ACM Award winner, four-time CMA Award winner and 10-time GRAMMY nominee, with a critically acclaimed catalog of music.
Rusty Chaps- Alf's Pub and Package
July 21-22, 2023 / 4:00pm to 8:00am / Free
CFD Entertainment at Alfs!
High Horses - Alf's Pub and Package
July 21-22, 2023 / 8:00pm to 12:00am / Free
CFD Entertainment at Alfs!
Seeking Balance: Curator's Reception - Laramie County Library
July 21, 2023 / 3:00pm to 4:00pm / Free
The curator of Seeking Balance: Artists' Books + Typographic Messages, Kayla Clark, will give a short talk about the exhibit and the contributions of various artists. She will also walk attendees through a simple book-arts related craft that they can take home. Light refreshments will be provided. Art lovers of all ages welcome!
The Dead South - The Lincoln Cheyenne
July 21, 2023 / 8:00pm to 11:00pm / $40
With banjo, mandolin, cello and guitar, The Dead South certainly look the part of bluegrass traditionalists. But, as outsiders to the bluegrass world by circumstances of geography, they re from the Canadian prairies, and by influences, equal parts finger-picking and punk, there are few comparisons to be made for the four-piece acoustic band. With a global following sparked by YouTube, early success in German rock clubs and now, sold out shows at iconic venues in many continents, this is no country for old-time string purists.
William Michael Morgan - The Outlaw Saloon
July 21, 2023 / 8:30pm to 11:00pm / $15
CFD after-parties at the Outlaw.
Family Crafting: DIY Bandana - Laramie County Library
July 21, 2023 / 4:00pm to 5:30pm
Have you ever done sharpie "tie-dye?" Come give it a try and make your own custom bandanas, just in time for Frontier Days!
Tour and Tea - Rx Tea Time
July 21, 2023 - July 30, 2023 / 11:00am to 4:00pm / $20
Let's have a Tour and Tea at the Historic Nellie Tayloe Ross House during Frontier Days. Go back in time to the 1800's the Victorian Era. Reservations required.
Make it two tours in one: Check out this unique experience that allows you to explore Cheyenne's historic past in Old West fashion! Enjoy two icons of Cheyenne, with a ride on the Cheyenne Street Railway Trolley, followed by Tours and Tea at the Nellie Tayloe Ross house (hosted by home owner Larry, and Rx Tea Time). Both experiences must be purchased separately, and you can book your trolley at cheyennetrolley.com and call Rx Tea Time at 307-461-1574 for tea time reservations!
Barbecue on the Patio - Little America Hotel and Resort
Recurring weekly on Saturday / 5:00pm to 9:00pm / $28+
Little America Hotel & Resort will be hosting its popular Cheyenne Frontier Days' barbecue all summer long Choose your entree and enjoy an all-you-can-eat buffet of fixins and desserts.
Chancey Williams - Outlaw Saloon
July 22, 2023 / 8:30pm to 11:00pm / $15.00
CFD after-parties at the Outlaw.
Chuckwagon Experience - CFD
July 22, 26, 27,28,29, 2023 / 4:30pm to 7:00pm / $75
Round up your family and friends for this exclusive culinary experience! With authentic restored chuckwagons as your background, cowboys and cowgirls prepare food over campfires with cast iron equipment in a traditional camp setting.
Frontier Nights Old Dominion w/Chase Rice - CFD
July 22, 2023 / 8:00pm to 11:00pm / $72-$275
Old Dominion emerged as one of Nashville's most successful post-modern country bands, fusing clever lyrics with an infectious sound. Their lyrical wit and hook heavy songwriting is a winning proposition.
CFD Grand Parade - Downtown Cheyenne
July 22, 2023 / 9:00am / Free
Join us as people from all over the world take in the sights and sounds of some of the top marching bands and horse-drawn vehicles in the country!  The parade starts in front of the Wyoming Capitol and travels down to the Historic Depot and back to the Capitol.
Cheyenne Frontier Days PRCA Rodeo
July 22, 2023 /1:00pm to 4:00pm /$23-$48
Known for its fast pace and large number of contestants, The rodeo ensures visitors see more rodeo action than they can see at any other rodeo. Cheyenne Frontier Days™ has a modified, tournament-style rodeo format. Every rodeo performance will see event money winners who will advance to semifinals and finals. Finals competition starts with a clean slate on Championship Sunday, where the highest scores and fastest times will be crowned champion! Timed events slack is the qualifying round to make it into the rodeo performances.
Cowboy Market 2023 - Cheyenne Ice and Events Center
July 22, 2023 /10:00am to 3:00pm  / Free
Looking for an escape from the blazing sun, scorching heat, and swirling dust? Come and join us for an exciting indoor event featuring over 90 local makers exhibiting their unique handmade souvenirs and gift items.
CFD Behind the Chutes Tours
July 23 -31, 2023 / 9:30am
Get a first-hand look at what goes on during the rodeo from behind the scenes! Meet the animals, step into the chutes and finish the tour by walking across the arena. The tours begin in front of the Old West Museum by the "No Looking Back" statue.
Frontier Nights Zach Bryan (Sold Out)
July 23, 2023 / 8:00pm to 11:00pm / $72-$275
Zach Bryan is a true artist who believes in letting the music do the talking as the songs themselves take centerstage.
Hairball - Outlaw Saloon
July 23, 2023 / 8:30pm to 11:00pm  / $15
CFD after-parties at the Outlaw.