Holiday Music, Dancing, Christmas Lights, Crafts And More Happening This Weekend!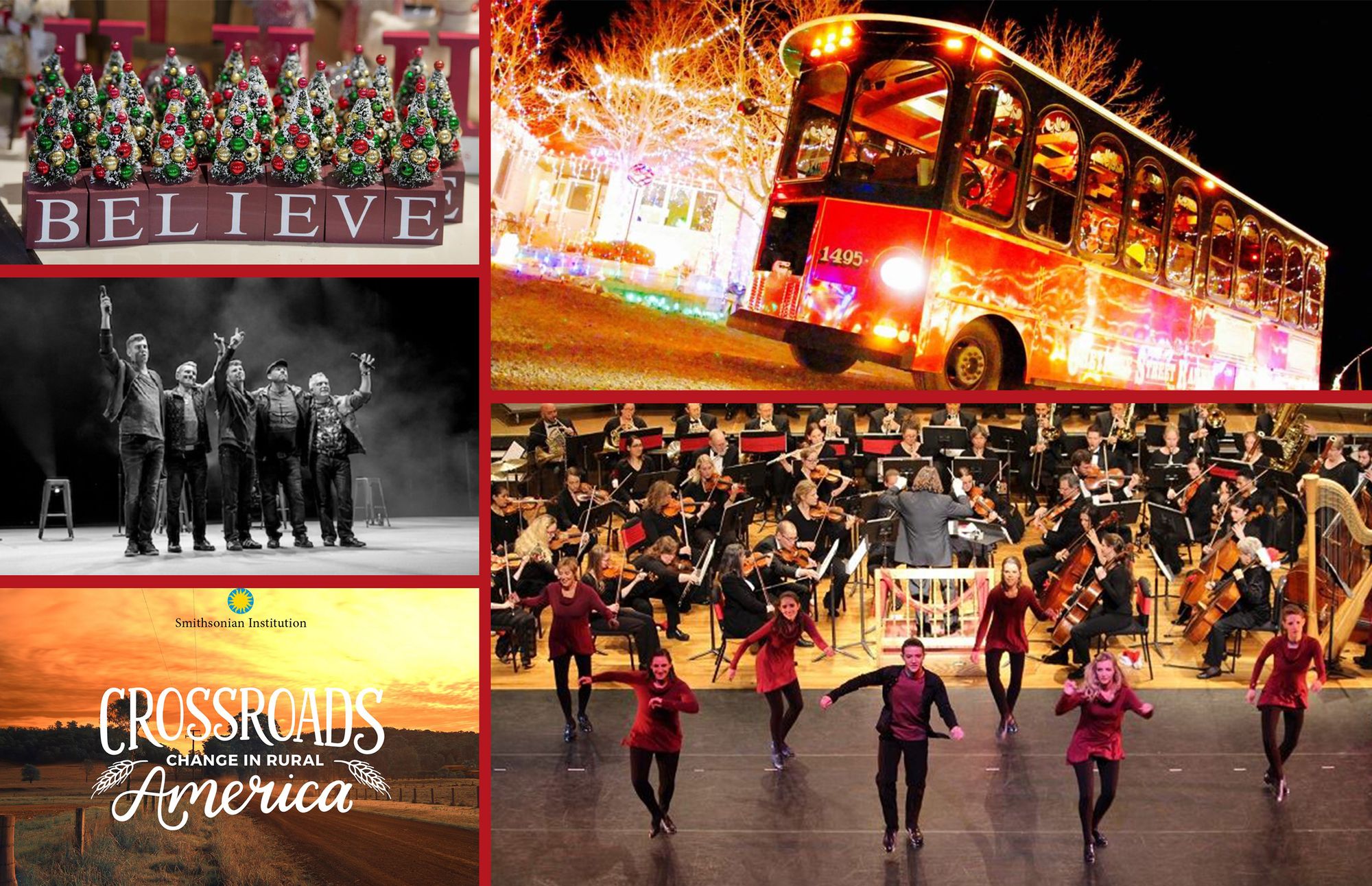 1) HOLIDAY LIGHT TOURS- Cheyenne Street Railway Trolley
December 10, 2021 - January 2, 2022 Recurring daily / 6:00pm & 8:00pm /     $15/ Person
Behold the spectacular holiday light displays throughout the city while riding the enchanting Cheyenne Street Railway Trolley. View the beautifully decorated homes and yards all from the warmth and comfort of the trolley. Tours at 6 pm and 8 pm.
2) YOU BETTER WATCH OUT - A CHRISTMAS COMEDY - Atlas Theatre
December 9th-12th & 17th-19th (Dinner theatre :December 10th, 11th, 17th, 18th) / Regular seating $12-$22, Dinner Theater nights $24-$46
It's Christmas Eve at the Willow Inn, and a group of travelers is stuck due to a snowstorm raging outside. Only one recognizes that a guest is the Spirit of Christmas, and he must help a grieving man see the joy of Christmas. For dinner theater nights dinner is at 6 PM.
3) CSO PRESENTS: HOLIDAY MAGIC - Cheyenne Symphony Orchestra
December 11, 2021 / 7:30pm / $12-50
Ring in the season with this beloved Holiday tradition!  The Cheyenne Symphony Orchestra will be joined by All-City Children's Chorus, En Avant Dance Studio, and the Cheyenne Chamber Singers performing holiday favorites; plus guest conductors Vince Mingils and Becky Tish, guest guitarist Jason Olson and narrator David Hall.  Sponsored by HollyFrontier.
4) TINSEL THROUGH TIME - Historic Governors' Mansion
November 20, 2021 - December 24, 2021 Recurring weekly on Wednesday, Thursday, Friday, Saturday / 4:00pm to 8:00pm / Free
Holiday decor and joy! Each room decorated to represent a different decade.
5) A NIGHT WITH THE BREWER - Black Tooth Brewing Co.
December 11, 2021 / 6:00pm to 9:00pm / $20 individual, $35 couples
Black Tooth presents.....A Night with the Brewer! Get to know Black Tooth Cheyenne's Head Brewer, Thomas Batson, with an evening of everything beer......with beer tasting (current Cheyenne Pilot Series brews made by Thomas AND a special Firkin for attendees to enjoy), a Q&A session, catered food, and great company! Please come early to snag your table, as we will begin right at 6pm!
6) ANNUAL COWBOY CHRISTMAS MARKET - Archer Event Center
December 11, 2021 /9:00am to 4:00pm
Handmade, hand crafted Christmas market.
7) CHEYENNE HOLIDAY MARKET EXTRAVAGANZA - Frontier Mall
December 11, 2021 / 9:00am to 6:00pm / Free
Join us for a day full of holiday shopping with 30 local vendors, giveaways, pictures with Santa, holiday music, and more.
8) Cheyenne Elks Craft Sale - Elks Lodge #660
December 11, 2021 / 8:30am to 3:30pm
The Cheyenne Elks Club is hosting its first annual Holiday Craft Sale. There will be a variety of crafters, artisans, and vendors offering their products for sale. Come buy some gifts for others or yourself before the holidays are here and gone. There will also be a raffle fundraiser where tickets can be purchased to bid on a variety of donated goods. (Need not be present to win.) Lunch will also be available for purchase. Shop this show to support local businesses, downtown Cheyenne, and the Elks who assist our community's veterans and youth.
9) MYC Hosting Holiday Crafts and Games at Children's Village - Paul Smith Children's Village
December 11, 2021 / 12:30pm to 2:30pm / Free
The Mayor's Youth Council (MYC), in conjunction with the Paul Smith Children's Village, will host holiday crafts and game activities at the Paul Smith Children's Village (710 S. Lions Park Dr.) from 12:30 p.m. to 2:30 p.m. on Saturday, December 11th. Children and their parents are invited to join members of the council in decorating stockings, making candy cane reindeer, an elf scavenger hunt, and holiday games. Materials and decorations will be provided. There is no charge to attend the event.
10) CHEYENNE ARTIST GUILD HOLIDAY FAIR - Holiday Park
December 1-23, 2021 / Every Tue thru Fri 12pm‑5pm, Sat 10am‑2pm, Sun & Mon closed
The Holiday Fair showcases the many and diverse talents of the local artists in and around Cheyenne, Wyoming. It's a great place to find unique handmade items for anyone on your Holiday shopping list!
11) VICTORIAN CHRISTMAS TEA - RX Tea Time
November 27, 2021 - January 2, 2022 Recurring daily / 11:00am to 4:00pm/ $25 per person
Victorian Christmas Tea at Rx Tea Time November 26- January 2. Call for Reservations.
12) CROSSROADS: CHANGE IN RURAL AMERICA - Laramie County Library
December 11, 2021 - January 23, 2022 Recurring daily / Free
Explore the Smithsonian's Museum on Main Street exhibit on all three floors of the library to learn about our identity as rural Americans, who we were, who we are, and where we are going. Enjoy a variety of Crossroads events and activities, as well as an art exhibit, Art at the Wyoming Crossroads.
13) FACE VOCAL BAND - The Lincoln Cheyenne
December 11, 2021 / 7:00pm to 10:00pm / $24.89-30.41
Don't miss this high energy acapella group from Boulder, Colorado
14) HOLIDAY BAZAAR - Cheyenne Moose Lodge
December 11, 2021 / 9:00am to 3:00pm / Free
Crafts and holiday gifts abound - come take a look!
15) SEE AMID THE WINTER SNOW - St. Mary's Cathedral
December 12, 2021 / 7:00pm / Free
Cheyenne Capital Chorale invites you to our Christmas concert!
It's been too long since we got to sing for our community and we're so excited!
16) DENVER BRONCOS  play the Lions on December 12th at 2:05pm.