Help Make Christmas Merrier By Donating To The Toys For Tots Program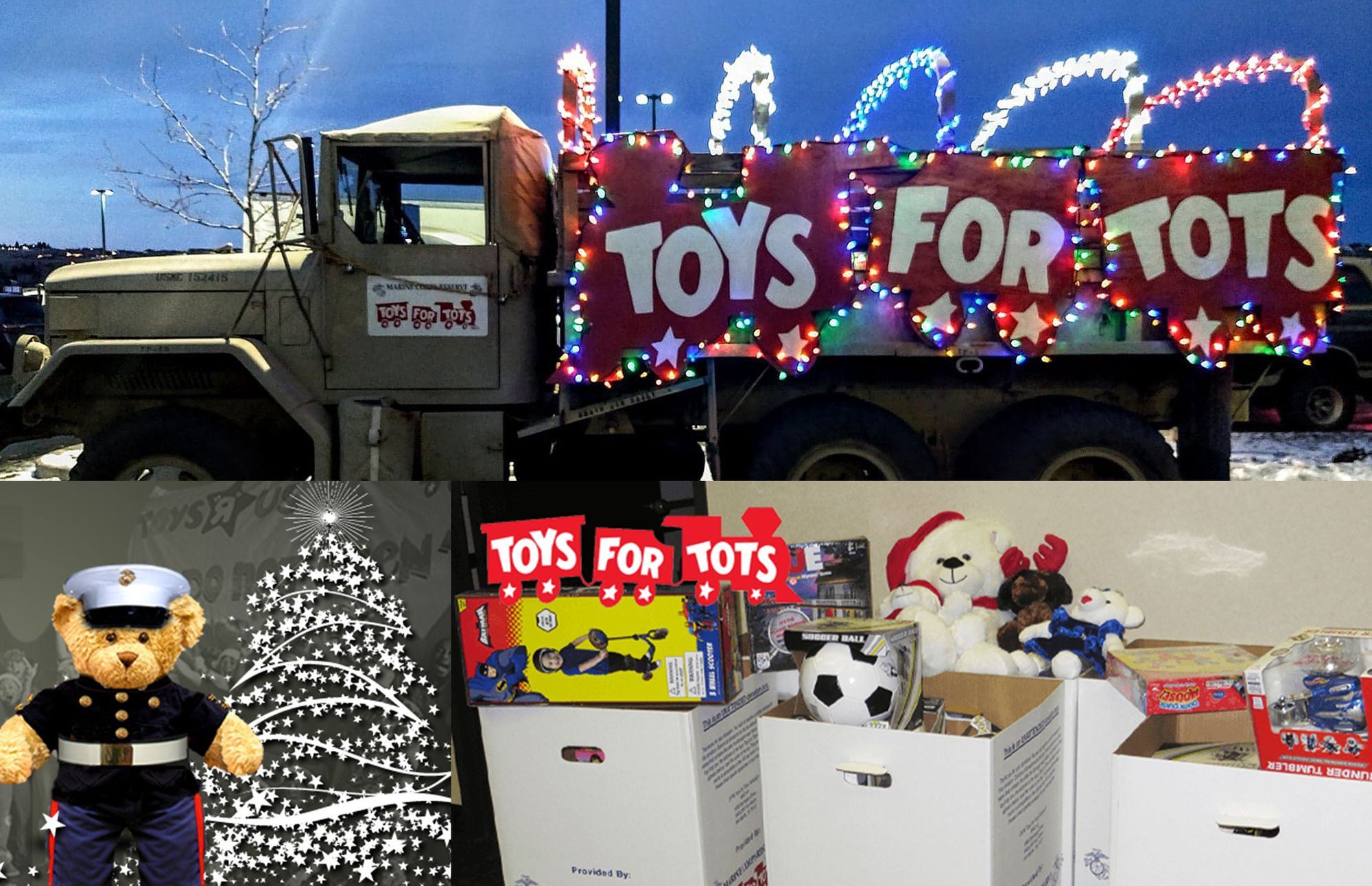 The Cheyenne Toys for Tots program is underway, and is looking for your support Cheyenne! The mission of the U. S. Marine Corps Reserve Toys for Tots Program is to collect new, unwrapped toys during October, November and December each year, and distribute those toys as Christmas gifts to less fortunate children in the community in which the campaign is conducted. Last year the Cheyenne Toys for Tots distributed 14,810 toys while supporting 1,756 children!!
This past weekend the 'Stuff the Sleigh' event with Toys For Tots took place at Menards in Cheyenne. A group of Veterans volunteered to help collect donations to help out the less fortunate in and around Laramie County. There were plenty of great people from in and around the Cheyenne community that came and helped out to donate toys and/or cash for the less fortunate for this holiday season. The final toy count for after the weekend, which includes toys, books, games, puzzles, stuffed toys and stocking stuffers was 909. The total amount of money raised over the two days was approximately $1200!
If you missed out on the 'Stuff the Sleigh' event for the Toys for Tots at Menards, there are still many opportunities left to help out. Donations will be collected during these events.
Cheyenne Christmas Parade - Sponsored by Cheyenne Chamber - November 27th  from 5PM-8PM  (Collections along Parade Route)
Stuff A Truck - December 3rd and 4th  sponsored by KGWN Channel 5 & Ken Garff 10 AM - 6PM (Located at #1 Properties on Dell Range)

There are also many locations throughout Cheyenne that have Toys for Tots Collection Boxes to include:
2 Doors Down
#1 Properties
Advanced Auto Parts
American Legion Post 6
AMVETS
Black Hills Energy
Blue Federal Credit Union (4 Branches)
United Way
307 Fitness (2 Locations)
Wallgreens (2 Locations)
Eagles Lodge
NuVision Credit Union (2 Locations)
Go Retail Games & Puzzles ( Mall)
First Presbterian Church
WY Bank & Trust
High West Energy
The Forum
Little Bear Inn
Bowling Alley - Pine Bluffs
Lowes
Menards
Montgomery Broadcasting
Murdoch's
Big Lots
Perkins Bakery & Restaurant
USMC Recruiting Office (Mall)
SAPP Brothers Truck Stop
Sportsman's Warehouse
Ken Garff Ford
Ken Garff Toyota
Ken Garff Hyundi
TA Truck Stop
Johnson Jr. High
Two Bar Bowl
Sherman Railroad Club of Cheyenne (Mall)
Tyrrell Chevrolet
Tyrrell Honda
Veterans' Administration
VFW- 1881
VFW - 4343
Peppermill Bar
Walmart Supercenter (2 Locations)
Cheyenne State Bank
Western States Bank
Legal Aid of Wyoming
Hotz Chiropractic
Pina Business Services
Mary's Mountian Cookies
Home On The Range
JAX OUTDOOR
Paramount Cafe
Old Chicago  (Drop a New Unwrapped Toy in Box get a free APPITIZER)

Monetary Donations can also be made during any of these events or Mailed to
Toys for Tots, 1964 County Road 124, Cheyenne WY 82009