Have Some Fun This Weekend!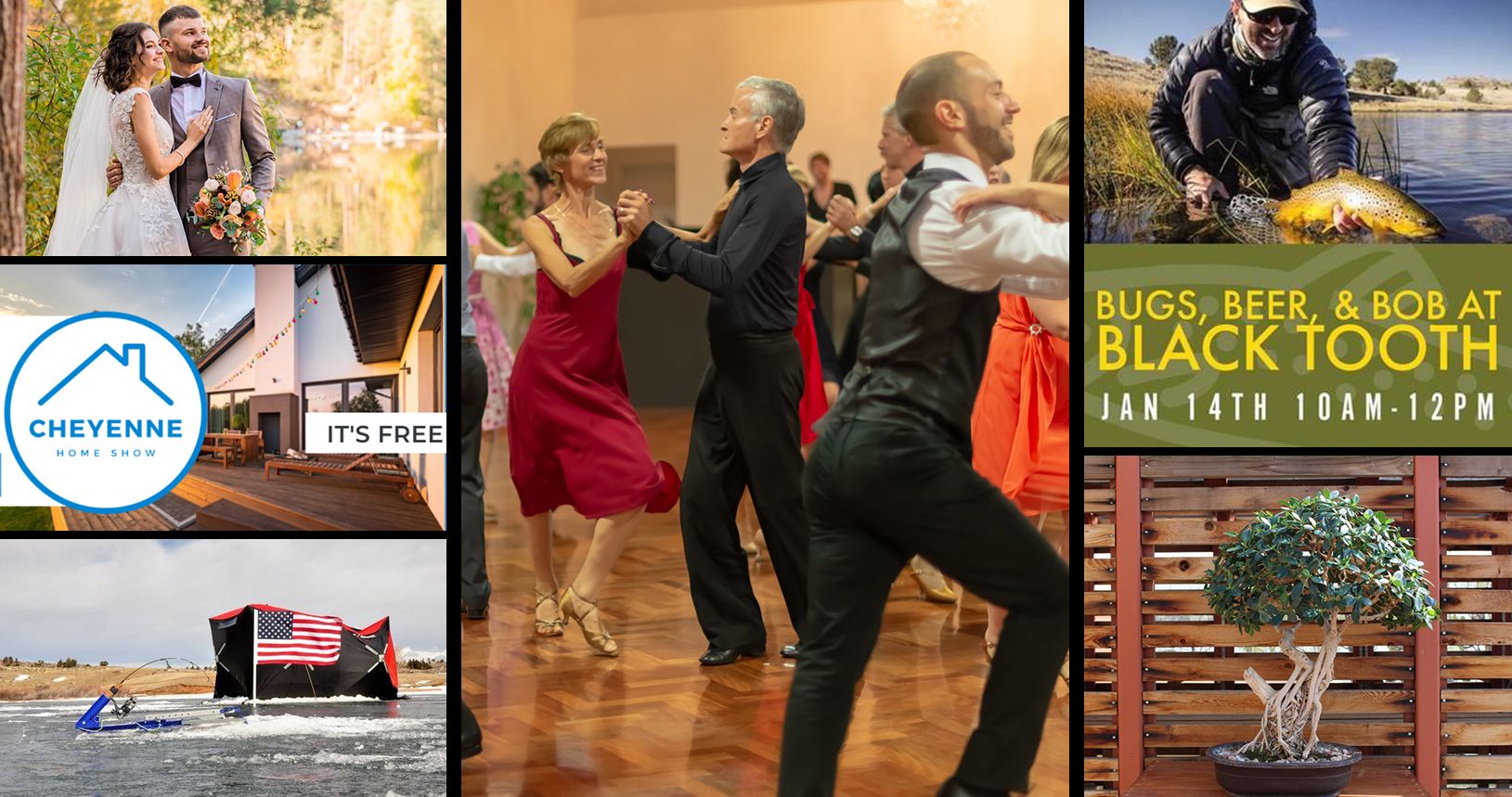 Cheyenne Spring Home Show - Events Center at Archer
January 13 - 15, 2023 / Friday 12pm-6pm, Saturday 10am - 5pm, Sunday 11am - 4pm
Join us for the Home Show!! Meet face-to-face with Local and National Vendors ready to serve YOU! Get your next Home Project started. See the latest in home improvement, remodeling, and design.
Positive Aging - The Bucket List at Laramie County Library
January 13, 2023 / 1:30pm to 4:00pm
Bring your friends to watch The Bucket List (PG-13, 2007)! This film focuses on two terminally-ill men played by Morgan Freeman and Jack Nicholson who flee the hospital to go on a whirlwind adventure. Enjoy popcorn and a discussion afterward.
Cheyenne Bonsai Society - Cheyenne Botanic Gardens
January 13, 2023 / 10:00am / FREE
Meet in the Paul Smith Children's Village. Open to the public; beginners welcome.
Cheyenne Dance Club Big Band Dance - Little America Hotel and Resort
January 14, 2023 / 5:15pm to 9:00pm / $5.00 - $96 (see below)
Come join us for a fun filled evening of listening and dancing pleasure to the sound of the Dekette Big Band in the Wyoming Room, at Little America Hotel and Resort.
Not sure how to dance, take advantage of this month's pre dance class offering in: Basic Foxtrot for Beginner Ballroom Dancers, with David Urquidez from 5:15 PM to 6PM.
Treat yourself or that special someone to a Dance Lesson, Dinner and Dance all for one price or choose our ala carte attendance offers: Dance only: $40.00 a couple, $20.00 for singles Dance Lesson Only: $5.00 per person (does not include the dance) Dinner and Dance $96.00 a couple, $48.00 for singles (dance lesson free with any dinner meal purchase) (Meal Choices: London broil, Teriyaki Salmon or Vegetarian). Meal reservations are required by January 9, 2023 at 6:00 PM
For more information or dinner reservations contact: David Urquidez at 630-6093 or email us at cheyennedanceclub@aol.com or Dusty7hr@gmail.com
Second Saturday STEAM - Laramie County Library
January 14, 2023 / 3:30pm to 4:30pm / Free
Children in grades 3–6 can join us each month as we explore a variety of STEAM topics (Science Technology Engineering Arts Math) with crafts, games, experiments, and more! This month we use genetics to make your own snowman!
8th Annual Ice Fishing Tournament - Curt Gowdy State Park
January 14, 2023 / 7:00am to 3:00pm / $45.00/Adult and $25.00/Youth (under 18).
Join us for a great ice fishing tournament! This fishing tournament is open to fishing all 3 reservoirs.  Crystal, Granite, and North Crow within Curt Gowdy State Park. State Park entrance fees must be paid.
Bugs, Beer, Bob at Black Tooth Brewing
January 14, 2023 / 10:00am to 12:00pm / $35 PER PERSON (Bug Packets and 2 BTB beers included) ***Tickets available at Black Tooth, limited to 16 spots max***
BUGS, BEER, & BOB is BACK! It's fly tying season, folks.....Join Bob Reece, Wyoming's Thin Air Angler and fly fishing guide at Horse Creek Ranch, for a BEGINNERS fly-tying class paired with your favorite Black Tooth brews!
Musical Storytime - Laramie County Library
January 14, 2023 / 2:00pm to 3:00pm / Free
Join us for a FREE Musical Storytime in the Laramie County Library Cottonwood Room. CSO musicians and storyteller Jenny Wacker will present two fun stories:
- I, Crocodile for Flute, Violin, Cello and Narrator
- The Tale of Peter Rabbit for Flute, Clarinet, Bassoon and Narrator
Wyoming Sportsman Gun Show - Archer Complex
January 14 - 15, 2023 / Saturday 9am -5pm, Sunday 9am - 2pm
From new and used guns, to accessories, survival supplies, and more.
31st Annual Cheyenne Bridal Expo - Little America
January 15, 2023 / Noon - 4:00pm / Free
We're so excited to help you plan YOUR Big Day at the 2023 Cheyenne Bridal Expo! FREE to attend, fashion shows by LKH Bridal & Formal, lots of inspiration!