Food, Art, Love... See What Is Happening This Weekend!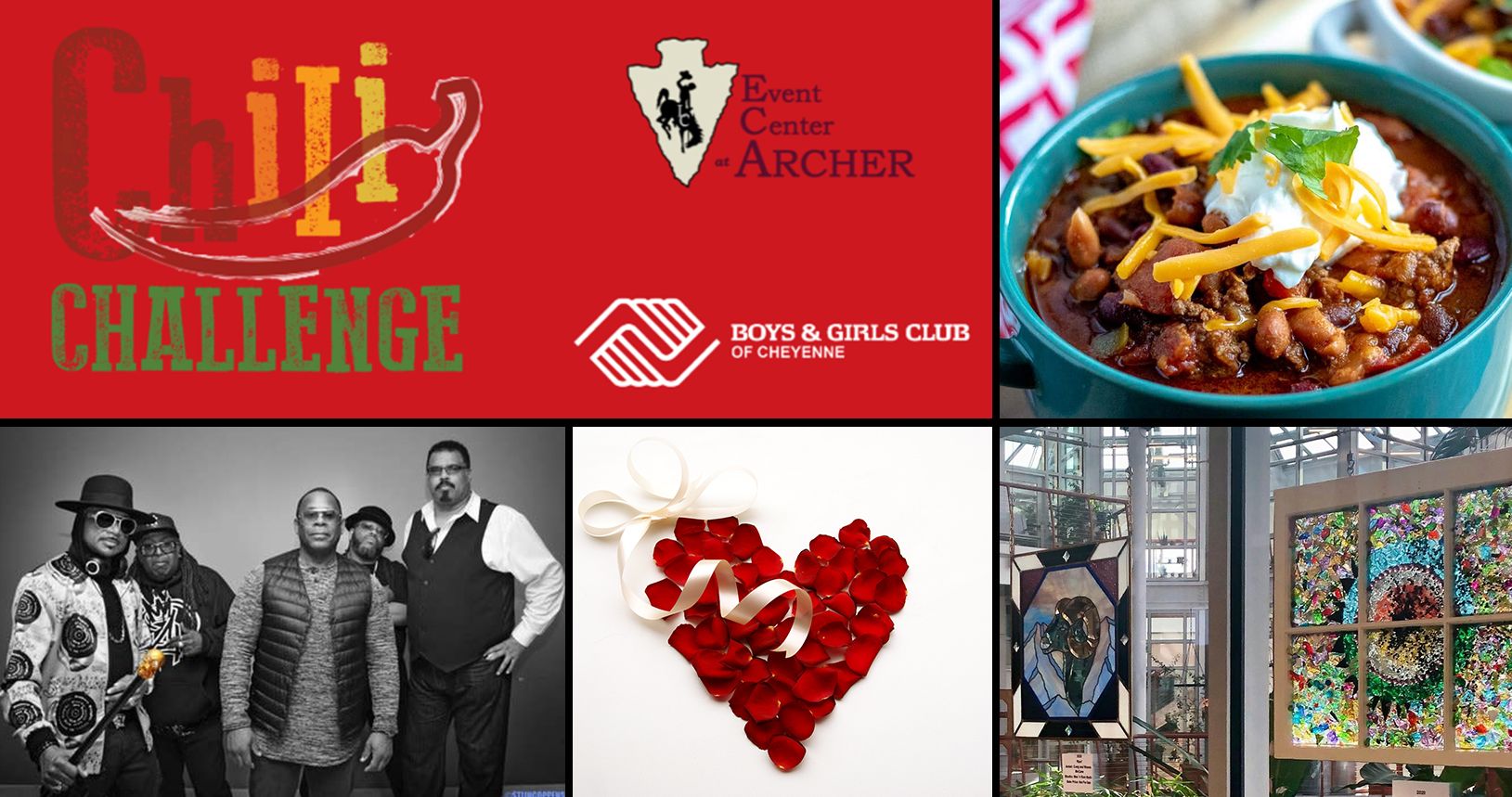 14th Annual Chili Challenge - Archer Event Center
February 10, 2023 / 5:00pm to 8:00pm / $25 adults/ $5 kids
Help us name the best chili team in Cheyenne! Ticket price includes chili samples, beer (for those 21+), and soft drinks. All proceeds go to the Boys & Girls Club of Cheyenne.
40th Anniversary Glass Art Celebration - Cheyenne Botanic Gardens
Open Now through April 1, 2023 / Tuesday - Saturday, 10:00am to 5:00pm / FREE
Remarkable glass art in our 2nd floor Hallway space. Many are for sale this year, so make sure you visit before your favorite piece is sold! Ribbons will be awarded for People's Choice and Artist's Choice, and selection is based solely on the total number of votes each artwork receives. Voting begins January 31, 2023 and will end at 5:00pm on April 1, 2023. Winners will be announced via media outlets.
Positive Aging - The Bridges of Madison County - Laramie County Library
February 10, 2023 / 1:30pm to 4:00pm
Please join us in viewing an adaptation of Robert James Waller's romantic novel Bridges of Madison County (rated PG-13, 1995). A photojournalist and housewife have a brief encounter that changes their lives forever. Refreshments and movie theater popcorn will be provided as you delight in the chemistry of Clint Eastwood and Meryl Streep. Discussion to follow.
Sugarhill Gang - The Lincoln Cheyenne
February 10, 2023 / 8:00pm to 10:00pm
In 1979, the Sugarhill Gang crashed through the walls of the urban cities and into the mainstream of society with the first worldwide rap hit, "Rapper's Delight." Two of the original members of this historic group, Wonder Mike (Michael Wright) and Master Gee (Guy O'Brien) had teamed up with Henry Jackson (pka Big Bank Hank) to become the now famous Sugarhill Gang.
Valentine's Day at Little America
February 10, 11, & 14, 2023 / 4:00pm to 8:00pm / $75
Featuring a four-course prix fixe menu with an appetizer, soup/salad, entree, and dessert. All will be served with house champagne and two chocolate-covered strawberries for the table.
Valentine's Family Crafting - Laramie County Library
February 10, 2023 / 4:00pm to 5:30pm
Do you like crafts? Want to make something special for Valentine's Day? Come join us and make a fun Valentine's Day craft that you can keep for yourself or gift to others!
Black Tooth Chili Cookoff
February 11, 2023 / 2:00pm to 6:00pm
We are back with another Black Tooth chili cook-off! 12 entries max, free to enter. Open to all customers, one entry per person, GREEN or RED chili. You must incorporate a Black Tooth beer as one of your ingredients. Winners receive $100 and a Black Tooth merch basket. Questions? Contact Steph Reece at steph@btbrew.com.
Second Saturday STEAM - Laramie County Library
February 11, 2023 / 3:30pm to 4:30pm
Children in grades 3–6 can join us each month as we explore a variety of STEAM topics (Science Technology Engineering Arts Math) with crafts, games, experiments, and more! This month, learn about galaxies in outer space and make a galaxy jar to give to someone you think is out of this world!
Galentine's Day at Little America
February 12, 2023 / 9:00am to 2:00pm
Grab your best gals and partake in a delicious Sunday brunch, featuring bottomless Bloody Marys and mimosas and live omelet and waffle stations.
Poetry Open Mic - The Hawthorn Tree
February 12, 2023 / 1:00pm to 3:00pm / Free
Join us for a poetry open mic. Each poet gets 5 minutes to read, but occasionally go two rounds, so bring extra poems. Arrive 5 minutes early to sign-up.