Events And Things To Do In Cheyenne This Weekend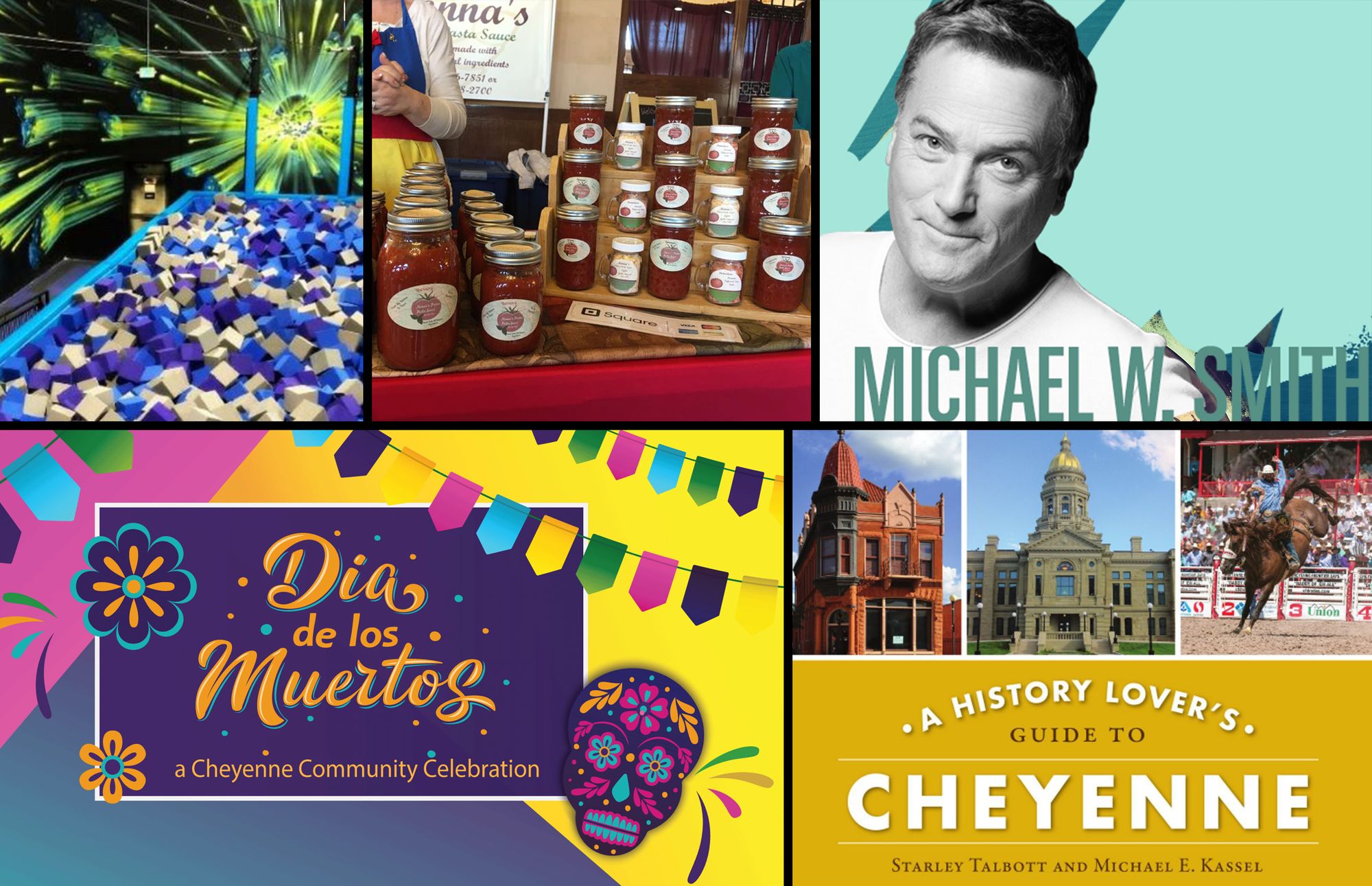 1) DOUG STONE - Outlaw Saloon
November 5, 2021 / 6:00pm  to 10:00pm / $25
Doug Stone is celebrating 30 years of hitmaking music! Come enjoy his songs at the Outlaw Saloon.
2) AMERICAN PLAINS ARTISTS ANNUAL JURIED EXHIBIT - Cheyenne Frontier Days Old West Museum
November 5, 2021 - December 5, 2021 Recurring daily / 9:00am to 5:00pm / $25
The American Plains Artists (APA) 36th Annual Juried Exhibit & Sale will be hosted by the Cheyenne Frontier Days™ Old West Museum, November 5 - December 5, 2021, and will open with a "Jump the Gun" Opening Reception for CFD Old West Museum Members and APA Artists on Friday, November 5, from 4:30-5:30 PM. The Opening Reception will open to all other ticket holders at 5:30-7:30 PM.
3) 20TH ANNUAL HOLIDAY WINE FEST - Little America Ballroom
November 5, 2021 / 5:30pm to 9:00pm / Tickets Required
This has become the premier wine tasting event in Wyoming. The proceeds of the event directly benefit the teachers and students of St. Mary's Catholic School.  This year the proceeds will go directly to the operating budget.
4) ARTFEST - Laramie County Library
October 20, 2021 - December 1, 2021 Recurring daily
Enjoy painting, photography, sculpture and more by artists age 50+ at the 22nd Annual ArtFest! Presented by Laramie County Senior Services.
5) CHEYENNE WINTER FARMERS' MARKET 2021-2022 - Cheyenne Depot Plaza
November 6, 2021 / 9:00am to 1:00pm
Join us two Saturdays a month to shop from local vendors offering the best foods and crafts. Featuring Local Foods and Crafts: Seasonal Local Vegetables and Microgreens, Local Meats and Cheeses, Take-home bunwiches, Local Salsas, Farm fresh eggs, Fresh, locally baked breads, pastries, pies, cookies, sweet rolls, chocolates and more, Kimchi, Dumplings, and other Korean Foods, Fresh, Local Popcorn, Pasta Sauce, Locally roasted fair-trade coffee and locally blended teas, Locally made rubs, spice blends, and seasonings, Locally produced jams, preserves, relishes, and honey, Fermented Foods, Pet Treats, Natural, locally-produced and organic body care products, Hand-crafted fiber goods, pottery, and other crafts, and Live Music!
6) FAMILY DAY - DIA DE LOS MUERTOS - Wyoming State Museum
November 6, 2021 / 10:00am to 2:00pm / Free
The week-long Dia de los Muertos Cheyenne Community Celebration ends with Family Day at the Wyoming State Museum on November 6 from 10 am - 2 pm. Enjoy performances by Las Angelitas Unidas y los Rayos del Sol, see altars set up by community members and students, and get crafty while making papel picado and hand-decorated sugar skulls. You can even grab a tasty snack from local food vendors while you're here. Family Days take place the first Saturday of every month at the Wyoming State Museum. These events are generously sponsored by Scheels in Johnstown, CO. Thanks to their support, Family Days are always free and open to everyone!
7) DIA DE LOS MUERTOS-A CHEYENNE COMMUNITY EVENT - Cheyenne Botanic Gardens
October 26th - November 6th / 10:00am to 5:00pm / Free and open to all!
The Wyoming State Museum is hosting a week long celebration of Dia de Los Muertos! Come and celebrate your loved ones that have passed on, and explore the cultural traditions and folk art of the Day of the Dead! A large Ofrenda will be on display, and we encourage the Community to participate! Bring your mementos, pictures, favorite foods, and beverages of departed loved ones, to sit on the Alter to honor their memory. This display will also honor some of the local leaders of the Hispanic community, teach you about traditional Ofrendas, and the symbolism of flowers during this Holiday.
8) WYOMING SPORTSMAN GUN SHOW - Laramie County Fair Grounds
November 6-7, 2021 /  Saturday 9:00am to 5:00pm, Sunday 9:00am - 2:00pm / General: $7.00 Children under 12: Free
The Wyoming Sportsman Gun Show – Cheyenne will be held on Nov 6th-7th, 2021 in Cheyenne, WY. This Cheyenne gun show is held at Laramie County Fairgrounds and hosted by Wyoming Sportsman Gun Show Circuit. All federal, state and local firearm ordinances and laws must be obeyed.
9) HISTORY LOVER'S GUIDE TO CHEYENNE BOOK SIGNING - Cheyenne Depot Museum and Gift Shop
November 6, 2021 / 10:00am to 2:00pm
Join Starley Talbott and Michael E. Kassel, authors of A History Lover's Guide to Cheyenne, at the Depot Museum for a book signing. Books are available for purchase in the Museum Gift Shop.
10) CALICO COUNTRY CHRISTMAS MARKET - Laramie County Community College                                                                                            
November 6, 2021/ 9:00am to 3:00pm
Handmade Gifts made by local and Area Artisans.

11) GALAXY NIGHT JUMP - Frontier Trampoline
Recurring weekly on Saturday / 8:00pm to 11:00pm / $20
We ramp up the party for 3 hours of non-stop jumping, climbing and bouncing madness. It's the best party in town! Grab your ticket online (bit.ly/35XU4zh) or purchase it at the door.
12) MICHAEL W. SMITH - Cheyenne Civic Center
November 7, 2021/ 7:30pm - 9:30pm / $25-$75
Celebrate 35 Years of Friends with Michael W. Smith as he takes new music and fan favorites on the road! Multi-Platinum artist, best-selling author and acclaimed actor Michael W. Smith continues to live out his dream; he releases new music regularly and performs around the world to sold-out crowds of loyal and inspired fans.
13) CARS AND COFFEE - Rail Yard - Coffee Haus & Eatery
January 3, 2021 - December 5, 2021 Recurring monthly on the 1st Sunday
9:00am to 12:00pm / Free
14) CHEYENNE TRAP AND SKEET TURKEY SHOOTS - Cheyenne Trap and Skeet Club
November 7, 2021 /  8:00am to 12:00pm / $8.00 per entry
Cheyenne Trap and Skeet Club is hosting Turkey Shoots for all interested. Grab your shells and your Shotgun and head out to the Cheyenne Trap and Skeet club for a fun day of shotgun sports. 9:00 to 12:00 Sunday November 7th and 21st, and December 5th and 19th. Check out the website for club rules at https://www.cheyennetrapandskeet.com
SPORTS:
WYOMING COWBOYS FOOTBALL - Border War against Colorado State on Saturday Nov. 6th at 1:30pm
DENVER BRONCOS - Against Cowboys on Sunday Nov. 7th at 11:00am
The 2021 WHSAA State Volleyball Championships will begin Thursday, November 4th at 3pm at the Ford Wyoming Center in Casper, WY.
The 2021 WHSAA State Girls Swimming and Diving Championships will begin Thursday, November 4th at the Campbell County Aquatics Center in Gillette, WY.